At 15, Omar Hassan was juggling his budding interests in boxing and street art: training in the gym and spray-painting the streets of his native Milan. Now, after being trained in the fine arts at the prestigious Brera Academy of Art in Italy, his art is a marriage of all of these interests.
A former boxer, Hassan boxed, rather than painted his latest exhibition, Breaking Through, a collection of large-scale abstract-expressionist compositions, explosions of color – some of which he created by dipping his boxer's gloves in paint, and simply punching the canvas.
"I'm not angry when I'm creating – maybe you can think that I'm punching the canvas with rage, but no. I'm super happy to punch color," Hassan laughs, "Color is the most simple language."
Watching Hassan create is a powerful experience – it's a performance in itself. At the opening of his exhibition, "Breaking Through," in the Unix Gallery in Chelsea last week, he created and auctioned off a painting live, proceeds for which went to Lyfebulb, a charity working with people suffering from chronic illnesses like Type 1 Diabetes, a disease from which the Hassan himself suffers.
In fact, it was Hassan's diagnosis with Type 1 Diabetes that cut short his career in boxing, and led him to further his creativity through street and fine arts.
We sat down with Omar Hassan to talk exploring dualities in art, boxing, street art, and his charity work for raising awareness about chronic illnesses like diabetes.

So you did a performance piece last night, demonstrating the creation of one of your paintings. Obviously, for you - the process of creation of art is also a kind of art. Can you tell me a little bit about that - your process of creation and how you see that as art?
I want to be an artist for 360 degrees – I want to research my art and then make so many kinds of work, from sculpture, painting… My last series talked about the connection of art and boxing, because I used to be a boxer and I boxed for many years, and then I wanted to bring this amazing concept in my art.
But what I say every time is – I'm not just a boxer trying to make art, you know? I've studied in the Academy Brera [Brera Academy of Fine Arts] in Milano, and this is just a series of my work.
You don't want to be seen as the boxer-artist.
Because when I was younger, I started painting on the wall on the streets with my friends, and then when I started to study the "real" fine art, I found the connection between street art and fine art. I'm a street artist and a fine artist. I found this gesture of painting, this kind of… dot – with spray painting, because it is the real first letter of the alphabet of street art. This gesture [the dot] can explain all the concepts [that I've been thinking about]. Every artist that wants to use spray painting, who's brave enough to use the can, must start with the dot.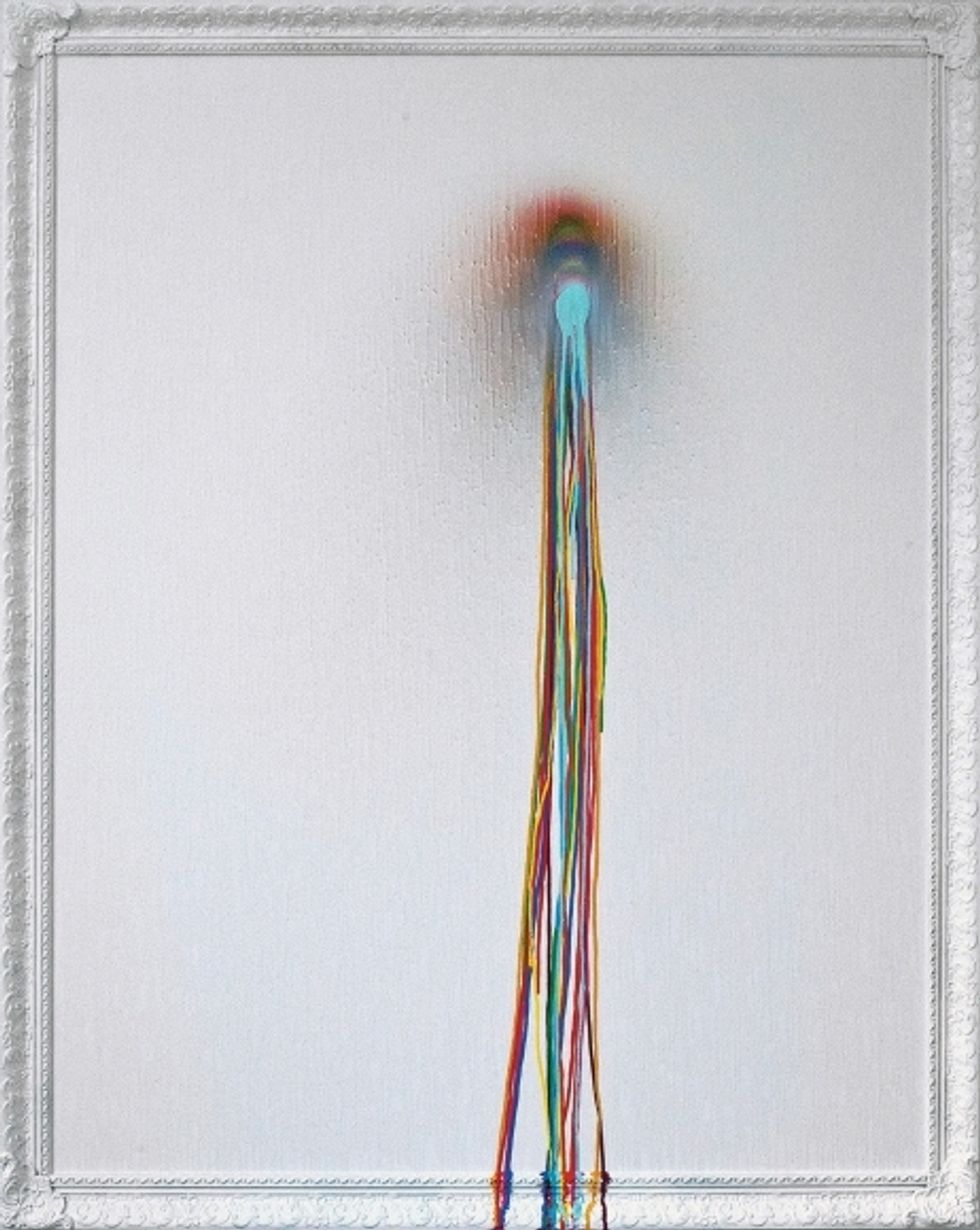 Omar Hassan. Over Myself White (2014). Mixed Media. Photo Courtesy UNIX Gallery
Can you expand on this idea of the artistic gesture?
I try to keep the painting really contemporary – today to make a real good canvas, a real good picture, is really difficult, and I try to keep [my painting style] very contemporary, because – for me – the gesture of art is very very important. I don't want to just leave the color; I don't want to stop the painting? You know what I mean?
My masters, my favorite artists are like Jackson Pollack who did the drip, Lucio Fontana cut the canvas – these are superb gestures, just like the punch – it's very synthetic, powerful.
For me, it is the gesture of the art itself that is the art – with painting I want to focus and channel the energy of the gesture [the dot]. But the gesture is just a small part of his life, it's just the action. I always say, "Behind the gesture[, behind the dot or the punch] is me."
Many of your paintings are centralized around the motif of the dot – and your artistic gesture – but what's around it is often really important. I saw one painting, 'Self Portrait,' that was meticulously painted in white paint around and behind the more prominent dot.
Yes, I think white and black are the good way and the bad way, you know what I mean? And everyone has these two parts, and self-portrait – for me – is the connection of these parts. Like in my series – there is [my latest series] 'Breaking Through,' that is talking about irrational side, and [my last series] "Injections" talking about my rational side. Everyone has an irrational and rational side, and I don't want to hide either of them – I want to bring both of them outside.
You said "Breaking Through" is really exploring your irrational side – so is that what's behind the aesthetics of the image?
Yes, the painting describes the very moment I was making the painting.
It was very spontaneous?
When I made "Breaking Through," I stayed focused on that all day – one day, and then for "Injections," I [could] work on a canvas maybe for one week or more. Because "Injections" was my rational side, I had to control the color, stay focused – the work was kinda more clean, you know? More with order – neat, simple, and well-organized. Compared to "Breaking Through" with… [mimes punching] the boxing and the color – [it was quick]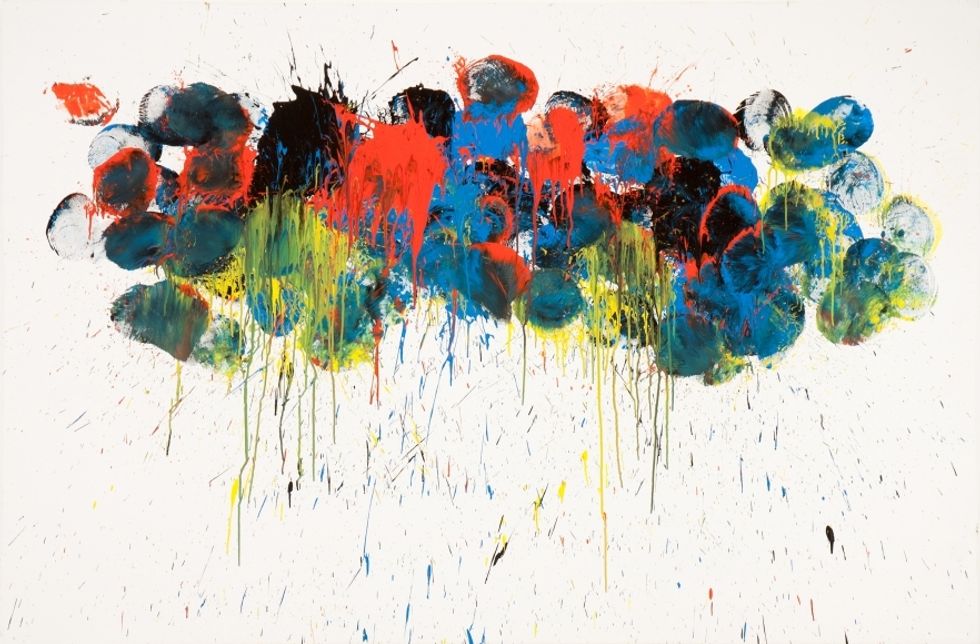 Omar Hassan. Breaking Through #10 (2015). Mixed Media. Photo Courtesy UNIX Gallery
Connecting back to your performance from last night, what do you think is more important to you – the performance or the moment of making the paint, the gesture, or the completed project?
They're consequences of each other. They're connected together. I don't prefer one over the other, because they depend on each other –
There is no performance without a final result, and no final result without a performance. Just like all the other dualities, white and black, rationality and irrationality – they depend on each other.
I just like to talk about these two parts because everyone has both these two parts. Sometimes the people want to maybe hide one part, because the world tells you that you have to have two faces, you know what I mean? That's the world, of course. That's life – but I don't want to hide, [either] one face in my art.
You can see the order, the color, the super clean canvas, and then [you can also see] the boxing, random color, and [spontaneity].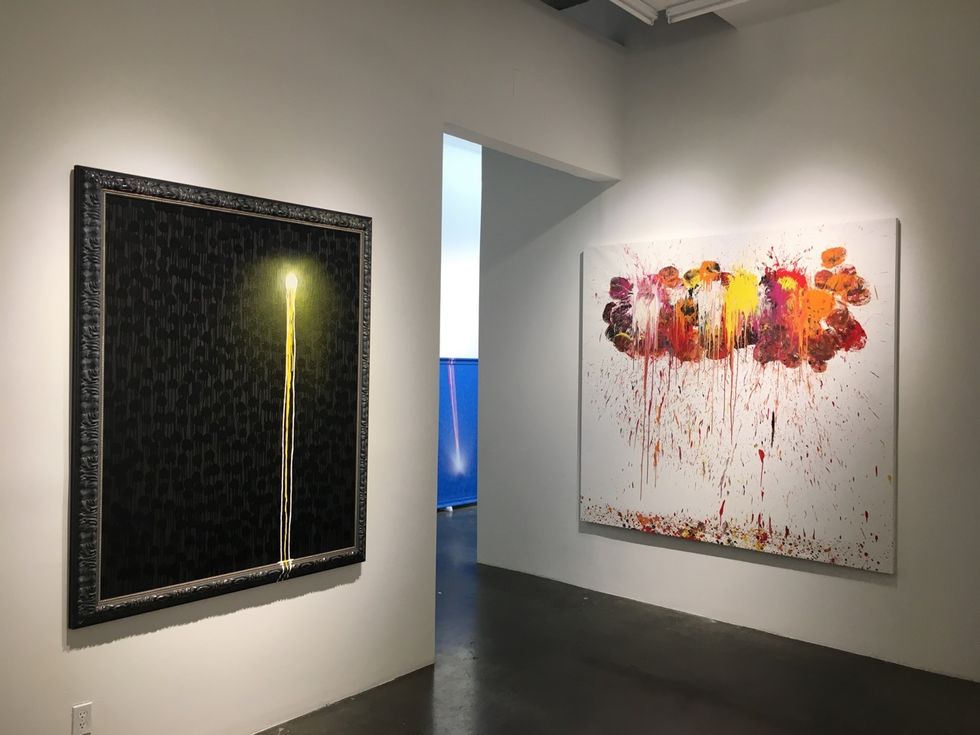 A Piece from "Injections" alongside one from "Breaking Through." Omar Hassan. Photo Courtesy UNIX Gallery
Al these dualities you're exploring are dependent on each other – the process of making and the end-product?
I like the show to be like a thread – like that piece of art is talking to this piece of art. They have a relationship. Maybe one day to collect, one person may have one piece, and another person may have some other – but the [two pieces are connexted so] they are also connected
Are you implicitly connecting the spectators as well?
I think there is a very good energy in connecting the parts of any [whole].
Can we talk a bit about Lyfebulb, the charity to whom the proceeds from the last night's painting will go to?
I'm grateful to make this collaboration, because they make all of this possible.
I'm very happy to support this cause because it is about doing what you need to do in life, not to feel pity for yourself, no matter what is your situation. Boxing is like a metaphor for [life], you're alone, you get hit, but you have to get back up [and continue fighting]. This is what the charity is trying to teach people, that having diabetes is not the end of the world.
Boxing helped me so much in my life, because it helped me with self-control – it's a real philosophy for life. And then it helped me grow up like a real man, with value, with.. Everyone is a fighter in real life – everyone. Everyone have problems, and with boxing, you can really start to fight with life. Boxing is like a training session for life.
I thought about this idea [of using as boxing as a gesture for art] when I was 15, I think. It was just an idea then, without a concept behind it, but then I grew that concept and made this concept stronger with real thoughts when I was in school.
With diabetes, you can't [box professionally]. It's like a rule – I never had problems, but I couldn't. Like, when you go to get a driver's license, you have to say, you know – diabetes? Yes, and then there are more rules… I started to teach boxing to the young guys, the kids – 8-year-olds.
I trust this charity because they work so hard and they stay very focused about this cause, which I've been affected by. Especially for the young guy, you know? The younger generation.
Your work--personal and autobiographic--is one of your noticeable dualities. How does it work in your art?
Yes, it's autobiographic, but it talks about everyone. That is the life of [an] artist – for me, art is the experience of life – being sensitive [to life]. So the artist has to eat the whole world, the whole energy – that's the life of the artist. And when we do that, we reach out to everyone.
Omar Hassan's exhibition "Breaking Through" runs in the Unix Gallery at 532 West 24th Street through December 10, 2016.
Header photo via Hassan's Instagram
You May Also Like
Fashion
Story by Mario Abad / Photography by Alyona Kuzmina / Styling by Stefania Chekalina