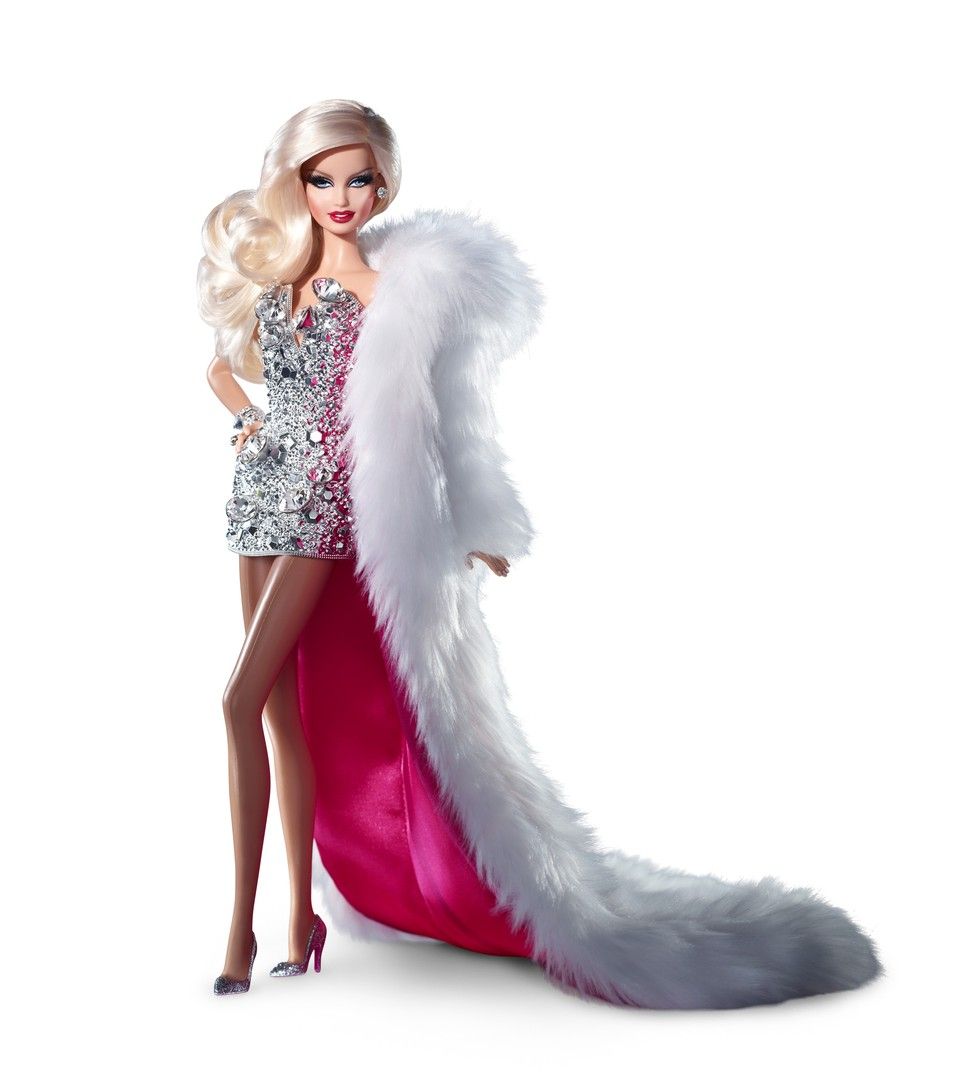 Awesomely bananas New York designer duo
The Blonds
have collaborated with Mattel on the
Blond Diamond Barbie
as part of Barbie's Collector Doll series. Inspired by the finale look from their "Legends" collection, The Blonds might have created the most glamorous doll yet (and that includes Princess Barbie. Yes, we said it.). Wearing a long faux fox fur coat with a pink lining, a tight, gem-encrusted corset dress and silver high heels, Barbie seems to have put veterinary, scuba diving and
software engineering
ambitions aside to focus on just being fabulous. You can snag one of the dolls on
barbiecollector.com
starting August 3rd and we'll even be giving one away (in a box signed by The Blonds no less!) -- contest details can be found at the bottom of the page. Also keep an eye out for her during Fashion Week this September because we hear the designers plan to incorporate her into their usually
bonkers
show. In the meantime, we had a little email chat with
David
and
Phillipe Blond
to talk about their doll and learn about what blondes (and Blonds!) inspired her.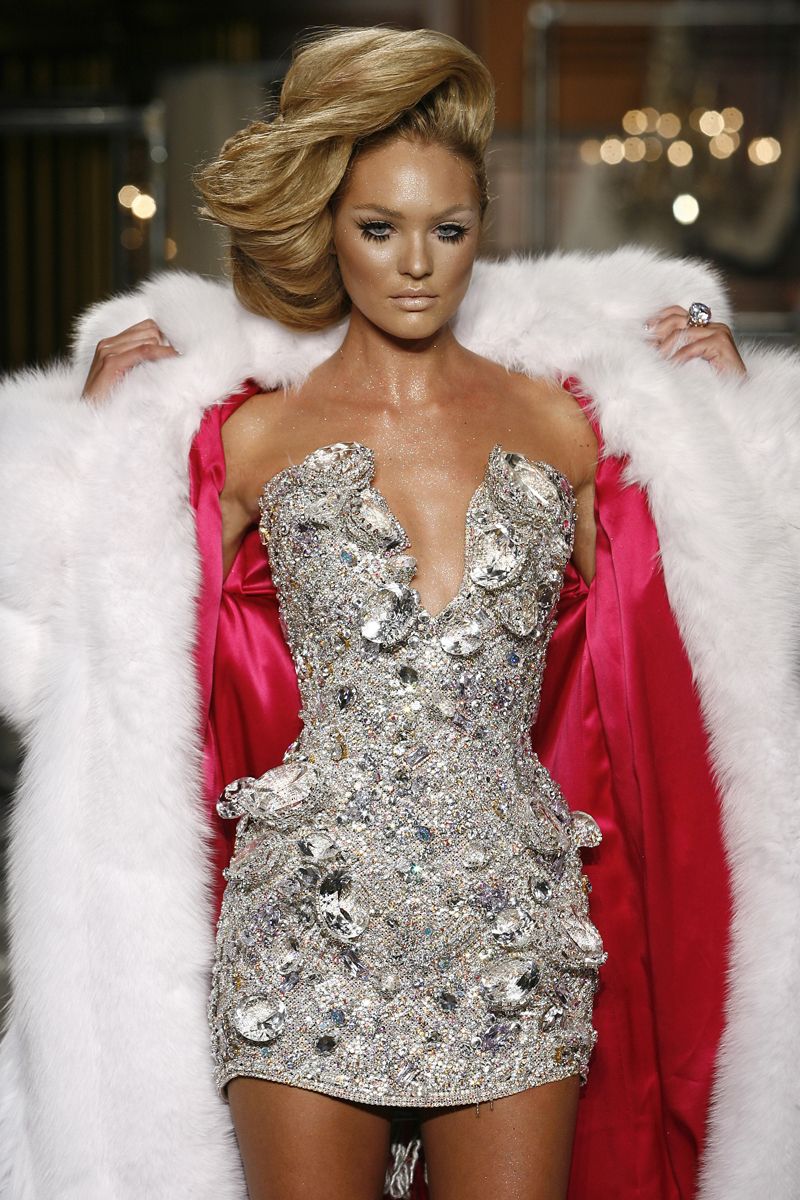 The finale look from The Blonds' "Legends" collection that inspired their "Blond Diamond" Barbie
Where did the inspiration for the doll and her outfit come from?Phillipe
: Blond Diamond Barbie is the epitome of over-the-top luxury and fantasy and the culmination of everything that inspires us. 
David
: These pieces came from our love of all things Blond. Marlene Dietrich's famous Vegas coat, Marilyn Monroe-meets-Jerry Hall's hair, Phillipe's personal make-up look and diamond jewelry all played a role in inspiring this Barbie.
Did you play with Barbie dolls as kids?Phillipe
: Absolutely! This partnership is a childhood dream come true, Barbie played a huge role in our lives as children and still does. We're both avid Barbie collectors. She's the ultimate client.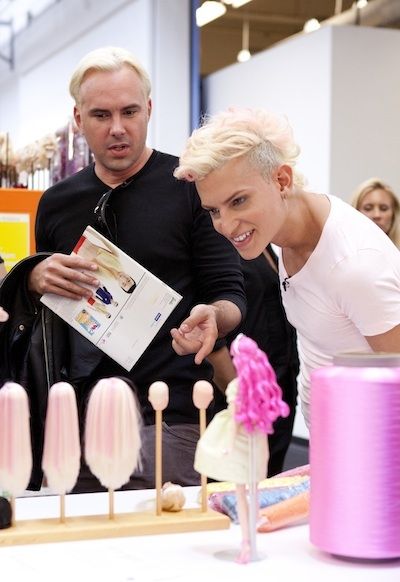 The Blonds visiting the Barbie HQ in El Segundo, California
What are some of your favorite Barbie theme dolls (and Barbie careers)?David
:  All the fashion theme dolls are fun, especially Teenage Fashion Model Barbie -- she's a classic. Astronaut Barbie has to be the coolest career, sort of a
Barbarella
moment. Presidential Candidate Barbie dolls! Hillary, are you listening?
Phillipe
: Obviously Blond Diamonds Barbie is our favorite. And the Christian Louboutin catsuit Barbie.
What era was your favorite Barbie era?  Phillipe
: It's so hard to choose! Some of our favorite Barbie dolls were made in the 70's and 80's, like Rock Star Barbie, Malibu Barbie and her best friend, Christie, with Malibu Ken Ken Ken!  The Farrah Fawcett Barbie doll also brought back so many great memories.  The Barbie dolls based on Hollywood starlets like Marilyn Monroe, Grace Kelly, Liz Taylor, Diana Ross and, hello,
e
very Cher Barbie ever created!  The Lucy and Ricky Barbie set is so me and David.
Is it just us or does the doll look like Phillipe?Phillipe
: Well we're both Blonds aren't we? Muahahahahaaa! 
Blond Diamond Barbie Giveaway Rules:


To enter, just do the following:
1) Tell us what your all-time favorite Barbie career is and why in the comments below
2) "Like" this blog post
3) "Like"
Papermag on Facebook
4) Follow
Papermag on Twitter
We'll pick a winner next Thursday, August 9th at 4pm EST.  Good luck!
Barbie image courtesy of Mattel