From Kirk Millar's touching tribute to his twice great grandmother to Neil Gortzinger's reflection on the power structures in his hometown at Nihl and Willy Chavarria's poignant commentary on migratory status as a Chicano designer, New York's most impactful men's collections struck an emotional chord in show-goers with their connection to personal narratives and experiences. Fittingly, Emily Bode—whose year-old namesake brand is rooted in storytelling—delves into longtime collaborator Aaron Aujla's family history for spring 2019.
In the 1920s, Aujla's grandfather relocated from British-occupied Punjab in India to Canada leaving his spouse and newborn daughter behind. For the next eighteen years he supported his family with the wages he earned in British Columbia. When India won its freedom in 1947, the family was reunited in Canada where their Indian identity mixed with the influences of their new home.
The collection's bowling shirts, rugby uniforms, and lightweight suiting made from khadi (the handwoven cotton fabric that led the boycott against British controlled textile industry in India) are shown alongside waffle-weave shirts and fabrics bearing embroidered reproductions of Bengali motifs like lions and stylized regional florae and prints of pastoral scenes from rural India.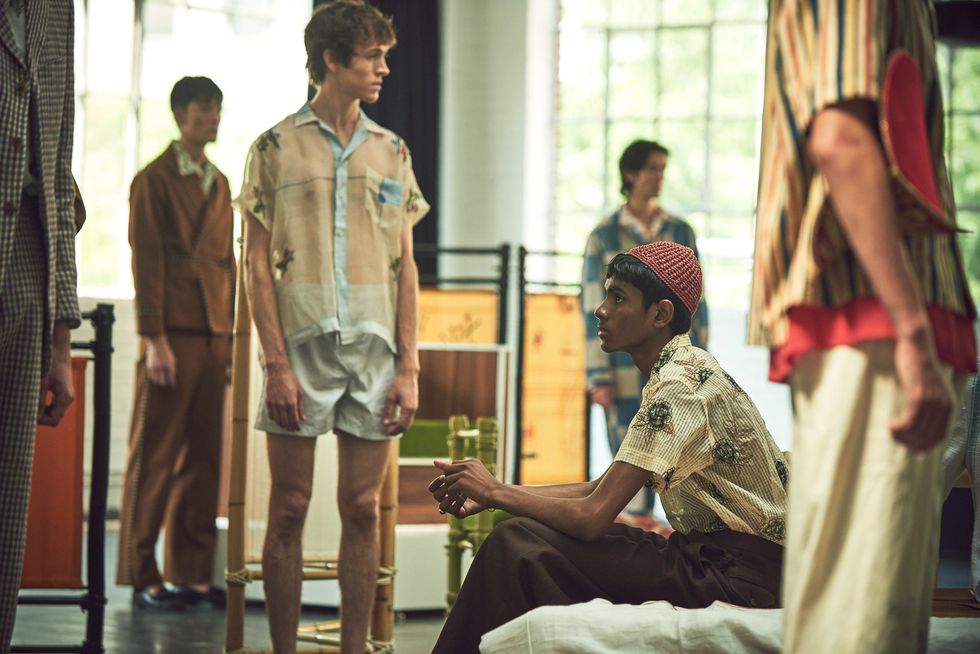 Styled in round, knit topi hats andmukuts(fascinators used in Bengali wedding ceremonies among other rituals), the models lounged on pieces by Green River Project, the furniture studio helmed by Aujla and business-partner Ben Bloomstein. Bamboo and chord chairs, dressing screens, and love seats were influenced by pieces from the iconic train in Satyajit Ray's 1966 film "Nayak." These pieces along with gentle sitar music in the presentation space created tranquil atmosphere for Bode's stylized, yet reverent take on Aujla's family history.
Sign Up for the Morning PAPER