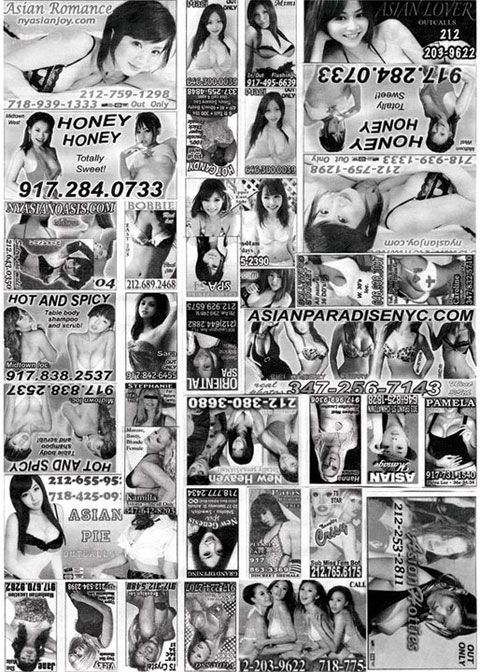 "This is not even a blip on the map of current news, even in Williamsburg," according to an anonymous commenter on
BrooklynVegan
, October 6, 2:57 p.m. Oh, we disagree! The "news" is that
Joe Ahearn
's music guide
Showpaper
has a racy new
NSFW cover
by artist
Borden Capalino
, featuring sex ads similar to those in the backs of free weeklies like the
Village Voice
. Well. Several BrooklynVegan commenters are saying that radical L.E.S. bookstore Bluestockings supposedly threw away thousands of copies of the issue due to its cover.
This sounded a little off to us, so we rang up Bluestockings and talked to volunteer Janelle Kilmer who assured us that the store didn't throw away any copies. "Bluestockings serves as a distribution point for
Showpaper
," Kilmer said. "New issues get dropped off outside our store and
Showpaper
volunteers come distribute them to the Lower East Side. If they're not outside the store, it's because someone took them. We have no official dispute with the cover. We think
Showpaper
is awesome. We think the artist is awesome. I don't know why people thought we took offense to this."
All of this should cause a mob scene at Friday's grand opening of
The Showpaper 42nd Street Gallery
(217 East 42nd Street, 7 p.m.) featuring Das Racist DJs, a "DIY video game" arcade curated by Babycastles and art curated by
Food Party'
s
Thu Tran
and
Showpaper
.  If you can't come thru on Friday, the gallery is open until the end of the year.  Blip.