If Blake Lively has a film coming out, Blake Lively will be wearing all the outfits, and that's just a beautiful Hollywood fact. The actress has found an effective way to turn fashion media coverage, traditionally bent on detailing what actresses wear far more than their male costars, into interest in her upcoming films. This is a genius marketing technique for a lead actress who has long been a darling of the fashion industry, dating back to Anna Wintour's official stamp of approval in the form of the February 2009 Vogue cover.
Most recently, her employ of 18 suits over a few short sweltering summer weeks was revealed to be a promotion for her wacky new film starring herself, Anna Kendrick and Henry Golding (Crazy Rich Asians). It all started with a slime green suit and reached a peak on September 10 when Lively wore five different looks out in New York City.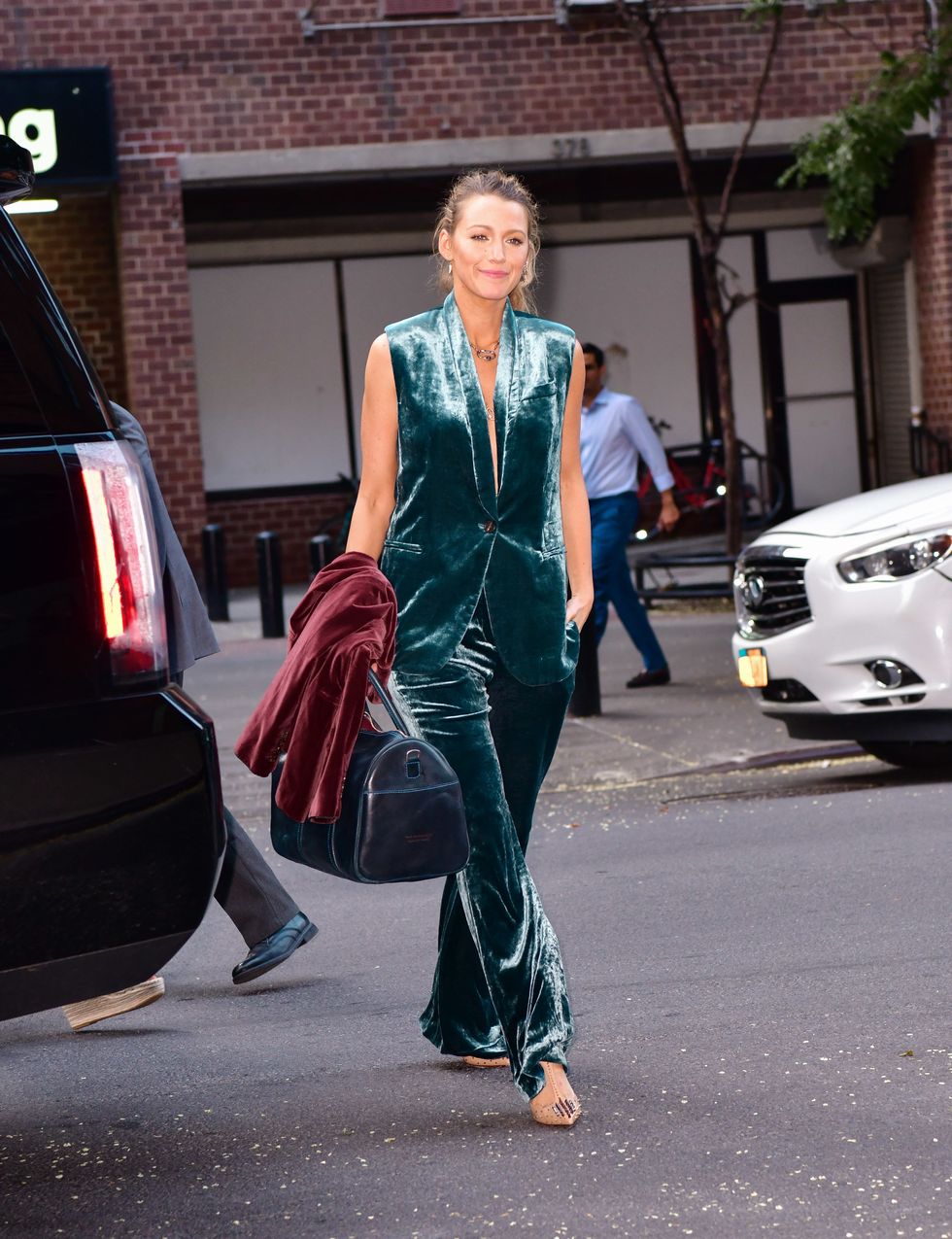 Lively on August 17
The delight Lively takes in her press tour fashions, red carpet ensembles, and the coverage of both stands in opposition to the #AskHerMore campaign, in which actresses attending awards shows requested to be asked about their work instead of their wardrobes. Yet the opposing approaches, with #AskHerMore shunning fashion journalism and Lively relishing it, both seem keenly aware of the sexism at the heart of reporting focused on what a women is wearing instead of what a woman is doing. While some actresses have opted to be asked solely about their achievements, Lively, it seems, has embraced and monetized coverage about what she's wearing so as to propel her career forward. If they're going to ask what designer you're wearing, you might as well capitalize that in whatever way you can.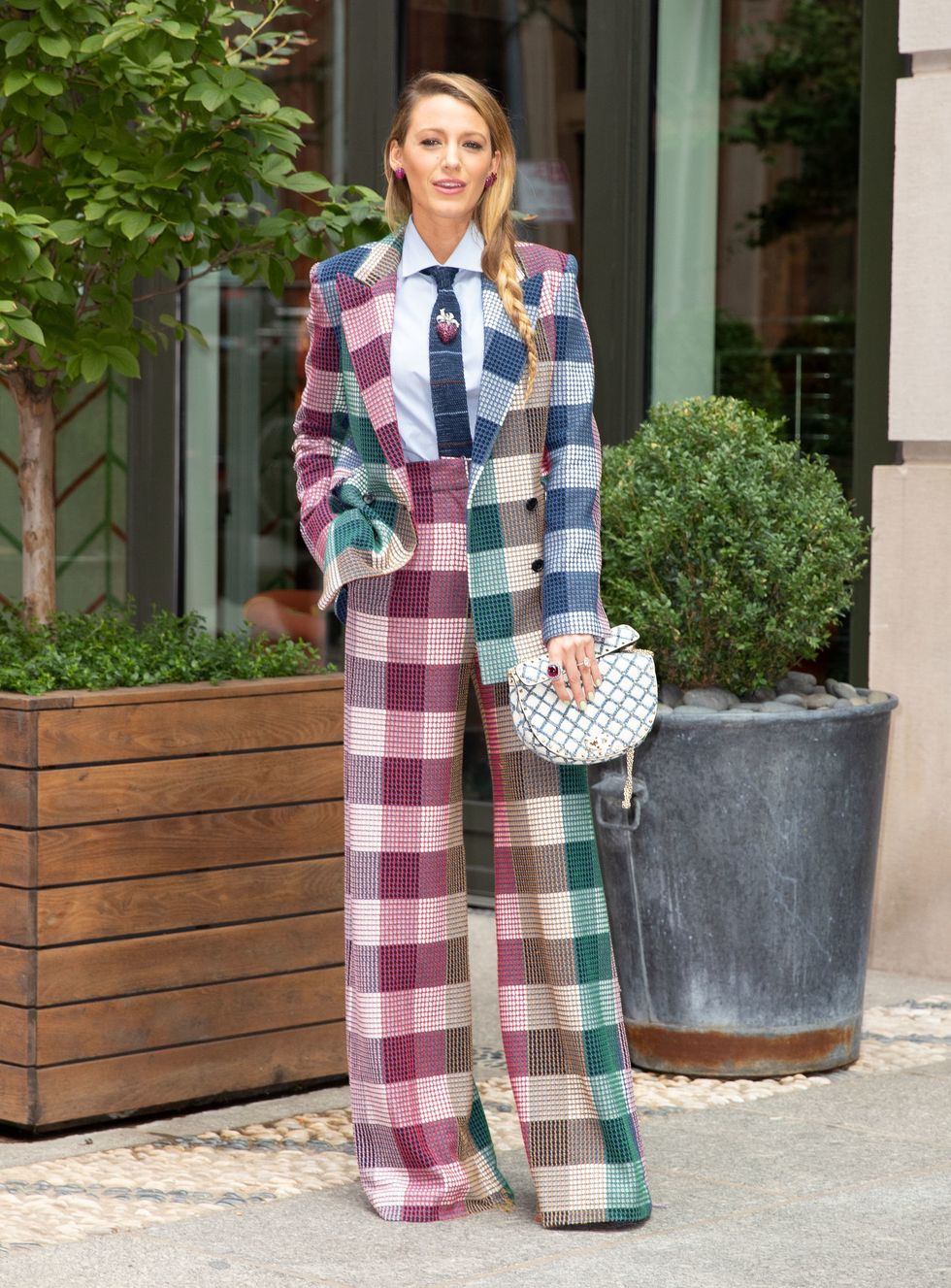 Lively on August 18
Of course, Lively isn't the only celebrity whose fashion choices spawn media coverage that translate directly into revenue. (I'll buy literally anything Rihanna is selling). But Lively is a particularly interesting case study in her athletic approach to her press tours because, truly, wearing two blazers with no bra, no top, and no wardrobe malfunction is a physical feat in and of itself.
But there's a catch-22: the more Lively utilizes her wardrobe—especially during promo—in a way that elevates her career, the more obvious it becomes that she's simply curating buzz, thus deflating the tongue-in-cheek spontaneity of the whole enterprise. (Savvy audiences tend to reject marketing techniques, no matter how authentic they originally seemed, as they did with Jennifer Lawrence's "cool girl" façade in the early 2010s), Like all magic tricks, the fascination surrounding Lively's wardrobe works best when you don't know the mechanics behind the trick.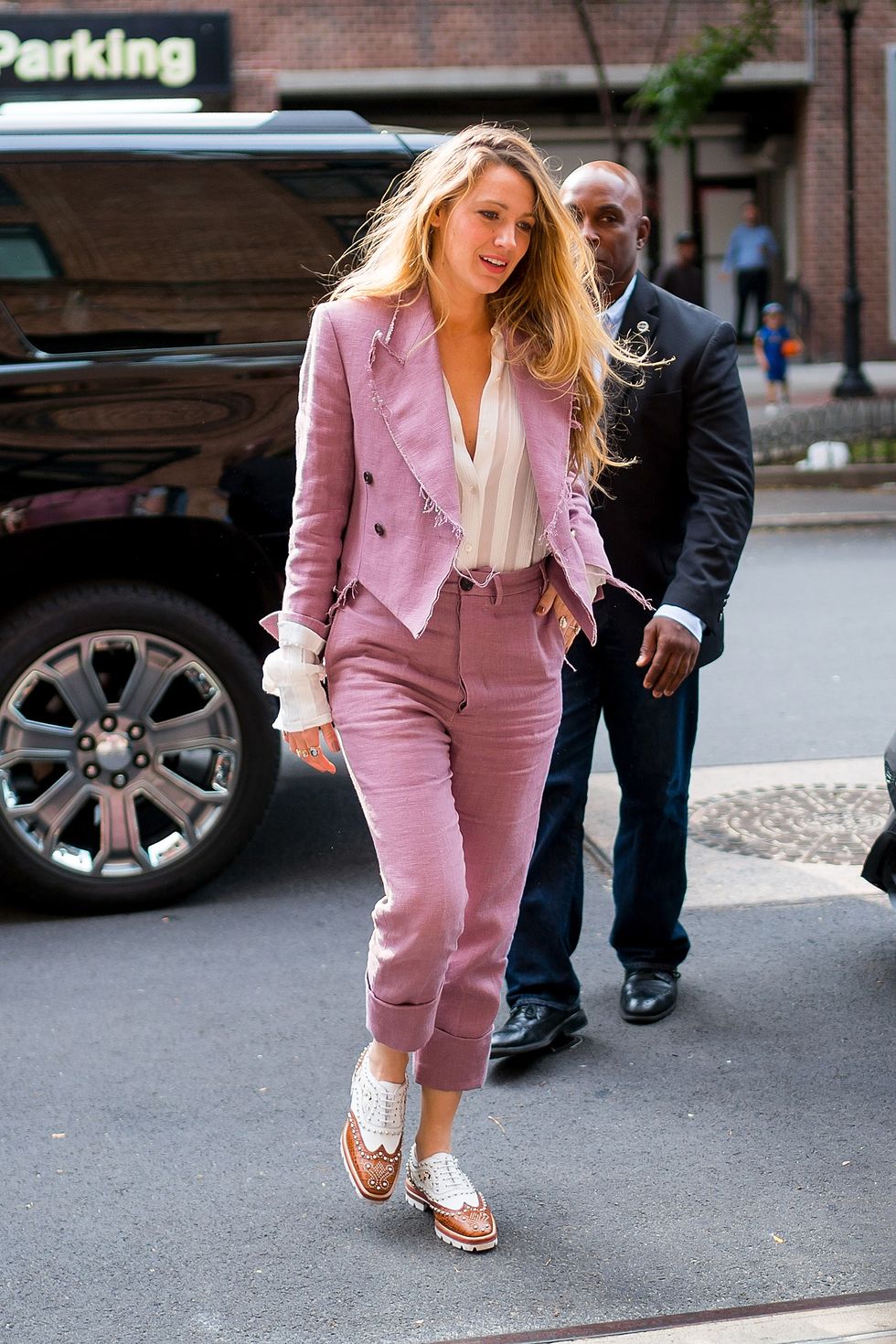 Lively on August 20
During the press tour for [The Age of Adaline], Lively wore 15 outfits over the span of two days, 10 of which were worn during just 24 hours, with reports that Lively had tried on 256 outfits before the tour had begun.
What, exactly, is this trick? It began with 2015's The Age of Adaline, Lively's first major vehicle following her breakout role as Serena van der Woodsen on The CW's Gossip Girl. The success of the film rested mainly on Lively's shoulders, so she promoted it accordingly—which is to say a lot. During the press tour for the film, Lively wore 15 outfits over the span of two days, 10 of which were worn during just 24 hours, with reports that Lively had tried on 256 outfits before the tour had begun. This may seem excessive, but the resulting media coverage surrounding these outfits acted as free publicity for her upcoming film that was better than any billboard or teaser trailer.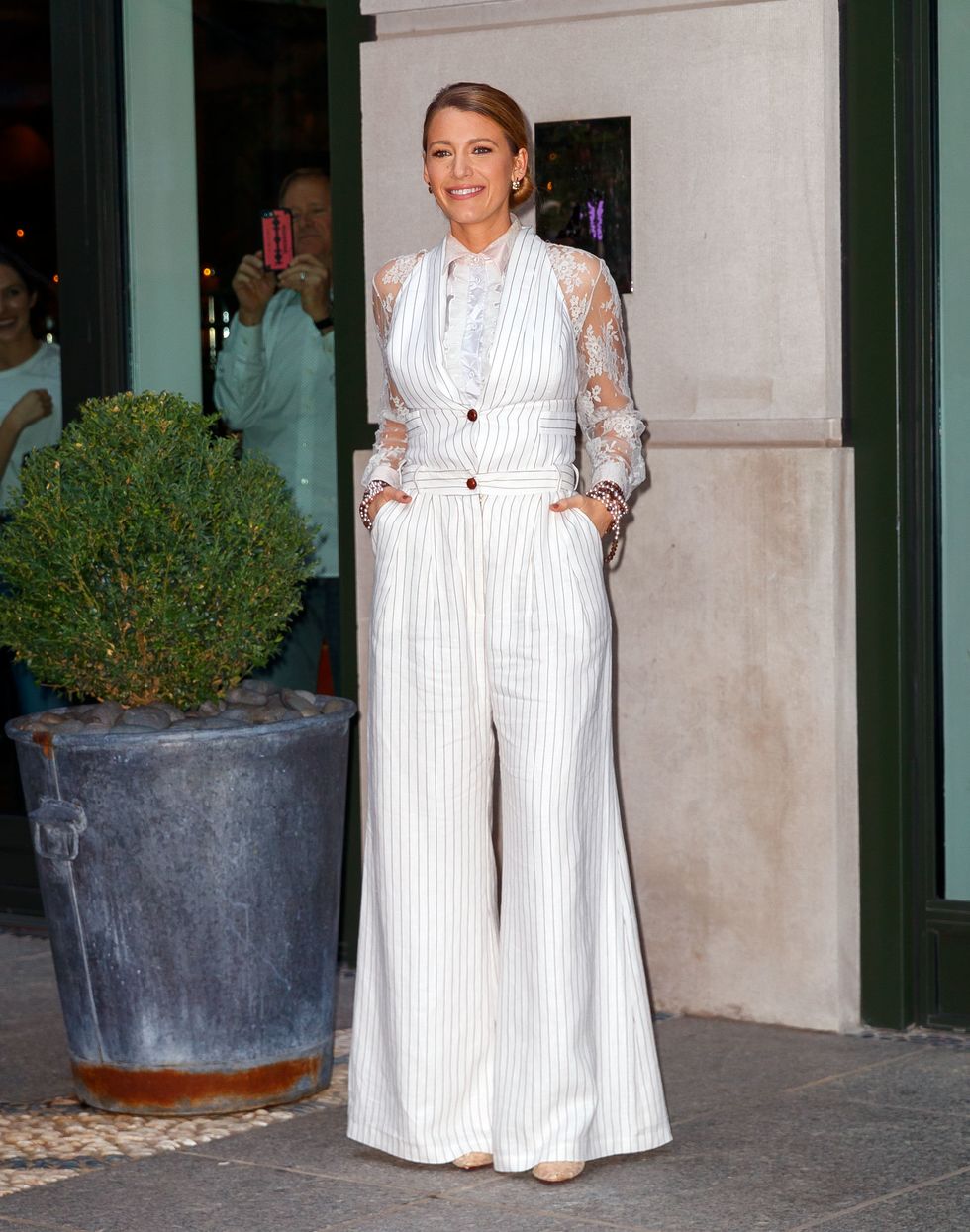 Lively on August 19
This promotion proved to be particularly effective for The Age of Adaline, as it was a perfect marriage of film and star. The movie was about a woman (Lively) who stopped aging, with the narrative following this forever-chic character through years of fashion evolution. Because part of the film's appeal was the costume and styling, Lively's fashion-focused press tour acted as a live-action trailer for the film itself. The end result was a favorable box office showing, proving Lively could open a film.

Lively's following films would see varying levels of fashion-heavy press tours and box office successes. Much like The Age of Adaline, 2016's Cafe Society was a stylish film set in the 1930s and featuring Lively styled as such. The press tour for this ensemble-cast, Woody Allen-directed piece, however, didn't feature Lively as a focal point of the promotion. While the film's premiere at the Cannes Film Festival saw Lively in gorgeous gowns, which showcased her baby bump and received media coverage, the press tour didn't see the likes of another 10-outfits-in-24-hours stunt.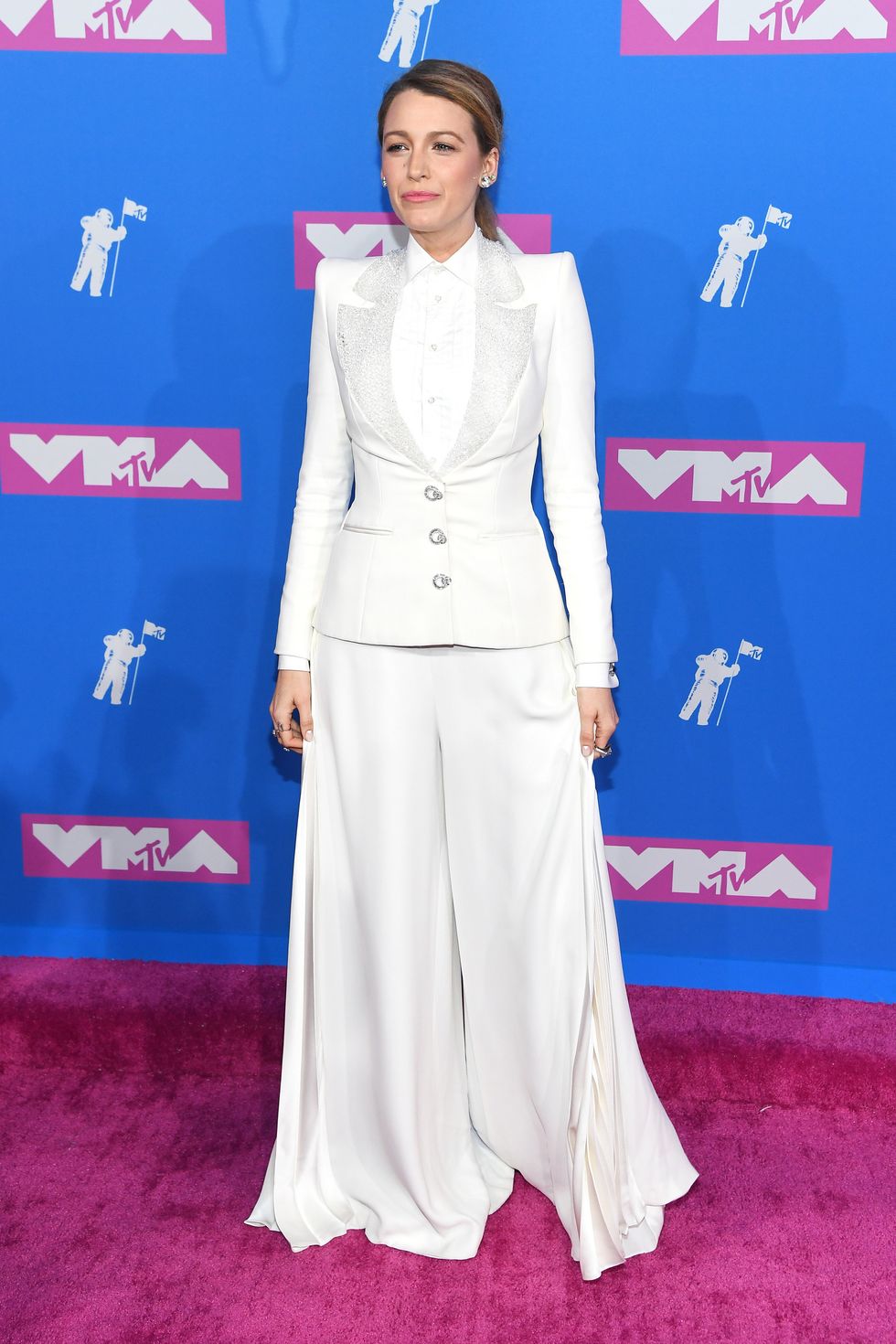 Lively on August 20
2016 also saw the release of The Shallows, though, a vehicle for Lively with no ensemble cast or Oscar-winning director, meaning the weight of the film's success would once again fall on Lively. The press tour—dubbed by some "The Blake Maternity Tour"—saw the actress dress in leather, couture, and bump-hugging dresses, with critics and fans praising her daring maternity style. The press tour for All I See Is You followed suit, with Lively donning a bedazzled basketball jersey, a three-piece suit, and a one point wearing seven outfits in one day.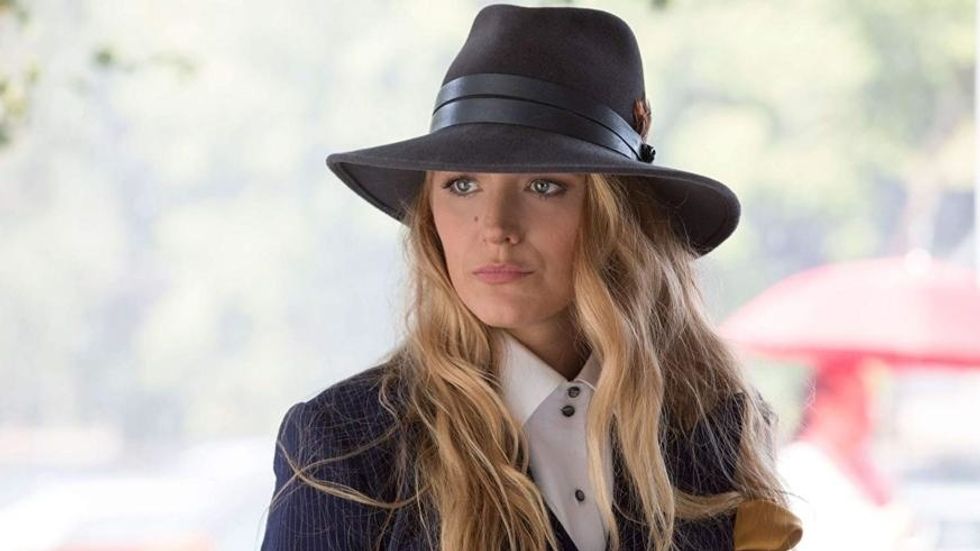 Lively as Emily Nelson in A Simple Favor
But of course, Lively's style is not the only determining factor for a film's box office performance. The Shallows had a profitable showing at the box office, while All I See Is You had a poor performance, likely suffering from unfavorable critical reviews, a limit theatrical run, and the release date being changed multiple times. No amount of Lively's outfits could solely resurrect that film. Though it does seem that given the right circumstances, Lively's wardrobe can help boost a film's box office performance.
Most recently, A Simple Favor—which is already off to a positive showing at the box office, having made back the film's budget in its opening week—benefited from an even more stylized press tour, with Lively donning several chic suits to promote a film in which her character wears a rotating collection of, well, suits. On top of the press these suits have garnered all on their own, Lively has prolonged and amplified the coverage by "clapping back" at those who have criticized her new look, thus keeping her outfits, herself, and her upcoming film in the news cycle for yet another day.
Which is not to say that Lively shouldn't defend her sartorial choices, but given that neither Lively nor husband Ryan Reynolds have responded to social media inquiries about their wedding having taken place on a former plantation, her newfound responsiveness points to a larger trend of celebrities only responding to low-hanging social media criticism while ignoring more important comments that they'll have difficulty answering.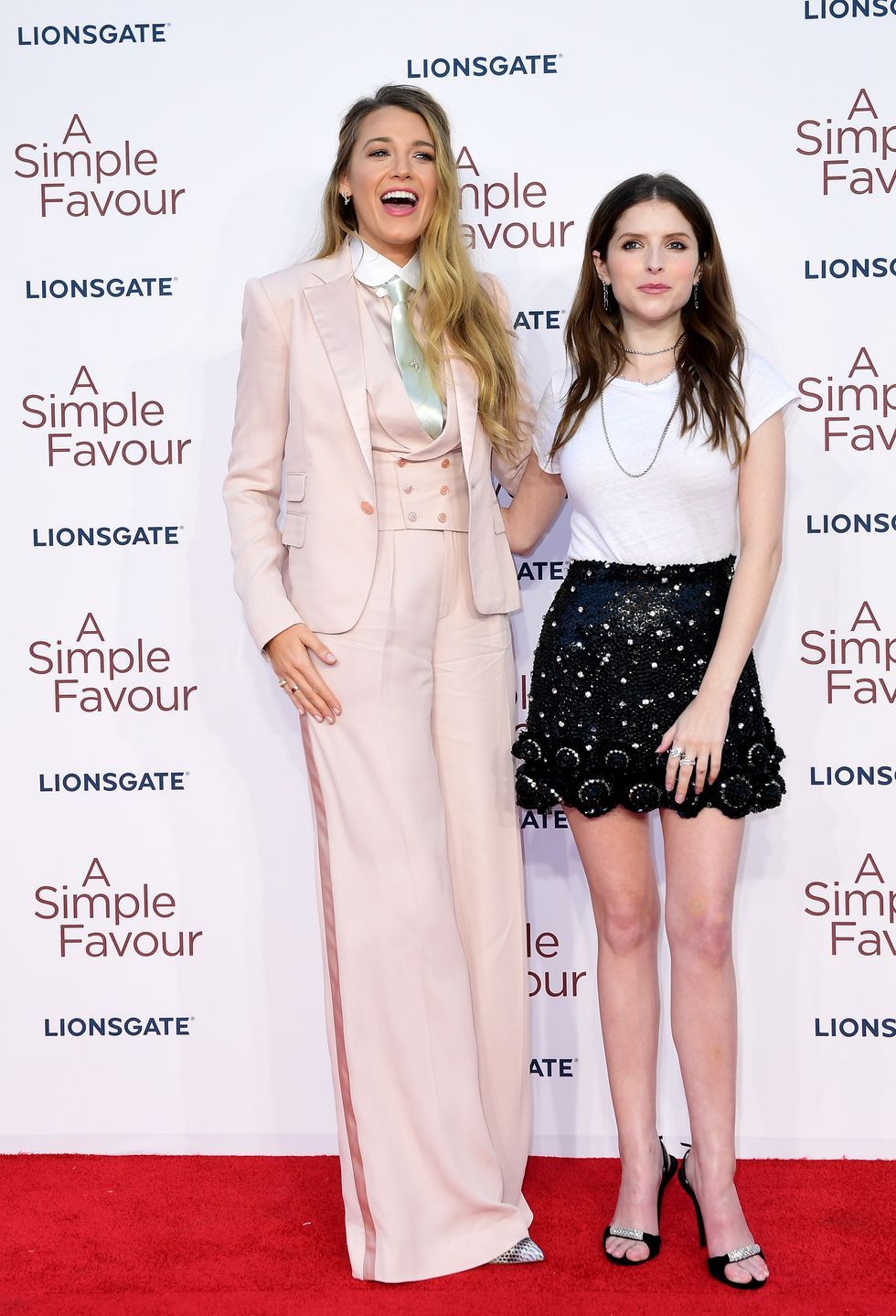 Lively with costar Anna Kendrick on September 17
Lively's willingness to use everything in her toolbox (or in this case, closet) to promote her films is more vital than ever at a time when the box office is increasingly unpredictable for films outside of the Marvel Cinematic Universe. 2016's Passengers starred Lawrence and Chris Pratt, both of whom should be considered bankable stars, yet it underperformed at the box office; Likewise, Tom Hanks and Emma Watson's 2017 drama The Circle was another flop that left many questioning if there are still movie stars who can guarantee audiences in theaters. It may not be movie stars alone that bring in audiences, but a movie star wearing 10 outfits in 24 hours may help.
At its core, Lively's use of her wardrobe feels like a remaining nugget of Gossip Girl's legacy. Lively's six years on the set of a show as famous for its dramatic plots as it was for its fashion would not only launch her career, but would seemingly shape the way she, too, plays with fashion journalism to propel her success.
Photos via Getty
Sign Up for the Morning PAPER