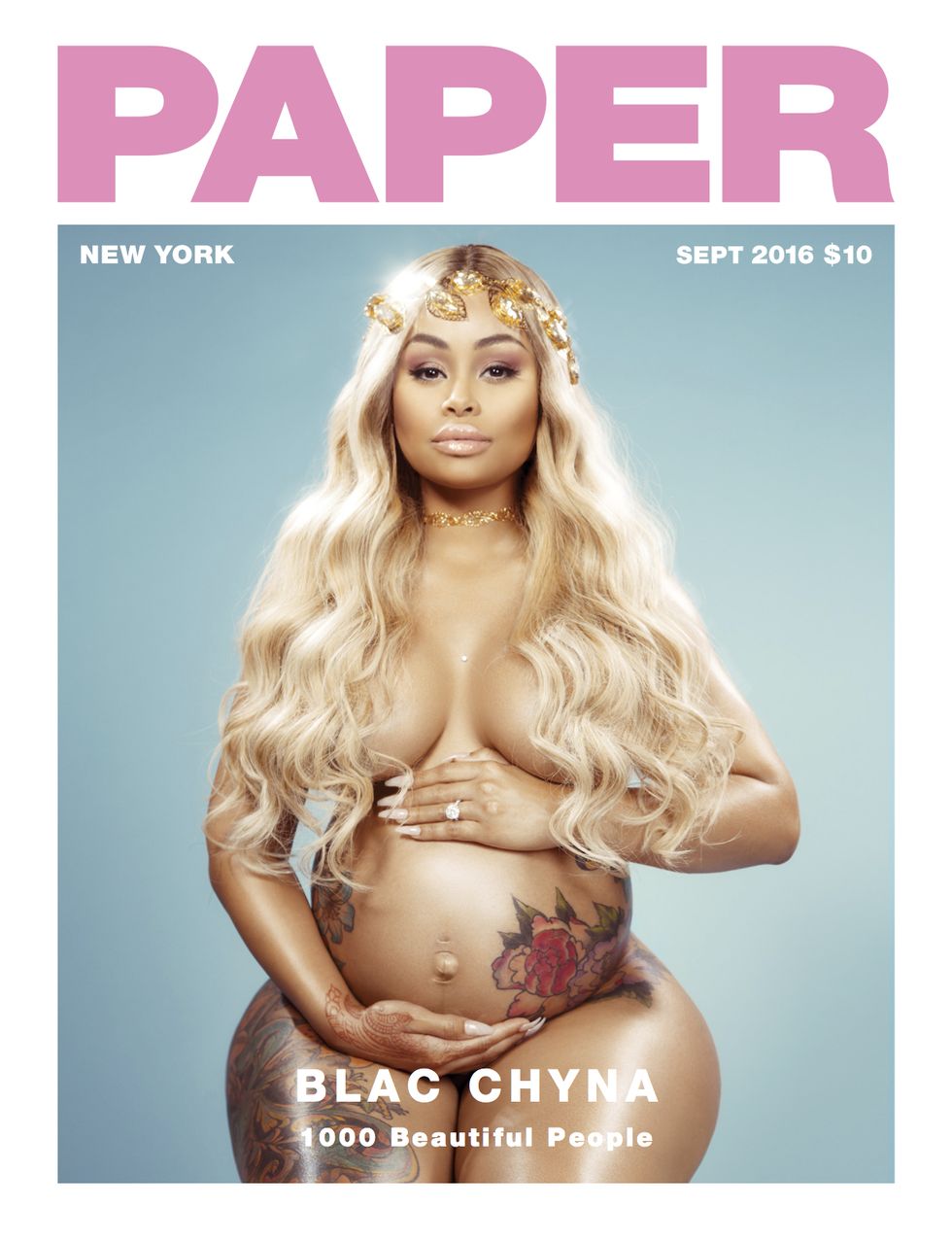 Blac Chyna. It's a name rooted in hip-hop notoriety and social media fame. As one of rap music's biggest muses today, Chyna, real name Angela Renée White (soon to be Kardashian), has danced, Instagrammed and hustled her way into pop culture's epicenter. And with Rob and Chyna, her and fiancé Rob Kardashian's new, six-part reality series on E! that documents their relationship and pregnancy, it's safe to assume Chyna Mania is only getting started.
In a town like Hollywood that often prefers to smooth jagged edges and paper over controversial histories, Blac Chyna's well- known past as a stripper and the unapologetic way she owns her sexuality make her ascent into pop culture's mainstream all the more thrilling -- not unlike her soon-to-be-sister- in-law Kim's own path. But unlike those famous in-laws, Chyna hasn't used traditional media to help fuel her rise. She maintains an aura of mystique amidst the feverish attention directed her way. Instead of speaking to the press, she communicates directly with her fans on social media and lets the occasional bold fashion statement do the talking.
On the red carpet at the 2015 MTV VMAs, she and her close friend Amber Rose wore coordinated outfits covered in handwritten slurs, the kind of gendered insults you can find all over their social media pages. "Stripper, slut, ho, all these things people portray us as -- we wanted to start a movement, because we're tired of this double standard where a guy can fuck ten bitches and he's the man," Chyna says. "A woman does it and she's a ho, she's a slut. We wanted to push the barrier,to own it." She continues, "You can say mean things about me, but it doesn't matter, we're still gonna do us ... So what if I was a stripper?"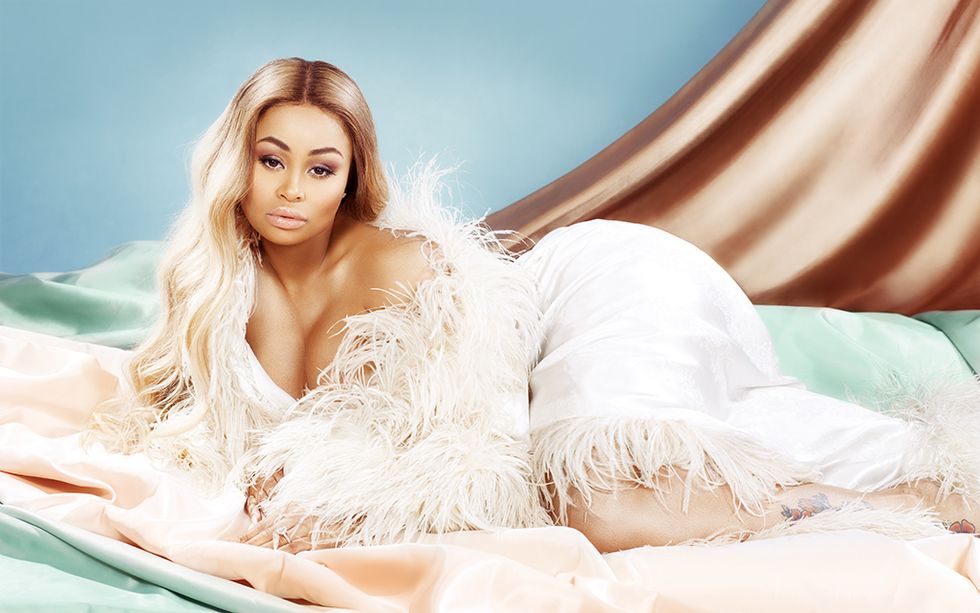 Chyna wears a robe by Palace Costumes
Until now, biographies of Chyna have been cobbled together from gossip stories, rap songs and social media posts. They have the basic facts down (she was born in Washington D.C., danced at Miami's famous King of Diamonds strip club, got a shoutout on Drake's 2010 track "Miss Me," dated and had a son with Tyga before getting together with Rob Kardashian) but not much else. "I don't do interviews, and I haven't spoken publicly in years," she explains. But now, with her decision to film a reality show, she's finally ready to open up and let fans get a glimpse into her private world. "I'm excited about fans getting to know me as a person and not as a thing or a face," she says. "I'm funny and smart, and they'll see me as a mom with several businesses just keeping everything together. I'm looking forward to showing my relationship with Rob, our day to day, our struggles and what we're dealing with, positive and negative." She adds, "I hope when people think about Blac Chyna, they think of a mogul and entrepreneur, a mother and a badass bitch."
Along those lines, Chyna's persona-as-brand has evolved its business model over the years, going from club appearances and music video performances to ventures like Lashed, her beauty salon in Encino, and her clothing line 88 Fin. But it's her savvy use of social media that's perhaps her most successful brand extension thus far.
She has nearly 10 million fans on Instagram, Facebook and Twitter combined, a figure that is likely much, much higher after you factor in the number of people who follow her on Snapchat, a number the app famously does not make public. Highlights from her various feeds include when she cryptically teased her budding relationship with Rob back in January, posting a (now-deleted) photo on Instagram of the two of them locked in an embrace, with Rob only identifiable by his arm tattoos. Not surprisingly, the celebrity Internet went into a frenzy. Gossip sites were riled up again a few months later, when she and Kylie Jenner simultaneously Snapchatted a photo of themselves hanging out this spring, a Kardashian plot twist for the ages after it was previously assumed the two didn't get along due to their overlapping romantic histories (Kylie's on-again/off-again boyfriend is Tyga). But as much as she posts these sphinx-like photos or Snaps, there are plenty of other moments where you get a glimpse of a more low-key, unfiltered Chyna. She often shares montages of her son King Cairo on Instagram. "I don't mind sharing a funny video of him or some pictures with my followers, because I want to show everybody his greatness," she says. "He brightens up my whole day."
Chyna wears a lace collar by Palace Costumes, gloves by Steampunk Wolf and underwear by Wacoal

There are hints of her "goofy and silly" side, like the Instagram video of her rapping her version of the Fresh Prince of Bel-Air theme song while Rob drives her around. The clip may be playful, but it also reveals a deeper truth in its echoing of hip-hop's classic sentiment: respect her come up. Elsewhere, she shows us that glamour and celebrity are full-time hustles. Chyna shares short videos of herself in various stages of the beautification process. We see her wincing in pain at her phone camera as she receives a routine wax, or zooming in on the finishing touches as her eyebrows are being plucked.
It's this switching back and forth between posts that feel all too real and more aspirational, fairytale-like images that makes Chyna so captivating to so many. She's 2016's ultimate underdog It Girl, a Cinderella for the social media age who owns her past, present and future. As she embarks on a new chapter in her life and prepares to reveal more of herself than ever before to fans and critics alike, she says she's not nervous about the increased scrutiny or how she'll appear on the new show. "It's what my reality is," she says. And "you can't really be scared of your reality."
Set Designer: Ali Madigan
Hair: Kellon Deryck
Makeup: Emily Moses at Opus Beauty using Chanel Les Beiges
Nails: Lisa Pena Wong at Opus Beauty using Dior Vernis and Maxus Nail Strengthener
Photographer Assistants: Isaiah Teofilo and Savannah Davis
Location: Edge Studio