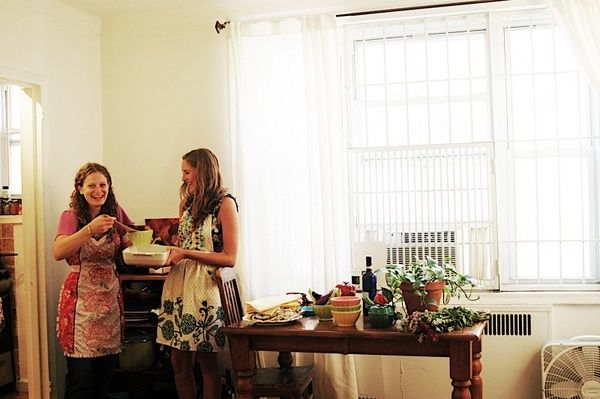 If your kitchen is the size of a Century 21 dressing room? Does "eating in" involve an Amy's Burrito, a bowl of Frosted Mini Wheats and two Polly-O's String Cheeses (don't judge!)? Well might we suggest investing in
Phoebe Lapine
and
Cara Eisenpress
's lovely new cookbook
In the Small Kitchen: 100 Recipes from Our Year of Cooking in the Real World
, out today and available to order
here
. Based on their super-popular website
Big Girls Small Kitchen
, their debut cookbook is chock full of recipes and entertaining tips for a young gal or guy on the go. Here we posed some purely hypothetical questions to Cara and Phoebe.

I am hosting my first proper dinner party -- for five friends. Thoughts on an easy/elegant menu?
Baby's first dinner party! How exciting. Our advice would be to keep things super simple. We recently helped our editor host her first dinner party ever, and we stuck with a one-pot main course from our book that would look elegant sitting in the middle of the table, and served family style. We went with scallop & chorizo paella with a simple side salad of arugula, mango and radishes. Our favorite easy dinner party dessert is any variation on cookies and ice cream. In this case, we did
double ginger snaps
with vanilla ice cream. Other great combos include:
banana-granola chocolate chip cookies
with Dulce De Leche ice cream and
coffee sables with chocolate ice cream
.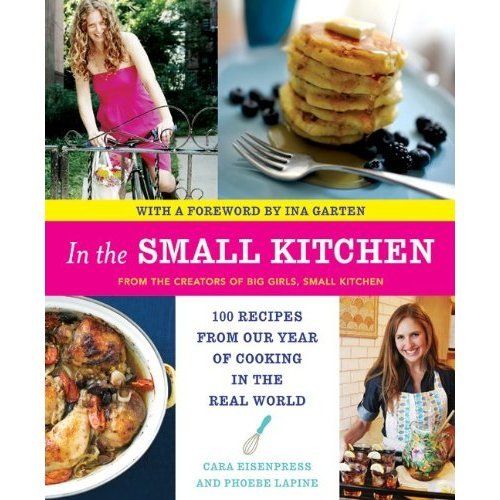 I am going to a potluck dinner at my new boyfriend's friend's house, and have been assigned to bring an hors d'oeuvre. Suggestions?  I want to impress, but I am a mediocre-to-poor cook, at best...
When you're cooking for a potluck, you have to deal with a few extra contingencies. If the party is during the week, your dish will most likely need to accompany you to work, be housed temporarily in a crowded mini-fridge with your co-worker's nasty tuna sandwich, and/or be forced to withstand no refrigeration at all.  With those things in mind, in addition to your skill level, we would suggest a simple, yet tasty bean dip. Try
chipotle hummus
,
spicy black bean
, or
white bean and rosemary
dip.  The offering may seem humble, but we assure you that your boyfriend, your boyfriend's friend, and all your boyfriend's friend's friends will lick the bowl (or Tupperware container) clean.
What is something fun and different I can do with a chicken breast?
Make sandwiches!! We think of chicken as a rather plain protein. But it's cheap and easy to cook and, best of all, is a blank canvas for whatever host of condiments you want to inflict on it between two slices of good bread. Here are some of our favorite creative chicken sandwiches:
Mexican chicken tortas with red cabbage crunch
;
pulled chicken sandwiches with pickled onions
;
pesto chicken salad sandwiches with sundried tomatoes
;
chicken satay Banh Mi
;
ancho chicken sandwiches with avocado and chipotle mayo
;
crunchy chicken salad sandwiches with bacon
.
I am always looking for dinners that take under 20 minutes to make with ingredients I can buy at the deli on my corner. Any suggestions?
Our quick and cheap meals usually contain one of two key ingredients: eggs and pasta. We keep both on hand at all times, but if in a bind, you can find either at any NYC deli. Together, pasta and eggs can be the basis for a kick-ass carbonara, or a simple frittata, both of which are endlessly customizable with whatever deli meats, cheeses, or random veggies your bodega (or your pantry) has to offer.
Is it ever OK include something store-bought (Citarella's or Trader Joe's-style) at a dinner party?
Girl, please. Supplementing with store bought ingredients is the key to a stress-free dinner party. Bread is one of our biggest go-to's, and we sometimes use it to replace a side dish altogether if we're making something extra saucy that can be sopped up with a big piece of crusty baguette. For dessert, ice cream is a great option (see question #1), perhaps with some store-bought cookies on the side if you don't have time to make any. A few good blocks of cheese makes for one of the easiest appetizers ever.  If you're going down the store-bought road, really the only thing you need to make from scratch is the entrée. This is perfectly acceptable. The problem is that buying from the store is often more expensive than making the dish from scratch. Often, we'll end up assigning some of these store-bought dishes to our friends if they offer to bring something besides wine. Don't be shy about delegating.
I want to start bringing my lunch to work. Any suggestions for some fun and easy recipes for lunchy things I can prepare quickly in the morning?
Wrap sandwiches can be thrown together last minute and are great for brown-bagging. The tortilla doesn't get as soggy as sandwich bread, and you can pretty much repurpose everything but the kitchen sink as a filling. Some of our favorites are these
crunchy hummus wraps
and
egg salad, arugula and bacon wraps
.
What are some kitchen staples I should keep in my house at all times?
Eggs, pasta, canned tomatoes, garlic, olive oil, parmesan, spices.