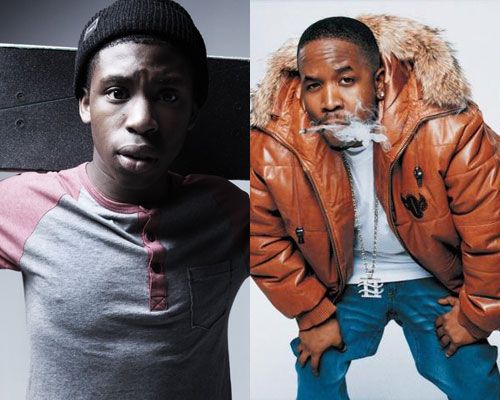 You couldn't paint two pictures more differently a few weeks ago backstage at Sydney's Hordern Pavilion. 18-year-old hip-hop newcomer Miracle was silently listening to his iPod, perceptibly nervous about opening for hip-hop vet Big Boi. Conversely, Big Boi was lounging nearby with an Xbox controller in his hand, one eye on the racing game "Need for Speed," the other on the gaggle of nearby reporters trying to interview him.
Big Boi, who, with André 3000, became hip-hop royalty in the late '90s with his act OutKast, finally came into his own with one of 2010's better efforts,
Sir Lucious Left Foot: The Son of Chico Dusty
. Despite the album various release delays and other label headaches, it was roundly well-received by critics. Big Boi handpicked the Ghana-born Miracle -- whose new track "Better Dayz" has become wildly popular in Australia and is starting to gain momentum in the U.S. -- to open this one-off Sydney show.
And Big Boi's not the only one paying attention to Miracle. While Australian hip-hop is as healthy as it's ever been, Miracle's international ear is what's catapulted him into mass-hype. He's a savvy sampler with eyes on the biggest and best from around the world, and, at his young age, he hasn't been at it for long. He was snapped up by the Sony-licensed and distributed urban label, NuFirm, after sending around a track he'd created for a high school music course.
PAPERMAG sat down with the duo before their Sydney show to discuss their hometowns, the art of sampling and making, in the words of Big Boi, some of "the funkiest shit to ever hit the planet."
Do either of you have any last-minute rituals before taking the stage?
Miracle
: I just throw on my headphones, listen to my iPod. I listen to what I'm about to rap.
Have you seen Jay-Z's
Fade to Black
tour movie? He says that every time he gets on stage he visualizes killing the stage -- the crowd going crazy. [That's what I try to do.]
Big Boi:
I just do a little stretching -- y'know what I'm saying? Um, or maybe some push-ups. Say a little prayer before we hit the stage. That's it. You let the music take you. Y'all just go out there and rock that shit.
What hip-hop artists are inspiring you two right now?M
: Definitely rhyme-wise, it's Jay-Z. He is one of the most well-rounded rappers, like, in the game. He's got like 11 albums, and they all went platinum. That's legendary.
BB
: To me, at this point, it's just about having fun and doing what you're doing, y'know? I've done it all. My focus right now is making the coldest music I can possibly make -- some of the funkiest shit to ever hit the planet.
Who are you digging away from hip-hop?BB
: Little Dragon, M.I.A., a little Bill Withers, Nina Simone, Steely Dan, Zeppelin, NWA. Everything, man. Just put my iPod on shuffle -- I'm gone.
M
: I've been into '90s punk for a while. Blink, Sum41...
What compels you to sample particular tracks in your work? Particularly, Miracle, you sample Australian singer-songwriter Pete Murray on "Better Dayz," who's a bit folky sounding. And you, Big Boi, sample Harold Melvin and the Blue Notes's
"
I Miss You" on your new track "Shine Blockas." Why did you chose those artists?M
: With Pete Murray in "Better Dayz," it's not really a song that you'd see people sampling. Nobody would touch it. Maybe Kanye. So it's something new, it's something new. Melody gets my ear. If I hear a melody and connect with it, I jump straight to the drum pattern I can put on top of it.
BB
: It's the melodies in the track you're sampling, for one. The whole Harold Melvin and the Blue Notes thing... with some songs, you just take the rhythm of it and just bust it, y'know. Very subtle, but you know when we pick something, it's going to be heartfelt, for real. It's all about creating vibes.
Miracle, how connected do you still feel to your hometown in Ghana? And you, Big, with Atlanta?M
: I kind of [feel connected to Ghana], and I kind of don't. There's a cultural barrier between me and the country that I'm from -- I grew up around non-Africans, and it wasn't until we moved to Sydney that I started to relate to a lot of Africans. That changed me. That's what got me started into hip-hop. It was that influence.
BB
: Atlanta is definitely a big influence. It's real easy. Laid back. Plus, we've got the best-looking women in the whole wide world
Miracle, Big Boi specifically selected you to open for him tonight. What was that like?
M
: I've been a fan of his for a long time. Especially in the OutKast days. When he went to do his own thing, I was down with it. I like the new stuff. I really like "Ain't No DJ" -- the one with Yelawolf. Big's an entrapeneur. He's done his music thing, he's been in movies. He's really influential.
Big Boi, do you have any advice for young hip-hop artists like Miracle?BB
: Just keep doing what you're doing. Don't change a thing. Push hard -- everything is a grind. I spend a lot of hours in the studio, I'm real meticulous. If I was talking to 18-year-old me, I'd say don't change nothing -- just push hard.