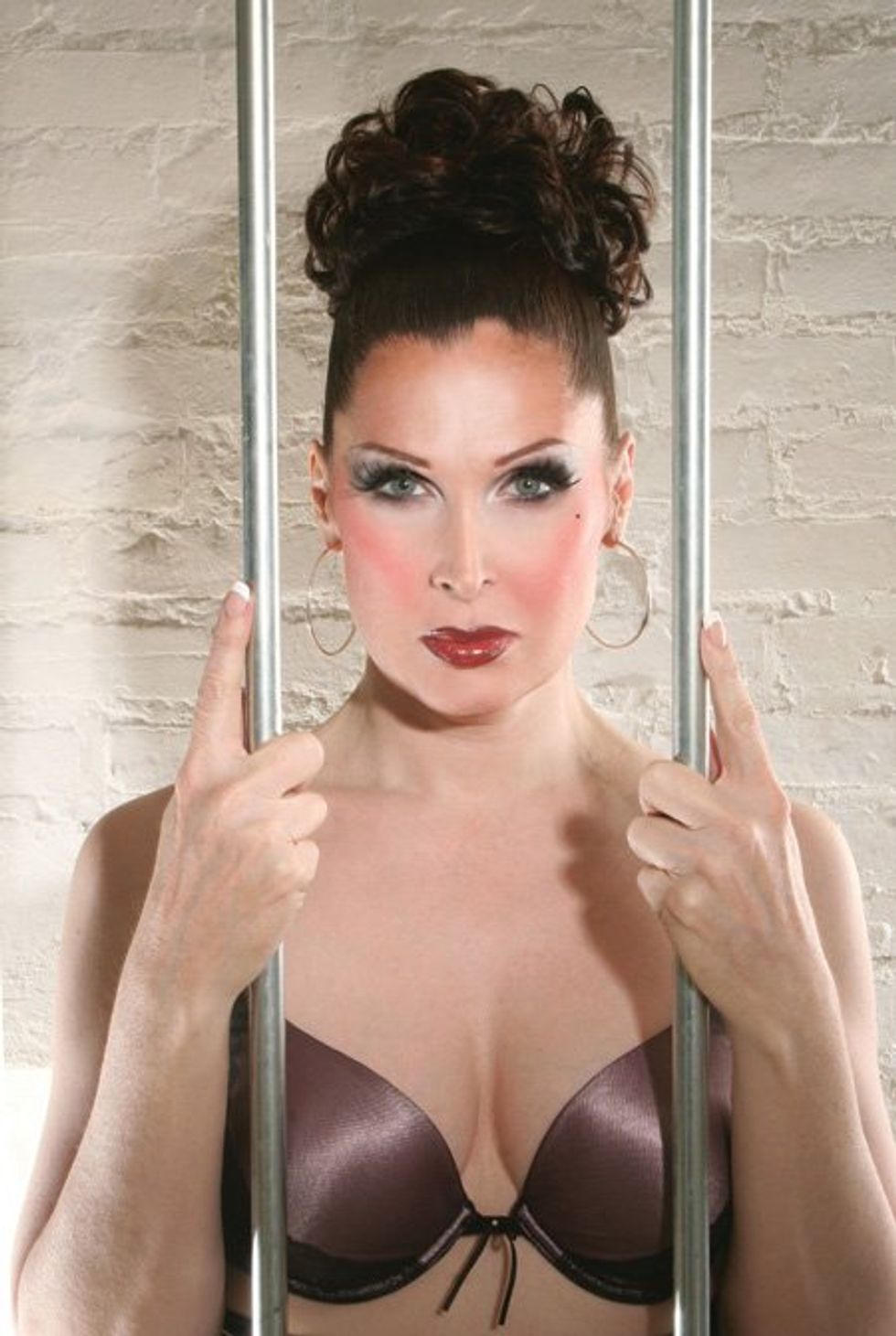 Transgender actress Bianca Leigh has long been one of downtown's stronger performers.  (You may have also seen her as Mary Ellen in the groundbreaking film, Trans America, with Felicity Huffman.) She's a dynamic presence on stage as well, recently playing Time in Taylor Mac's 2010 Obie award winning The Lily's Revenge, and before that, Margareta in Theater Askew's delightful Cornbury: The Queen's Governor. She is also a knockout nightclub singer. Leigh's wrote and stars in the her new biographic solo musical A Night at the Tombs, directed by Theater Askew's excellent co-artistic director Tim Cusack. Taylor Mac and Jeff Whitty (Tony Award winner for Avenue Q) also wrote some of the songs. I spoke with Leigh.
TOM MURRIN:  Hi Bianca.  I've seen you in other people's shows and always thought you were great; what's your new solo show about?
BIANCA LEIGH:  It's about a young, beautiful trans-girl, trans-woman, who comes to New York City to seek fame and fortune and to be a Shakespearean actress. And she finds that there's one thing she has to do first: she has to change her sex. But the medical establishment at the time was outrageously expensive, so she finds work as a dominatrix, which is completely legal. But then, through a grave misunderstanding, she is arrested and spends 36 hours in the Tombs.
TM:  I remember the Tombs. It was where the garden at 6th Avenue and Greenwich Avenue is now, behind the Jefferson Market Library. You don't seem that old.
BL:  This would be in 1987. I'm 47 now.
TM:  So the show is what happens during those 36 hours you're in jail?
BL:  While she's there, she thinks about her life up till then. First of all, she meets all sorts of people. She's in protective custody. She meets butch queers, drag queers, sadistic correction officers, straight guys looking for an easy night of it, shoplifters, prostitutes, heroin addicts and the occasional turnstile jumper.
TM:  What will we see of all this?
BL:  You're going to see what happens in the jail. But also, she has plenty of time to see how she got there. We learn about her family (in New Jersey), about being a young trans girl, how she started out having to hide her true nature. She led a double life, having to hide what she was like and sneak around.  But what she really learns is that freedom is so important and so precious; and also that she is a member of a queer community. She has a queer consciousness. Even though she is a trans, she is a queer and subject to the hate of the straight community.
TM:  So tell me some of the things that happen.
BL:  When she's in the Tombs, she's called a "homo." She's not treated like a debutante, even though she may look like one. She leaves a little more grown up. She goes in thinking it's a game; even the domination thing seemed like a game to her.  Once she leaves, she realizes it's not a game. Being a woman is not a game. And power is not a game, but is something very real that is abused.
TM:  So what will you do in the show?
BL:  I tell stories. There are several songs. Taylor Mac wrote a lullaby that I sing during my childhood section. Jeff Whitty wrote a song, together with Barb Morrison, set in Show World on 42nd St. I act out all the characters. I do my mother and father and some of the people in the cell.  At one time there might be anywhere from 4-10 people rotated in and out of the cell. I do some of the guards, lawyers and judges; and the woman who employed me, Fleur-de-Lis, a world famous dominatrix.
TM:  This sounds like  it was a life-changing experience.
BL:  Besides learning about freedom, community, compassion and abuse of power, she learns to be a part of a community she may not have realized she was part of, and how sometimes the bad guy is really the hero. The world is really a complicated place. This all happened 25 years ago, when I was a kid, a blip. Since then, after that, I eventually got out of that and tried to change. At that time it was very hard for a trans person to get a job, there weren't any civil rights rules. Now it's different, you have job protection.
Bowery Poetry Club, 308 Bowery, (212) 352-3101, July 1 - Aug. 5, every Thursday night at 8 P.M., July 1, 8 (opening night), 15, 22, 29 & Aug. 5, $18.