Beyoncé once again shows she doesn't run from controversy: in fact she welcomes it. After conservative news anchor Tomi Lahren complained about Beyoncé's Super Bowl performance channeling the Black Panthers, Beyoncé's team approached her to use the audio as a part of the Formation tour.
Lahren went on a rant saying things like, "Beyoncé didn't reference the Black Panthers to bring about some kind of positive change, she did it to get attention," and, "Why be a cultural leader when you can play the victim, right?" In the full clip, she all-around slams Queen B. We've got to assume she missed out on seeing LEMONADE in all its glory this weekend.
In an effort to turn lemons into lemonade, Beyoncé asked for permission to use a 30-second sound clip of Lahren's tirade on her Formation tour. However, Lahren denied her request on Twitter saying, "Not gonna be a part of a massive race bait." Seems it's really Lahren's loss in the end.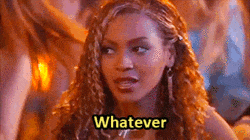 [h/t i-d]