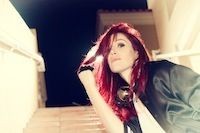 In this weekly column, MC/DJ Hesta Prynn pairs pop culture stories with an original playlist.
An Open Letter to Beyoncé Knowles
Dear Bey,
You are a goddess and a living legend, but right now you are risking* overexposure. Your face is on our mascara, your movie ads are everywhere, your thighs are a meme. Perhaps your husband predicted this, as your ubiquity can best be described by his lyrics in the song pairings below. We worship you, Mrs. Carter, but if we may speak frankly for a moment...we implore you to let us miss you for (literally) one second.
Sincerely,
The Entire World
*guaranteeing