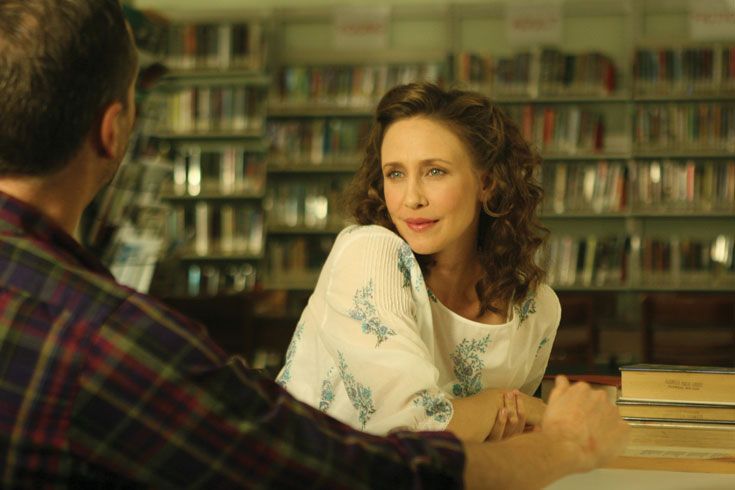 Throughout the madness that is the Tribeca Film Festival, one of our favorite gals-about-town, Bevy Smith, will be reporting from the front lines. Here's her latest installment...


Don't you just hate folks that can do more than one thing well and are beautiful?  If so, be prepared to hate
Vera Farmiga.
Not only does she star in the new fabulous film
Higher Ground
; it's also her directorial debut.
Farmiga plays Corrine, a young wife and mother that becomes a Bible thumper when her young baby is saved from a near death accident.  Corrine and her husband (a simple yet good man type) decide their baby's survival is a sign from God to devote their lives to him. They become part of a religious community where women aren't allowed to preach and Corrine's off-the-shoulder maxi maternity dress (incidentally very "on trend" for this season) is seen as a threat that could lead men to lust after her. Corrine's saving grace is her lusty best friend Annika (gorgeously played by Dagmara Dominczyk).  Annika is a devoutly religious woman yet she believes the human body is beautiful and made to be worshiped, especially her husband's penis which she calls "Shamu" (one of many funny moments in this film). When Annika is practically lobotomized due to surgery on a brain tumor, that's when Corrine really begins to question her faith.
Corrine becomes restless, begins to read more than just the Bible and in turn begins to analyze not only those around her but herself.  When her husband, sensing her dissatisfaction, tries to reach her in a clumsy, "religiosity" kind of way and when she mocks his shortcomings (intellect and sexual prowess), he chokes her and takes her to a "prophet" marriage counselor.  When the "prophet" tells her she better come inside the kingdom with the Lord or be outside with the dogs, Corrine is firm in her decision to move out from her husband and three children and begin a new life as a "single woman."  As in life, they are no easy answers in this film, but Corrine is brave. The courage it takes to question something that has formed your identity in an effort to truly seek "Higher Ground," is nothing less than miraculous.