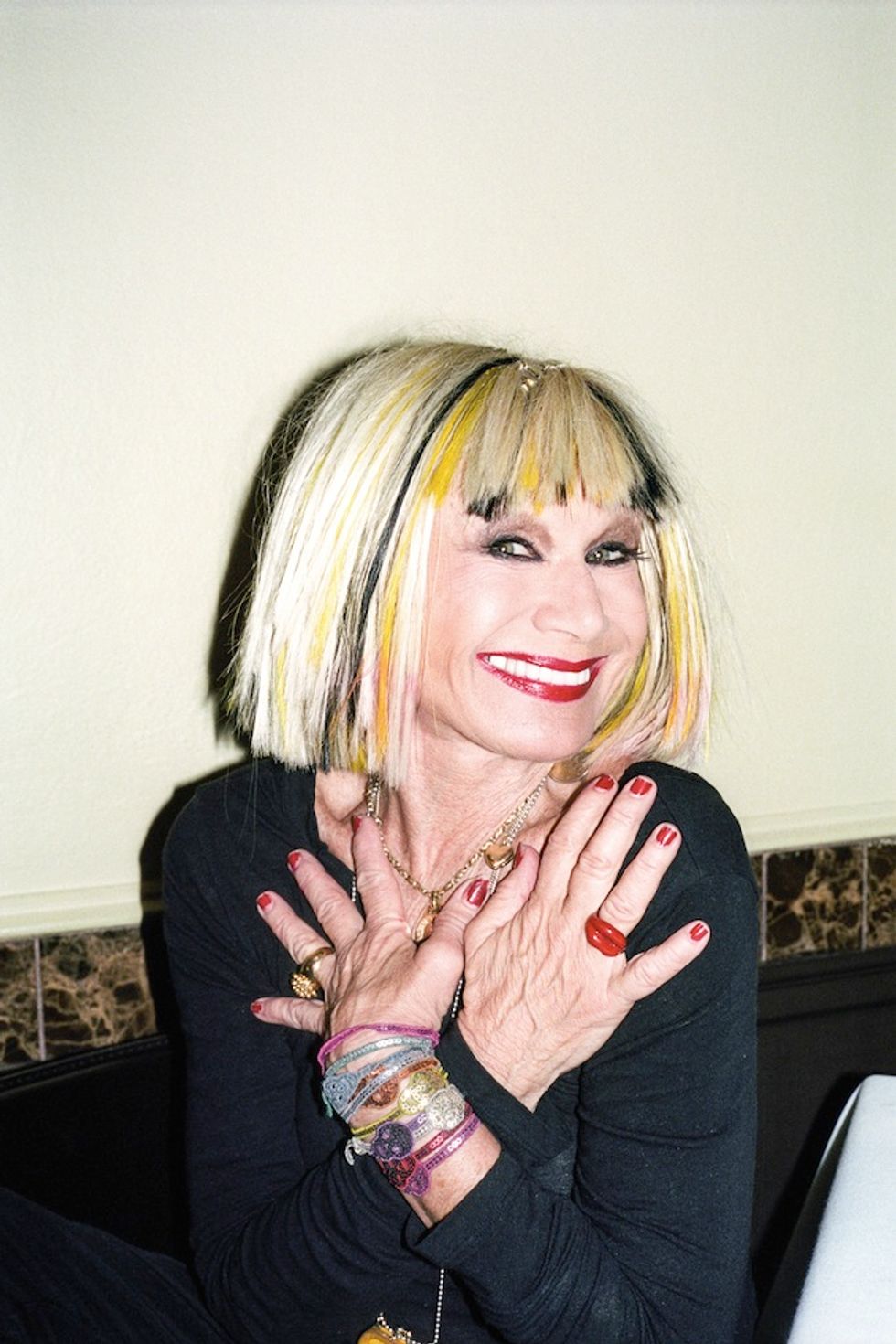 Photo by Ben Rayner
With her Crayola-hued hair and sexy rock 'n' roll attitude, Betsey Johnson has done cartwheels, literally, through her 50 years in fashion. Meeting me for lunch at Esca, she was in a nostalgic mood, possibly because she'd just received a Lifetime Achievement Award from the Council of Fashion Designers of America (CFDA). With the energy of a teenager and the body to match, Betsey told stories of the old days -- pulling scrapbooks and dance costumes out of a suitcase she'd brought -- and reflected on the 2010 sale of her company to Steve Madden. (Betsey has stayed on as creative director.) Between all the reminiscing and socializing, she barely managed to slurp a spoonful of fish soup. 
Once we had a girl at PAPER who told me her dream was to go to a Betsey Johnson show. I was like, "Done!" She wore her Betsey Johnson prom dress to the show and cried. What do you think inspires such devoted, hardcore fans?
Since we sold the company, my fans are coming out of the woodwork with tears in their eyes. I was feeling bad about it, but everyone tells me how much they loved what I did. The CFDA thing is like the Good Housekeeping Seal of Approval from my industry. You know, when I started I did about 10 different jobs before I went on my own. Even when I worked for other people -- Capezio, Neiman footwear, Gant for Men -- I had my name in the label. I mean, 50 fucking years, my name in the label. And that said I had control, which is the game to me. I knew what I wanted to be when I grew up, and that was in charge.  
What were you like as a little girl?
Oh, I was an awful showoff. I used to sing "All I Want for Christmas is My Two Front Teeth" and shit like that. I was performing since I was four. Basically, I'm a costume designer. All my work comes from my dancing costumes. And I had about 10 costumes every year. Another thing: I just knew growing up that if I was going to do anything, I was going to be nice. It sounds stupid, but I really wanted my customer to be my girlfriend, to be my friend. And she is!  
Were you boy-crazy as a teenager?
Oh totally! I went with the bad boys. Rock and roller. Very '50s. Long hair swept back and greasy. I was the good girl. [
Betsey takes out a scrapbook and starts showing me photos. In the first, she's wearing a tiara and a giant tutu.
] There's me at my prom. I was the queen.
 
You were prom queen? That explains it all.
This is a picture of [legendary MGM star] Cyd Charisse. In high school I was a member of the Cyd Charisse fan club. When I was a guest editor at
Mademoiselle
, we got to pick one famous New York person we'd love to meet. So I picked Carol Channing. Oh, she was great. She said she was a nervous wreck and used to throw up before every performance. She believed that excited, nervous energy was very important to every single night, to every single show.  
Do you get nervous before your shows?
I get nervous for the critics, for the reviews. I don't get nervous for the shows because I'm in control of them -- and what I do, I believe in. If it doesn't work, it's OK. We only did what we did because we believed in it, and we were ready to sink at any point, waving the Frank Sinatra flag: I did it my way!  
I hear you're moving to California.
Oh yeah, I'm moving to Malibu because of the kids [i.e. her grandchildren]. I'm going to be bicoastal, which is great because the Malibu market has more fucking fashion and uniqueness and health and grooviness. It's a very inspiring place. I'm buying a Mini Cooper. It's a little car and I never want to go on the highway, [although] I'll go on the PCH because it's straight and I know where to go. To be honest, I hate California, and I do not like the earthquakes. Malibu is strange. A couple of old surfer dudes looked at me, and I looked back at them and thought,
Wow. This is the first time that I've had any communication with a man outside of being "Betsey Johnson" in New York City.
Are you dating anyone now?
No! I was going to do the matchmaker thing but she wanted $250,000 with no guarantee.  
You're kidding. You should go on Tinder!
I can't. That's the problem. Most guys just use and abuse me. They're [usually] musicians or cooks or something completely out of left field so that they don't remind me of my work. But I let them take advantage of me.  
Well, maybe the surfer dudes can work on that. You've worked with many big musicians over the years -- who have you been most excited to dress?
Prince came in the store years ago with his bodyguard, and I was standing on top of a ladder while he picked 10 things. He picked the purple and the velvets and the chiffons and everything that I would have picked for him. Boom, boom, boom. I came down from the ladder and said, "I love you, Prince! I love you!" He said, "I love you. Keep on doing what you're doing."  
That's fabulous. All right, eat your soup.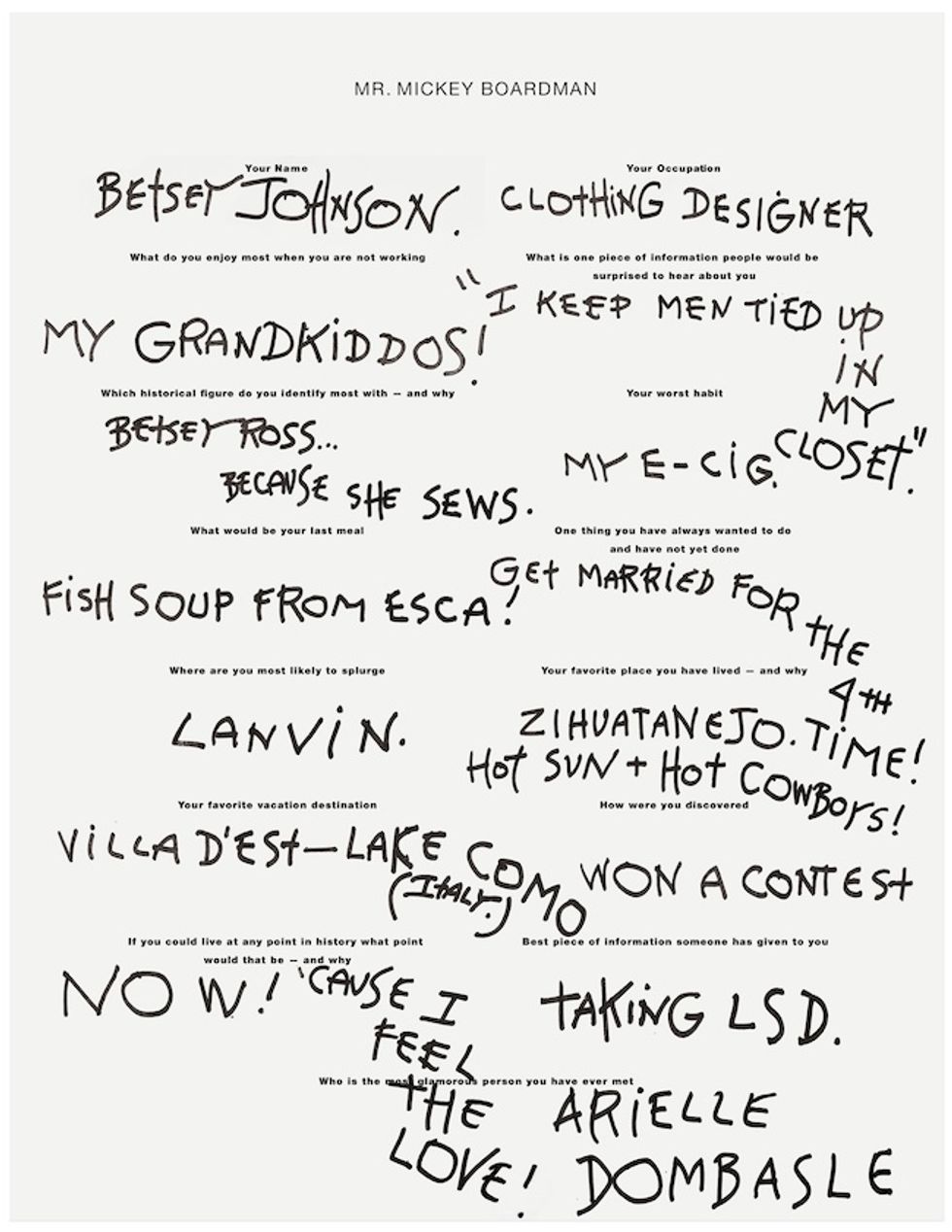 You May Also Like