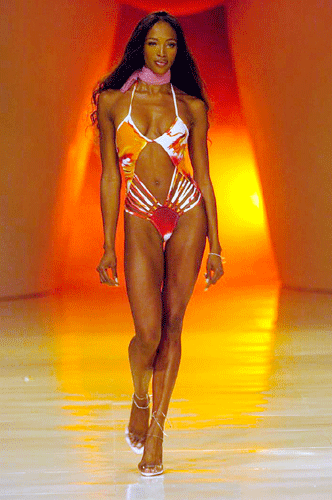 There's very little that pleases me more than a room full of beautiful black people.
Especially when the room includes André Leon Talley, Naomi Campbell (who could not have been more delightful, by the way), Liya Kebede, Tyson Beckford, Constance White, Iman (could she possibly be more beautiful?) and the legendary Bethann Hardison, who both organized and hosted the event -- a town hall type gathering held at the screening room at the Bryant Park Hotel to address the lack of black models in the fashion industry.
There were other people of color and white folks in attendance, too, but it was mostly gorgeous brown-skinned faces, many of whom I recognized from various projects and points in my career: former model and author Barbara Summers, who spoke vividly at the meeting, was an interview subject in my first book, I Know What the Red Clay Looks Like; the exceptionally dope-ass fashion stylist Michaela Angela Davis, with whom I sat on a panel at the Smithsonian some years back, was there kicking it on point; and my dear friend, the brilliant documentary producer, Selina Lewis Davidson, was there filming the event for a doc-in-progress she's working on with Bethann.
The vibe of the event was intimate and informal -- Bethann, dressed casually in a black sleeveless top and black pants, sat on a low stool on stage where she held court with sass and insouciance; bringing up questions and concerns and hand-selecting various friends to come sit next to her on a nearby stool to help better illustrate the matter(s) at hand (designer Tracy Reese, Iman and Naomi, a discrimination lawyer). Everyone in that room loved themselves some Bethann. And what's not to love? "They used to call us [black models] 'black stallions' and we took such pride in that," she said, recalling the early days of her own modeling career. "But then, we were coming off the civil rights movement -- it's a different era now." It sure is. We're not coming off anything, we're just getting more and more obtuse about fashion and beauty.
Things got off to a slowish start and, as the author of several books on race, I went in with kind of a cynical attitude to begin with -- heard it, seen it, done it, discussed it. Now what? But like any slow moving storm, after the first crack of thunder it's ON. Model agents felt attacked, photographers felt under-represented, black press (from Ebony, Essence and BET) wanted to know how the introduction of urban style (Rockawear, et al) plays a part, while others wondered how to move beyond the black aesthetic seen in hip-hop videos, and André Leon Talley said we absolutely must take this to the CFDA as soon as possible if we want to accomplish anything. Suddenly, it felt like a real movement was taking shape.
I added to the mix that we've reached a sort of chicken-and-egg conundrum, whereupon fashion magazines and shows and designers cater to a very uniformed look right now: skinny white girls. Subsequently, young black women don't see themselves and they internalize the exclusion to detrimental effect -- they lack the self-esteem and confidence to get out there and strut their stuff, to cultivate their individual style. And at the end of the day, as Bethann said repeatedly, being a model (regardless of color) is about ambition and attitude: you've got it or you don't. You have to come WITH it, balls to the wall, crazy sexy cool. So if no young black women are bringing it, model agencies aren't pushing for it, and magazines aren't questioning it, where do we start with changing things?
Bethann believes it's going to take a revolution, and that the most important component of launching a revolution is staying organized. ("Because you know I talked to Fidel this morning," she said.) Every soldier has to be armed and ready, Bethann continued: "In it to win it." The room exploded in applause and loud, church-like affirmations. Oh, it's on all right. And how.
Stay tuned, the next meeting is October 15th at the New York Public Library.