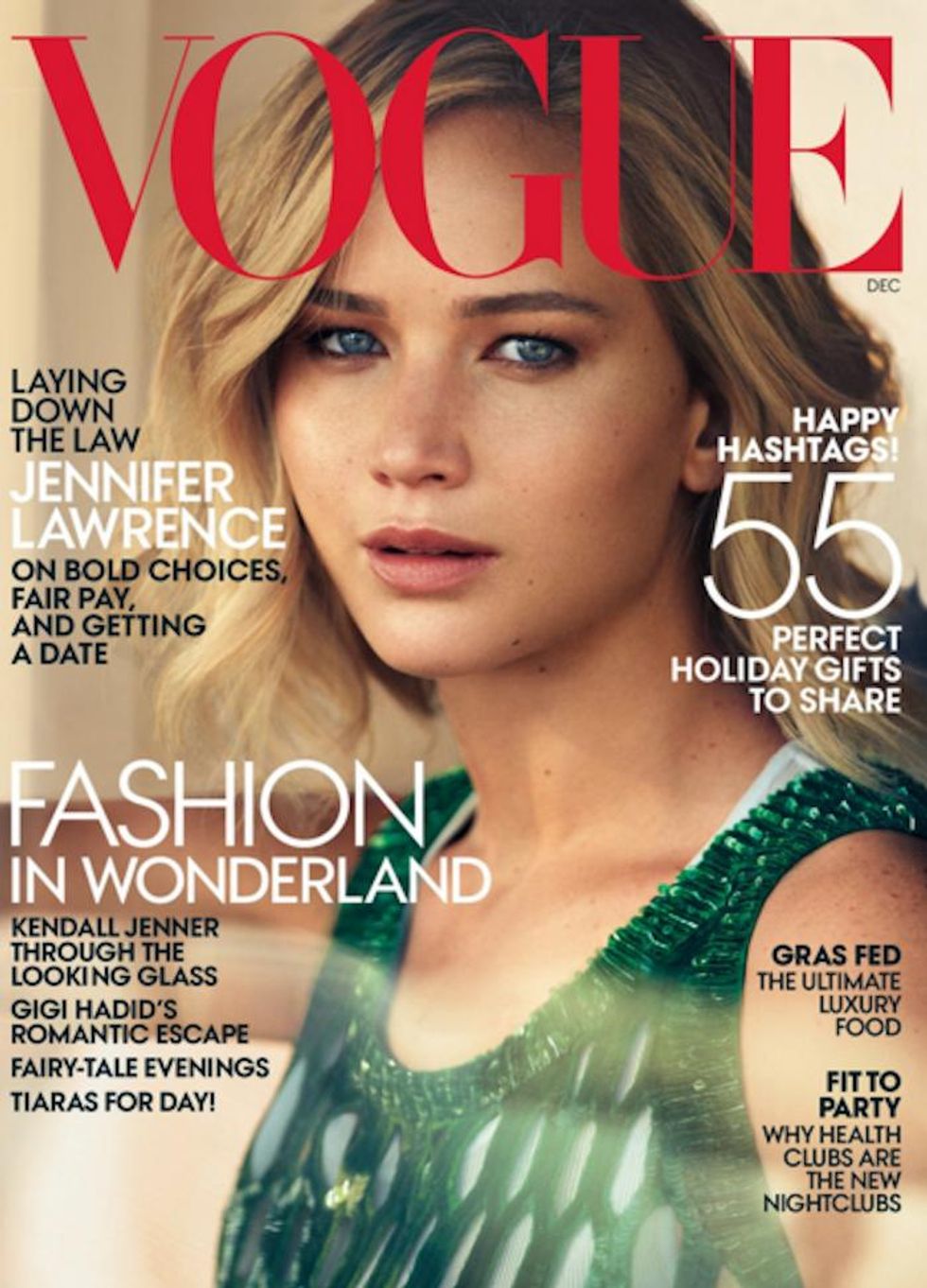 America's diamond, Jennifer Lawrence, landed another Vogue cover for December, and the most famous actress in the world, not surprisingly, gets real AF.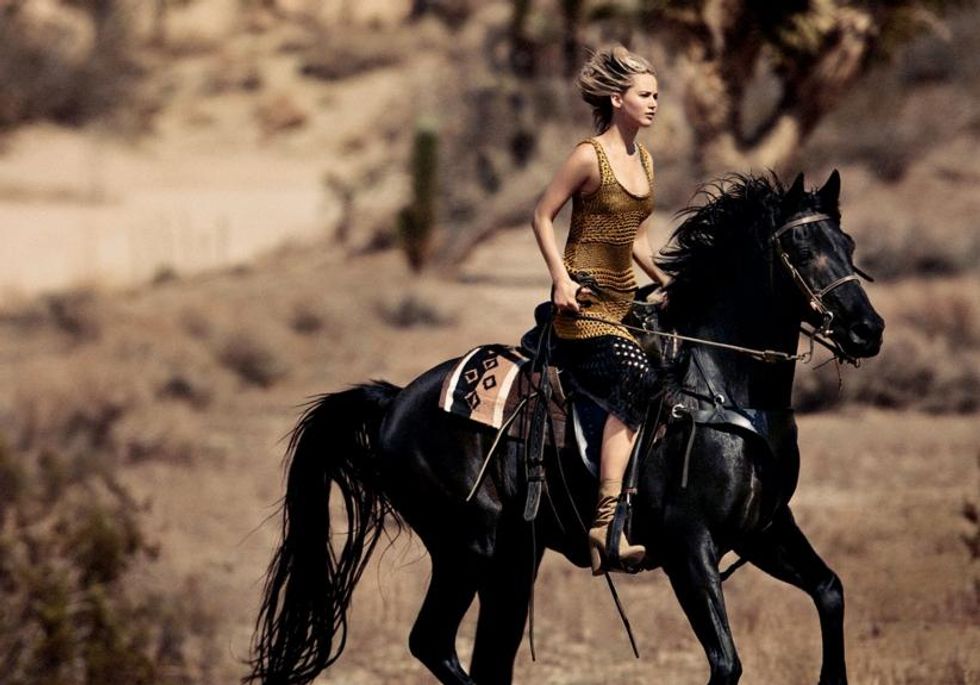 25-year-old Lawrence, who's in the midst of promoting Mockingjay Part II, the final installment of the unfathomably enormous Hunger Games franchise, also faces her probable fourth Oscar nomination (and perhaps 2nd win) in David O. Russell's upcoming dramedy Joy, loosely based on Joy Magano, the inventor of the "Miracle Mop."
Forbes documented that this year alone, the young superstar made $52 million, making her the highest paid actress alive. But, as this interview demonstrates, it certainly hasn't gone to Lawrence's head.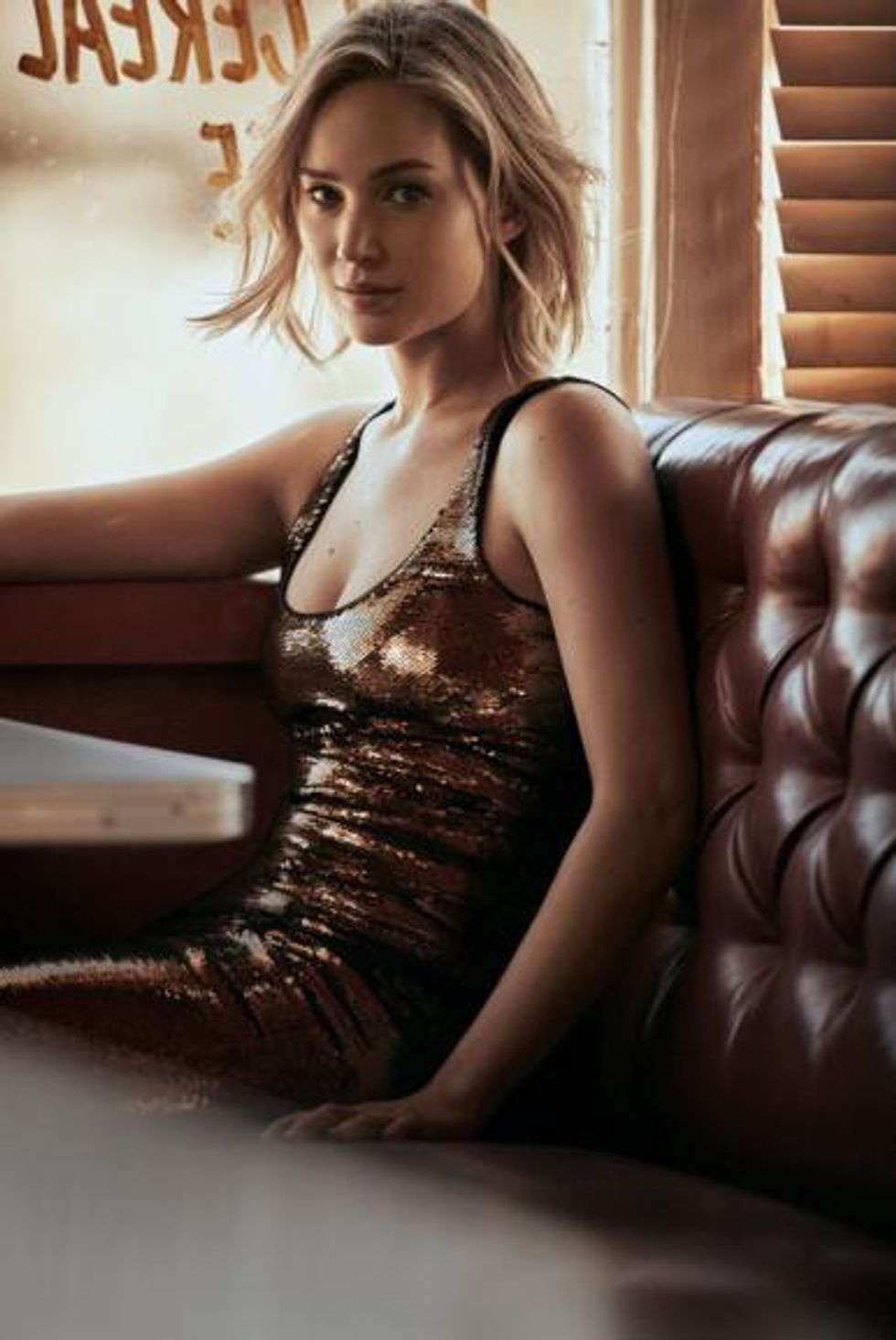 Some highlights from the absurdly candid chat.

On being the central figure in 2014's traumatic "Celebgate" scandal:
It was exactly a year ago that hackers stole photos from Lawrence's iCloud account and posted them on the Web, an episode she labeled a "sex crime." Her mother was visiting with a new puppy when the news broke. "I was outside crying, and Pippi jumped up on my lap and started licking up all my tears, and I couldn't put her down for hours. And I mean, hours. I was like, 'Well, obviously, you'remine.' " Looking back, does she have more perspective on the ordeal? "It was all pain and no gain," she says. "But I don't dwell on it unless someone brings it up. Have you seen me naked?"

On born again virginity:
Glasses of wine in hand, we head upstairs, and when we walk into the enormous master suite she makes a sweeping gesture toward the bed and says, "This is where the maaagic haaaappens." Then she shoots me a get-real look. "Literally zero magic has happened in here." She holds up her glass in a toast: "Cheers to my hymen growing back!"

On being a proud member of the Noveau riche:
"Sorry the wine isn't cold," she says. "I always forget you're supposed to chill rosé—I'm new money."

Just because she's chill about it, doesn't mean she can't enjoy flying private:
But some old habits die hard. "I'm not cheap, but I don't want to waste even $5." Is there anything she indulges in?
"Um, private jets? I have such a hard time flying commercial. I always want to—it's cheaper, it's easier—but there can be 300 perfectly lovely people at the gate and one crazy person who ruins it for everyone, so flying private is great because I don't have to worry."
A big fake smile spreads across her face: "Is that relatable enough for you?"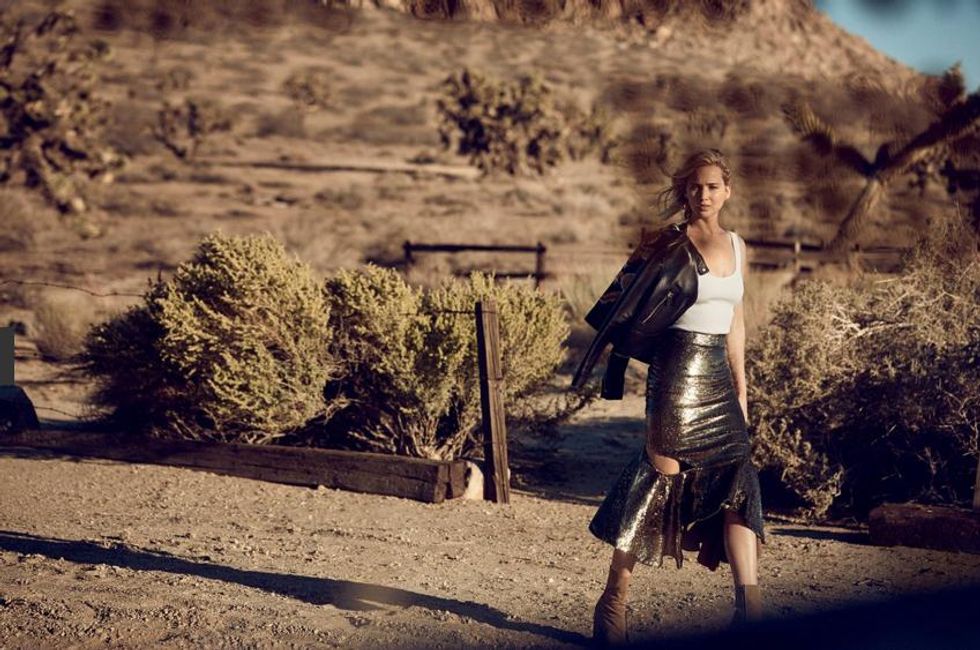 On handling David O. Russell's widely criticized treatment of his female actresses:

"Because I'm not so sensitive, we can really talk, like, man-to-man," she says. "Sometimes he accidentally refers to me as he or him. But he really respects and understands women, and by that I mean he doesn't treat a woman any differently than he'll treat a man. He would never tiptoe around a woman."

She's as socially conscious as they come:

"I was raised a Republican," she says, "but I just can't imagine supporting a party that doesn't support women's basic rights. It's 2015 and gay people can get married and we think that we've come so far, so, yay! But have we? I don't want to stay quiet about that stuff."

Following up with her now iconic essay in Lena Dunham's feminist newsletter, 'Lenny':
"What I was trying to say is that we're not victims. I am holding my own self back. The men aren't to be blamed for asking for more and getting it."

After reuniting with the star since she's started filming the upcoming space epic Passengers (co-starring Chris Pratt):
Her hair is even more blonde this time.
"Oh, this is movie hair." Pause. "I guess this is what sluts look like in space."

She's a reality TV buff:
Half her face is still numb from the Novocain, so we sit in the backyard and wait for it to wear off. "Watch this," she says, and then tries to smile but can't, really.
"I feel like Brandi from Real Housewives of Beverly Hills. She got work done and was like, I had an allergic reaction to aspirin!" And then: "Did you see that Kim Kardashian got lip injections? She took a selfie and wrote, 'pregnancy lips!' Honey, that's not a thing."

She just turned 25 a few weeks ago, with a party here; her friends persuaded Kris Jenner to come and present Jen with a cake in the shape of a pile of poop that read, Happy birthday, you piece of shit!
"My knees buckled," says Lawrence. "And then I got hammered and talked to her like I think I'm part of the family."

The most eligible bachelorette in the world is waiting for a damn gentleman, just like everyone else:
"No one ever asks me out," she says. "I am lonely every Saturday night. Guys are so mean to me. I know where it's coming from, I know they're trying to establish dominance, but it hurts my feelings. I'm just a girl who wants you to be nice to me. I am straight as an arrow. I feel like I need to meet a guy, with all due respect, who has been living in Baghdad for five years who has no idea who I am."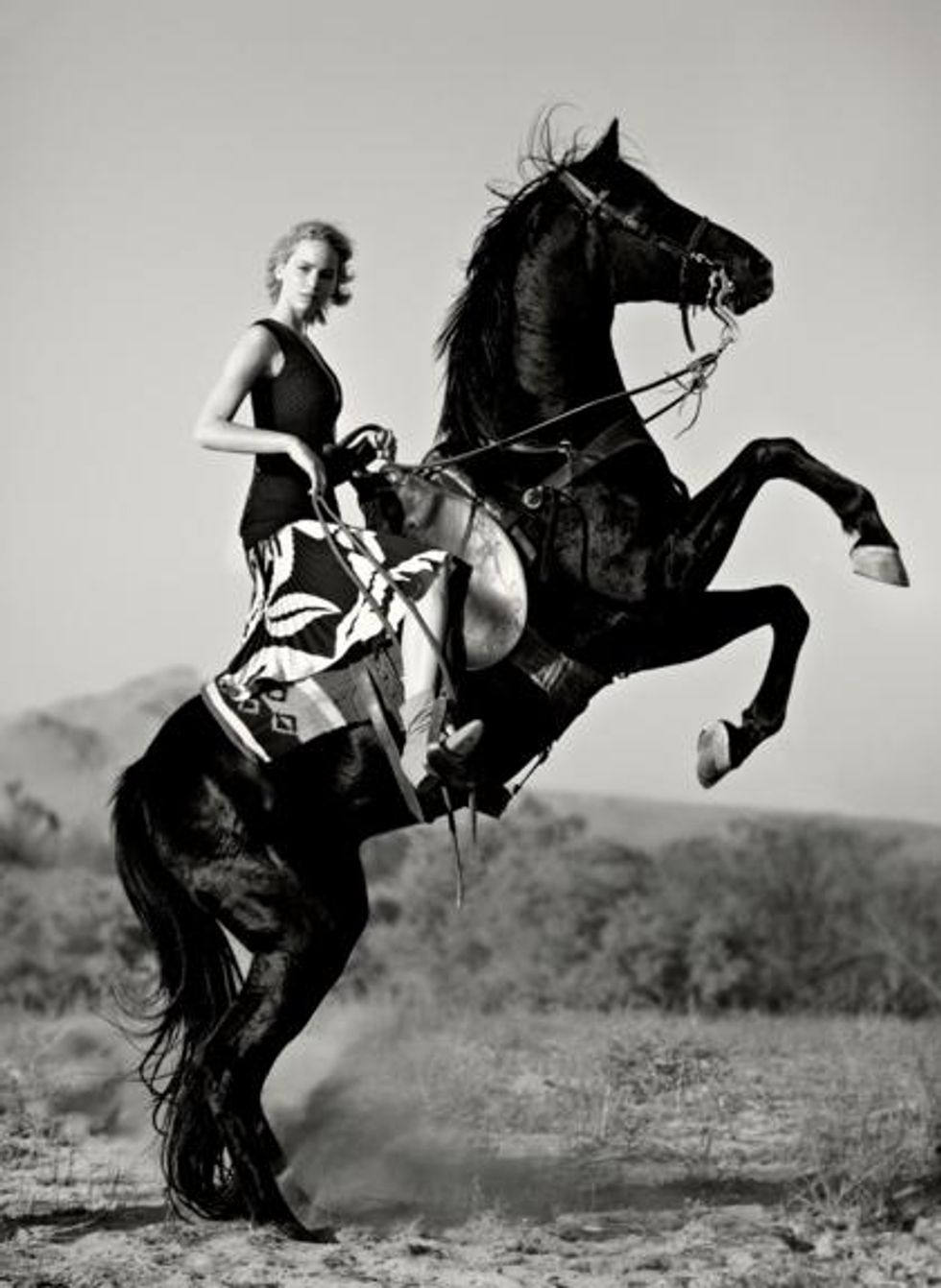 *Same*

Watch a hilarious short film from the Vogue shoot, starring, of course, Jennifer Lawrence.