While talking about a recent trip to London to see the play Harry Potter and the Cursed Child, Ben Platt shares that he most identifies with the series' characters Ron Weasley and Neville Longbottom. It's a fitting affinity considering that the 23-year-old actor himself often plays vulnerable, endearing young men like lovable nerd Benji in Pitch Perfect and Pitch Perfect 2 or Elder Cunningham in The Book of Mormon. In Dear Evan Hansen, on Broadway now, Platt plays the titular character, an awkward, anxious high schooler who becomes embroiled in a lie about a peer who committed suicide. Platt recalls a fib he once told about -- what else -- his beloved J.K. Rowling books. One of the Harry Potter installments came out while he was at summer camp but Platt's copy "didn't come in the mail and I got really frustrated," he recalls. "There was another kid in my bunk named Ben. In the middle of the night I took his book because it said 'Ben' in it. I wrote my last name, pretended it was mine, and completely got away with it." He still feels guilty.
We spoke to Platt about lying, social media, and parent-child relationships.
Social media plays a large role in the show. How does this work thematically?
The musical tries to give a very accurate and honest depiction of what it's like to live right now. A huge part of that is the assumed presence of social media. Something the show does really successfully is depict it as the backdrop of our lives, part of our daily interactions. The show really attempts to not take a partisan stance. It shows the beautiful things that can come from it as far as building a community and a place for support. It also shows the downfalls of social media and the ways that it allows us to hide behind a false depiction of ourselves, how it allows people to instantaneously judge and attack each other using the safety and privacy of a user name.
What about your own relationship with social media? When did you get a Facebook and how has your Facebook presence -- or presence on any other social media platform -- changed since you've become a more public figure?
I first got Facebook when it was becoming really big, when I was in like 8th or 9th grade. For most of middle school and high school it was primarily just a way to make plans. When you had a party you'd have an event on Facebook. I kept in touch with my friends from camp who didn't live in the same place as me. As I became an actor and blossomed a little bit, Twitter and Instagram and things like that became more popular. Social media has become largely a professional tool now. I think it's a lot more useful for connecting with fans who have been moved or affected by work that you do and for promotional purposes. People get an insight into the process of a show or of a film. I don't really share my private life. If I've taken anything from doing this musical for three years, it's valuing the real human connections that are in my life and to not seek too much validation from the online ones. I enjoy them for what they're worth and don't ignore that they're very valuable as an actor and a professional, but I don't let them take the place of the people whose real human contact makes life worth living.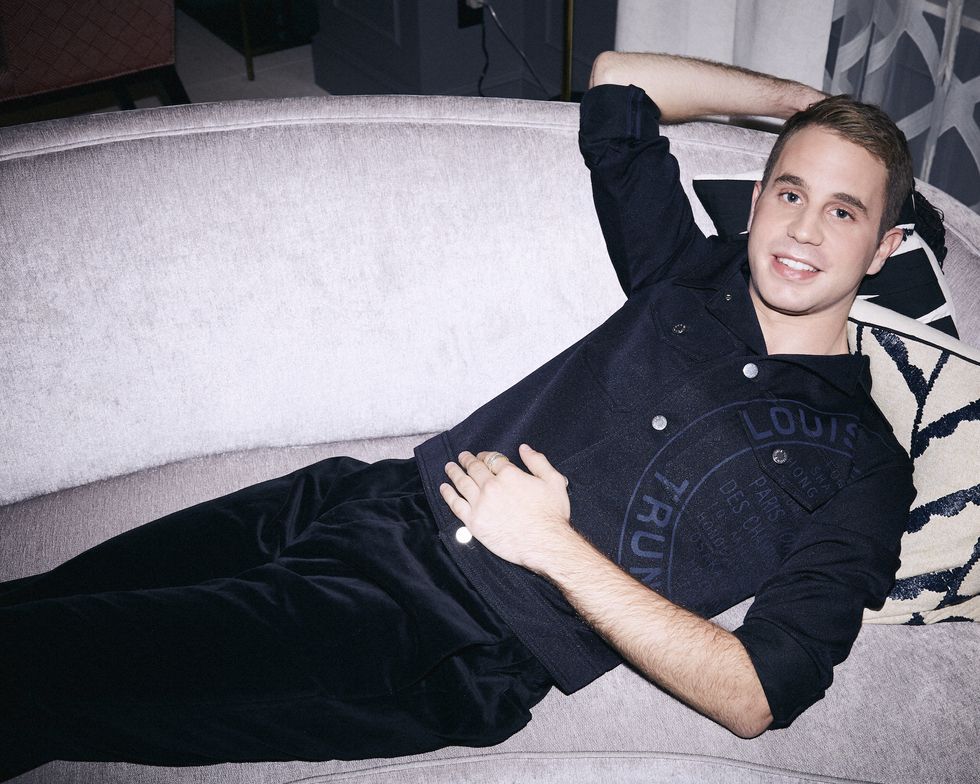 Jacket by Louis Vuitton, pants by Philipp Plein
Throughout the show, there are projections on the stage of social media platforms.
Our brilliant set designer David Korins and our projection designer Peter Negrini create this physical manifestation of the online world. When there's something that becomes viral or there's a sensation online, you're able to see the physical manifestation. It begins to surround everyone in all different ways. The overwhelming nature of something getting out of hand online becomes really visually understandable. When people start to gang up and attack somebody online, it's overwhelming and scary as you see all of these surfaces taken up by nasty comments and images and things that flood the spaces. It's almost too real, but I think it's really affecting for the audience.
In your own life, have you ever been part of an online exchange that got out of hand?
I'm a big supporter of Hillary [Clinton] and participated in a couple of music videos and things for her campaign. I try to avoid being too opinionated online because I feel like, to a certain extent, it's only going to reap a lot of hate, unfortunately. The few times I have spoken out about Hillary, I've gotten some pretty nasty things from white supremacists and anti-Semites and people who are lurking on Twitter behind the egg picture. It's tough to take any large stand unless you're really willing to take the heat from the anonymous hatred online.
The show is, in part, about teenagers' desire to be seen. Social media is a way to be seen and being an actor is yet another way to be seen. How has acting has given you a certain visibility?
I tend to be a bit nervous in social situations and a bit shy. I feel like being an actor and inhabiting these different people has allowed me to feel a connection with an audience in a way that I don't in my regular life. It's made me feel like I'm actually using the facilities that I have and the abilities that I have cultivated to do something positive and affect people. That's why I've always loved theater. I've been doing musical theater since I was like six or seven years old and it has a unique quality of being able to zing straight to the heart for people and become an experience that stays with them. There's nothing like a live experience where you're getting to know a character and they're also getting to express who they are musically. You see the inside of their soul in a really unique way. I think it's why this show works particularly well as a musical -- the lead character that I play, Evan, is a very complicated kid and makes a lot of morally ambiguous choices. Because you get to hear his musical voice, you sort of feel that you know him inside and out in a way that you wouldn't otherwise. It allows you to get behind him even when he's doing things that are sort of difficult to understand.
Do you think adults have a particular desire to look back at adolescent struggles?
I think so. This show is a lot about parents and children and the missed connections that can happen. You can think that you know who your child is based on their social media, but it's so different from who they actually are. That creates walls between parents and kids and at the end of the day, both sides are just trying to be seen as human beings. We'll have young adults or teenagers come to the show and then we'll see them return and bring their parents. Or we'll have parents come on a date night or with their adult friends who will return with their kids. It's the kind of show where both generations will feel like, "Look how hard I'm trying to connect with you. I just want to connect with you the way that Evan can finally connect with his mother." It's been a really beautiful thing.
Grooming by Jennifer Brent for Exclusive Artists Management for NARS Cosmetics and Intelligent Nutrients
Stylist Assistant: Chelsea Carter
Location: The Marmara Park Avenue