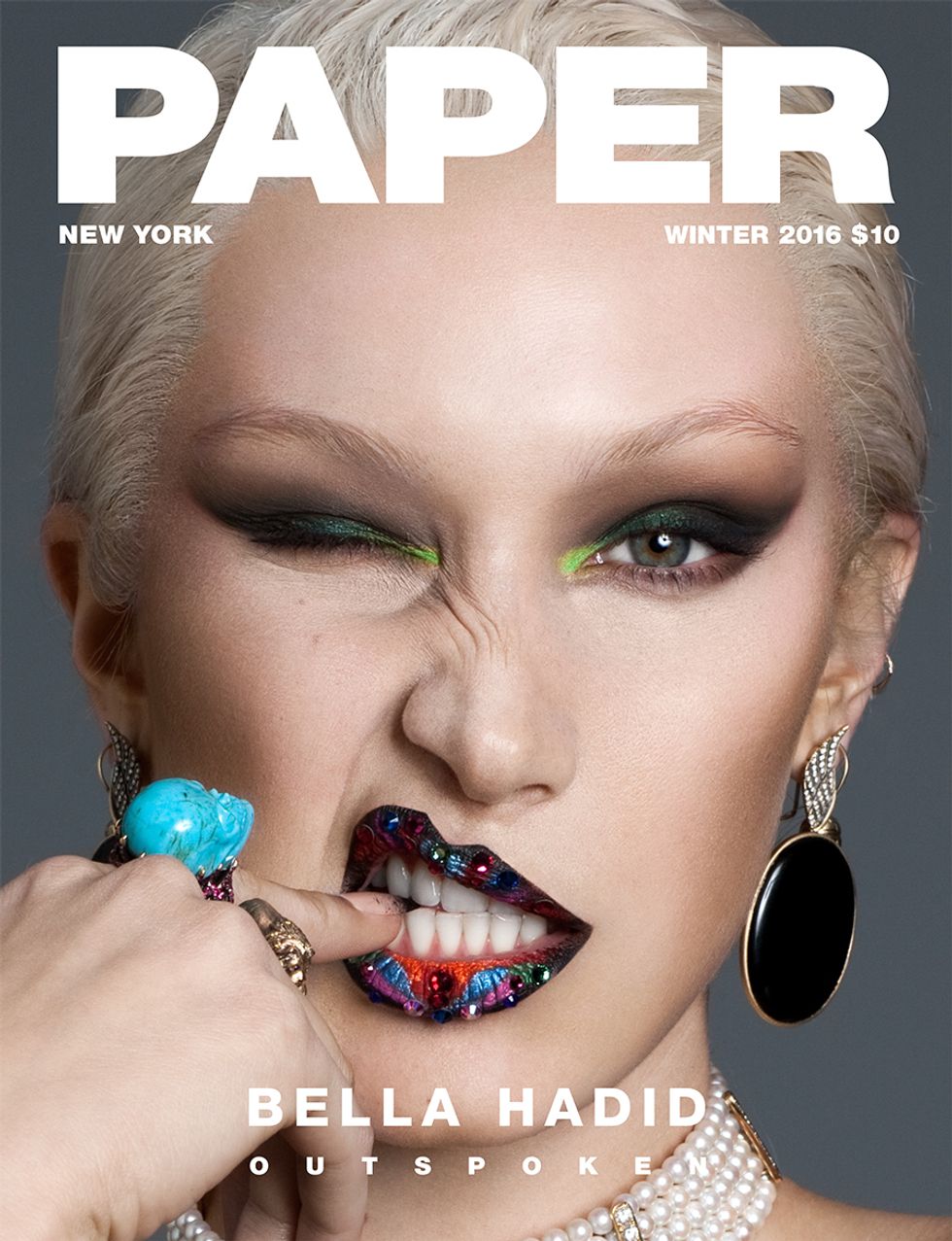 On a crisp fall day, a basement studio in the East Village -- the site of a former bath house -- is buzzing with activity. There's a photographer setting up lights, a makeup artist prepping his beauty tools, stylists organizing clothing and assistants and editors hovering all around. Into this frenzy walks Bella Hadid, and for a split second, no one notices her arrival. She comes to the set alone, without any agents, friends or her famous sister, Gigi; it's a quiet entrance that might seem incongruous to fans of one of the biggest models in the world right now. But the split second passes immediately, and everyone swivels their heads when Hadid lets out an exuberant "Hi!" to the team, introducing herself and doling out hugs to everyone in the room. In wide-leg, light-wash jeans that seem to be the perfect 2016-via-Tumblr remix of late '90s and early '00s fashion trends, a matching denim jacket and a Polaroid camera slung over her shoulder, she looks more like an art student on her way to class than a model arriving to a shoot.
It's a not-incidental descriptor, considering that before her modeling career took off, Hadid had been enrolled as a photography student at Parsons School of Design at the New School. She came to New York City from Malibu, California a year after her older sister, Gigi, who had also initially moved to the Big Apple to study criminal psychology at the same university. But school could wait, and fashion could not. In 2014, Hadid signed with IMG (the same agency that's home to Gigi and their younger brother, Anwar) and immediately booked shoots with Teen Vogue and Carine Roitfeld's CR Fashion Book, prompting her to drop out of school. In February of last year, she was cast in Tom Ford's Fall/Winter '15 show, and since that moment, the 20-year-old's career has galloped from one major booking to the next.
She's walked the runway for brands like Givenchy, Versace and Marc Jacobs, among many, many others, and landed covers of magazines like Glamour, Vogue Paris -- and now this one. Last spring, she was named the new face of Dior Beauty, and it was recently announced that she'd signed a major campaign with Nike. And to add one more milestone to 2016, she made her Victoria's Secret Fashion Show debut in Paris last week. "I was really surprised, but definitely excited," Hadid says of hearing she'd been cast in the show, before revealing that she'd been up for a slot last year but was passed over. "I tried last year [to be cast in] the show," she says. But "I think everything happens for a reason."
In the weeks and months leading up to the show, Hadid says she focused on "working out and eating well." Her new physique, however, has been given much more media scrutiny than it should, and when asked to comment on it, she recently told People that she hadn't intended to lose weight. But she's more affirmative now when talking about the results of her regimen. "I feel the healthiest I've been in a long time," she says. "I feel fit."
While this positivity and optimism might seem natural for a born-and-bred California girl, Hadid has, perhaps unfairly, been cast by the media and fashion world as the mysterious, sullen sister, the Veronica to bubbly, blonde Gigi's Betty. And although Hadid has perfected an intense gaze and pout that remind many of a young Carla Bruni, away from the camera she's all smiles, laughter and kinetic energy. "People say that I don't smile, or that I don't have a personality," she says, before expressing her excitement over getting to show a new side of herself in the photos that accompany this story.
It's a side the world will likely see more of as Hadid continues to land covers and campaigns, further cementing her status as one of today's crop of supermodels whose personalities, friendships, relationships and exploits are chronicled just as much as any actress or pop star's. She already has over 7.5 million followers on Instagram, where she posts selfies, photos of her spending time with family and out on the town with friends like Kendall Jenner and singer Jesse Jo Stark. Until recently, fans could get a glimpse of her life with ex-boyfriend Abel Tesfaye -- aka The Weeknd. The R&B star had asked Hadid to be on the album art for his 2015 Beauty Behind the Madness record, and even though she turned him down, their paths continued to cross. The two are thought to have started dating during the spring of last year and confirmed their split this November. Though neither had commented on the break-up as of press time (and Hadid would not talk about it here), it seems, according to their teams, that that age-old culprit -- conflicting schedules -- may have been to blame.
As much of a Hollywood cliché as it might seem, in the context of two white-hot careers like those of Hadid and The Weeknd, it's perfectly reasonable. When not shooting back-to-back days in New York City, Hadid is often traveling between the two coasts or on jobs in Europe. The breakneck pace would be grueling for anyone, but Hadid's stamina is all the more impressive considering she has been battling Lyme disease, as have her brother Anwar and their mother, former Real Housewives of Beverly Hills star Yolanda Hadid (her father is Yolanda's ex-husband, real estate developer Mohamed Hadid). In August, she shared a Snapchat of herself getting treatment via an IV with the caption "everyday." Though she's been able to push past the disease and its symptoms to achieve such a successful modeling career, she's had to make other sacrifices. A skilled equestrian, she had to abandon the sport -- and dreams of competing in the 2016 Rio Olympics -- due to the chronic illness, whose symptoms for Hadid include bone pain, extreme fatigue and brain fog.
But for now, Hadid seems to be focused firmly on the present and the exciting possibilities of the future. She says she'd like to keep shooting more photography, and that her career in front of the camera has taught her more and more about what goes on behind it. She also wants to act. "I think it would be really fun, because it's exciting to be in front of the camera on film instead of just pictures," she says. "I have so many goals," she explains, before adding that "most of the time I like to keep them to myself, because I'm really superstitious."
Superstitious or not, what Hadid's doing is working.
Photographer: Nicolas Moore
1st Assistant: Javier Villegas
2nd Assistant: Zoran Jelenic
Digital Tech: Jason Wang
Stylist: Farren Fucci
Creative Direction: Shannon Stokes & Farren Fucci
Hair by Edward Lampley at Bryant Artists
Makeup by Kabuki (www.kabukimagic.com) for MAC Cosmetics
Nails by Chiharu Netsume for Dior
Location: Bath House Studios
Splash photo: Bella wears a dress by Gucci and jewelry by Wendy Brandes

You May Also Like
America
Story by Bianca Gracie / Photography by Joshua Kissi / Styling by Alexander-Julian / Hair by Ursula Stephen / Makeup by Mario Dedivanovic