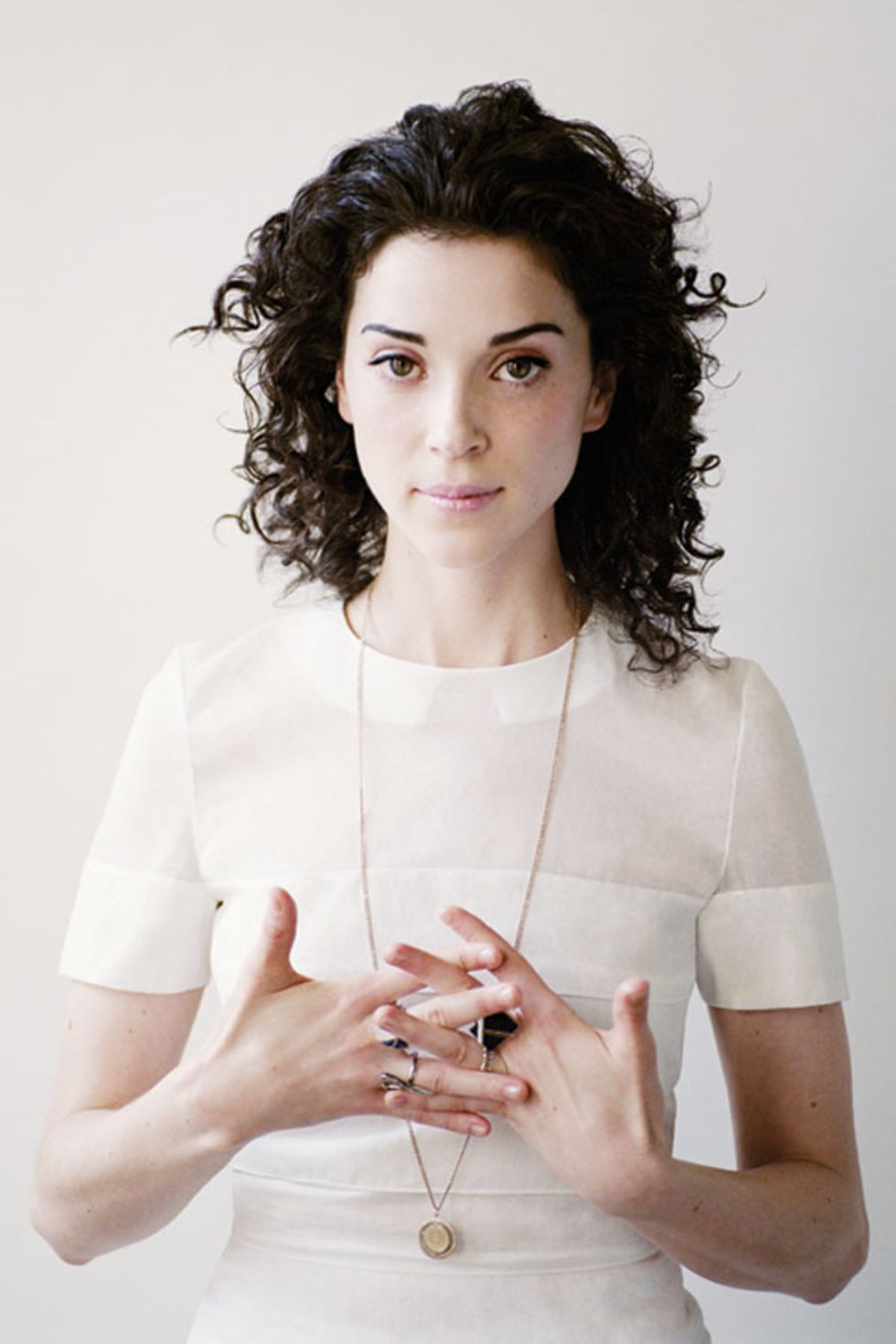 My visions of being in a touring rock 'n' roll band mostly stem from the lyrics to Creedence Clearwater Revival's "Travelin' Band" and the scene in
Almost Famous
where Billy Crudup cannonballs off a suburban rooftop into a swimming pool. So when Annie Clark, the singer-songwriter who records darkly enchanting baroque-pop songs as St. Vincent, calls from Europe where she's touring her most recent LP, 2011's
Strange Mercy
, it's refreshing to hear her describe life on the road more like a Sarah Vowell travel essay and less like Motley Crüe's
The Dirt
.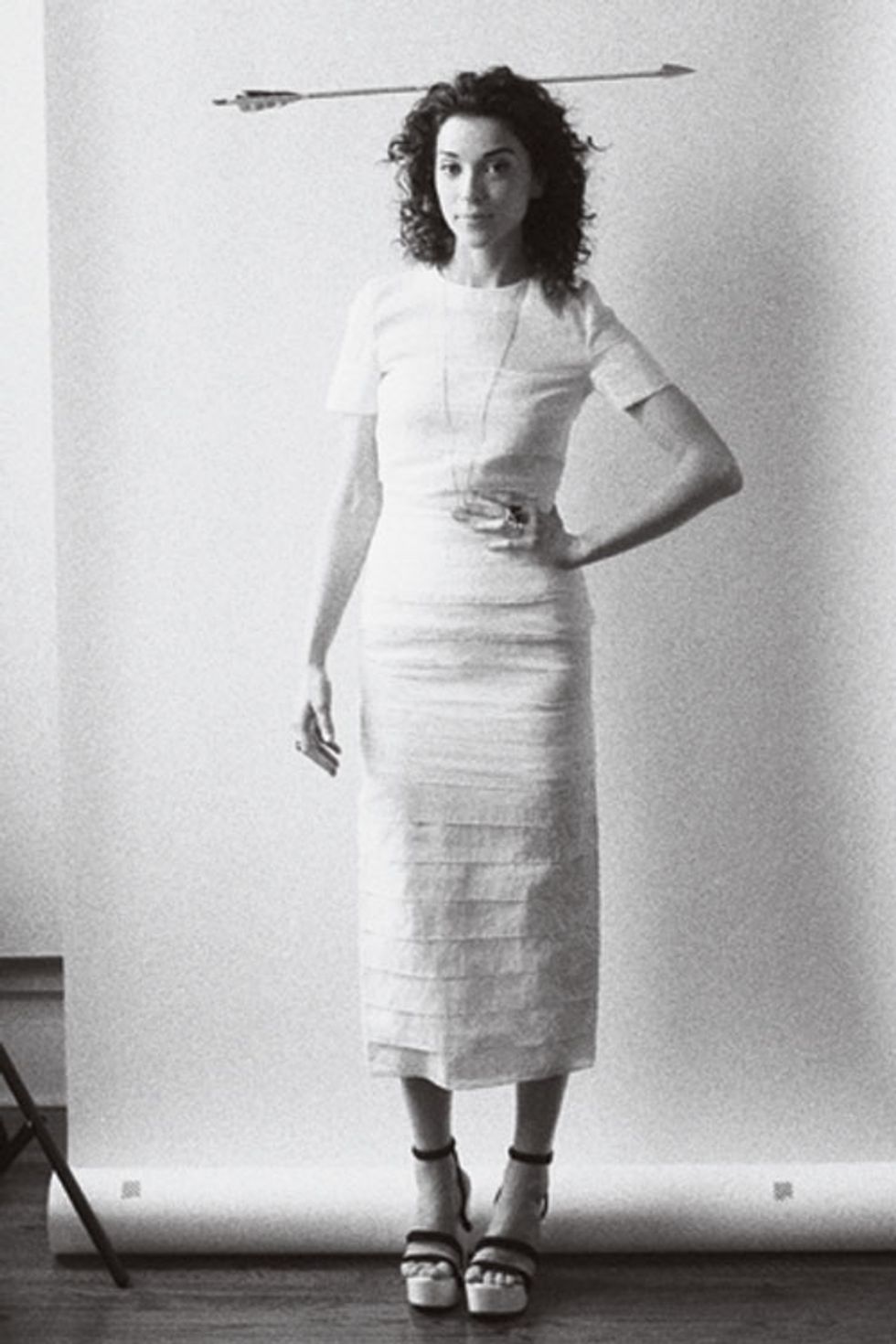 Dress by Jil Sander, shoes by Emporio Armani and rings by Kara Ross and Dallas Maynard.
"We had an amazing day yesterday in Istanbul," Clark reports from her hotel room in Rome, where she's minutes away from soundchecking that evening's performance. "I went with my bandmate Toko to the Turkish baths. There were these older zaftig women, who were all basically naked, who would scrub your body down in the most perfunctory way. I was trying to feel relaxed, but my American neurotic side was like, 'What's going on?!' Then we saw the Hagia Sophia, but we took the National Lampoon's European Vacation version of the tour because we only had about 15 minutes to look around. So it was like, 'Look at this staggering bit of history in seven minutes. Go! Did you absorb that? OK! Next! Go!'" 
In recent years, Clark's life has maintained the same frenetic pace as her speed-tour of the Hagia Sophia. The 29-year-old Dallas native and current East Village resident paid her dues as a student at Berklee College of Music (she dropped out after three years), and as a member of Sufjan Stevens' touring band and indie-pop symphony the Polyphonic Spree. In 2006, Clark shed her Spree tunic and began recording music under the St. Vincent sobriquet; the stage name is a nod to defunct Manhattan hospital St. Vincent's, which is referenced in a Nick Cave song as the place where Dylan Thomas shuffled off this mortal coil. Clark released Marry Me, the first St. Vincent album, to heaps of critical praise in 2007. The title's a sly nod to a running joke from Arrested Development. (Clark is a bit of a comedy nerd -- one of her music videos stars Fred Armisen and Carrie Brownstein, and she made a cameo in a recent Portlandia episode.) 
After Clark's sophomore LP, 2009's Actor, deftly combined her virtuosic guitar playing, ominous lyrics and celestial vocals, she emerged as an art-rock critical darling. But in late 2010, when the time came to record her follow-up album, Clark felt too overwhelmed to continue. "I suddenly hit a wall in New York," she says. "Within 36 hours, I made a reservation at the Ace [Hotel in Seattle], and got on a plane. I was like, 'I gotta get out of here.' I love being in New York, but it was too hard to try and get work done."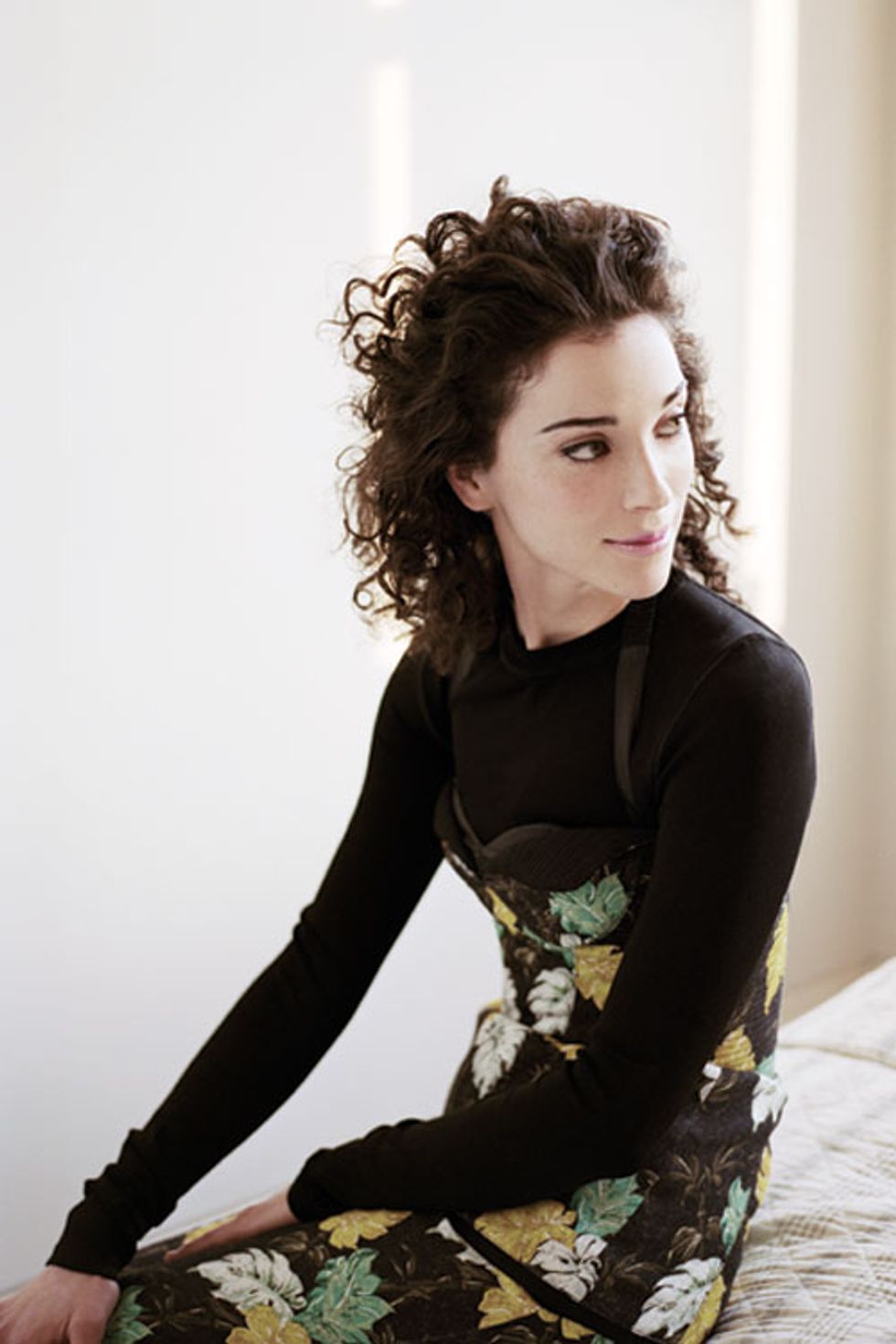 Corset, skirt, shirt, and pants by Proenza Schouler.
Upon arriving in Seattle, Clark arranged to use Death Cab for Cutie drummer Jason McGerr's studio to write a new batch of songs. She cut herself off from the modern world and lived in isolation, shuttling back and forth between the Ace Hotel and the studio. "I became friends with the concierge at the Ace, because I would just spend all day alone for a month," she remembers. "I was kind of aching to talk to anyone because I wasn't plugged into technology. So I'd come back from the studio and I turned into that lurky person, who's like, 'Hey, what're ya doin'? Wanna chitchat?'" 
The result of her month in creative exile was last fall's Strange Mercy, her most intricate and accomplished album to date. Tracks like "Cruel" and "Surgeon," with their elaborate guitar riffs and hypnotizing melodies, cement St. Vincent as one of the finest pop composers working today. Clark has been touring in support of the record incessantly since it dropped last September. With a calendar packed with performances, has Clark been able to find the
time to work on new songs and avoid the creative block that almost stifled
Strange Mercy
? 
"Not really," she says. "On tour, I really just function more as a collector. You know, collecting little things you read or things people say or things you see. It's more like lazy research and development. If I have musical ideas, I'll record the melodies into my iPhone. They're like little twigs I collect. I'm going to eventually make a nest, but right now, on this tour, I've found, like, three twigs, and that's good enough." 
In her rapid ascent from backing-band member to center-stage guitar shredder, Clark has also dabbled as a fashion muse on the side. She's modeled for Madewell and performed at a Rachel Comey New York Fashion Week show. Her interest in fashion informs her striking onstage style. "Touring clothes have to be functional and somewhat architectural," Clark explains. "They have to have a little bit of pop to them, so people can see them from far away. But then they also have to be durable enough, because depending on the show, they will be sweated in, and there will potentially be blood on them. And then they also have to be able to fit in a suitcase. I've been wearing leather shorts and alternating tops [on tour]. I've been going out into the crowd quite a bit and stage diving -- so the shorts are helpful. It's hard to wear dresses because they tend to ride up."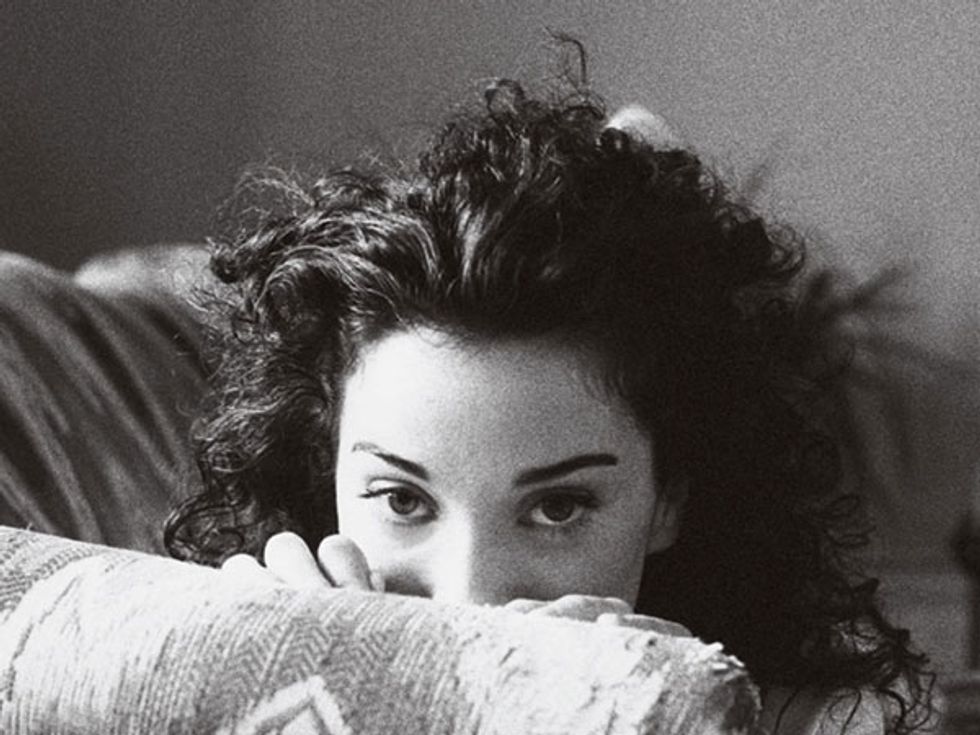 Despite her brief jaunts into fashion and comedy, setting a guitar's fretboard on fire is Clark's true calling; she took up the instrument at age 12. "I wanted to play guitar after I saw La Bamba, the Ritchie Valens story," she confesses. As a teenager, Clark's focus shifted from "La Bamba"-esque oldies to raucous indie-rock records; she's releasing a 7-inch of her own on this year's Record Store Day (April 21). "It's really aggressive and loud, which is a nice homage to the 7-inches I used to collect," Clark says of the upcoming release. "The songs are like nothing I've done before. Very noisy, almost dirge-metal." 
In addition to her Record Store Day release, Clark is collaborating with David Byrne on a new LP. "We're almost done with the record. We recorded it with a brass band. I think it's going to come out this fall. Then he and I are planning on touring right after. It doesn't end!" she laughs. Spoken like a true road warrior.