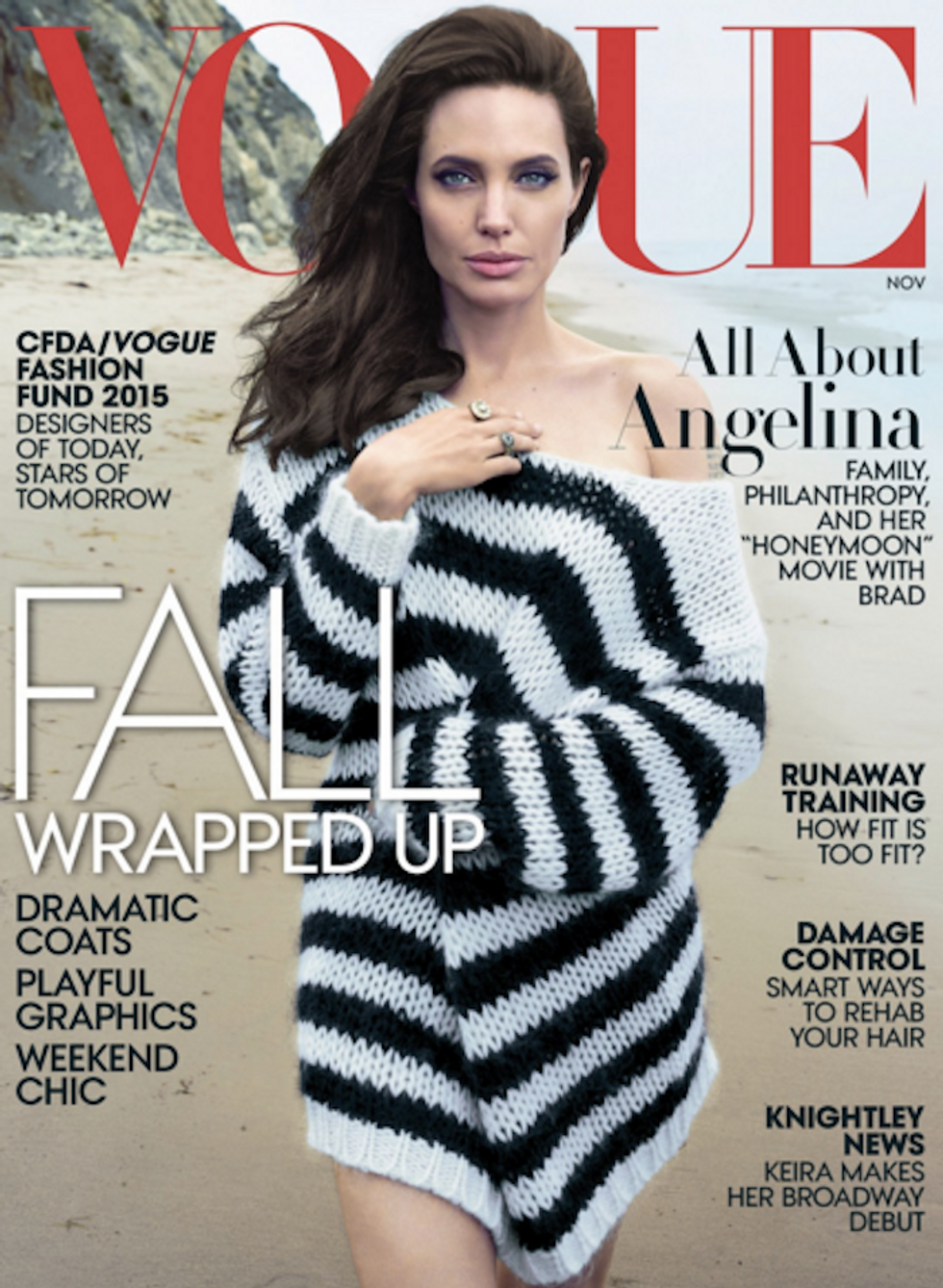 Oscar-winning actress, filmmaker, writer, humanitarian, mother of SIX, and the literal definition of oppressively perfect bone structure, Angelia Jolie, descended from her dewey-grassed grotto to manifest before
Vogue Magazine,
 discussing her family, and her upcoming film,
By the Sea
(which she wrote and directed, and co-stars in with her husband, Brad Pitt.)
The amazing photos were taken by Annie Leibowitz (cue the "ugh" and "of course").
By the Sea comes out in November, and will mark Jolie's return to the screen since 2014's Maleficent, and also her new credited name, Angelia Jolie PITT. 
The movie will also be the first time Brad and Angie have starred in a movie together since 2004's Mr. and Mrs. Smith, where it ALL went down in the first place.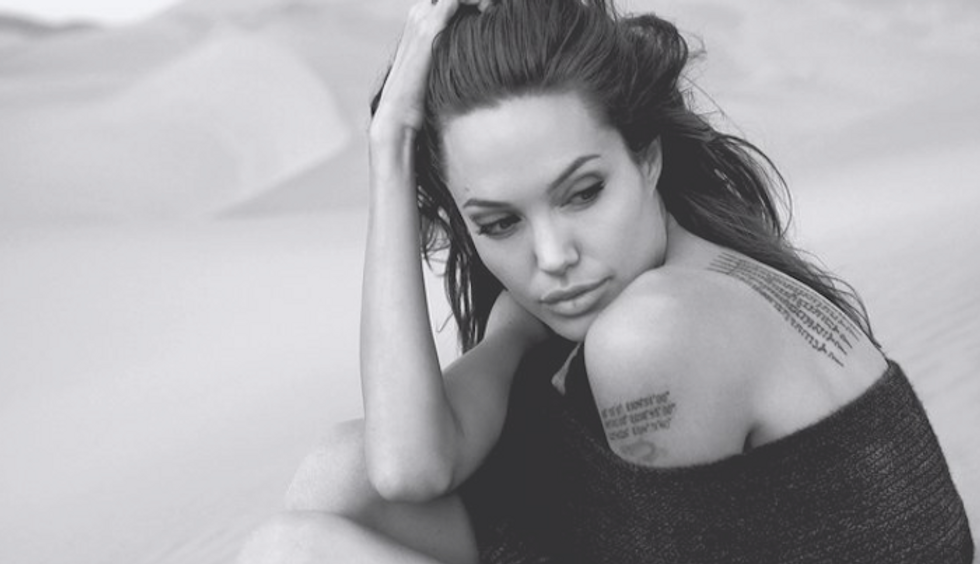 By the Sea's general plot surrounds a (surprise! wealthy, gorgeous) couple named Roland and Vanessa, who take a vacation to the French Riviera, hoping the amber sunlight of the Mediterranean will heal their fractured marriage.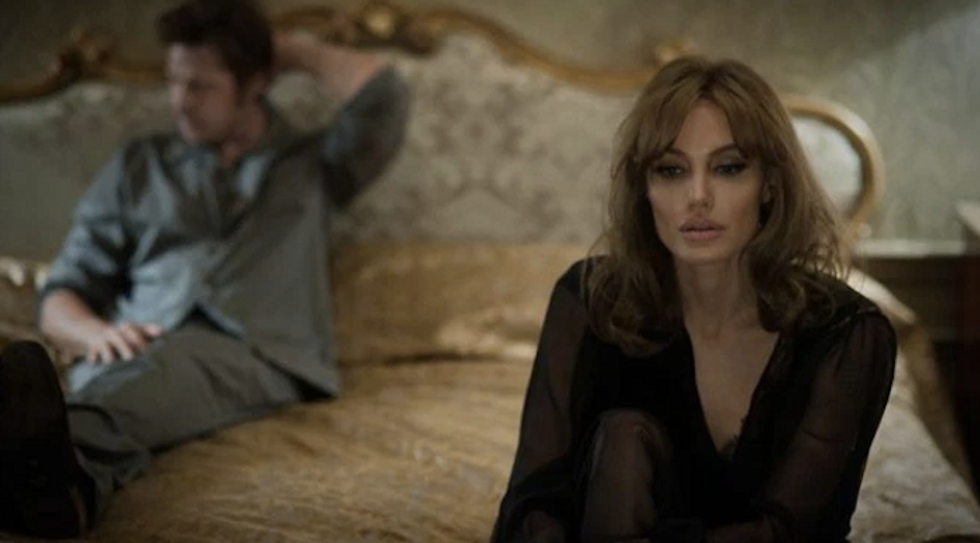 Roland is a drunk, and Vanessa is suicidal and loves pillz. Their anguished lives become complicated when a pair of newlyweds move in next door.
Obv, intensity ensues. 
Jolie discusses her excitement of starring in another movie with her husband--a movie which she makes clear we know is NOT autobiographical.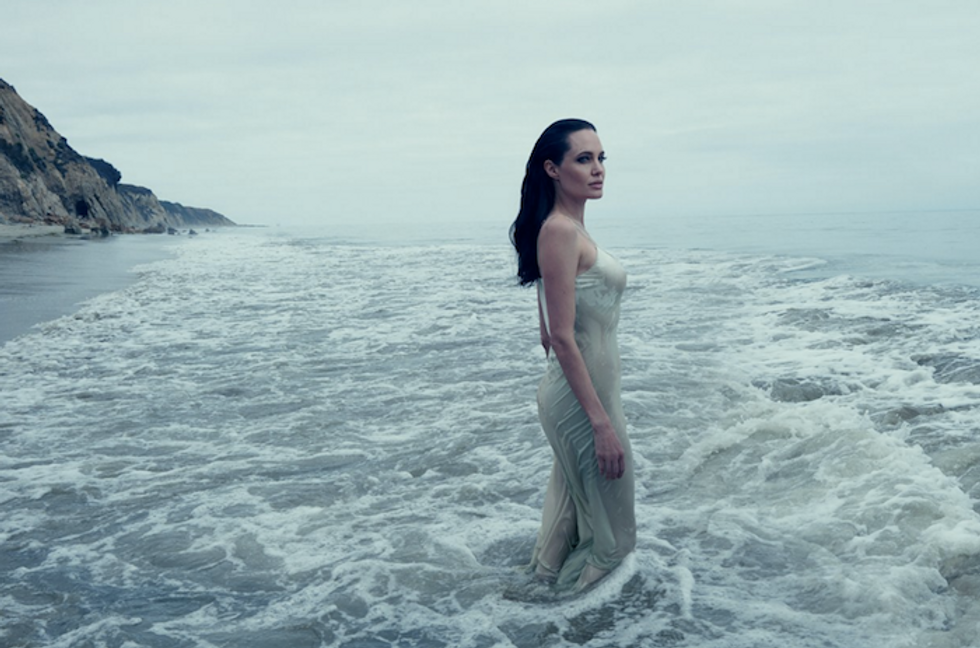 She also opens up about her excitement to turn 50, tying in her late mother and grandmother, who both died of ovarian cancer.
"I feel grounded as a woman," Jolie told writer Elizabeth Rubin. "My mother and my grandmother started dying in heir 40s. I'm 40. I can't wait to hit 50 and know I made it."
Jolie underwent a double mastectomy to eliminate any threat of breast cancer (which she wrote about in a
wonderful essay
for the
New York Times
in 2013), then had her ovaries removed.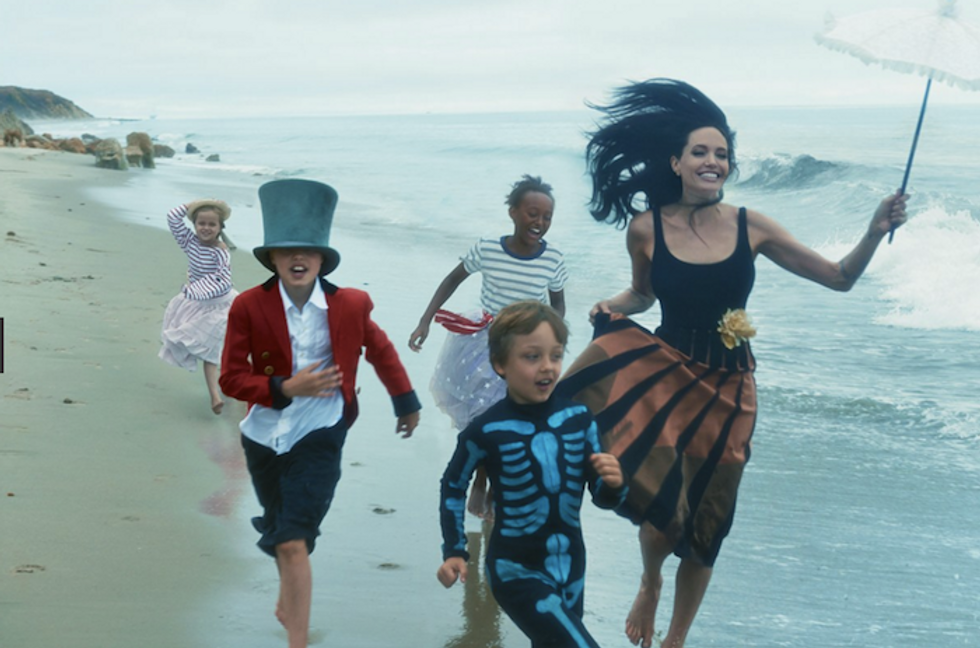 She is candid about her fears and joys, but despite being just like any other mom, her life is undeniably anything but normal.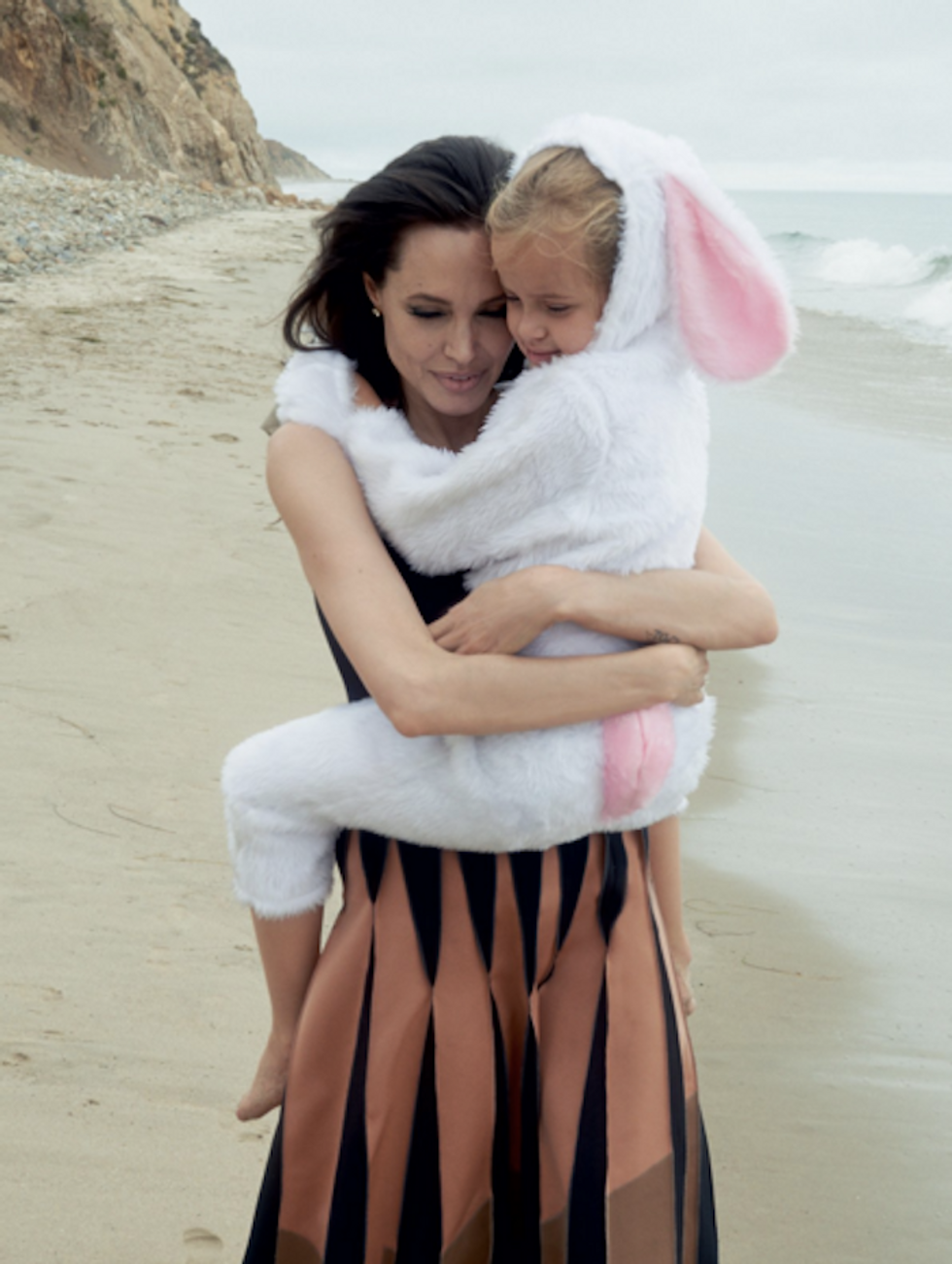 Some jaw dropping highlights: 
-And so, after getting married in the summer of the last year at her house in France, she moved her tribe (Brad, six children now aged seven to fourteen, and assorted staff) to the Maltese island of Gozo, a stand-in for the southern French coast with its dazzling Mediterranean light, and shot (By the Sea).
-The kids are homeschooled by teachers from different backgrounds and religions, and speaking different languages.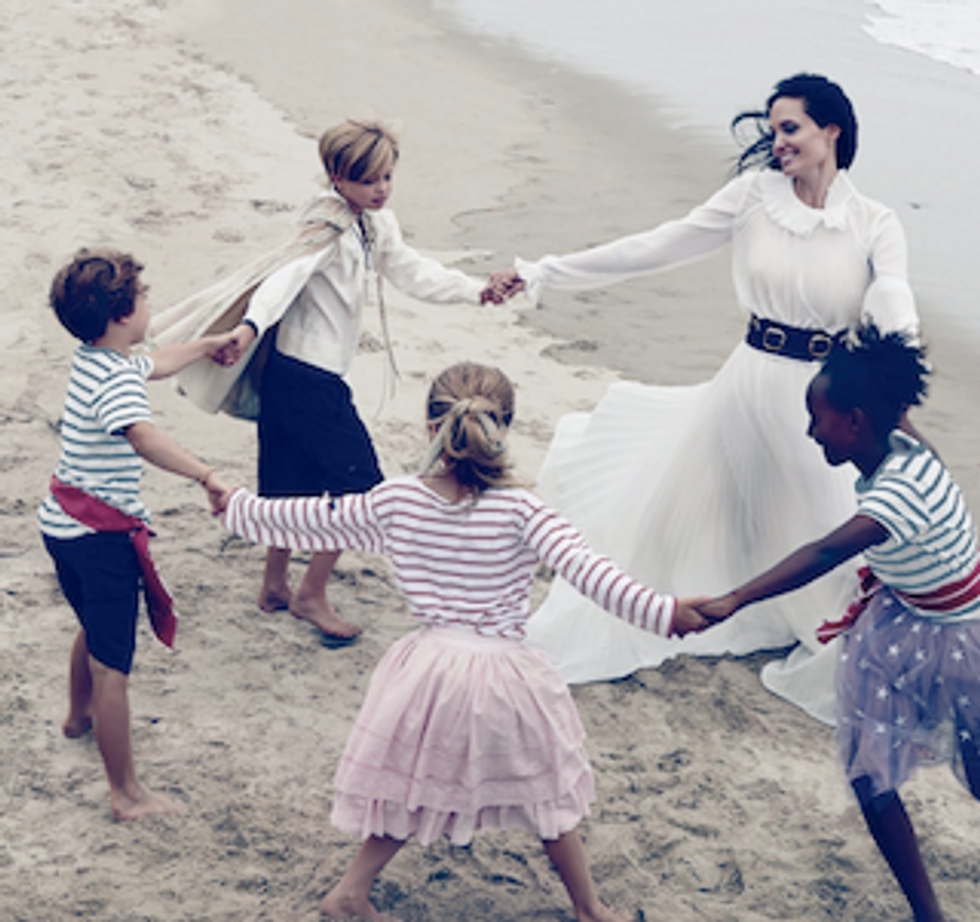 This is some next-level Maria VonTrapp shit
-She took along Pax, her eleven-year-old Vietnamese-born son, who wanted to work on the film and meet Aung San Suu Kyi. Pax had read about the liberated Burmese opposition leader and Nobel laureate and was curious. "Seeing Pax get extra-nervous about which shirt he is going to wear when he meets Aung San Suu Kyi, I get very moved," she says. "He rightfully doesn't get nervous going to a movie premiere; he gets nervous going to meet her."
-I'm also thinking of the other Angelina, the younger one, the awkward kid who wore glasses and boxed, the dark, wild punk who used to say anything, talked openly about cutting herself, collected weapons, flipped a butterfly knife on Conan O'Brien after she made Gia, sported a vial of her second husband, Billy Bob Thornton's, blood.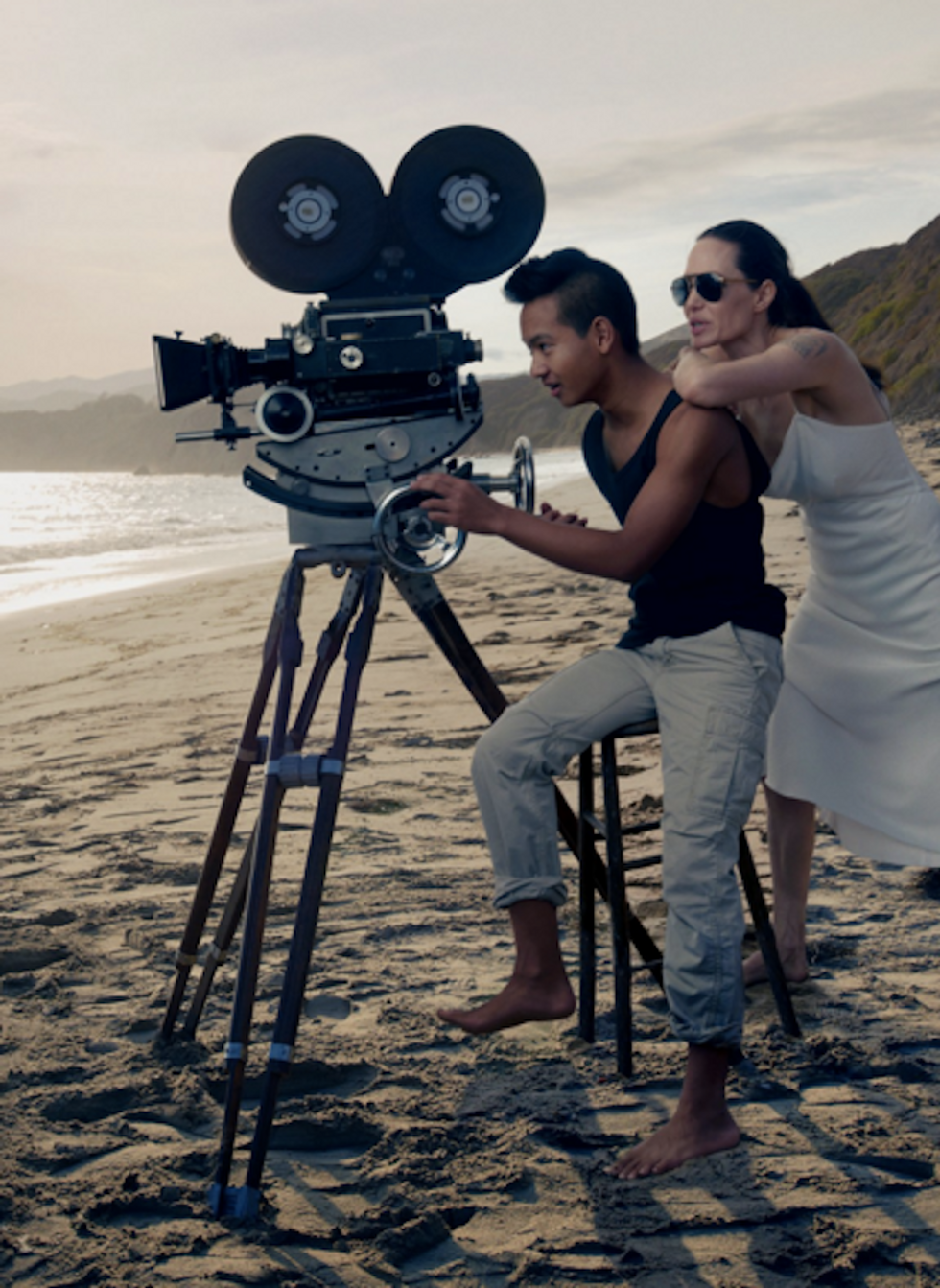 -But she also knows that it may not be the same for all her children, and she doesn't push. The Jolie-Pitt world is democratic, eclectic. "The kids that don't want to go don't go," she says of her humanitarian field trips.
-It's the Angelina effect, one that can also make critics roll their eyes when she seems to be everywhere at once. While that may be the case, she doesn't suffer from the familiar "five-minutism" of celebrities showing a fleeting interest in global causes.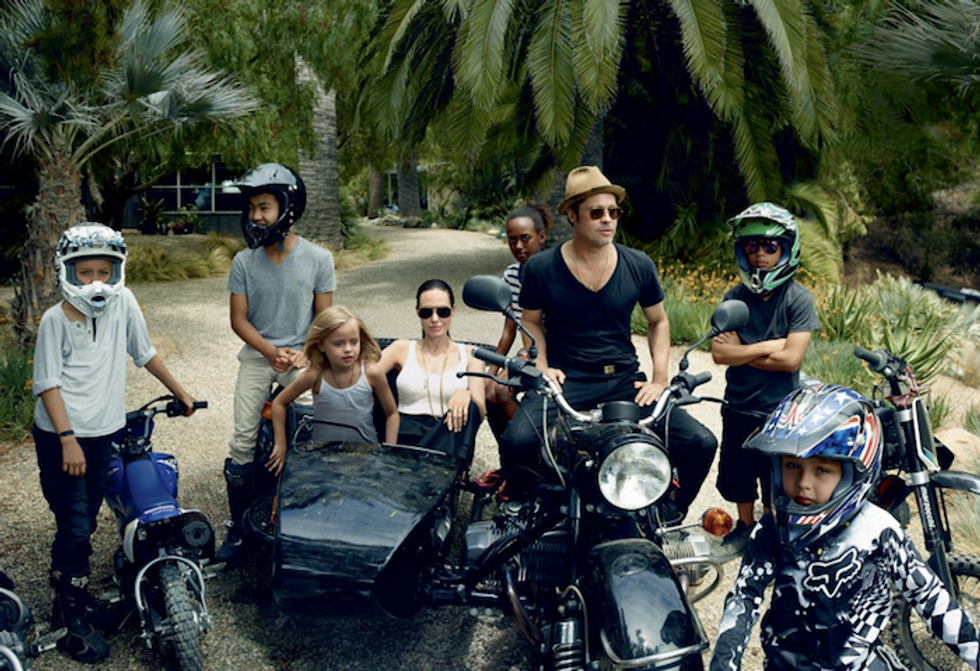 Jesus Christ.
All hail Queen Ang.
You May Also Like