Brett Leve, Jeff Rosenthal and Jeremy Schwartz are the brains behind the Summit Series, which produces talks, trips and activities bringing together leaders across a variety of diverse fields including business, tech, music and the arts, science, food and more. They have also helped transform Utah's Powder Mountain into a year-round destination that fulfills the spirit of innovation and collaboration found in their Summit Series.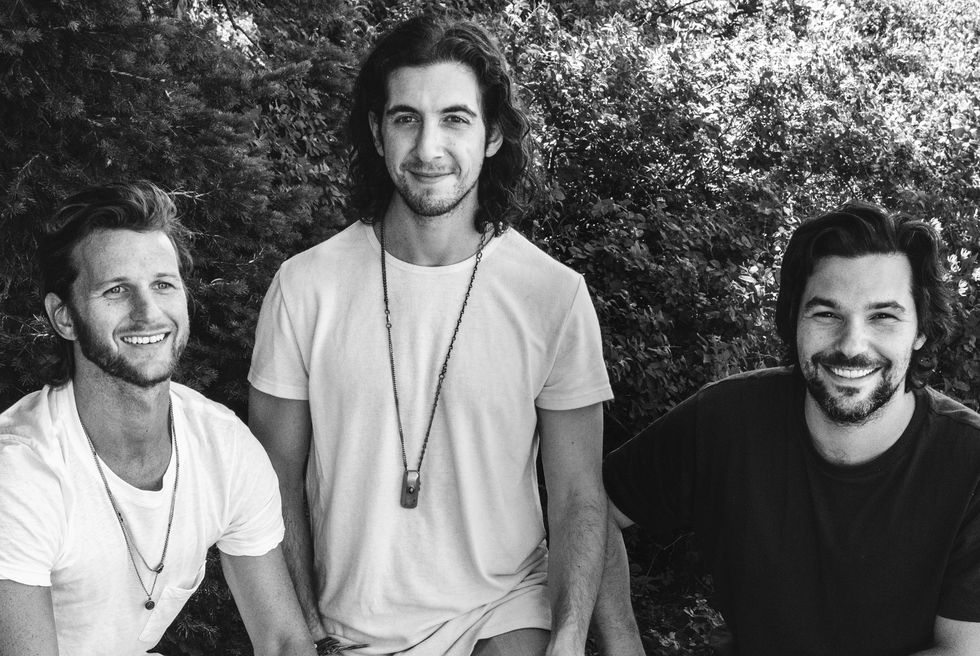 Left to right: Jeremy Schwartz, Brett Leve, and Jeff Rosenthal
Brett Leve
How did you get your start?
Cold calls. Seriously, I think I've probably had more people tell me no or hang up on me than 99.99% of the rest of humanity.
What is success to you?
Success to me means working on projects that allow you to contribute your unique gifts and talents toward a mission that is not just a commercial endeavor but has some sort of positive externalities or societal benefits.
Do critics matter?
Not really, you are your most honest critic, it's just whether or not you are manipulating the message or willing to listen to yourself.
Obviously you've seen success in your career but can you tell us about a time you failed?
I fail at stuff every day. Business is messy, but you learn how to fail forward and persevere. You just need to accept that failing is part of creating something great and channel it into a wellspring of motivation.
What advice do you have for someone looking to break into your industry?
Create something you would be ecstatic to participate in. Sell people on your vision with your passion. If you can't wait for it to happen, chances are other people feel that way too.
Did you ever give up (or want to give up)? What were the circumstances?
Perseverance is the only thing that separates those who achieve vs those who stagnate. There have been tons of times I've felt like giving up, but if you have conviction you stay in the game.
Are you good at giving advice? What is the best advice you've ever given?
Relax into your own greatness.
Are you good at receiving advice? What is the best advice you've ever received?
Its nice to be important, but it's more important to be nice.
What makes a person beautiful? What makes you beautiful?
The depth of their presence and attention. Even the most interesting person in the world is an absolute bore to be with if their eyes are glued to their phone the whole time.
Jeff Rosenthal
When (and where) are you most creative?
When I step away from my e-mail, my cell phone and the constant influx of the work that I can do and give myself the space and time to consider bigger ideas and ponder the things that maybe I should do. When I get away to the mountains -- at home at Powder Mountain in Eden, Utah, especially -- that allows for even more time, space, and mental clarity, without the distractions of city life and all the things that come our way.
What are you working on right now?
Summit builds events around the world that connect and inspire the thought leaders of our time. Right now we are laser-focused on producing our inaugural Los Angeles-based flagship event, LA 17. Our ambition with this event is to build the preeminent thought leadership event in the world.
What is success to you?
Success to me is not a destination. It's not a future result based on how things unfold with our multiple projects. I really feel like we already are successful. We've built a global community company with our best friends who are still our active business partners, and we're in service of a community and people that we're constantly inspired by that offers us the opportunity to learn and grow.
Someone once told me that no one who I love the most in my life or who loves me the most will care about me any more or less based on the success or failure of my current projects -- that really set me free, and gave me the creative carte blanche to try whatever we wanted. We got to shoot for the stars because we felt that we wouldn't lose the things that were most important to us. That's what success looks like to me, it's just maintaining presence and appreciation for all that we have in this moment in time and staying committed to the cause that we've dedicated the past ten years of our lives to, which is Summit.
What advice do you have for someone looking to break into your industry?
Giving unselfishly is the most selfish thing that you can do. If you intend to build community, you have to be willing to give up your time, your relationships and your network without any expectation of how it's going to benefit you.
Did you ever give up (or want to give up?)
What got you here won't get you there. The skills and the knowledge that took you to the place you're at are not normally the skills that you need in order to get to the place that you want to go. You can't get wisdom through hustle; take time and opportunities to reflect, and you'll end up finding new undiscovered pathways to solve the problems of the day.
What makes a person beautiful?
Beauty is as beauty does, and beauty emits from the inside. It has to do more with your openness, your transparency and your emotional bravery than it does the physical features of your face or body.
Jeremy Schwartz
When (and where) are you most creative?
In the morning. I find I'm most inspired around 9AM to 1PM, so I make sure I use that time to work on bigger project items that require a lot more creative problem solving.
How did you get your start?
Prior to Summit, I was in the music industry, touring as a professional musician, and I had become disenchanted with the lack of collaboration that I felt existed in the industry, it just felt very isolating, everyone was seemingly trying to claw and scratch their way to the top. At the same time, my longtime high school friend Brett reached out eager to share an idea that he, along with my present day partners Elliott, Jeff and Ryan were excited about: create an event to gather leaders across all fields and industries so they might collaborate, learn from, and inspire one another. The whole concept of collaborations and creating authentic connections completely aligned with everything I was yearning for, so I took some time off from music, moved down to DC and crashed on Brett's couch for several months as we began to build Summit.
What is success to you?
To me, success is not merely a metric or the achievement of a specific goal. It's the act of perseverance, regardless of setbacks. Setbacks are guaranteed in life, but choosing to push forward through those challenges is all that matters, and it's the only difference between fulfilling your dreams and failure.
Do critics matter?
Absolutely. Just so long as you don't take criticism personally. Criticism is a gift, it's an opportunity for new perspective and a chance to potentially grow in a new way.
Do you think about legacy?
Well, in the sense of wanting to leave a lasting positive impact on this world, yes. I figure we all have a finite amount of time on this planet, so if we were all motivated to want to leave a legacy, it'd mean everyone would want to leave this place just a little bit better than how they found it, and the world would be a very different and beautiful place.
What's been the biggest choice you've had to make in your career so far?
The biggest decision I ever made in my life was ten years ago, the day I decided to leave the music industry and begin this journey with Summit. I had spent my whole life up until that point working towards a very different dream, only to completely shift gears and industries and start from scratch all over again.
It was also the best decision I ever made. I've learned that if you're not 100%, undeniably aligned with your vision for life, you can't sustain. Eventually you'll run out of fuel and become disenchanted, whether in one year or ten. Aligning with your visions invigorates you, at least that's what motivates me to get up every morning.
What is your morning routine like?
I typically wake up at 8:00AM, using an alarm clock, not my cell phone, which I leave in a separate room on airplane mode at night. I meditate for 20-minutes (a combination of TM and visualization meditation technique), and 3 days a week I'll free write for 20 mins stream of consciousness. Then I make a cup of coffee, and only after I've had a few sips and I'm feeling grounded, I'll take my phone out of airplane mode and start my work day.
What are you most worried about for the future?
I'm concerned with the continual disintegration of deep authentic relationships amongst humans. We live in a time where we're more connected to each other through technology than ever before in history, and yet people have never felt more isolated and alone. In my opinion, human connection is one the most important elements required for a healthy fulfilling life, right behind water and sleep. I guess that's why I love the work I do, with Summit, we strive to create these authentic connections as much as possible through all of our events and experiences.
What makes a person beautiful? What makes you beautiful?
To me, a person is beautiful when they feel complete and unwavering love for themselves. When someone loves themselves completely, they exude a confidence and peacefulness that's so enthralling that makes everyone want to be around them and lifts everyone around them up.
Photograph by Paul Bundy

You May Also Like