The creator, writer, producer and star of Odd Mom Out just announced that she and Seth Meyers are working on a reboot of the 1960s series The Munsters.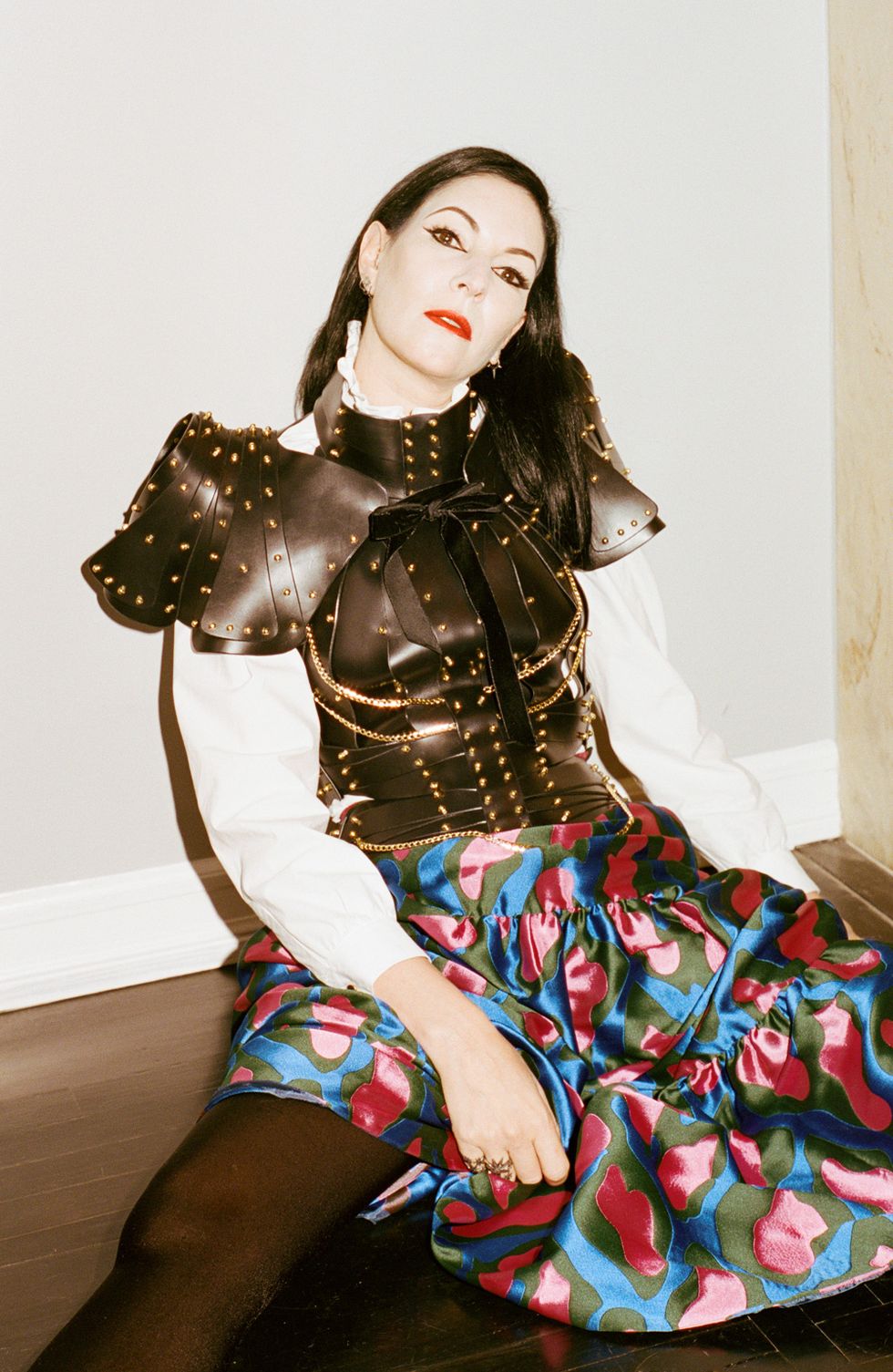 Harness Una Burke Couture; shirt J. Crew; skirt Cynthia Rowley; earrings Maria Tash; rings Colette Jewelry.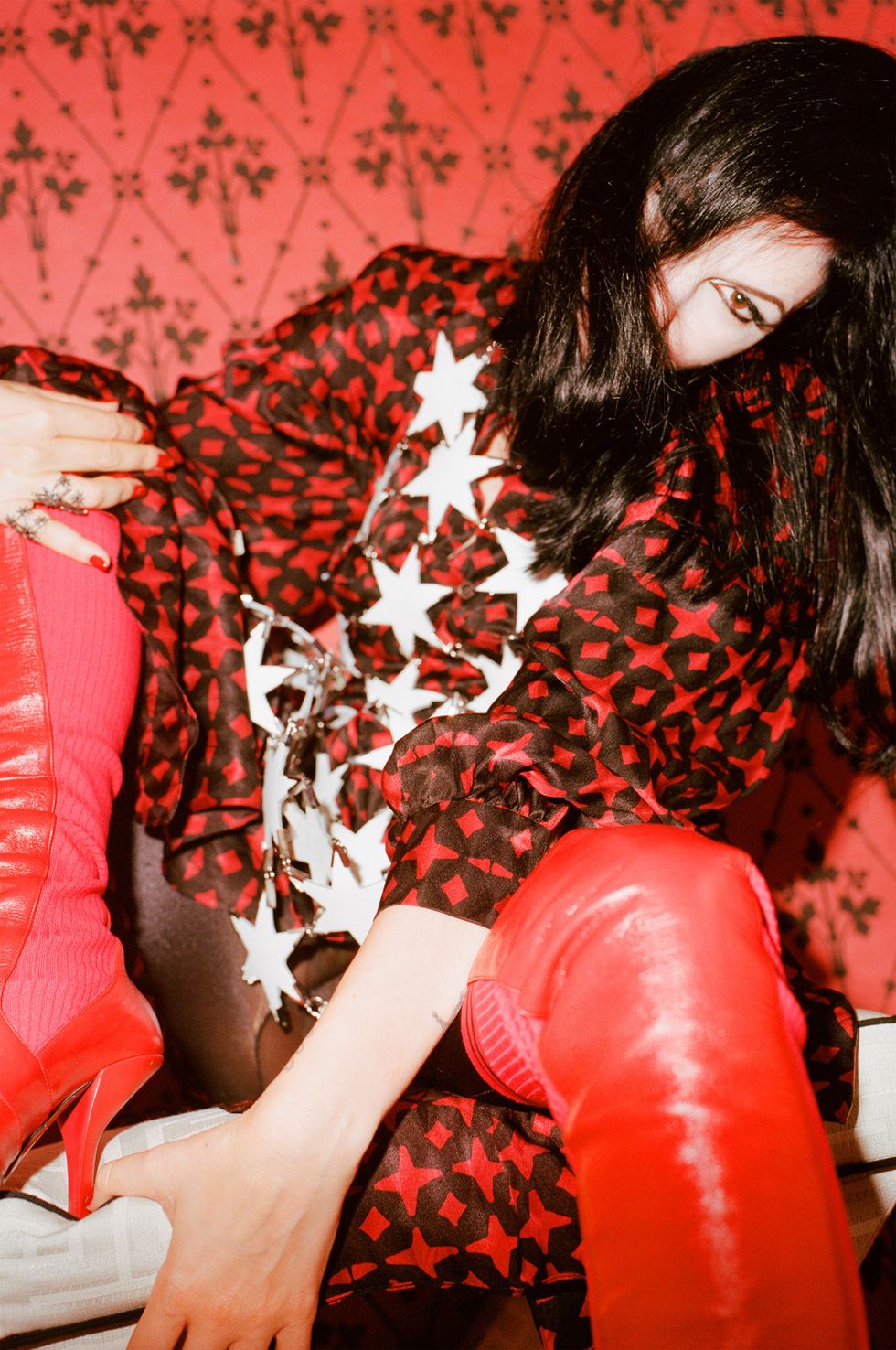 Dress and boots Fendi; harness Zana Bayne.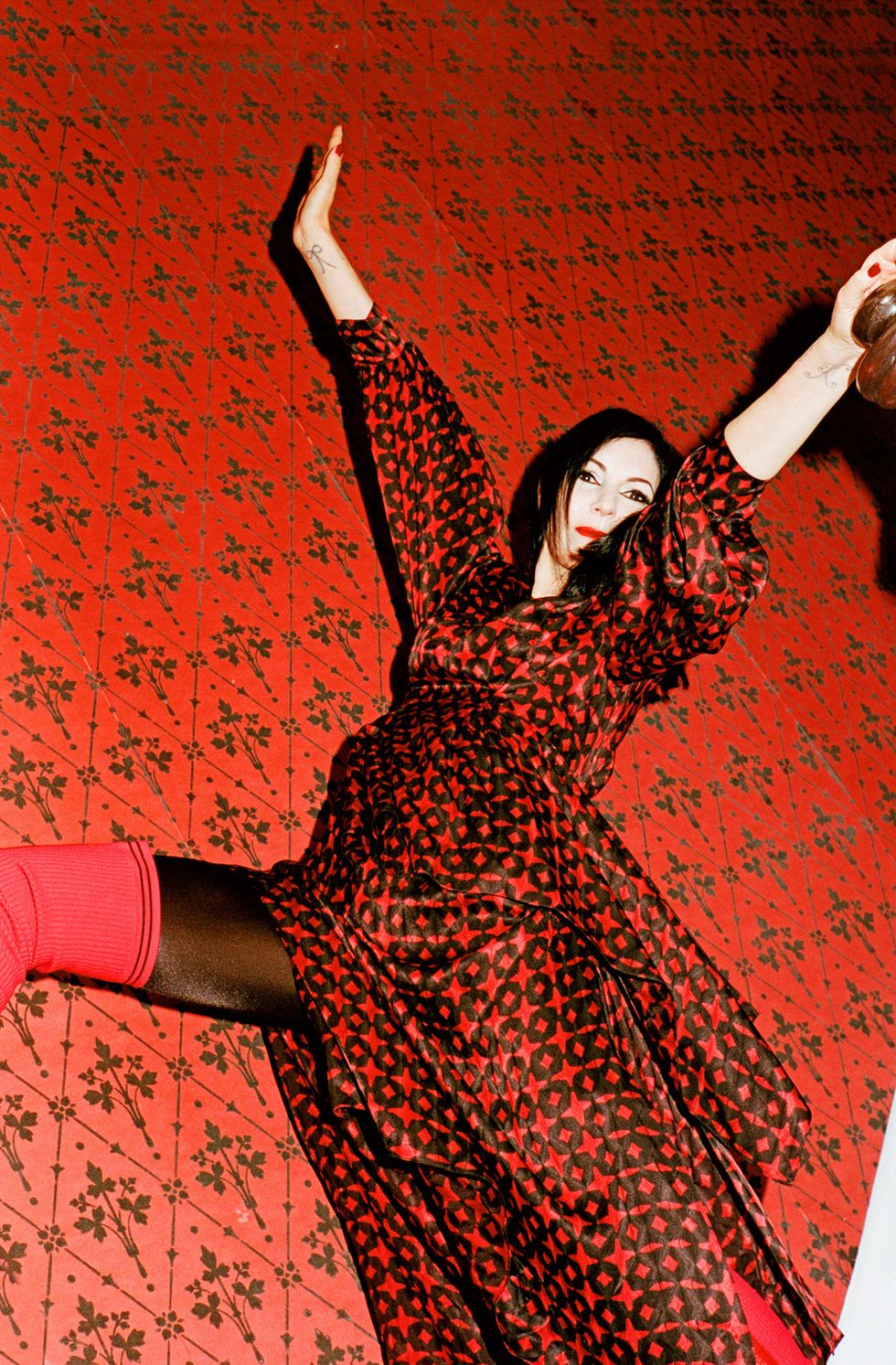 Dress Fendi
When (and where) are you most creative?
3:13am when I get up to pee
How did you get your start?
Working at Interview magazine
What are you working on right now?
Hoping for a season 4 for Odd Mom Out and just did my very first movie! If you blink you'll miss me but I'm in the Bad Moms sequels, A Bad Moms Christmas. It was so incredible.
What is success to you?
Happiness and not giving a shit what people think.
Do critics matter?
Sorta.
Obviously you've seen success in your career but can you tell us about a time you failed?

My first essay collection didn't do as well as my novels and I was crushed but I realized I'd rather write what is clawing its way out of my chest than prostitute myself shitting out garbage. Which is why I'm done with fiction. Now the voice I honed in my essays is what fuels my show and I'll never go back.
Do you think about legacy?
The only legacy that truly matters to me are my Karglings and raising them to be happy people with good values. Professionally, when I croak I don't need Instagrams remembering me cause I'm dead! Tell me now if you dig me, for crying out loud, not when I'm pushing daisies.
What advice do you have for someone looking to break into your industry?
It sounds cheese but don't listen to anyone else and only write what's tearing out of you.
Did you ever give up (or want to give up)? What were the circumstances?

Fuck yes. I had three kids in four years and was drowning in my life and could barely get through the day let alone be funny. I figured I was hashtag #blessed to have my family and should put myself out to pasture and not pursue comedy since I was old and tired. Luckily I waded through those years and got reenergized.
What trends in your field do you find most exciting / are you most optimistic about? What about your field is frustrating? What would you like to see change?

I love the trend of female performers writing their own material; I couldn't do what I do without Amy Schumer or Lena Dunham who created the genre for me. I'd like to see more!
How do you plan to build on your success so far? Is there anything you fear will set you back?
I plan to not have a plan. I kind of take it day by day and trust my instincts about each opportunity that comes my way- I follow my gut if I think it's a bad idea. The only thing I fear is that I will be torn between a cool project and time away from my kids. I hate leaving them when I shoot but it's limited and I'd like to keep it that way but also aspire to try other things outside my comfort zone.
What was the first moment you knew you were going to be able to do this as a job – not necessarily your first big break or success, but the first time you thought, "This is it, this is my career"?
When I wrote Sometimes I Feel Like a Nut. I was 34 and was finally being honest, in my own voice and not hiding behind characters in my trashy novels
What's been the biggest choice you've had to make in your career so far?

Taking time off to be home with my children.
What is your morning routine like?

I get up at 6:45, wake up the Karglings, pound a vat of Birch cold brew from a growler in the fridge, take them to school, then make eggs or buy them and go to work.
What are you most excited about for the future?
Having my kids as my pals to go everywhere with.
What are you most worried about for the future?

Our country and this lunatic president.
Are you good at giving advice? What is the best advice you've ever given?
I love to listen to other people's stories and if I give advice - it's very pragmatic.
The best advice is always from my dad.
My faves are "if you stir shit, it smells worse" and "if you feel strongly about someone, chances are everyone else does, too."
What makes a person beautiful? What makes you beautiful?

Beauty is confidence and inhibition.
What are you most proud of?

Sadie, Ivy, and Fletch.
Photography by Maya Fuhr
Styling by Ella Cepeda
Makeup and hair by J Patrick at Wilhelmina Artists using Makeup Forever
Photography Assistant: Sarah Deaner
Stylist Assistant: Sydney Mitchell
Sign Up For The Morning PAPER