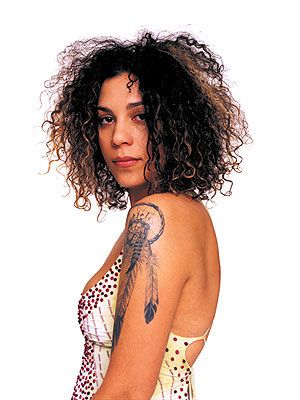 Consider the sight of lascivious rapper Lil' Kim gracing the cover of a magazine, the undersides of her unnaturally full breasts exposed to the camera, her features obscured by a traditional Muslim burkha. It's a loaded picture, meant to make you smile, question or debate subjects ranging from the West's policy in the Middle East to the aesthetic bounds of plastic surgery. The magazine is Oneworld, the monthly wing of hip-hop mogul Russell Simmons' empire, but the editor-in-chief is Raquel Cepeda, and the vision is all hers.
"I have a multicultural philosophy, and that's what I try to bring to the magazine," says the 29-year-old. "Urban culture isn't limited to America, and neither is hip-hop. I'm trying to create awareness of a global hip-hop culture, using writers who feel passionately about all aspects of hip-hop."
Cepeda, a first generation Dominican-American born and raised in New York, also likes the disparity between publishing real, reported features and sexy fashion shoots in which the goal is creating bubblegum eye candy. The gap between responding to issues of the day and having fun with her magazine is an extension of her earthy good humor, although she admits that sometimes hip-hop gets her down. "It's hard to be a woman working in this business," she states matter-of-factly. "That's not self-pity. There's a lot of misogyny in hip-hop -- there's got to be a balance between pop and using hip-hop as a tool for social change -- and that's why I have a love-hate relationship with it."