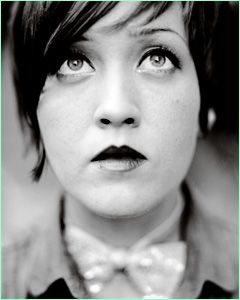 Singer-songwriter Heather Porcaro knows something about the pop life. Her father, Steve Porcaro, keyboardist for the band Toto, wrote the Michael Jackson hit "Human Nature" for her when she was six. Though she spent much of her "magical" childhood in California's San Fernando Valley surrounded by music, she began writing her own songs just four years ago. Her lyrics have won her a dedicated following -- she has a unique ability to make light of life's little moments, leaving her audiences with smiles of recognition. Porcaro is currently recording her first roducer Ron Aniello, and it'll be out soon, she promises, though it'll be out even sooner "if someone wants to pay for it."
Porcaro has also been incorporating her longtime love of magic into her live shows, and promises to perform a new trick at every performance. In her spare time, she makes what she describes as "psychedelic T-shirts for the new generation," which can be purchased at Showpony and Diavolina in L.A. Recent career highlight? Winning a "Dance Like Prince" contest at L.A.'s Conga Room, in which she scored two tickets to a private Prince show. "That means I'm really good." We agree.
Heather wears her own clothing designs, stockings by Wolford.