Designer Victor Barragán (no relation to Luis) showed his spring 2019 collection at Century 21. The store has recently undergone quite the renaissance; it now plays host to a concept shop full of young designers called Next Century, and they throw parties there, too — wild ones with strippers and punk bands. This is not Carrie Bradshaw's Century 21.
The Barragán show, thrown under the Next Century umbrella, had one of the very best sets at New York Fashion Week. The presentation took over the whole store, though the public was still welcome to shop; guests were seated upstairs, and watched models walk down a massive staircase complete with a graphic reading "65% off." It was simple, dramatic, and a good joke about the nature of retail.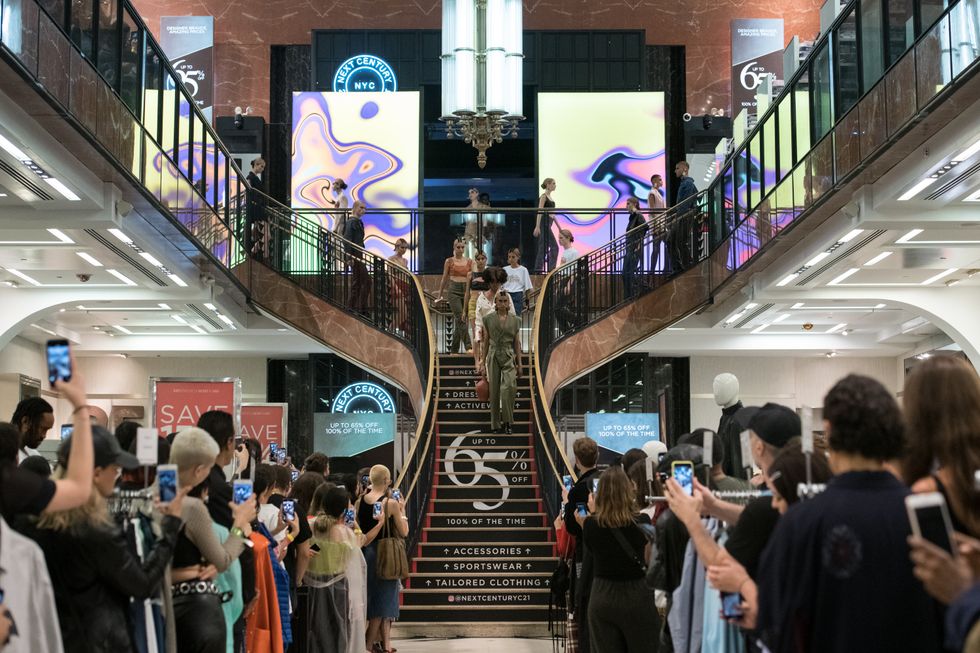 Barragán, the designer, has always had a sense of humor; he made his name on witty t-shirts poking at pop cultural touchstones (consider a chopped up version of Sarah Michelle Gellar and Selma Blair's Cruel Intentions kiss, Leonardo DiCaprio weeping M-DOS folders, or the font from the "Friends" logo reworked to say "Lesbian"). But there was only one tee to be found this season, and the clothes were more polished than anything he's shown before.
They were so nice: suits with ingeniously adjusted proportions (jacket arms chopped off, and, as styled by Tess Herbert, tucked into pleated pants), mini-skirts with matching fabric snaking up the models' legs, a multicolored dress with micro-pleats that gave off the aura of a lava lamp.
But while the collection was refined and well-tailored, Barragán didn't give up a love for the organic. Models were smeared with clay, and they carried gourd sculptures made by longtime collaborator Ruben Gutierrez. We were out of our gourds for them.
Photography by Kohl Murdock
Sign Up For The Morning PAPER