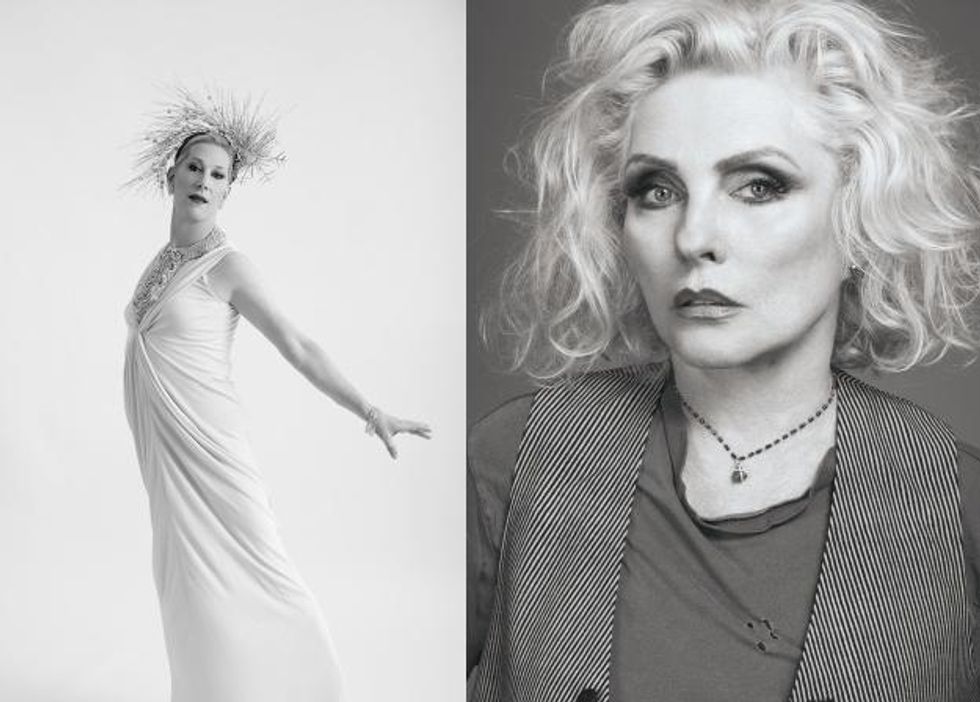 (L-R): Mx. Vivian Bond photo by David Kimelman; Debbie Harry photo by Rodolfo Martinez.
Barbara Maier Gustern's vocal students comprise a who's who of the NYC avant garde scene -- a virtual calendar come to life of everyone who's ever graced Joe's Pub with creativity and grace. Among them are Mx. Justin Vivian Bond, Tammy Faye Starlite, Taylor Mac, Penny Arcade, John Kelly, Lady Rizo, Carol Lipnik, Murray Hill, Heather Litteer, Miss Guy, Amber Ray, Julie Atlas Muz, Michael Cavadias, Rob Roth, Eric Schmalenberger, Our Lady J, Machine Dazzle, and Earl Dax. That's a "We Are The World" of Downtown greatness, plus she coaches Grammy-nominated jazz singer Roseanna Vitro and rock legend Debbie Harry.The petite and lively 81-year-old welcomes these people into the home she shares with her husband (a retired singer/actor who was in Phantom of the Opera for years), where, for reasonable rates, she infuses them with her long-acquired vocal wisdoms. Fascinated to meet her on the town recently, I wanted to know what led Barbara to this wonderful place.
Hello, Barbara, Coming from Boonville, Indiana, you probably knew nothing about downtown bohemia.
Of course not. I knew nothing about downtown until I started working with these people. I love it. I went one night with Eric to see Lady Rizo at Joe's Pub. My husband had been in the hospital and I was taking care of him and teaching, and I was burning the candle at both ends. The whole table dared me to get up and dance on the table and I did!
Are some of these people endearingly neurotic?
Some of them, yes. But some of these people, if you didn't know their background, you'd think they were old maid school teachers or something. Some of them are very proper. Tammy, for instance. There's a side of Tammy that's that. She's genuinely sweet. Most of these people are genuinely sweet and generous and loving and willing to accept things. That's why I like working with them more than maybe opera singers.
Were you always into music as a kid?
I was born singing, almost. I didn't come from a musical family. I was an only child and I had a couple of maiden aunts that doted on me and they both were tone deaf, but they encouraged me. Even as a little kid, I was standing on a chair giving recitals.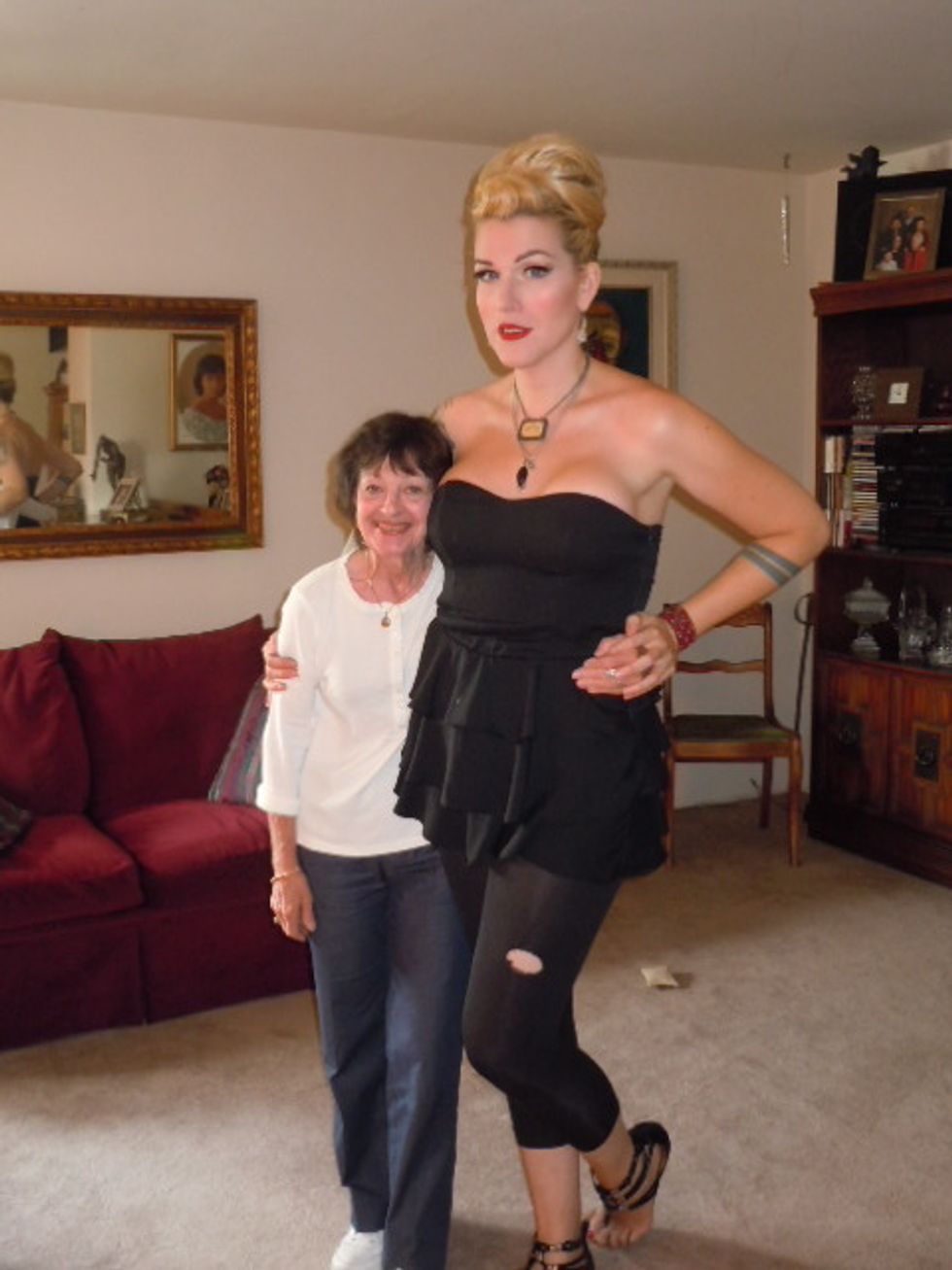 Barbara Maier Gustern and Our Lady J
Just like at Joe's Pub years later!
I knew when I graduated college that I wanted to be a singer, but my parents were very much opposed to that. They paid for my lessons and supported me, but didn't think it was a profession I should be going into. In high school, I was a singer with a jazz combo on Saturday nights. That's the one Florence Henderson used to sing with. When she left for New York, I took her place. Incidentally, my husband dated her sister. Anyway, I wanted to get to New York, so I came to Columbia University, got my masters in psychology, got a job for two years at Hunter College, and to keep that job, I had to continue my education. Eventually, I knew I wanted to sing and that was it. So I quit.
And what music jobs did you get when you entered the professional world?
I'm not Jewish, but I got a job in a temple. I'd never even been in a temple in my life, but I said I came from a mixed marriage, and I thought that was true since my mother was a woman and my dad was a man and that was mixed enough. [laughs] That's where I met my husband.
Was he lying too?
Yes.
And you were never found out?
I think the cantor had a suspicion, but he liked me, so he never said anything. Years later, I had a long stint at teaching cantors. I even did work as a cantor myself.
And you still didn't tell them you're not Jewish?
No. Let's keep that secret. [laughs] But I feel like I am! I picked up the responses like it was in my blood. In Boonville, even when I'd never even seen a Jew, I was always drawn to this.
But back to your early career.
Well, I thought you have to be in a union, so I auditioned for this job as a production singer and went to Albany to a big club called Barone's. I found out I had to be a B-girl—to sit at the bar and push drinks. I was outraged. Being ethical, I gave my two weeks' notice on the spot. The place was kind of an Albany Guys and Dolls, filled with bookies and other types. I then took lessons and thought I'd be an opera singer. I did lots of summer stock, a season at NYC Opera, regional opera, cruise work, and singing in clubs wherever we went, like Hong Kong, Mumbai, and Cairo.
Did you think you'd be a big star?
I thought I was going to be. I was really good with audiences. But at a certain point, my being the perpetual ingénue faded out and being 4' 11", I was never quite the leading lady type and I didn't know what to do with myself and was unhappy and fell into teaching. At a party, I talked to a teacher from the American Musical and Dramatic Academy in New York who said "Why don't you teach?" I started teaching music theater there, and eight years later, I struck out on my own. I started teaching everything.
And how did the downtown connection happen?
In the late 1980s, Diamanda Galas became a student after I met her through a mutual friend. As Diamanda tells it, they were in the loony bin together. Later on, Diamanda got me hooked up with the downtown scene. Debbie Harry was a big Diamanda fan and Debbie asked if she could sit in on a lesson. Diamanda asked me if it was OK. I said, "Sure, I don't care." When she left, Debbie said, "Do you think you have time for me?" I said "Yes, I definitely have time for you!"
What's Debbie like to work with?
She's a love to work with. She's very receptive, very appreciative. She's always open.
Is it different to coach a huge international star than someone who's not?
No. At that point, in 1998, Debbie was putting the band back together. She had been on a little hiatus. It isn't different. I don't care. A person's a person. Somebody who's well known or someone who's never been before an audience and thinks they can't sing—whatever. I love teaching a variety of people and I'm passionate about teaching and thinking people should be able to sing if they want to.
Is there an overriding consistency to what you teach these varied souls?
Yes. There are certain things everybody has to learn, regardless of what they're doing. I don't dictate that anyone has to sound like this or that, but we take whatever their genre is and tailor the basic concepts I've given them to that particular sound. It can be outrageous, as long as they can do it and stay healthy.
Do you teach them in your living room?
I have a baby grand in the living room. My neighbors put a sign on my door that I was torturing them with the exercises, so I have an extra baby grand in the bedroom. We sing in the living room and do exercises back in the bedroom. My husband goes in the other bedroom and turns on the television.
Do you feel maternal about your students?

Yes. That's a big yes. They're all my family.
You couldn't have possibly predicted this trajectory in your career, right?
No, I didn't, but once it happened, I knew it was right. There's a Quaker hymn that goes, " 'Tis the gift to be simple, 'tis the gift to be free/'Tis the gift to come down where we ought to be." That's what I think I did. I came to where I ought to be.
You May Also Like