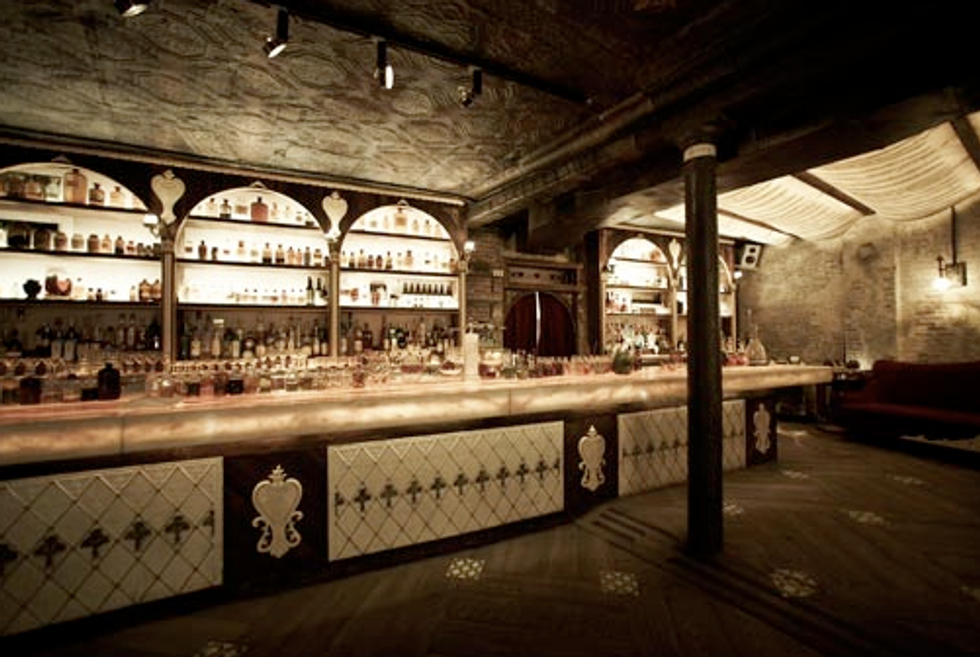 When it comes to Valentine's Day, you've got the lovers, the haters, and everyone in between. Wherever you fall on the spectrum, we just think everyone should celebrate by getting some, and we're hoping we can help --
Bar of the Week
-style!    
IF YOU'RE ON THE MEND...
The lab-coated pharma-mixologists at Chinatown's
Apotheke
(pictured above) can help nurse even the most mangled of hearts back to health with their trusted prescription. The two-pronged strategy calls first for the "pain killer" cocktail, Rite of Passion. The smoky, spicy, and tropical combination of pineapple and mezcal will simultaneously soothe and jumpstart your flatlined heart. Follow that up with the Deal Closer, which helps get things going below the belt with aphrodisiac-infused vodka mixed with cucumber, mint, and lime. Next thing you know, you'll be living up to that mighty cocktail's name and your ex -- what ex?  
IF YOU'RE IN THE MARKET FOR A ONE NIGHT STAND
What could be better than a one night stand who not only doesn't expect you to call, but will be in a completely different state by tomorrow afternoon? Order up some absinthe and herb vodka-based Dutch Courage ($16) from the barkeep at Bowery Hotel's Lobby Bar to get a little of that fire in your belly necessay for endeavors such as these (naval battles, seducing strangers). Scan the masses with your finely honed tourist radar, zero in on your lucky choice, and make it happen, my friend.  
IF YOU'RE LOOKING FOR LOVE FOR HIRE
Sometimes money can buy you love (of a kind), if only for one night. On the Lower East side, slip down a set of concrete stairs into a dark, cramped alley and through a small courtyard that looks like it never sees the light of day. Knock on the unmarked door of the Back Room, and a bouncer will allow you entry into a plush den of iniquity, just right for the by-the-hour lovin' of their signature cocktail, the Red Light District. The libation combines Mekhong rum with wild strawberry liqueur and muddled chili pepper, and will ensure a night that's a little bit spicy, a little bit sweet.  
Apotheke, 9 Doyers St., Chinatown, (212) 406-0400; Bowery Hotel Lobby Bar, 335 Bowery, East Village, (212) 505-9100;  The Back Room 102 Norfolk St., Lower East Side, (212) 228-5098.