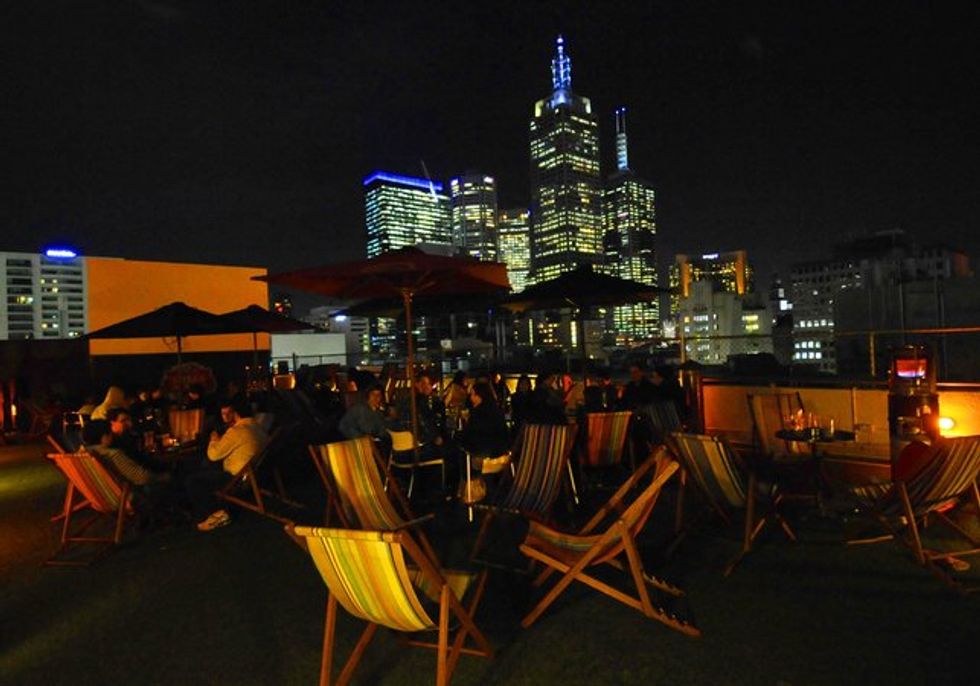 A river city of alleyways saturated with street art, and downtown arcades teeming with excellent cafe culture, Melbourne might be mistaken for an English speaking, slightly more bronzed Paris. As fall descends upon the South Pacific, stylishly sweatered locals gather in cozy passageways like Degraves Alley -- the best nooks for warming up with a coffee and watching the street life amble by. The most charming bit about the European-minded doppelgänger is its abundance of bars hidden just above and below street level, nearly indiscernible by the foreign eye. Luckily, we had an insider tour from a couple of natives who led us down dark lanes and up shady staircases to the local layer of Melbourne nightlife.
Section 8
: An alleyway pop-up bar that settled into permanence, Section 8 is
constructed of bits and boards held together with shipping container sections. Djs spin
almost every evening and the pretty-gritty crowds order cocktails like the sprinkle-
rimmed Gaga Scissors: A Massive Punjabi (tequila, chai, Framboise, raspberries and
pomegranate).
Rooftop Bar
: A Melbourne favorite, the Rooftop (pictured above) is the crowning space atop nightlife complex,
Curtin House
. It's filled with gorgeous Aussies, cheapish drinks and a weekly cinema during the summer, and if you get bored you can head downstairs for a Thai dinner, a dance and a cocktail at
Cookie
.
Berlin
: Some may consider it too soon to split a venue in two, call the sleek and opulent half West Berlin, while the bare bones barrack like half takes East and add alcohol, but the kitschy experience theme is a trip. Set above the street through a series of corridors, Berlin offers visitors a passport upon arrival complete with East and West cocktails. Try the Socialist #2 for a more delicious version of the barricades.
Izakaya Den
: Aboveground, there is no indication that the long linear space below exists, not to mention is packed with bar hoppers drinking plum wine and snacking on fried chicken and giant prawns. Best to show up here a bit later in the evening for pre-dance party fuel.
Melbourne Supper Club
: For a view of the Parliament House and a stiff reposado margarita, the rooftop Supper Club is a classic Melbourne bar scene. Down below, big leather couches and a giant wine list are perfect for entertaining or celebrating, especially because it's one of the only places left in the city where cigars are still allowed.
Meyers Pub
: Though small and a little bit shabby, this hole in the wall built of reclaimed parts is the result of a collaboration among architects sharing studio space who wanted a watering hole of their own. They went on to become the architecture firm Six Degrees and have designed several bars (to the benefit of Melbourne imbibers) since.
Photo via Allrooftops.com