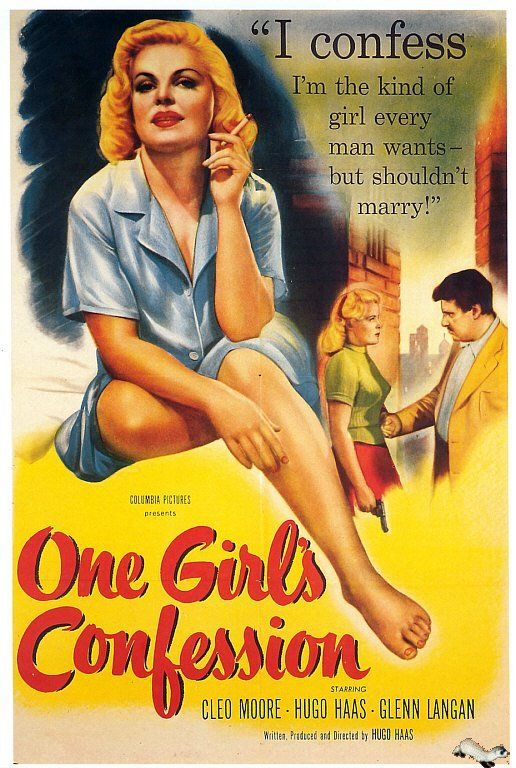 Out on DVD are volumes one and two of the glorious series, 
Bad Girls Of Film Noir
. For years, I've dreamed of seeing a film by the Czech auteur
Hugo Haas
(who wrote, produced, and directed scores of juicy melodramas in the 1950s) on DVD. Well in these two volumes saluting the dangerous dames of crime drams there are two of his gems now in pristine condition starring one of his B muses 
Cleo Moore
:
Over-Exposed
(1956), about a blackmailing photographer, and
One Girl's Confession
(1953), wherein a young woman steals from her boss and then merrily goes to prison for the crime without revealing where she buried the money. There are four movies to each volume, and you need both of them. In
The Killer That Stalked New York
(1953), 
Evelyn Keyes
plays a woman who smuggles diamonds into Manhattan for her shady boyfriend. But she is also carrying small pox and quickly becomes Typhoid Mary infecting the population. The wonderful temptress
Lizabeth Scott
appears in 
Two Of A Kind
(1951), which finds her dragging 
Edmond O'Brien
into an inheritance scheme, and
Bad For Each Other
(1953), in which she plays a boozy socialite who tempts good doctor (
Charlton Heston
) to go against his conscience.
The Glass Wall
(1953) introduces America to handsome
Vittorio Gassman,
on the run after stowing away on a boat to America. He falls in with a down-on-her luck gal (
Gloria Grahame
) in this tense thriller.
Night Editor
(1946) is the tale of a cop whose extramarital affair keeps him from being an eyewitness to a murder. And the fabulous
Women's Prison
(1955) stars
Ida Lupino
as a bitch warden in a female penitentiary filled with B-movie greats like
Audrey Totter
,
Cleo Moore
and others. Don't pass these up!