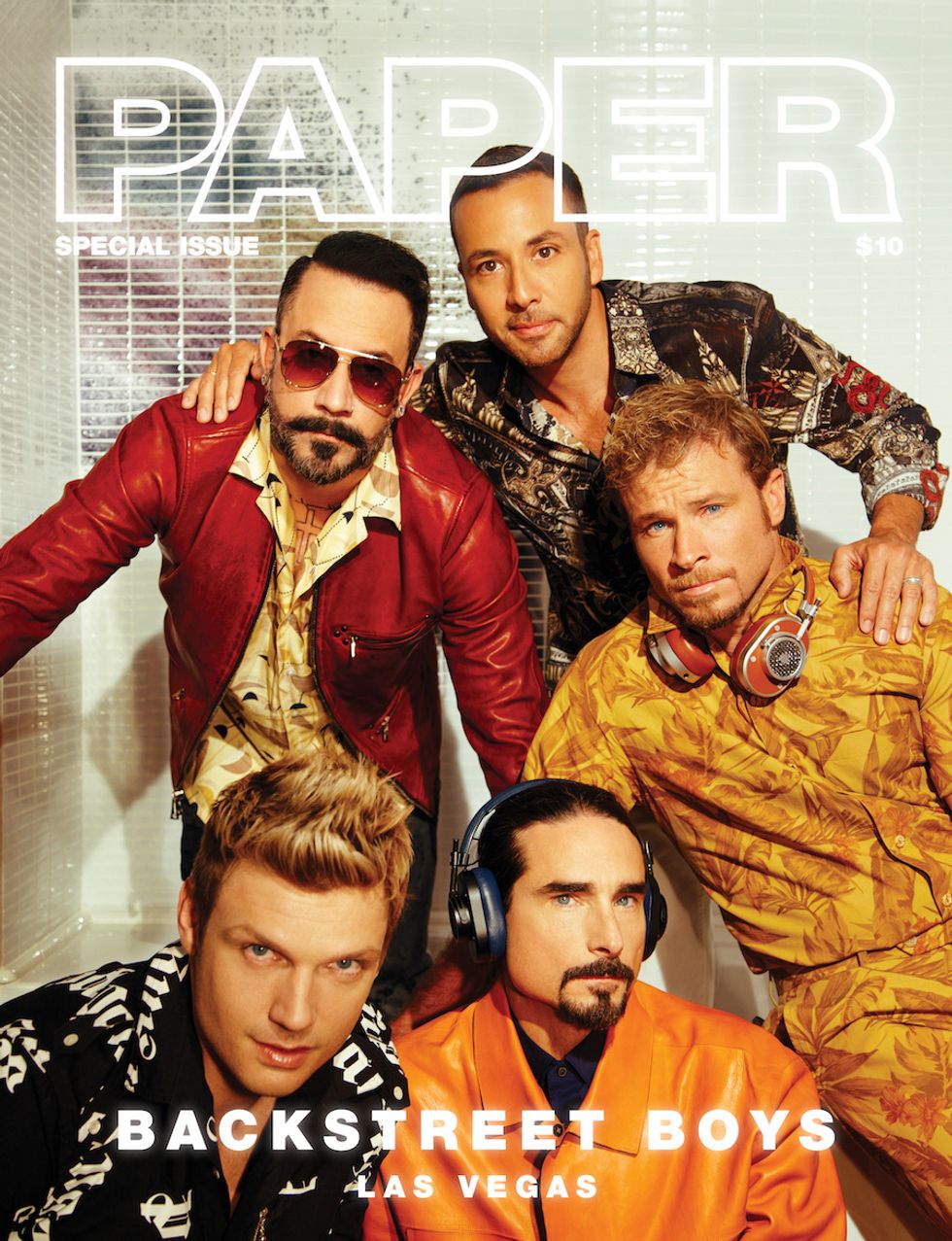 Backstreet's back...but they've never left! After 24 years together, AJ, Brian, Howie, Kevin and Nick are better than ever, working on their ninth studio album and thrilling fans with their five-part harmonies and syncopated dance routines during Larger Than Life, their massive Las Vegas residency at The AXIS at Planet Hollywood Resort & Casino. What started as a string of nine dates has grown into over 40 shows through February of next year, and if the guys have their way, they'll be out here performing for the next two years -- or longer. And not only are the guys in top form, but their fans, whether twenty and thirtysomethings who have been listening to them since their self-titled debut in '96 or kids who discovered them on the Internet two decades later, are also not messing around. Catch one of their shows and you'll find grown women on the verge of tears, holding signs that profess their still-burning love for one of the five. In the midst of one such string of shows, we talked to the Boys about their lives in Las Vegas, their onstage chemistry and what we can expect from their newest record.
Click through for more Backstreet Boys photos from our 'Las Vegas' issue!

How has the residency been going this summer?
Nick Carter: We have been having the time of our life here in Las Vegas. Some of us have actually moved here, we're recording our next album here.The town has really embraced us.
Howie Dorough: We're three months in already, and we're thinking we're probably going to be out here at least for the next two years.
Brian Littrell: Hopefully longer.The show is a perfect fit for our generation who is now older. They're bringing their kids to our shows.
Kevin Richardson: A family came through the line the other night at a meet and greet: an 82-year-old grandmother, her daughter and then her daughter. That's pretty cool.
You've been a group for 24 years. After all this time, what things have stayed the same and what's changed?
Kevin: When you're onstage and you look out at the faces in the crowd and you hear the cheers and the energy, it feels like yesterday and as if you're in a time capsule.Then other times, when you're offstage and getting undressed, you get a little stiff.That's when the reality sets in that you're not 24 anymore.
Nick: Being in Vegas has brought us closer together than we have been in years.We live close to one another, and we're comfortable with how we're performing.Things are really good in our lives right now.We're really fortunate and we know that is a blessing. I think Howie and I mentioned this onstage, like, "Isn't it funny how we don't have to say anything to each other now, we can just look at each other and know what everyone's thinking?"
Brian: We're like an old married couple.
Kevin: We've also gotten better with age.When you're young and you go out on stage, your adrenaline's pumping because you want to perform amazing for these people. I feel like now there's a confidence, there's a seasoned-vet vibe that goes through us.
Nick: We all are comfortable in our skin.We know who we are, and we enjoy being the Backstreet Boys, we enjoy doing pop music and we enjoy being performers.
Do each of you remember the first time you ever came out to Las Vegas? Was it with each other?

Kevin: I think the first time we performed here was probably 1997 on one of our first US tours.
AJ McLean: I had never been to Las Vegas until Backstreet [Boys]. I was still on the East Coast in Florida.
Howie: Some of us actually celebrated our bachelor parties here in Vegas.
How many of you guys had your bachelor parties here?
[Nick and Howie raises their hands]
How'd they go?
AJ: Howie couldn't tell you what happened, but most of us could.
Howie: I don't remember what happened, that's why I can't tell you.
Do you guys have any 'what happens in Vegas, stays in Vegas' stories you can share?
AJ: When we were doing the Millennium Tour, there was a featherweight fight going on here [in Las Vegas]. I was playing blackjack and I was in a tank top -- this is back in the day with all of the bling or whatever -- and the dealer thought I was one of the guys that fought. I don't know anything about boxing. He asked what division I played in, I said "Cuban division." I didn't know what the hell he was talking about. He literally thought I was a boxer, and then the cab drive that night also thought I was the same boxer. I have yet to see what this guy looks like, but he must be pretty handsome.
Now that you're getting the chance to spend more time in Las Vegas -- and some of you have even moved out here — are you exploring any of the surrounding outdoors?
Nick: I want to hike Red Rock so bad.
Kevin: I discovered Lake Mead about four or five years ago with some friends of ours.We had an adult birthday party out there on a houseboat and I fell in love with it. Now I have my own boat on Lake Mead and I take my family out there. We go wakesurfing, wakeboarding. I take the kids out camping, it's awesome.
Back in the city, where are your favorite places to go on the Strip?
Nick: I saw my first boxing match here, it was Canelo [Alvarez] and that was awesome. Obviously the casinos have so many great restaurants -- Caesars has some of the best out there and so does Planet Hollywood. Anything from Nobu to MR CHOW.
AJ: I'm a big fan of The Cosmopolitan. I like that crowd, I like that vibe. That place has the best breakfast sandwiches at Eggslut.
Kevin: Rose. Rabbit. Lie [in The Cosmopolitan] -- that's a really cool place.They've got great entertainers and incredible food; it's a great vibe.
Brian: Just this past week I saw Donny & Marie, which is the number one show voted in the past three years running. Lived out my childhood and then I went and saw Blue Man Group, which was pretty good as well.
Howie: The nightlife here is amazing. We have our own after parties that we do after the shows, but then there's the after-after party. Kevin and I have been staying a lot at the Caesars Palace hotel. Their nightclub, Omnia, has some of the best DJs I have ever had the chance to see.
Earlier, you mentioned you're working on your next album out here. What can you tell us about it?
AJ: It's just the tip of the iceberg -- we just signed a major deal with RCA -- and we're just now brainstorming, talking ideas, talking direction, reaching out to producers.This is our ninth studio album. We definitely want to go back to the five-part harmony, that signature Backstreet Boys sound, but we're a little bit more mature and grown up.We're fathers and a little older, so we may not be so bubble-gummy -- but not raunchy either. Just sexy, fun music.
Nick: Something like that.
Styling by Adele Cany

Set Designer: Ali Madigan
Grooming: Homa Safar using MAC Cosmetics and Oribe
Fashion Assistant: Ella Cepeda
Photo Assistant: Maria Malachikhina
Groomer Assistants: Natalie Pasquale and Alexandra McDonald
Location: Planet Hollywood Resort & Casino

Sign Up For The Morning PAPER
Nightlife
Photography by Ricardo Gomes / Interview by Nile Rodgers / Story by Patrik Sandberg / Styling by Eyob Yohannes / Hair by Andy LeCompte / Makeup by Wendi Miyake
Fashion
Creative direction by Jess Cuevas / Art direction by Sakura Bready / Photography by Drew Escriva
Nightlife
Story by Zach Shucklin / Photography by The Cobra Snake (Sponsored by Cuervo Tradicional Cristalino)