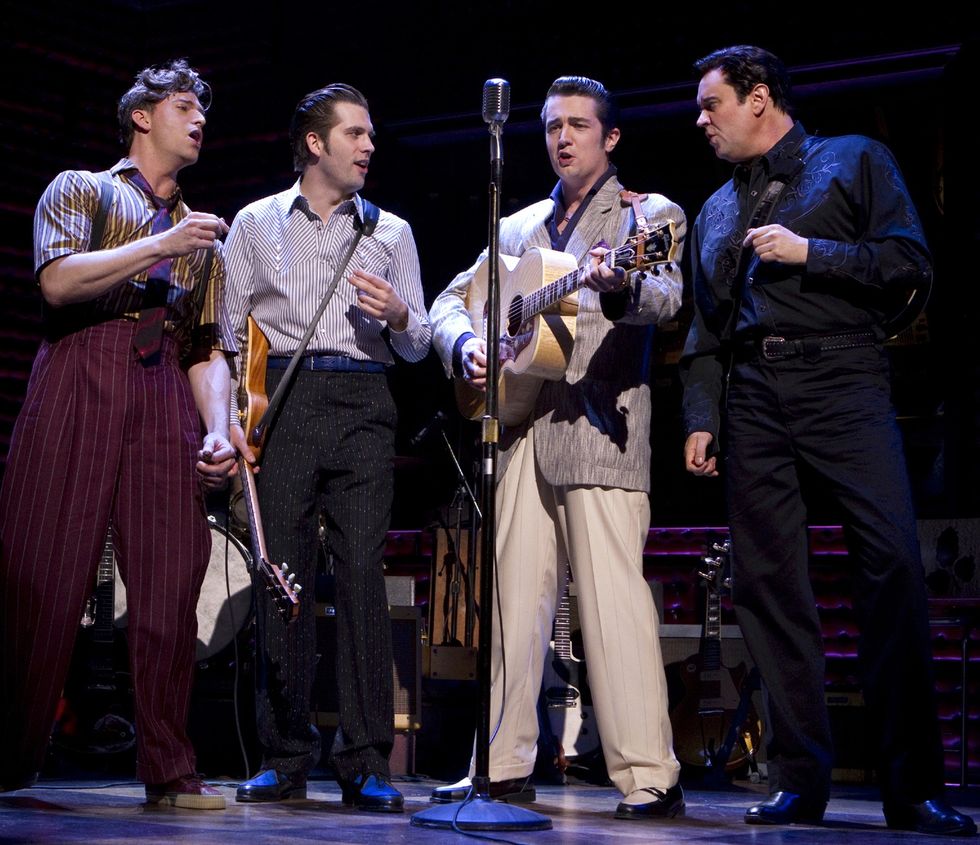 Broadway musical
Million Dollar Quartet
tells the story of
the legendary night before Christmas in 1956 when
Elvis Presley
,
Johnny Cash
,
Carl Perkins
and
Jerry Lee Lewis
came together for a jam session at Sun Records, the studio where they all got their start. It was the one and only time the history making stars were on record together.Actors
Eddie Clendening
,
Lance Guest
,
Robert Britton Lyons
and
Levi Kreis
play Presley, Cash, Perkins and Lewis respectively, and have all been with the show for over three years, touring cities like Seattle and Chicago. They only recently made their Broadway debuts when the show opened at the Nederlander two weeks ago. We went backstage to see what kind of time the four guys are having on Broadway.
Our first stop was Lyons. He has the smallest dressing room, but seems content. The rooms were chosen at random, and it's still more space than he's had the past three years when he shared a dressing rooms with his co-stars. "The hot tub arrives next week, and the stripper pole is going in the corner..." he jokes. But with or without the hot tub, Lyons says his Broadway debut is very exciting considering his first time in New York was last year for an
MDQ
performance at the Tony Awards. He and his cast mates live in separate apartments in Hell's Kitchen where he's hoping to stay awhile. "I've been part of this show for a long enough time that I'm officially sort of a like a carnie. I don't really have a home anymore. I have a storage unit in north Hollywood."
Next we visited Guest, the most experienced actor of the four, who explained that to hit the low notes required in his performance as
Johnny Cash
, he puts on his headphones and listens to his favorite songs by the man in black,
Walk the Line
and
Wanted Man
, on his ancient-looking iPod ("It's like a '57 Chevy," he says, noting that if anyone would like to send him a belated opening night gift he would love an iPod stereo like Lyons has in his dressing room.) "The iPod is integral to my prep," he explains.  "I have to sound like Johnny Cash and it's actually a physical placement of where the voice comes from in the body and in the mouth and the whole head cavity. You gotta kind of line up the resonators to what he's doing because he sings in his own particular way." Guest lived in New York about 20 years ago and is re-adjusting to a new city -- aside from Hell's Kitchen now being a completely different neighborhood, he's also here this time with his 5-year old son (of whom he carries pictures of in his wallet) and his long-term girlfriend. 
Leaving Guest to his singing, we moved next door to Kreis's dressing room, which he had gutted to make room for leather seats for guests, like his parents who were in town from Nashville for the opening. They stopped by to say hello while we were there, along with his partner Jason Anton, who is also a singer-songwriter. "We had the same publicist ironically," says Kreis of how they met. "It's nice to be with someone who shares the same lifestyle." His lifestyle also includes studying to become a minister with the Unity church. Kreis, who was raised as a fundamental Baptist, says that when his church didn't accept his sexuality he began exploring  other religions like Buddhism and Wicca, before settling on Unity.  Now before each performance he meditates to get in touch with his character,
Jerry Lee Lewis
. "At 15 minutes till the show, the Do Not Disturb sign goes on the door and I'm in here in the dark," he explains. Besides meditation, Kreis says bandaging tape for his fingers is also essential for his performance, which requires him to channel Lewis' frenetic piano-playing each night. "I beat my fingers down to the point where they were just bleeding. Tape and nail glue is my survival kit for doing Jerry Lee Lewis." Did Lewis actually wrap his fingers?  "I don't think he did, but I don't think he did eight shows a week of this madness." Good point. 
Clendening, who plays Elvis, has the room next to Kreis'.  When I open the door, I feel like I've stepped back five decades. Clendening's hair is greased up into a King-ly pompadour which is also how he's happened to wear his hair since he was a little boy. "My grandfather had the same hair and I just wanted to be like him," he says softly. And he's certainly got enough pomade and gel on his counter to keep it that way. 50s rockabilly is playing on his iPod -- music that he sings both onstage as Elvis and in his solo career. And there's a vintage-looking photo of Clendening's wife Anna (also a singer) taped to his his mirror, along with a candid shot of Elvis taken by a fan that came to see the show in Chicago. "She gave each of us one, Carl Perkins, Jerry Lee, Johnny Cash..." he says. There's also a photo of him with two friends in Vegas, but he's far from the Elvis impersonators that populate the strip. "I think Elvis was particularly hard [to cast] because you can find a jillion guys to play him, but they're all like impersonators. I'm really into that style of music and artists from back then, so I don't have that impersonator sensibility," he says.
That's a sentiment that applies to all four of the stars of
Million Dollar Quartet
-- all masterfully  embody these music legends without resorting to cartoonishness. And then there's the music, which had audiences standing twice at the Saturday matinee I attended. To quote Jerry Lee: "There was a whole lotta shakin' goin' on!"
Million Dollar Quartet
is currently playing at the Nederlander Theater, 208 W. 41st St., New York.