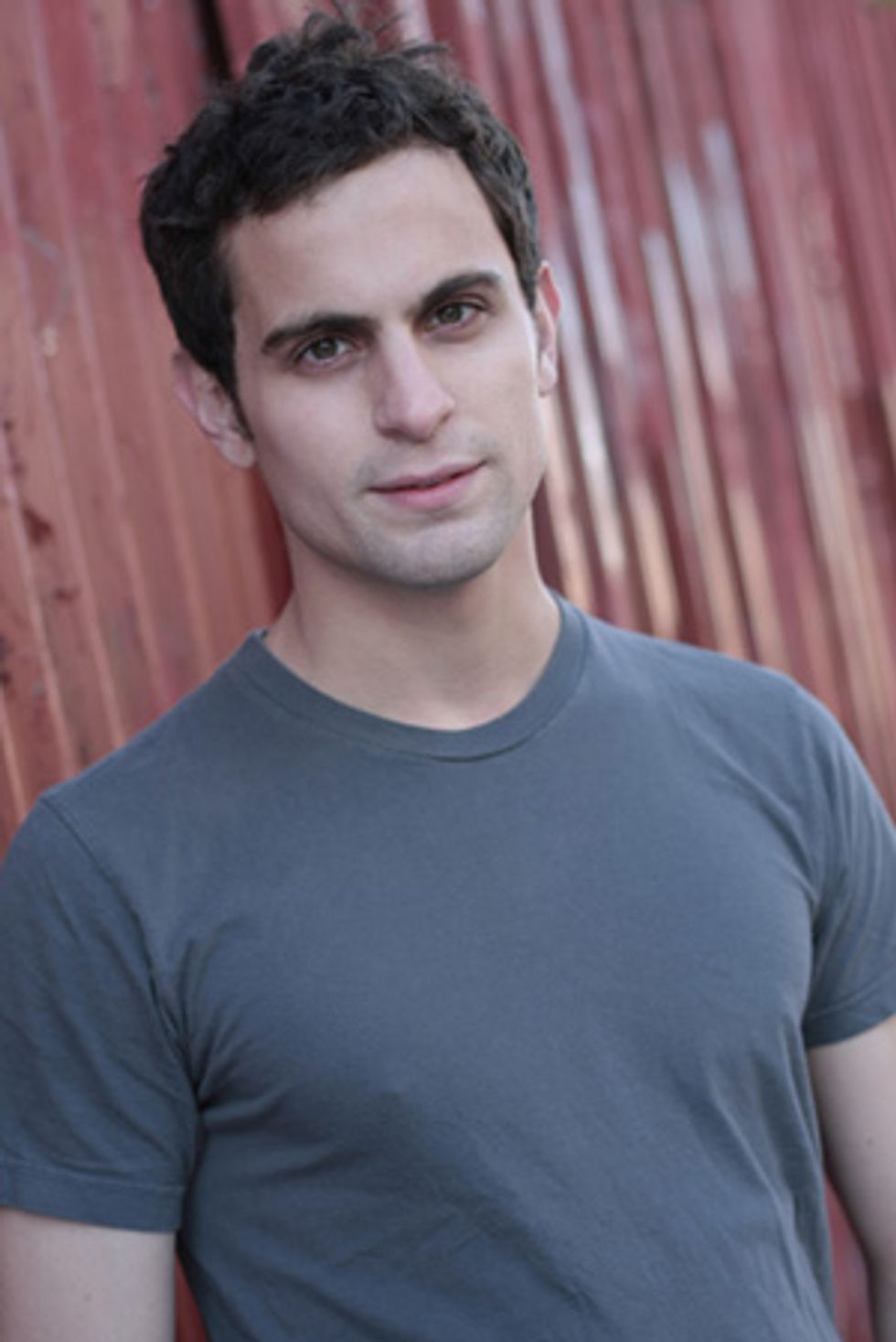 Though Roundabout Theater's off-off Broadway production space, the Black Box Theatre, is only four years old, it's produced some of our favorite productions as of late, including
Tigers Be Still
with
Natasha Lyonne
and the adorable
Halley Feiffer
. Currently playing there (and now extended through May 15th) is
The
Dream of The Burning Boy
. This production, by the very promising young playwright,
David West Read
, centers on Dane, a high-school student who collapses and dies from a brain aneurysm at school and how his teacher and fellow students handle the loss. It's intelligent, poignant and even a little funny. Providing most of the laughs as an endearingly clueless guidance counselor named Steve, is our newest theater crush, the 30-year-old
Matt Dellapina
who has honed his comedic timing doing improv at the downtown comedy space, the PIT. We chatted with him below about his own high school experience at an all-boys Jesuit school in Manhattan, his love of Parmesan cheese and, of course, penguins.  
Where are you from originally? 
I'm from the Bronx.   
Is your family still there?
Yeah they're still in the house I grew up in which is a total anomaly in this business.  
The play's a little sad but your character provides some comic relief. Were you drawn to that given your comedic background? 
Yes, I think so. It's a great part and I felt like it was in my wheelhouse. Getting into previews, I realized that it's so well written that the laughs were going to come and that anything extra I would do just got in the way of the humor. Rather than it being like "the clown comes on for five minutes, and then the heavy play, and then the clown comes on for five minutes," we tried to find the character's trajectory that's underneath all the humor. 
Did you have specific memories of a guidance counselor in school?
It's funny, a guidance counselor played a large role in me continuing to act. We did this play in high school called
J.B.
by Archibald Macleish and I played the title character. It's sort of a meditation on the [biblical] story of Job -- pretty heavy stuff and I was like a junior in high school. After the first show I was like, "Woah that was freaking taxing," and I fell into this quasi depression the next day. We had another show coming up that night and so that afternoon I went to the guidance counselor and I said, "I don't know if I really want to go out there the next two days because last night was super taxing," and she said, "I think what you did was something really honest and I actually haven't seen you in that way ever." I was a pretty shy, kind of inhibited kid in high school so it was a good kick in the butt forward. She was like, "You have to do this, this is your job and it's also your responsibility." She was also like, "Maybe if you just ease off, you don't have to cry every other scene." That was actually a good acting technique. 
In the Times review, Charles Isherwood called you amusingly tone deaf...
I would have preferred hilariously tone deaf, personally, but it was nice to be singled out and mentioned and it's sort of true. Steve is great but he doesn't really have a ton of neurons as far as empathy goes. He's like 80 percent there. But "tone-deaf" could have also been in reference to the song I sing towards the middle of it. I'm tone-deaf across the board. That could be the headline of this article!  
You also serenade Danes's mother in this play. How long have you played guitar?
About 10 years or so. I started because a lot of my college friends were playing it and they were writing songs and I was envious. I just wanted to join the club.   
Have you ever sang a song for a girl like that?
Of course! I haven't made a habit out of it but yes, I sang one once for my girlfriend. So I guess it worked. Her name is MacKenzie and the song is called "MacKenzie" and I'm not going to sing it right now unless you're going to demand it.  
If I had a video camera I definitely would! The Blackbox is so intimate. You can see who's there. Is that weird?
Yes a little bit. My friends might find it rude but I always try to look between heads. I mean, I see them, but I just don't want to [make eye contact]. Even during curtain call, it just feels like finishing a basketball game and pointing to your fans, it feels weird. And I didn't slam dunk. I just did a play. But I'm happy to see them afterwards. 
What's your own comedy like? 
Well in addition to the improv at the PIT I also have this comedy cooking blog called
Parmitup
. I wanted to kind of subvert the prototypical self-important cooking show which I find so, "These berries were harnessed by Afghani women post war..."  I also write more and more lately as well. I'm in the second draft of this screenplay which I believe has some humorous tones to it. These days it's so much easier to get stuff going yourself so I think some friends and I are interested in shooting some pieces of various stuff we've written. It's exciting. It feels like a right time to be doing these things and the great thing about the comedy world vs. the theater acting thing is that the comedy guys I know and the writers are so much more motivated at cooking a lot of pots. It can be a little gross sometimes but they're very into self-promoting and pitching this idea and that idea pitching another one, like really self-made artists, and I'm really inspired by a lot of that.  
Why is your blog called Parmitup?
I love Parmesan cheese and my family is from Parma Italy. I put it on mostly everything. The most unusual thing was a dark chocolate mouse with a little bit of pecorino romano. It actually gives it a nice accent like
David Chang
does -- a little salty thing to bring out the sweet.  
What was your first Broadway show?
Cats.
I love Cats and everyone makes fun of it!
I think
Cats
is awesome. It was so crazy. I feel it's bizarrely experimental for musical theater. It's like a wormhole into some strange mind and I liked that. It felt really grimy and urban. It's an insane idea and it made it to Broadway. That probably couldn't happen now. And I know people want to turn movies into musicals but if you said
March of the Penguins: The Musical
now, I don't think it would make it.   
If someone were like Matt here's a script for March of the Penguins: The Musical, would you star in that?
Of course! But it would be really modern like we'd all be wearing tuxedos and we'll be pregnant men. We'll be tuxedoed men with like pregnant bellies. It will be really weird. I think it's a great idea.
Photo of Dellapina and Reed Birney in a scene from
Dream of a Burning Boy
by Joan Marcus
.