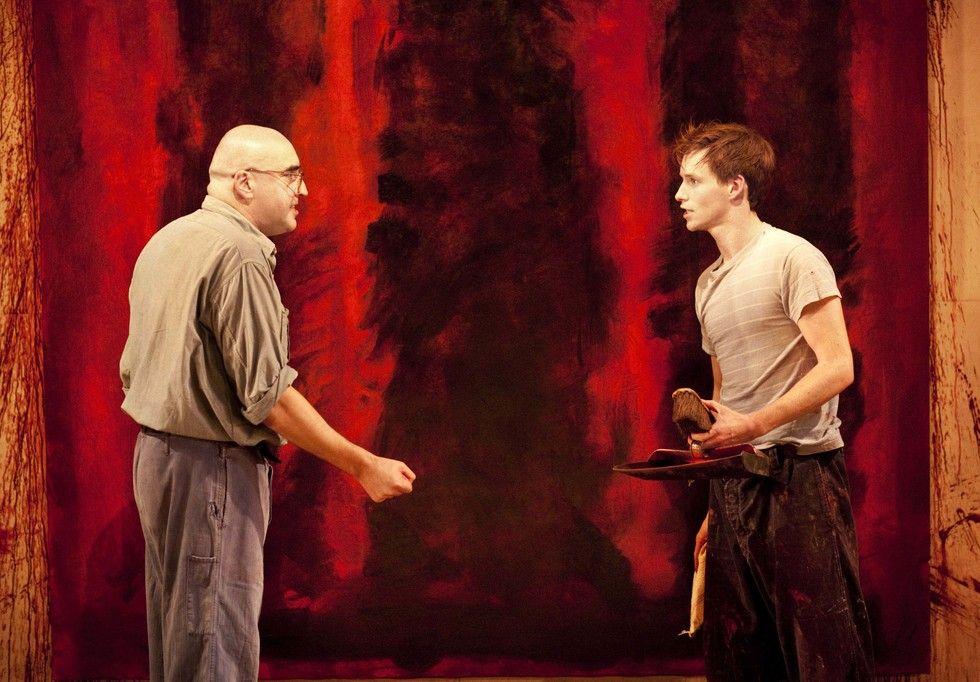 That's
Tony nominee
Eddie Redmayne
to you. On Tuesday morning the British actor was nominated in the Best Featured Actor category for his role as Ken, artist
Mark Rothko
's assistant in
Red
. Transferred from London's
Donmar Warehouse
,
Red
centers on Rothko's Seagram murals and his struggle with selling them to the ritzy
Four Seasons
. Fellow Brit
Alfred Molina
(who Redmayne sweetly calls "Fred" ) stars as the temperamental artist and was also nominated for a Tony as a Leading Actor -- we're sure backstage at the the Golden Theater, where we visited Redmayne a few days before his nomination was announced, is a pretty happy place these days.
The boyishly handsome Redmayne's dressing room is a floor above Molina's and is filled with theater memorabilia including a copy of
The Goat
, the first play he ever did in London ("I haven't read it for like five years so I started reading it," he explained), a copy of the original program from the film premiere of
Laurence Olivier
's
Hamlet
given to him by a producer of the show and the Olivier award (Britain's equivalent to the Tony's) he won for his performance at the Donmar. Walls are lined with art posters including
Matisse
's Red Room and prints by Rothko competitors like
Roy Lichtenstein
, as well as a painting given to him by his understudy Gabriel Ebert. There's also the cheeky full-page ad the Four Seasons recently took out in the
New York Post
offering a deal on dinner for
Red
patrons. (Rothko backed out of a deal to hang his murals there as a very public snub to the Four Seasons' hoity-toity clientele.) Additionally, the space includes the personal comforts from home -- including photos of his flatmates back in London in front of a fridge filled with anti-pasti ("We have a fetish," he explains) -- wine gums and something called "red beaners" from a friend, one of many who have come to crash in Redmayne's apartment in the East Village where he's painting and learning to play guitar. "I have my six staple chords and that's pretty much it, so yeah it's really depressing. I bought [the guitar] more for the Utopian idea of what it is to be a sort of artist without actually being one," he laughed. 
We chatted with him about his more developed skill of acting, his relationship with Molina, and Broadway's unpredictable shower situation.  
I saw
Red
a few weeks ago. I was worried that it was going to be a very long 90 minutes but in the end I really liked it and wanted to learn more about Rothko.
When it starts it has sort of a cerebral quality like, 'Oh god is this going to be a lecture?' but I think what's great about what [playwright] John [Logan]'s done is he's written a relationship story in the midst of it. A mentor-apprenticeship thing which develops into the generation superseding the next generation is something that everyone relates to, whether you relate to the young side of the story or the old side of the story or both. So, hopefully beneath the sort of erudite art chat there is also something more emotional going on between these two men.  
Were you interested in art before the show?
I was. I was an art history major at Cambridge so when [director]
Michael Grandage
offered me the job it was [doubly intriguing] -- it was at the Donmar Warehouse which is one of the sexiest theaters in London and it's about Rothko. I read about a page-and-a-half of the play and I was like, 'Yep I'll take it.'  
So it was a perfect fit.
This weird thing happens once you leave education about five or six years on and you go, "I wish I'd gone back," and it's exactly that time where a lot of my friends are starting to go back and just as I was getting that urge, this play comes along and it's a great excuse to kind of immerse myself back in that world a bit. Alfred says there's nothing worse than taking your headwork on stage as it were like showing the audience how much work you've done to research so that side of it is really more informative and for your own self rather than for the play. 
So you didn't know a lot about Rothko at first?
I didn't know a huge amount. A lot of the Seagram murals ended up in the Tate and I live in Barrow right by the Tate Modern. Museums are free in London so when I'm out of work I often amble around the Tate. I've spent many an hour sitting in front of those canvases but certainly the play has wetted an appetite. And what's amazing about bringing the play to New York, because it's set in the city and his studio was on Bowery, is that all these people in New York have come to see the play who knew Rothko and dealt Rothkos. It's a weird thing we've sort of opened up this whole can of amazing people coming in with their stories. 
What stories have you heard?
The widow of Dan Rice came the other day. Dan Rice was Rothko's assistant during the Seagram years. I met her afterwards and she gave me this transcript of an interview that Dan had done where he described how he'd have to stretch Rothko's canvases by hand and he would do so many of these and he'd have to pull so tight that his knuckles would bleed and the blood would start going on to the canvas and Dan would go, 'I'm bleeding and I don't want to mess up your canvases,' and Rothko would come with a bowl of brine and go 'Dunk your hands in it. Get on with it, you fuck.' So all these little stories you hear from interesting people and it really has been amazing what bringing it to New York has done.   
I hope Alfred doesn't make you dunk your hands in brine! What is it like having him as your only cast member? Do you wish you were part of something more like American Idiot with a big cast filled with twenty-somethings? 
He's used to me pumping hot air up his ass. He's an extraordinary actor but also a wonderful human being and we get on and he has the greatest anecdotes known to man, so he makes up for a huge Broadway cast. He's the entire cast of
Wicked
in one perfectly sized human being and it's lovely. I love that he's in no way mentor-y, but I would be mad not to try to glean from Fred as much as I possibly could, and I do. 
Do you chat after the show?
After the play we end up upstairs where we have two tiny plastic showers. The one thing Broadway does not do well is showers. They go from like scolding hot to freezing cold so we literally stand in the shower straight after the show scrubbing off the paint, like, 'So what did you think about...? AHHHH' and I'll go, 'Did you hear that
David Bowie
...? AHHH!' So yeah, it's a gossip, a debrief and third degree burns.  
That's amazing. So I guess the paint stays with you for awhile, your hands still look a bit red! 


It never goes away. I scrubbed my nails especially today. Normally they're even worse. But I can't tell pink and red.
 

Oh, yes you're colorblind right? What color is the carpet?
The carpet is green or brown. [For reference, the carpet is a bright Christmas green.] It's called red and green colorblind. Like this [points to a brightly colored gift bag] is my worst nightmare. I see this as multi-colored but I wouldn't know which are purples and which are blues.       
Is there ever a time in the shower where you're like 'We got it perfect!' 
The reason that it's fun doing it for months and months on end is that you never get it right. On film you have a few takes to get it right and then you have to live with that. On stage the chance to getting a moment of it right are rare, and the chance of getting the whole thing right is impossible but you just keep aspiring.  [Pulls out a transcript and reads] Dan Rice writes here about the painting process: 'It's the grind against oneself that makes the artist not the talent and all that. The internal vision of what's possible and to be achieved and the unwillingness to settle for less, to get it right just once knowing you never will.' That first bit is learning to live with your self even though you know you're never going to get it right and aspiring to get it right. 
Sounds like a perfectionist's nightmare.
Also on Broadway compared to London every night there is someone kind of incredibly important or famous in the house so it's this weird thing. Normally in London there are only 250 seats at the Donmar so if I had a bad Thursday evening it's like, 'Oh just forget about that,' but here it's like, 'Oh god.' 
Do you have many celebrities in your dressing room?
They all go and see Fred, so this is what I do. [He creeps out into the hallway and looks down over Molina's floor]. I feel like it's when you're younger and your parents are having a dinner party and you sneak downstairs and listen to what they're talking about. I feel vicariously that I've met loads of really important people. Although I did have
Angela Lansbury
in here.  She's amazing. 
Agreed! Do you go out after the show?
Yeah I do. It's been cool.
Zoe Kazan
and her boyfriend
Paul
[
Dano
] --I've been hanging out with them a bit, and it's been really fun. I tend to go out for a drink or two because it's quite high adrenaline.
Above is Alfred Molina and Eddie Redmayne in a scene from
Red
photographed by Johan Persson.