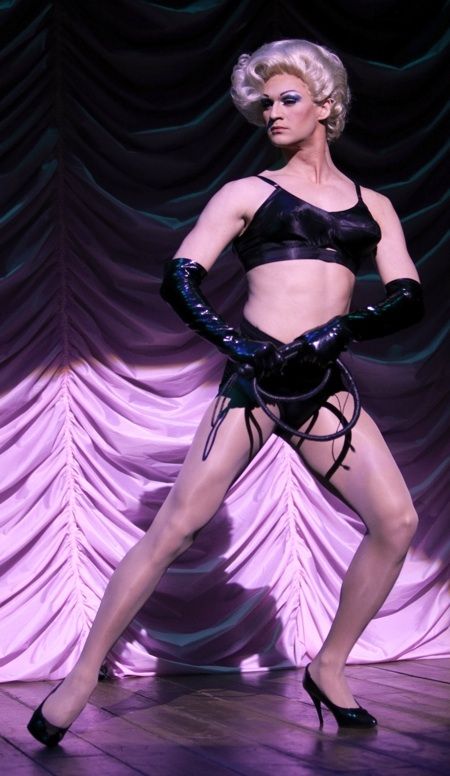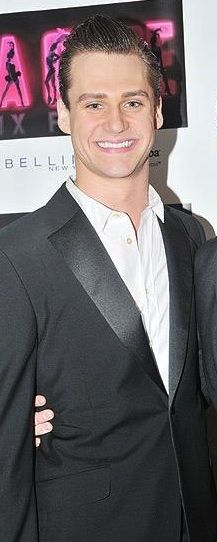 The new revival of
La Cage Aux Folles
on Broadway, which stars
Douglas Hodge
and the very straight and Republican
Kelsey Grammer
as a gay couple who own a transgender cabaret club, could be the first show to win three
Tony Awards
for best musical. It won the Tony for Best New Musical in 1984, Best Revival in 2005 and now there's a very good chance it could win Best Revival again this year. Though Grammer and Hodge have been getting good reviews,
Nick Cunningham
kicks some serious ass on stage as the wanton, dominatrix drag queen Hanna. Cunningham has been with the show since it debuted at the
Menier Chocolate Factory
in 2007, the latest theatrical hotbed in London, but arrived there by way of Australia and Paris. Born in Brisbane, he attended the Western Australian Academy of Performing Arts before moving to Paris to dance at the Bal du Moulin Rouge. 
With or without a whip, Cunningham's a striking performer, amazingly graceful with legs that would make any runway-regular jealous.  Trained as a professional dancer he's the show's Dance Captain as well as the associate choreographer for which he gained experience by traveling with the
Pet Shop Boys
as their assistant choreographer of their 2009/2010 world tour.  We chatted with him on the Friday before the Tony nominations were announced in the dressing room he shares with fellow
Cagelle
and former PAPER  Beautiful Person,
Nick Adams
. Cunningham jokes that they're called, "Nick Squared." On the day of our interview, Adams showed up bearing gifts; a Dec/Jan. issue of PAPER with
Mariah Carey
on the cover. As it turns out, Cunningham is quite the Carey fan. And the diva would surely feel at home in their dressing room, which has a pink hue with chandelier-like decorations hanging from the ceiling, and photos of Marilyn Monroe and Audrey Hepburn in
Breakfast at Tiffany's
hanging on the wall for inspiration. Cunningham has had the black and white photo of Monroe hanging in his dressing room since the show began in London. "I just think she is so iconic and the epitome of a feminine person," Cunningham says. And to make the transformation from man to woman each night, there are rows of MAC makeup on the dressing table. Cunningham often itches his chest through his T-shirt, no doubt a side effect from having to shave his whole body every day. Ah, the joys of being a woman.  
Cunningham walked us through the rest of his beauty regimen, filled us in on his new life in New York and the love taps Kelsey Grammer gives before every show.   
You're so tall! I'm tall too, so I really admired how much grace you had while watching the show. Is it much more difficult to be so tall as a dancer?
I found that as a ballet dancer -- I trained classically and contemporary -- it was really difficult as a guy to be really tall. It's also hard on your body as well. It's easier to have short legs, being tall it's a bit awkward doing things. Also you always get the tallest girls which is cool, I was cool with that, but a tall girl on point can be like six feet tall which is quite hard. But it was never really a big problem. I didn't really worry about it. I think because I loved it so much.  
What neighborhood in New York do you live in?
East Village. It's amazing. I like getting away form Midtown. I like to get away from the big, tall buildings. I like the feeling of it down there. The people, and cute cafés and shops.  
So here you are just relaxing in a T-shirt and shorts. Your getting ready for the show process must be quite involved!
Oh my God! When I am running late doing a show, I just want to throw myself out the building sometimes. There's a dance-belt, like a jockstrap, to keep it all secure, stockings, a mic, a pair of black underpants that I have to put on, high heels, these opening dresses, necklace, a wig cap for our wigs, and then we have to get our wigs on and on top of all that a full-face drag make-up.  
Ooh yes it must be especially hard to deal with all that makeup.
Richard Mawbey, the makeup designer, taught me originally. It takes a while to learn, but I can do it quite fast. If I'm running late I can get it on in a good 20 minutes. That's pushing it, but I can do it. Although, it's annoying some days putting that much makeup on, it's quite meditative in a really weird way. You get into it and relax. You can listen to music and get ready and focus.   
Another thing I find with being so tall is that shaving my legs in small New York City showers takes skill and I've had years to learn. How are you managing?
It's ridiculous. I do it here at work, the shower here works well. I don't want to hurt myself, and in my shower, trying to shave my legs, I'd have to do a split up the wall! 
Is it hard to wear the heels and everything? Had you done it before?
I did once, when I was going to dance school, we did a number called "Bring on the Men," and all the guys in the dance group dressed up as girls, and all the girls dressed up as guys, but after that I didn't really have any experience in it but there's something about gays guys putting on a pair of heels on and you can just do it! I don't know if there's a restrictive sort of thing when straight guys put on heels and they're like "No, I can't do this!" Whereas I think they totally could, but they just make look really awkward. And a gay guy just puts a pair of heels and starts strutting around thinking they are Beyonce or something. But yeah, I just put them on and wear them, I don't have any trouble. I mean but that's not a high heel.  
Well Kelsey Grammer is straight... but he doesn't have to wear heels as Georges so that's probably a good thing. What's he like to work with?
He's the most lovely, professional person and actor I have ever worked with.  He gives a lot on stage when you're acting, and I've only got like three lines with him, so I can imagine how Douglas Hodge feels beside him. I don't get too much time during the show to talk to him but he makes an effort to come around and say hello to everyone.  
That's so nice!
Really nice. He also feels up all our boobs before the show, all our fake boobs. It's just like a good luck thing. He comes around and squeezes every one. It's one of those stupid pre-show things that you have to do every show no matter what is happening. You have to get the boob squeezing in or else you're not going to have a good show. Ridiculous! I don't know how that started. 
Does the cast hang out outside of the show?
Yeah we do. The guys take me out drinking, so it's nice. And one of the girls, Heather [Lindell], her husband owns a few bars in the Lower East Side -- Ella and Gallery Bar.  But on my days off sometimes, I want to have a break from the company. Although working with a company that is so tightly knit, it's like being with your family or something. With your mom, you're really close but you have to have your own space. On my days off sometimes I like to not speak to people I work with. It's really good to have friends outside of work as well.   
Do you have a boyfriend?
No. I try to focus on my career. I know people say you can do it all but especially with moving around and stuff, it becomes complicated. I've done long-distance, I don't like, don't enjoy it, don't envy people who have to do it. It's a horrible thing to have to do. I am pretty focused on where I want to go with my career at the moment. That's kind of a backlog,   
So, are you excited about going to the Tony Awards?
Oh my God, it's going to be insane! It's so weird because I come from this really small city, it's just like crazy coming from there to here. Like if I went home and told people that I went to school with what I was doing, they'd be like "What? Seriously?" They're still working at the checkout at the grocery store and moved two houses down from their mom and having kids. And that's their life and they have chosen to do that, they are happy and stuff. But sometimes when I hear about people who haven't left the country, I think, there's so much out there. When I go back I get reminded about things they haven't seen, or the different lifestyles and cultures they haven't experienced. Brisbane is still very narrow-minded about being gay,  
Oh really? I didn't realize...
Yes, it still hasn't quite opened up. They need to campaign down there, I think, they need to be strong about how people are and human rights. But yeah the Tony Awards coming from Brisbane, is just a huge thing and if we win because of this journey, it will be incredible. Like having opening night here, I was crying. 
Aw! Was it just the emotion of it all?
It was of course of joy and [composer] Jerry Herman surprised us all, which was just like an incredible, surreal experience. Being a part of this show has changed my life.  
Above: Cunningham in costume photographed by Joan Marcus and in a bit more clothing at the opening night party, courtesy of
Broadway.com
.