In 2013, there was no escape from the "Harlem Shake." Even casual Internet users would find themselves awash in short videos of individuals bobbing, grooving, jittering alone, waiting for the drop -- and when it hit, the screen filled with costumed people erratically flailing and dancing. Now, Baauer, the DJ behind the track that launched a thousand viral clips, has decided he's ready to move past the "big drop." The Brooklyn-based producer released his debut album, Aa, this past March and says he wanted a record that keeps people dancing start-to-finish and not just waiting around for an ultimate release. "In some places around the world, a show will be pulsing with energy throughout the night, rather than kids just waiting for this one drop," he explains.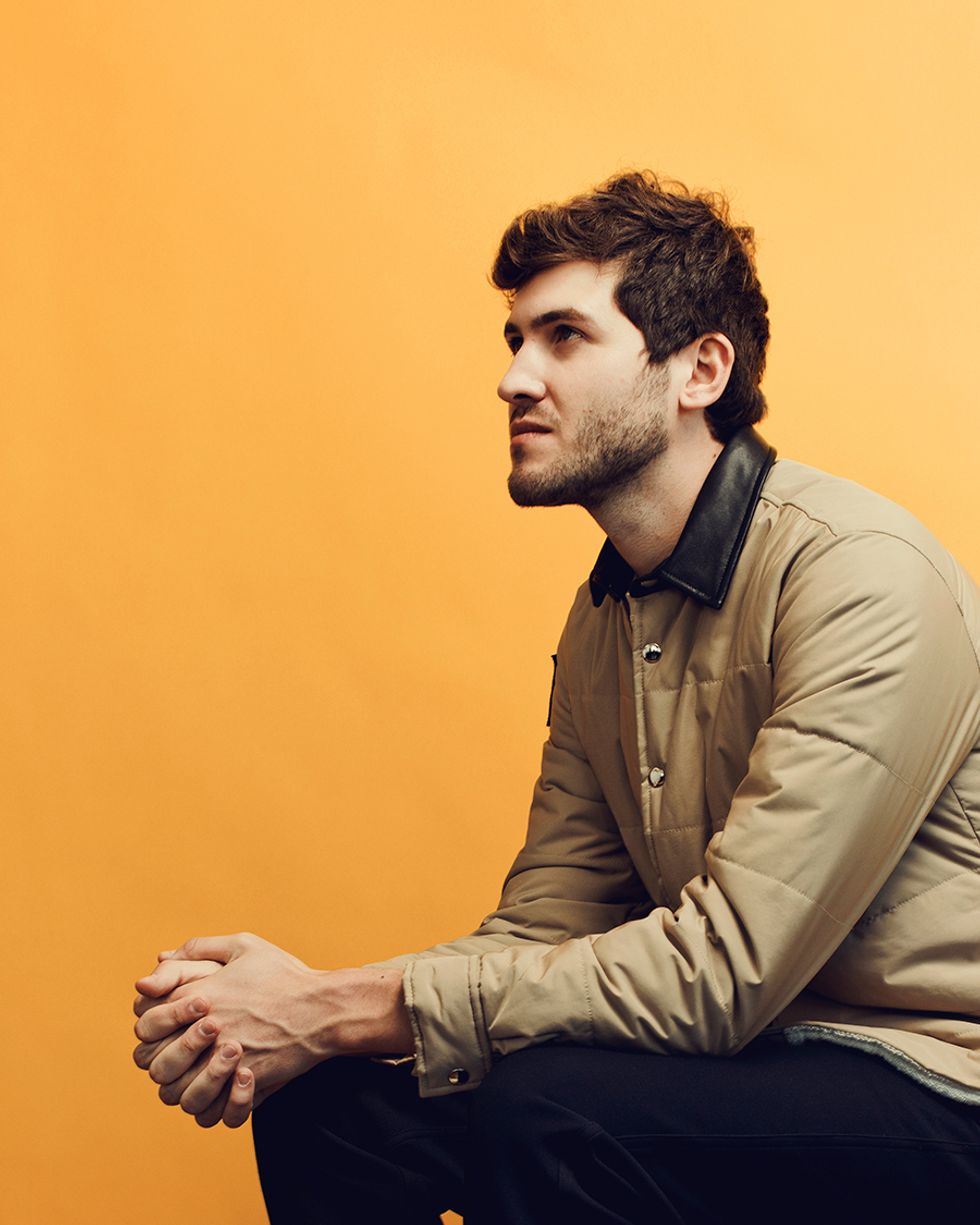 Baauer wears a jacket by Lucio Castro, pants by Jil Sander and a t-shirt by Deveaux
This debut was a long time coming. "It took me three years to make," Baauer says. "The oldest song is three years old and the newest song is probably a month old." For fans who have been listening to him since "Harlem Shake" (or before), it can come as a surprise that this is his first full-length. In person, Baauer is low key, thoughtful and reserved -- refreshingly unlike the 'EDM God' personas the media has created around other members of his genre. Over coffee in Bushwick, Baauer talks about the deep appreciation he has for various geographical iterations of electronic music. Born Harry Rodrigues in Philadelphia, Baauer grew up between London and Connecticut, and has also lived in Germany. His more recent travels as a DJ also introduced him to new genres and styles. "I did this thing with Red Bull where I went around the world recording sounds," Rodrigues says. "I went to Dubai and Japan and I used a lot of those sounds on the record."
His beats on Aa span the genre gamut from trap to house and even New Age. It's not just your mind playing tricks on you if you're reminded of "Sail Away" on tracks "Body" or "Church Reprise." "I love Enya so much," the producer gushes. "She's incredible." Though the reclusive Irish artist doesn't appear on the record herself, Baauer did enlist a slew of A-list artists like M.I.A., Pusha T and Future to be featured on his songs. "I love them all -- they're all my children," Baauer says of his tracks. "But [my favorite] would probably be 'Temple' with M.I.A because she is such a hero of mine. She is incredibly powerful, and it always comes through in her music." But ultimately Baauer is less concerned with the star power these features have and more the way each artist can offer a unique style or perspective. "It's the sound and delivery of each of their voices, that makes these collaborations distinct," he explains. "Sometimes I find myself more interested in the sound of something, than in the song behind it."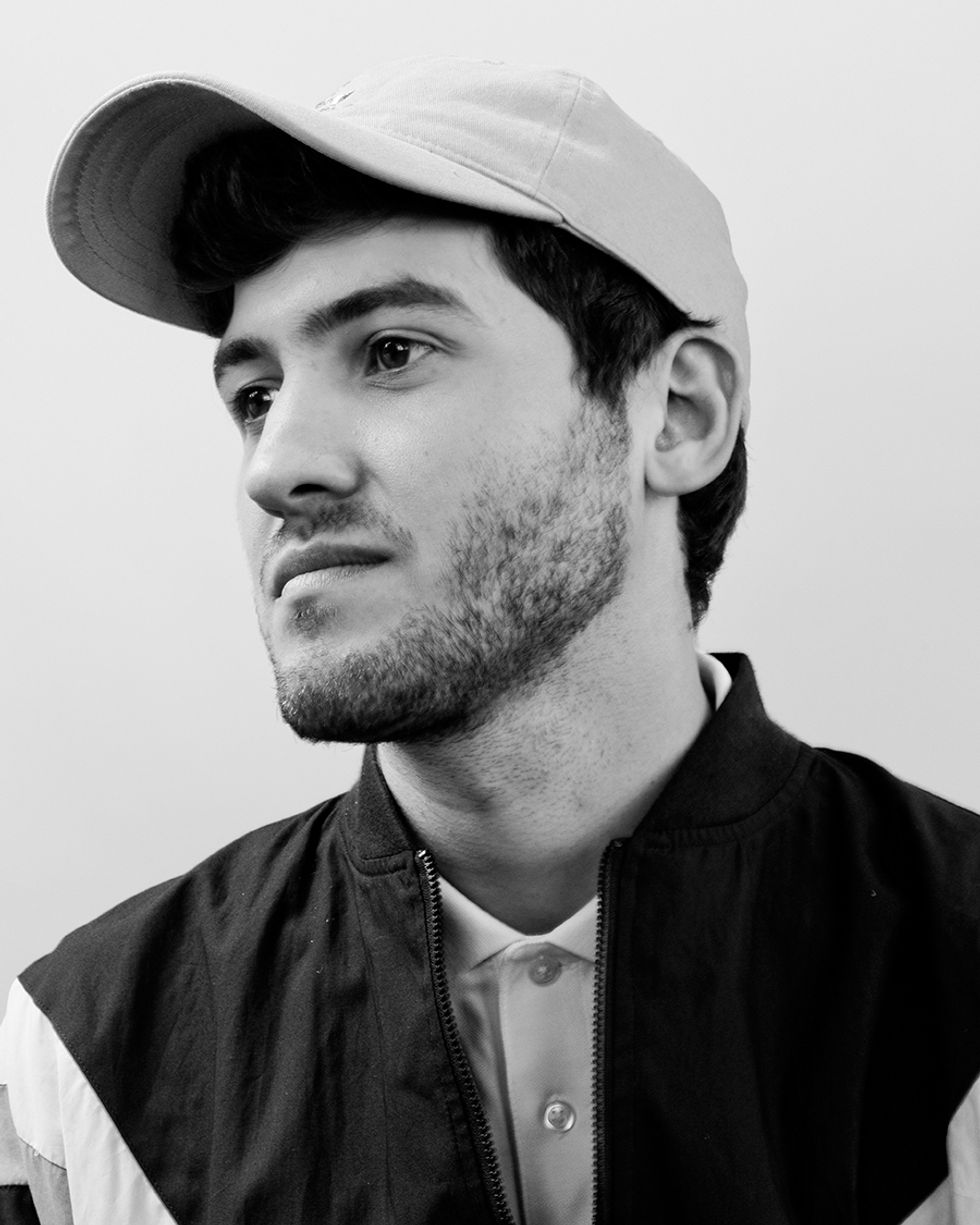 In this and splash photo, Baauer wears a jacket by Martin Keehn, a t-shirt by J. Hillburn, and his own hat
While Baauer is clearly the present success of EDM, the future of electronic music is something he thinks about -- and he goes back to where it all started for him: In a bedroom with a laptop when he was only 13. "I definitely notice more kids making music," he says. "I think every day another kid has a computer, and therefore has the opportunity to produce, and to create. People discuss electronic music like it's a fad, and I just don't understand that, considering every day another kid picks up a computer." And for Baauer, those early years making beats in his bedroom have led him to the career he has now. He's extremely grateful, he says: "I thank my lucky stars because I don't know what [else] I could be doing."
Grooming by Emily Amick
Stylist's Assistants: Cathleen Peters and Waverly Cancel
You May Also Like