Author Tom Wolfe wrote, "One belongs to New York instantly; one belongs to it as much in five minutes as in five years." The case couldn't be truer for model Avie Acosta, who moved from Edmond, Oklahoma to New York City in April and caught the eye of Jake Greene (PAPER's Social Media Manager) at a recent Marc Jacobs event. A conversation between Greene and Kendall Werts, an agent at Wilhelmina, led to Acosta signing a contract with the modeling agency and becoming their only transgender girl on the men's board (by contrast, other trans girls like Hari Nef or Andreja Pejic have signed to women's boards). "I knew from the moment I met her that the stars would align and they would spell out s-u-c-c-e-s-s. This business is all about trends and moments. Avie is the new star of the fashion universe -– there was never a doubt in my mind." To say it's been a whirlwind is an understatement.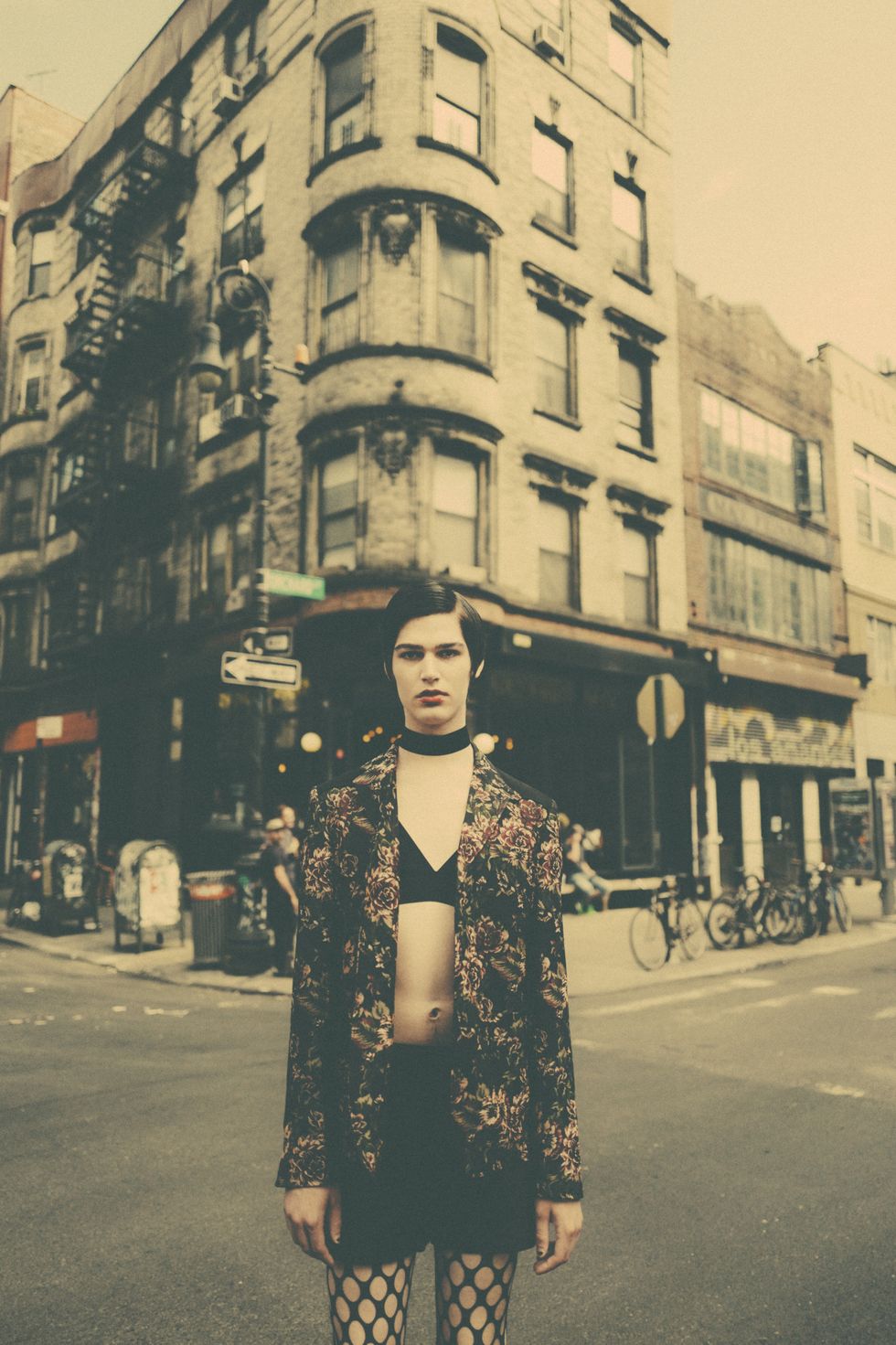 Antonio Marras Jacket / Charlie By Mathew Zinc Pants / Emilio Cavallini Tights
"I pretty much woke up one day and was like, you know what? I'm gonna move in three weeks," Acosta says of coming to New York. "I worked sixty to seventy hours at work for each of the next three weeks, because I had no money saved." She continues, "I booked a flight, scrambled to find housing, which is a nightmare of its own, and told my job, family and friends [I was leaving]. Then the day came and I pretty much hopped off the plane and went to Thotlandia." In only a few months, she's also begun hosting parties and is learning to DJ.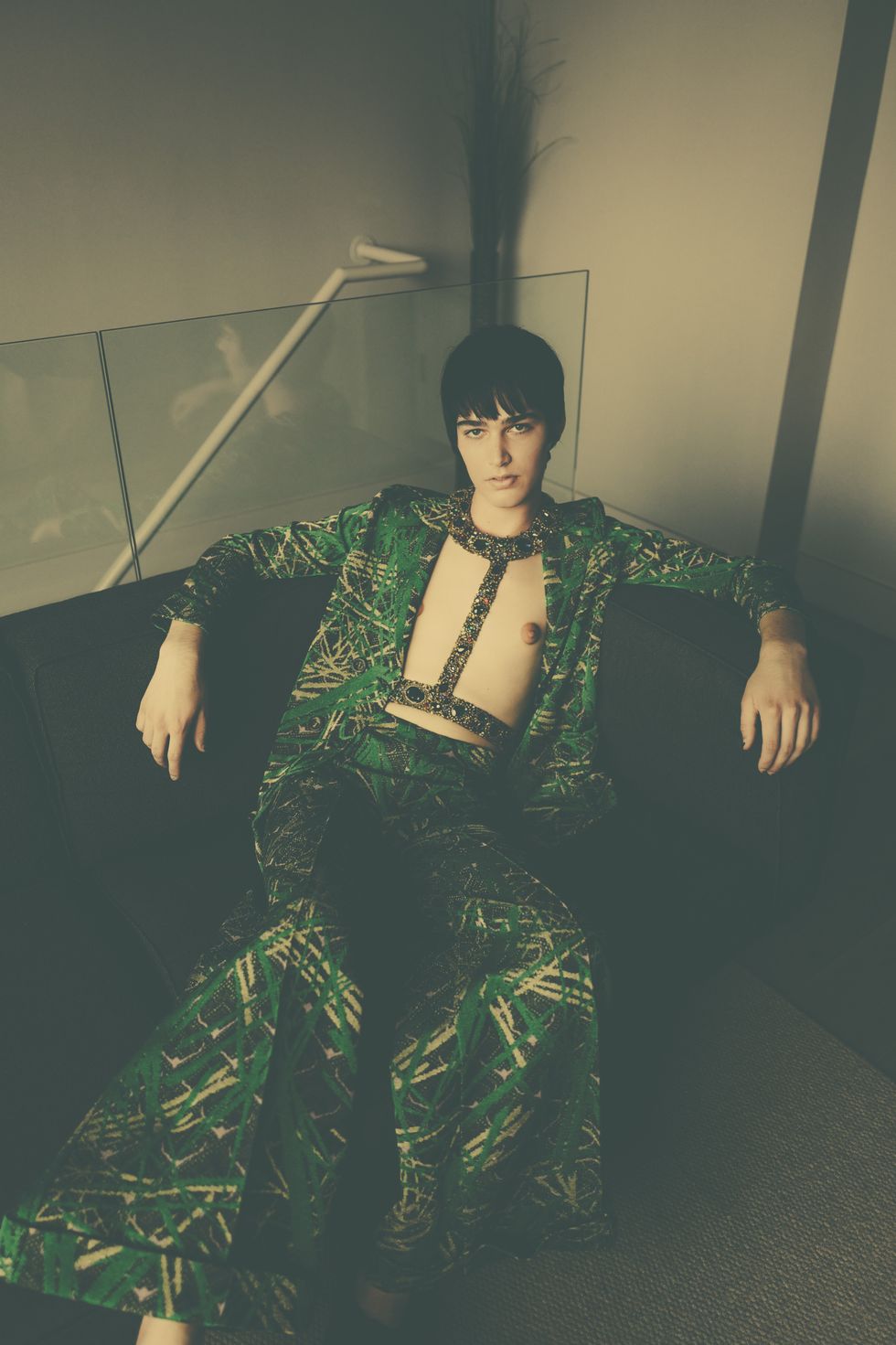 Missoni Suit / Azeeza Harness
"The first thing I really took notice of [in NYC] was the anonymity for which the city allows," Acosta says. "No one is really worried about anyone else—well, at least on the street or subway. The nightlife scene is a whole different story." For someone who isn't likely to remain "anonymous" for long (whether in fashion or nightlife), she has an even head on her shoulders when it comes to labels and identities. "I really just identify as a person," she says. "I mean yeah, at the end of the day I'm a girl but any label is a restriction…since moving I've given myself space to exist, to breathe, and to just be me." She continues, "Who cares what board I'm on? I'm not booking jobs based on a board. I'm booking jobs because I'm me." While previously taking hormones (an experience that she says made her feel "soft and really pretty," and generally more accepting of her own body), she's taken a hiatus, finding it somewhat intriguing to be primarily testosterone-driven again.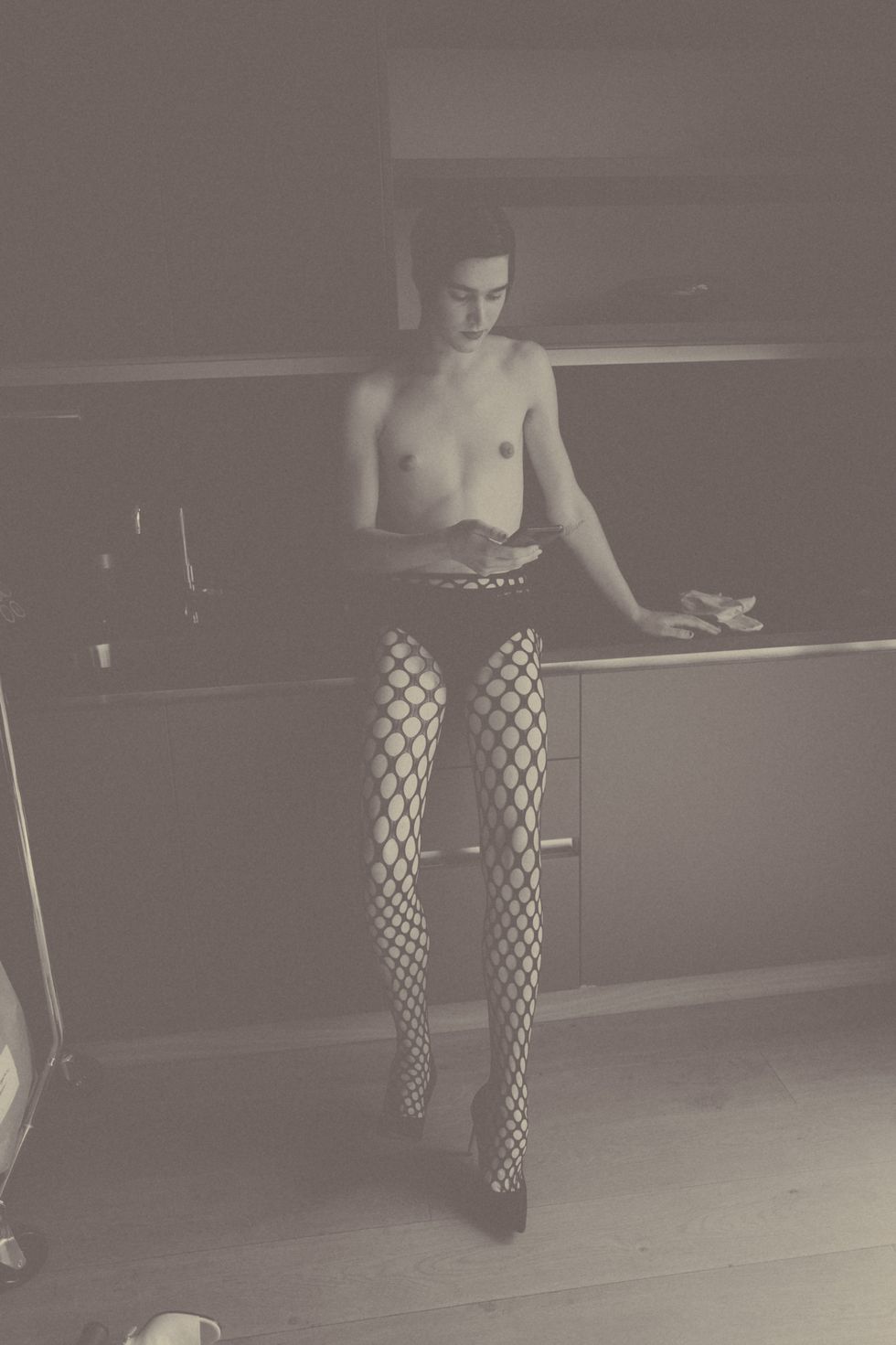 Calvin Klein Underwear / Emilio Cavallini Tights / H&M Heels
Before being signed, Acosta had visited New York in February for fashion week "to party, maybe model, and get laid." It was also a way to test the waters and figure out if she'd want to move to New York. "After maybe five hours, I knew [I wanted to move]," Though she was just a fashion week spectator back in February, modeling was something Acosta had been interested in since junior high. "I did this random shoot once for a jewelry company and it was the most fun I had ever had," she says. But now that she's launching a proper career, she says she's realized that "there are politics that surround modeling and fashion" and "sometimes it isn't as fun as I'd like it to be." Since signing with Wilhelmina, Acosta has gotten some early attention from designer Nicola Formichetti, who met her at the NYC launch party for Berlin fashion glossy King Kong Magazine, as well as photographer Ethan James Green who ran into the model at China Chalet party. Green took her portrait and the photo landed on Teen Vogue's site, in a series that highlighted the portraitist's work with New York's LGBTQ youth. New York Magazine is set to shoot Acosta later this week and Carine Roitfeld has also recently booked her for a project.

Her concerns about fashion politics notwithstanding, Acosta's optimism (she calls herself 'Ms. Positive') in a city (and industry) not exactly known for it is exactly the edge she thinks will make her stand out. Though she believes the early success she's had stems more from her cheery personality than her androgynous looks, it's undeniable that she's blazing a new path in fashion, one that doesn't fit into a neat binary. As the world tries to catch up with ever more flexible understandings of gender, Acosta is a few steps ahead -- both on the catwalk and off.

Special thanks to the Sago Hotel
Styled by Kevin Breen

Produced by Ella Cepeda

You May Also Like
America
Story by Mikelle Street / Photography by Renell Medrano / Styling by Anatolli Smith / Hair by Evanie Frausto / Makeup by Marcelo Gutierrez
America
Story by Rob Dozier / Photography by Moisés Arias / Styling by Jason Bolden