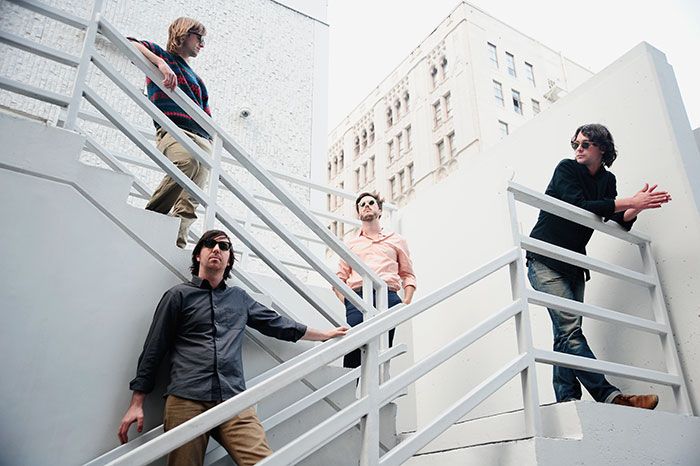 L-R Dan Whitford, Mitchell Scott, Ben Browning, Tim Hoey
When Cut Copy sips beers by the pool at the Hollywood Roosevelt Hotel, sporting unkempt hair and button-down shirts, the quartet looks more like four comp. lit. Ph.D. candidates than Australia's reigning kings of spacey dance-rock. Yet this month, the band betrays their bookish appearance once again by releasing their fourth LP, Free Your Mind, a lush (almost hallucinatory) experience that sounds like songs recorded by dudes tripping in another solar system.
"This new record references certain scenes like early rave culture," says guitarist Tim Hoey. "Rave music's quite a hedonistic sound, based on the idea of getting a group of people together and having a spiritual experience. But in reality, with Cut Copy, it's just one of us sitting in a corner during the daytime, tinkering with an instrument."
"We relate to the renegade aspect of early rave culture," says singer and keyboardist Dan Whitford. "Back then, it was about turning existing spaces into party spaces, or taking an annoying sound, like a police siren, and making a song out of it."
Synthpop scenesters have waited with bated breath for Free Your Mind; it's been almost three years since Cut Copy's acclaimed LP, Zonoscope, peaked at #2 on the U.S. dance charts. But the new record's roots date back further than 2011, back before Whitford and Hoey struck up a friendship on a tennis court in 2000. ("Which is fitting," says drummer Mitchell Scott, "because Dan looks like Björn Borg.")
"Mitchell and I grew up in a coastal town, and bush raves were all the rage there," says Hoey. "You'd go out into the forest and play this heavy trance music. But we were into Pavement. So Mitchell and I would be sitting there, listening to Guided by Voices in our headphones, while this intense rave music played all around us. All these years later, we've embraced our roots."
Free Your Mind
is out now via Loma Vista/Modular
Grooming by Victoria Aronson