UPDATE, 9/12/16:

The opening weekend of NFL play saw a new wave of players join Colin Kaepernick in pre-game protests against police brutality. Four Miami Dolphins players chose to kneel during the national anthem before their game against the Seattle Seahawks (who stood with linked arms). Kansas City Chiefs player Marcus Peters stood arm in arm with teammates and raised a fist during the anthem. "I'm black. I love being black, and I'm supporting Colin as far as what he's doing as far as raising awareness of with justice system," Peters said of his protest.
This new wave of protests, occurring on the fifteenth anniversary of 9/11, got plenty of blowback. Supermodel Kate Upton decided it was time to protest national anthem protests. She took to Twitter to share her displeasure with the players, chastising them to "be proud to be an American" and "support the people who protect our freedom."
This is unacceptable. You should be proud to be an American. Especially on 9/11 when we should support each other. https://t.co/qFozwaH9Bu
— Kate Upton (@KateUpton) September 11, 2016
Protest&speak ur mind whenever u want but during the 120secs you should support the people who protect our freedom. https://t.co/qFozwaH9Bu
— Kate Upton (@KateUpton) September 11, 2016
Have every right to protest&should stand up for beliefs.Justice system IS corrupt.Not the time during anthem on 9/11 https://t.co/JH1J9gTusV
— Kate Upton (@KateUpton) September 12, 2016
She also wrote an extensive caption to an Instagram photo of the kneeling Dolphins players, expanding on her beliefs about why protesting during "The Star-Spangled Banner" is wrong, and when is an Upton-approved time for athletes to speak out about issues they care about (i.e. not at a symbolic moment when their actions will force America to engage with their protest).
------------------------

San Francisco 49ers quarterback Colin Kaepernick, once known for his unusual speed on the field and bicep-kissing swagger, has been at the center of a major controversy after his decision to remain seated during the national anthem went viral. He says the act is a protest against the police brutality that disproportionately affects American people of color.
"I am not going to stand up to show pride in a flag for a country that oppresses black people and people of color," Kaepernick told NFL Media in a post-game interview after the first time his refusal to stand was acknowledged (he had already sat out the anthem for two games prior, but perhaps everyone was too busy criticizing Gabby Douglas to notice).
"To me, this is bigger than football and it would be selfish on my part to look the other way," he added. "There are bodies in the street and people getting paid leave and getting away with murder."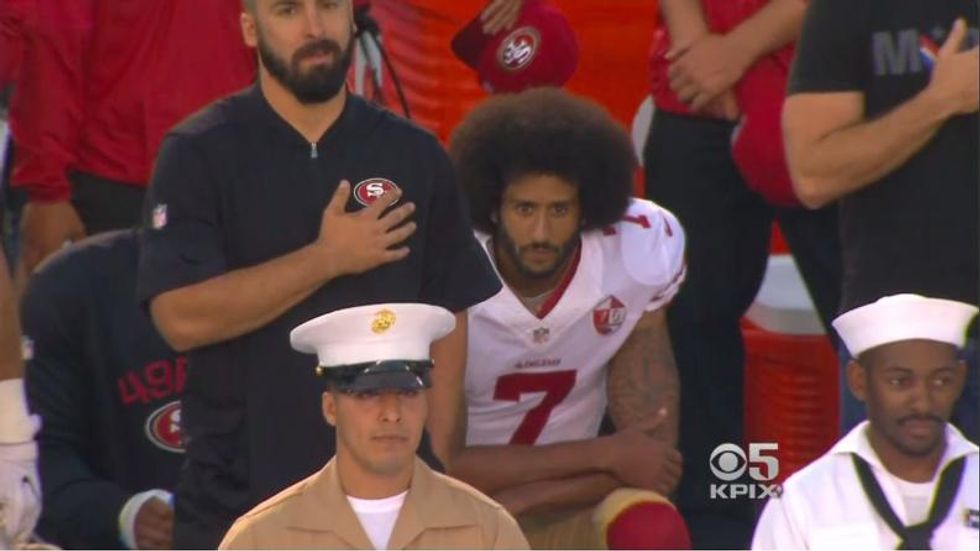 The athlete's protest was initially met with an outcry of rage and disappointment from many in the law enforcement community, the NFL, and the ever-vocal world of Twitter, who claimed Kaepernick was disrespecting both the American flag and the officers who protect him and his team during their games. There was even a movement among some Bay Area police officers to boycott providing security at 49er games after Kaepernick failed to deliver the apology police had demanded.
However, in the weeks following the world's initial reaction to Kaepernick's protest (and a compromise by the quarterback to kneel, rather than stand during the anthem), the tides have begun to turn in his favor. A vocal group of veterans have come out in support of the quarterback and his right to protest. Kaepernick jersey sales have skyrocketed rather than plummeted. After the athlete pledged to donate the first $1 million of his salary this year to organizations committed to helping inner city communities, 49er owner Jed York decided to match the donation in support.

And now, athletes around the country are joining him in kneeling during the national anthem as a sign of solidarity.
Three volleyball players from West Virginia University Tech's women's team took a knee at their game Wednesday night during the 'Star Spangled Banner.'
"He's exercising his right to choose to sit or stand, so you have to recognize that he's got that right," said Keyonna Morrow, volleyball player and the vice president of WVU Tech's Black Student Union.

Broncos linebacker Brandon Marshall, a former teammate of Kaepernick at the University of Nevada, knelt during the first national anthem of the regular NFL season.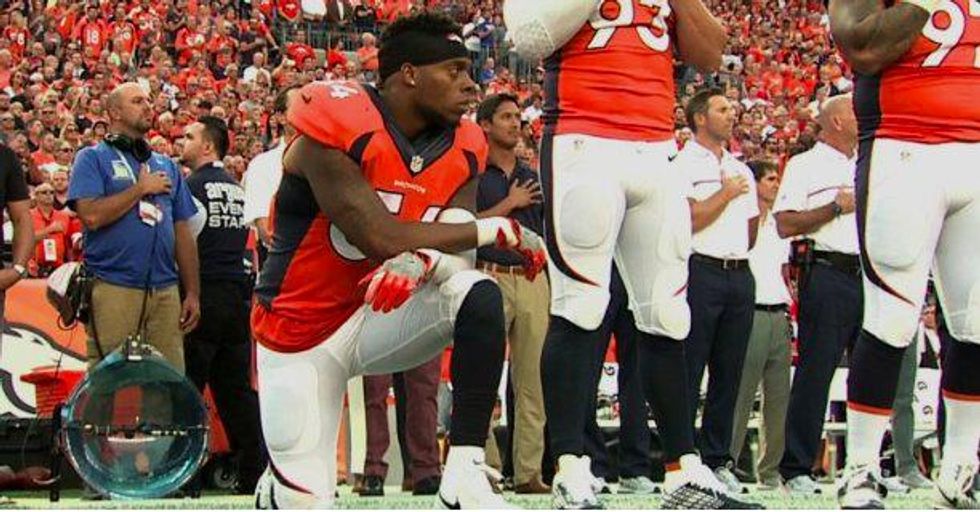 Marshall told The Colorado Springs Gazette,
"Kaep, he's using his platform how he wants to use it, to reach the masses. We have freedom of speech. But then we use our platform, and we get bashed for it. It's almost like they want us to only go with the grain. And once we go against the grain, it's an issue. I feel for Kaep. I understand where he's coming from, and I support him."
The Broncos released a statement afterward saying that while they encourage their players to stand for the anthem, they respect that it is a "personal decision."
Not everyone is quite so understanding, though. After Megan Rapinoe, a star player on the women's U.S. National Soccer Team chose to kneel during the anthem before a game last Sunday, team owner Bill Lynch made the decision to play the anthem early at the next match in order to deny Rapinoe the chance to protest again.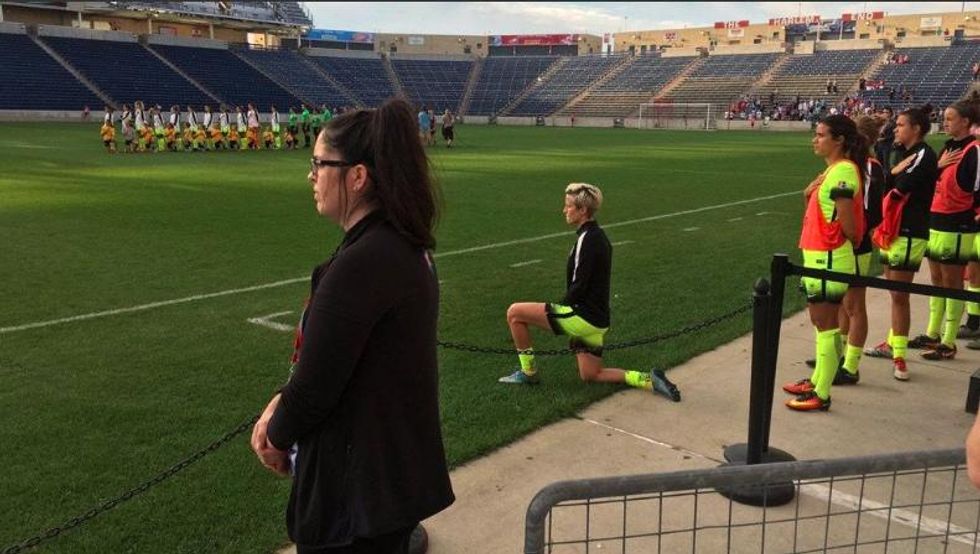 Rapinoe stood by her protest, and explained her motivations to American Soccer Now:
"It was a little nod to Kaepernick and everything that he's standing for right now. I think it's actually pretty disgusting the way he was treated and the way that a lot of the media has covered it and made it about something that it absolutely isn't. [...] Being a gay American, I know what it means to look at the flag and not have it protect all of your liberties. It was something small that I could do and something that I plan to keep doing in the future and hopefully spark some meaningful conversation around it. It's important to have white people stand in support of people of color on this. We don't need to be the leading voice, of course, but standing in support of them is something that's really powerful."
"I am disgusted with the way he has been treated and the fans and hatred he has received in all of this," Rapinoe told espnW's Julie Foudy. "It is overtly racist. 'Stay in your place, black man.' Just didn't feel right to me. We need a more substantive conversation around race relations and the way people of color are treated."
Amen.
Images via Twitter