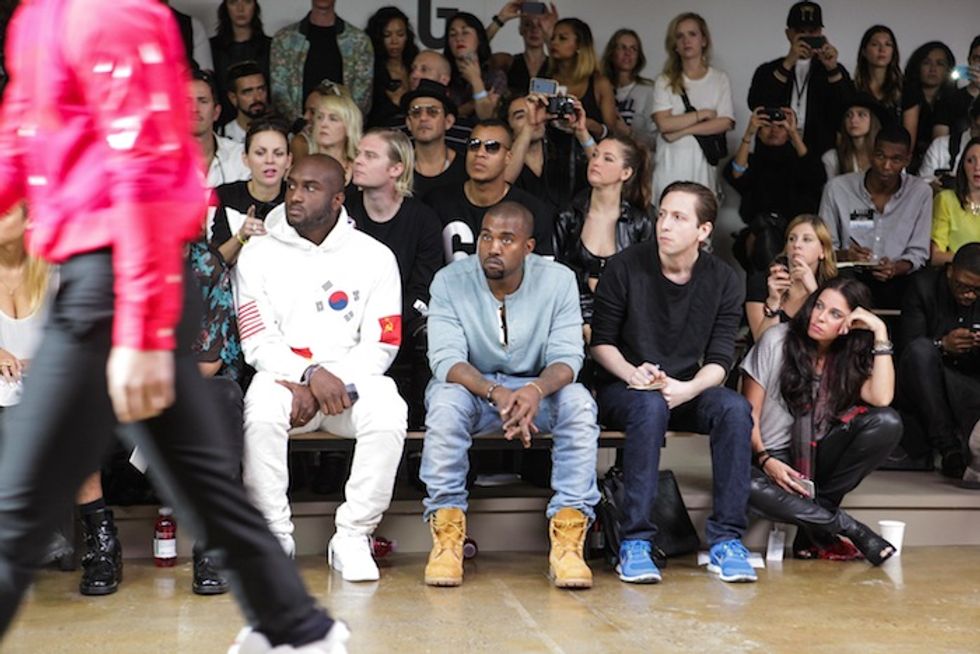 To say the fashion industry loves to complain about riffraff style bloggers and C-list celebrities hijacking Fashion Week is like saying the Kardashians love publicity: the behavior's consistent, it rarely brings about significant results, and it's insufferably self-indulgent. But, one thing that does change is the focus of the fashion community's eye-rolling.
Eric Wilson writes in The New York Times that back in 1941, members of the International Ladies Garment Workers' Union "balked" at inviting journalists to visit the showrooms, "not seeing how writing about clothes would help sell them." (Now, of course, not only are editors and fashion journalists a keystone of the fashion week structure, they're also some of the most vocal whiners.) Since the days of the International Ladies Garment Workers Union, fashion's collective annoyance has trained its lens on everything from the size and scope of fashion week (or, rather, fashion month) and the over-shadowing presence of the celebrity front row circus to unwieldy street style hoopla and hackneyed personal style bloggers.
But just as fashion likes to take the most démodé styles and make them "mode" again, so too does the pendulum seem to swing back-and-forth when it comes to this backlash.
It was only three years ago that Cathy Horyn observed in the Times that whether due to the poor economy or celebrity fatigue or both, many designers were cutting back on the number of famous faces they were accommodating with front row seats. "Like a worn rut in a road, the whole business of celebrity seems so well established as to be old and familiar, and in fashion, hopelessly preoccupied with the new, that makes it worthy of contempt," Horyn wrote.
Over the past few seasons, it seemed that for every A-Lister turning up front row to Calvin Klein or Marc Jacobs, there'd be three times as many reality TV stars, unknown teeny bopper actresses and has-been tabloid subjects attracting the flashbulbs' attention elsewhere. The fact that previous New York seasons coincided with celebrity-heavy events like the MTV VMAs, the Grammys or the BAFTA Awards didn't help either. Depending on where you fell on the optimism-pessimism scale, it either felt like fashion week was finally returning to its roots as an industry event for editors, professional buyers, and wealthy socialites or like it was becoming totally tragic.
Somewhere down the line, those front row seats that had once been reserved exclusively for celebrities started going to personal style bloggers. For the most part, those A-1, B-1 or C-1 seats were only being meted out to established influencers like Bryanboy and Susie Bubble or wunderkinds like The Man Repeller. And, in the absence of real celebrities, these high-powered bloggers started taking over their roles, getting breathlessly photographed at the shows and receiving invitations and deals to host after-parties.
Meanwhile, the higher rows -- and standing section -- became home to ever-growing legions of less-trafficked (and less glossy) bloggers, who, it was perceived, did little more than post Instagram photos of themselves wearing cute (and, often, gifted) designer clothing.
These bloggers, who were used to dressing in crazy get-ups and photographing themselves for the benefit of their followers, brought their peacocking to fashion week, aided by the growing frenzy of street style bloggers and photographers camped outside Lincoln Center or Milk Studios. Now you didn't have to be industry leaders like Jenna Lyons or Taylor Tomasi Hill to see your photo on someone else's blog -- you just needed a "crazy" look and the wherewithal to hang around the tents all day.
Recently, it seems we've reached fashion week street style's nadir, as more and more people are getting dressed and showing up to the shows with the intention of getting photographed -- even when they don't have an invitation to attend anything. "I've seen so many people who don't even go to shows -- they just hang out outside [Lincoln Center]!" Bryanboy says. As a prime street style target himself and one of the original crop of fashion bloggers to rise to fame and prominence, even he says bloggers are getting a bad rap.
"The term 'bloggers' has such a negative connotation," he says. "It's tainted because of the circus [outside the shows]."
Amy Odell, Editor of Cosmopolitan.com and formerly of Buzzfeed Shift, wrote a piece for the latter outlet titled "Why The Era of Personal Style Blogs Must Come to An End" and says she's noticed industry people debating the longevity of the style blogger phenomenon. "In terms of personal style bloggers, I think people have always wondered where this is going. Is this going to fizzle out?...Are they going to be fixtures for the next ten years? I think that will come into focus over the next couple of seasons."
"Eventually it's gonna die down," Bryanboy predicts. "Because ultimately if you're there with no purpose, that doesn't last very long. For somebody to get dressed and [in some cases] fly to, and stay in, New York, it costs so much money. I don't think it will be -- for lack of a better word -- a shitshow in five years."
But while a "shitshow" of beautiful nobodies rages on outside, another shitshow of beautiful somebodies is revving up inside. Just as fatigue, budget concerns and scheduling kept certain A-Listers away in recent years, all of these factors seem to have shifted this season, resulting in New York getting an extra dose of mega-watt glamor at more than a few shows. Rihanna's been spotted out and about, ditto Anna Wintour's Spring/Summer '12 seatmate Nicki Minaj, and Justin Bieber made his NYFW debut. And Kanye, that indefatigable fashion fanboy whose absences at New York Fashion Week in seasons past caused New York writers to respond like snubbed girlfriends, was back in form, attending Alexander Wang, Diesel Black Gold, Louise Goldin, Hood By Air and countless parties.
"I think this season has been better [in terms of celebrity sightings] than the last few years," Jessica Morgan, one-half of the Fug Girls behind the popular fashion blog Go Fug Yourself, writes in an email. Along with her partner Heather Cocks, Jessica has tirelessly chronicled the celebrity front row at fashion week for The Cut in addition to their own blog since 2006. "Sometimes on our beat, you get to the end of Fashion Week and you've only seen the same five people. [There's been] more diversity this season...thumbs up to the celebs this season."
Cocks echoes her sentiments. "It feels like we got good guys, too. Bieber, Kanye, the Jonai."
Bryanboy agrees. "People-wise, it's definitely one of the glitzier fashion weeks."
And with backlash or fatigue focused on personal style bloggers and the street style parade, it seems like celebrities in the front row are trés mode again. (Hey, at the very least, we can watch them on TV or in the movies -- not just the Internet.) Tweets like "Two Kanye sightings in one day? Yeah, we love #NFYW" from @HuffPostStyle were not an uncommon sight on the #NYFW hashtag scroll. Even Anna Wintour was tickled (or at least smiled) at the sight of little Harper Beckham sitting front row on her dad's lap at her mother's show.
"I definitely think there has been a change in the front rows," Morgan says. "I think both celebrities and brands are trying to be a little more focused on whom they're aligning themselves with."
Of course, a lot of this has to do with the caliber of the star and their relationship to a particular designer or to the fashion industry in general. Kanye, for instance, has a well-known interest in fashion and it makes sense that a guy who name-checks Alexander Wang in his music and whose style/art director has collaborated with Hood By Air, will sit front row at both of those shows. Nicki Minaj sat front row on Jeremy Scott's runway, which is fitting since the two are friends after the designer created costumes for Minaj's Pink Friday tour and the rapper appeared in an ad for Scott's Adidas Originals sneakers. Rihanna, meanwhile, sat front row at Opening Ceremony's cuckoo fashion show debut; the boutique is the exclusive U.S. retailer of her River Island collection.
But even if celebrities are the new, uh, celebrities this season, some are skeptical that this will last indefinitely. "There will always be celebrities but, strangely enough, I've been seeing a lot of designers going to other designers' shows," Bryanboy says, when asked about front row demographics down the road. "I also think editors are going to be even bigger stars for sure."
"I feel like fashion week will become more insular and intimate," he adds. And, with designers like Oscar de la Renta down-sizing their shows and invitation lists, the fashion blogger might be right.
Oscar de la Renta aside, this all remains to be seen. For now, the celebrity front rows -- and this year's phonebook-sized list of over-the-top parties -- seems to speak to excess and to the flush luxury market -- not intimacy. "I've never seen New York so vibrant and so full of parties," Bryanboy says. It's all about optimism -- people are spending money again. I feel like the good times are back."