Ashanti is standing on a rooftop in Bushwick, Brooklyn. To the west is the sprawl of lower Manhattan. The late-October sun is setting, casting a glow across the R&B veteran's luminous skin. A team that includes a photographer, a few publicists and a bevy of glam and fashion assistants circles her as she, seemingly larger than life, teeters about in sky-high, open-toed heels.
The singer positions her left hand on her exposed waist, striking a pose in a head-turning ensemble consisting of a matching metallic maroon cropped sweater and pencil skirt. Her hair, a few shades brighter, like a candy apple, is pulled back from her face into a tightly bound updo. She's all smiles even amid strong gusts of wind. Despite the buzzy surroundings, this shoot feels relatively calm compared to your typical celebrity affair. A serene presence among the team is Ashanti's mother and self-proclaimed "momager," Tina Douglas, who, just moments before I arrive, texts me a few smiley face emojis and encourages me to have a bagel from craft services. Her warmth and ease make this entire moment feel familial.
It's been 16 years since Ashanti released her self-titled debut album, the first of many collaborations with Irv Gotti's notorious but beloved Murder Inc. label. But today, we're here to celebrate a different sort of partnership — one in fashion. As the new face of Miss Circle, a New York City-based indie line by Isabel Deng, Ashanti's modeling eight looks from a special capsule collection she helped create. The pieces range from high-slit, floor-length skirts to neatly tailored printed suits, but what they all have in common is "that sexy, chic, all-eyes-on-me look," Deng explains.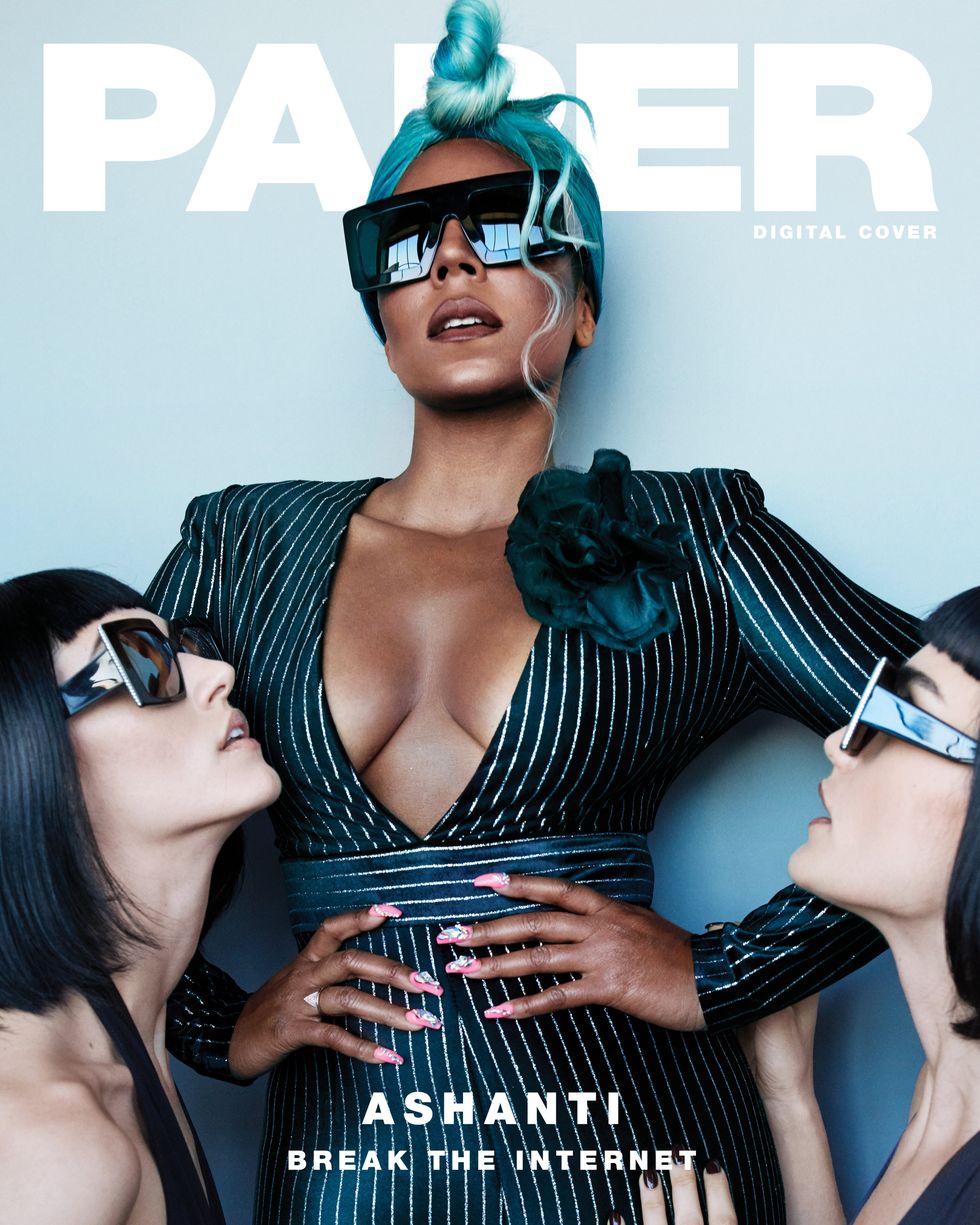 Jumpsuit: Miss Circle, Flower Pin: MS Schmalberg, Sunglasses: Anna Karin Karlsson
"There's nothing better than a woman that's confident. When you know you look good, it's a different kind of swag, you know when you walk in the room," Ashanti says of how great she feels in Miss Circle's clothes. "Your whole aura changes when you know you look good. I feel like nowadays, especially with everything going on, it's really important for women to feel uplifted and empowered."
Growing up in Glen Cove, Long Island, Ashanti received empowering messages from singing, dancing and style — all forms of self-expression reinforced by strong black women, like her mother, who surrounded her. Tina first became aware of her daughter's talent when she heard her singing Mary J. Blige songs at age 12. From there, Ashanti performed in local talent shows, and, as she says, was one of the only girls she knew "who played with the boys," perhaps signaling the ease with which she would later fit into the male-dominated Murder Inc.
"There's nothing better than a woman that's confident... your whole aura changes when you know you look good."
While still a pre-teen, Ashanti took trips into the city to pursue music and acting projects; she had a small role in Spike Lee's 1992 film Malcolm X and appeared in a KRS-One video. Later on, she met record exec Irv Gotti, who commissioned her to pen hooks for artists he was managing. Through Gotti, she linked up with rappers and fellow New Yorkers Fat Joe, whose song "What's Luv?" featured her vocals on the hook, and Ja Rule, who featured her on "Always on Time." That track, instantly recognizable and a number one hit for two weeks, catapulted Ashanti into the spotlight. A single of her own, "Foolish," arrived in January of 2002 and spent 10 weeks atop the Billboard Hot 100. That summer, she released her self-titled debut album, and by year's end, the record had sold three million copies and earned her three Grammy nominations (she won for Best Contemporary R&B Album).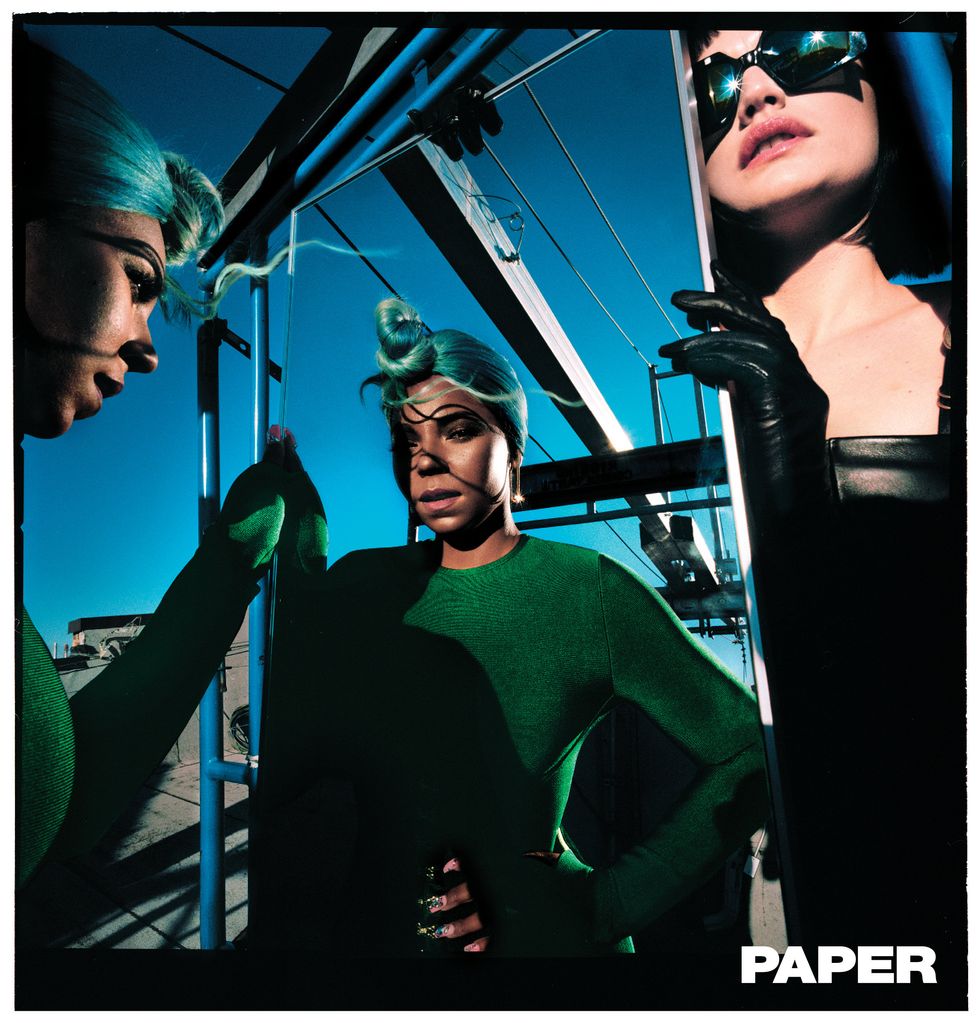 (On Ashanti) Dress: Miss Circle, Earrings: Diaboli Kill (On Model) Sunglasses: Cutler and Gross, Gloves: Wing & Weft Gloves
Throughout the 2000s, she cemented her status as one of R&B's leading ladies, going on to record four more records with Murder Inc. and engaging in a decade-long relationship with rapper Nelly. Coming up in the midst of hip-hop's glitzy mid-aughts era, a time that also saw Murder Inc. get in an infamous feud with 50 Cent's rival G-Unit crew, Ashanti always seemed able to float above the fray, navigating the scene with confidence and strength.
As with much else in Ashanti's life, those traits were honed during her upbringing. "I've been taught to act very strongly by my family, and I've always been taught to make sure you speak up for yourself — it doesn't matter if it's a guy, a man, whatever," she says. "Make sure you're heard."
Ashanti clarifies: "You don't have to be disrespectful, but get your point across, don't let anybody 'shush' you. I got a big mouth, anyways."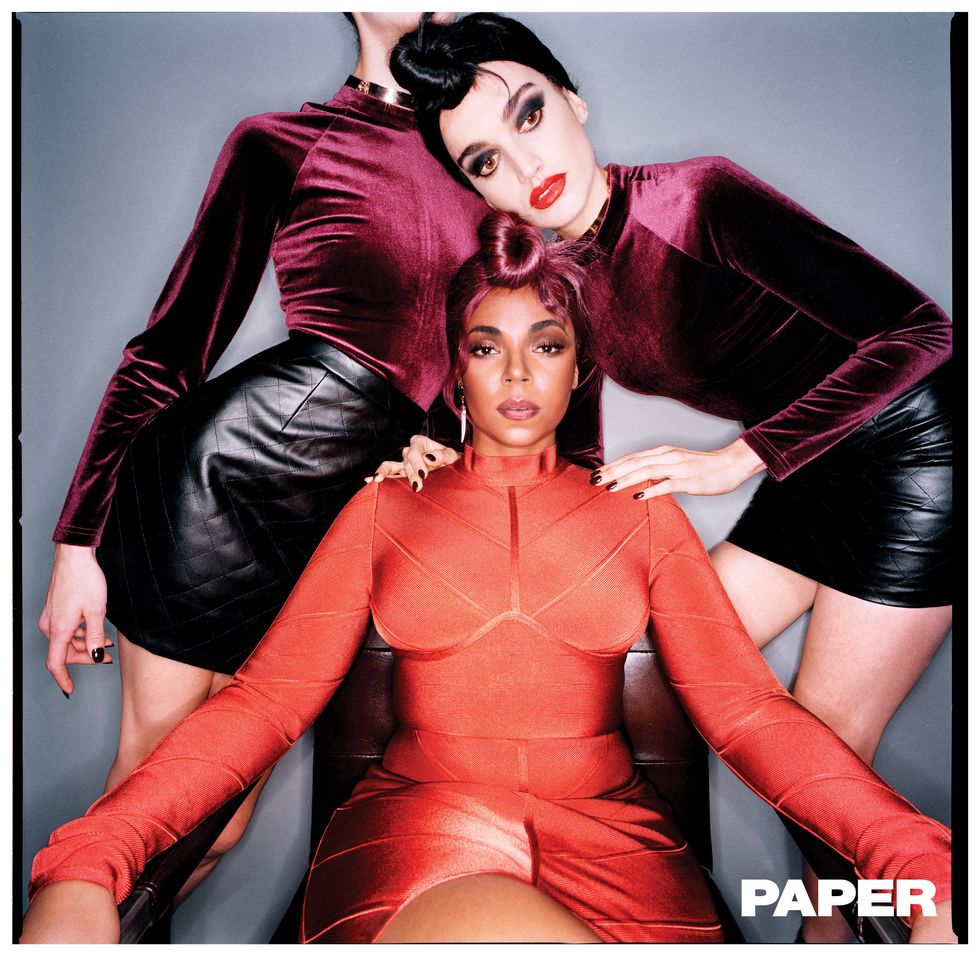 (On Ashanti) Dress: Miss Circle, Earrings: Diaboli Kill (On Models) Bodysuit and SKirt: Miss Circle, Necklace: Diaboli Kill
But while she's unafraid to speak her mind in real-life interactions, Ashanti's perfected the art of restraint in most online spaces. "When Twitter was born, even back then I definitely had the motto of 'elephants don't swat flies,'" Ashanti says. "When there is a bunch of negativity, and little gnats that are just annoying and trying to get your attention, there's no need to waste energy in swatting them.
"I feel like social media is a gift and a curse, honestly," Ashanti continues. "It's a way to reach millions of people in an instant when you want to upload music, or a photo or a statement that you want to make, and you have people that are your core friends that follow [you] and feed you great energy. But, again, it could also be a lie that's put out there and then millions of people are believing it, and it's like, 'What are you talking about?' Then you're forced to think about whether to address it or not."
"When Twitter was born, even back then I definitely had the motto of 'elephants don't swat flies.'"
When it comes to dealing with gossip or, yes, "fake news," the singer says she's come to believe in the power of the daily, 24/7 churn as a way to remain hopeful. "You know that in 24 hours there's going to be another story that's going to be on," she says. "I just feel that if it is unnecessary and it is negative, don't add more fuel to the fire. It's going to eventually die down because it's not that important."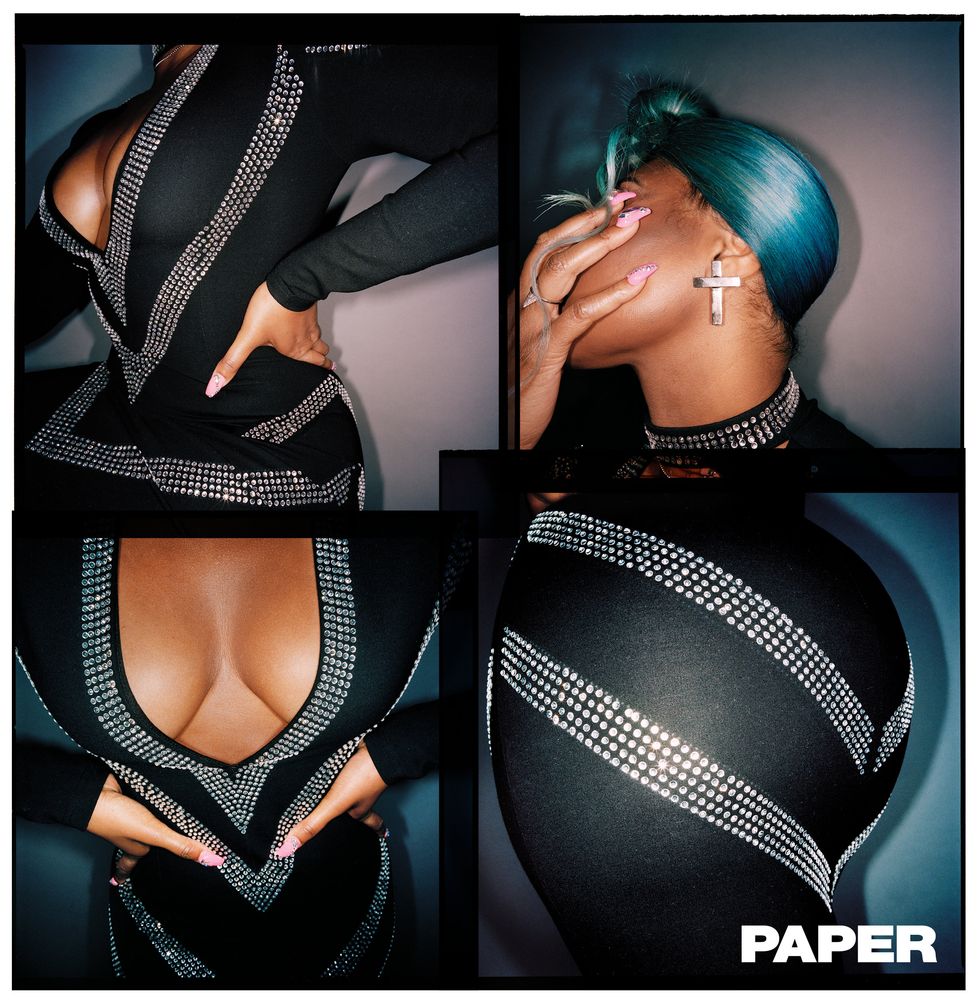 Dress: Miss Circle, Earrings: Erickson Beamon
Ultimately, though, Ashanti says she thinks the Internet and social media are "more of a positive thing than a negative thing" and that "to have that dialogue and that important connection [with fans] where a fan feels special if you comment back when it matters most and they feel like, 'Oh, she got love!' — that outweighs a lot of the negative."
What keeps Ashanti positive when she's offline is giving back and engaging with her community. "Growing up, I was a Boys and Girls Club member and then I became an ambassador," she says. "I'll still go back [to my hometown] and sit in a gym and talk to young kids about their hopes and dreams, which is really an amazing feeling. To be able to create opportunities and send kids to college, donate money [or] even small things like donating food, clothes, sneakers — it makes all the difference. And honestly, I think it's just what you're supposed to do."
That desire to support others and find camaraderie, present from her earliest days through her tenure on Murder Inc., is something the singer is hoping will play a larger role in hip-hop today. After all, she rose up during a glorious time in the genre's history, when crews and collectives like Dipset, Bad Boy Records, G-Unit and Murder Inc. proved the power of numbers and celebrated the idea that life is a party. In solo videos or collabs, there Ashanti was, framed by widescreen shots of marble mansions, glittering white yachts or darkened multi-level clubs, a joyful star in the center of it all, even when singing about heartbreak.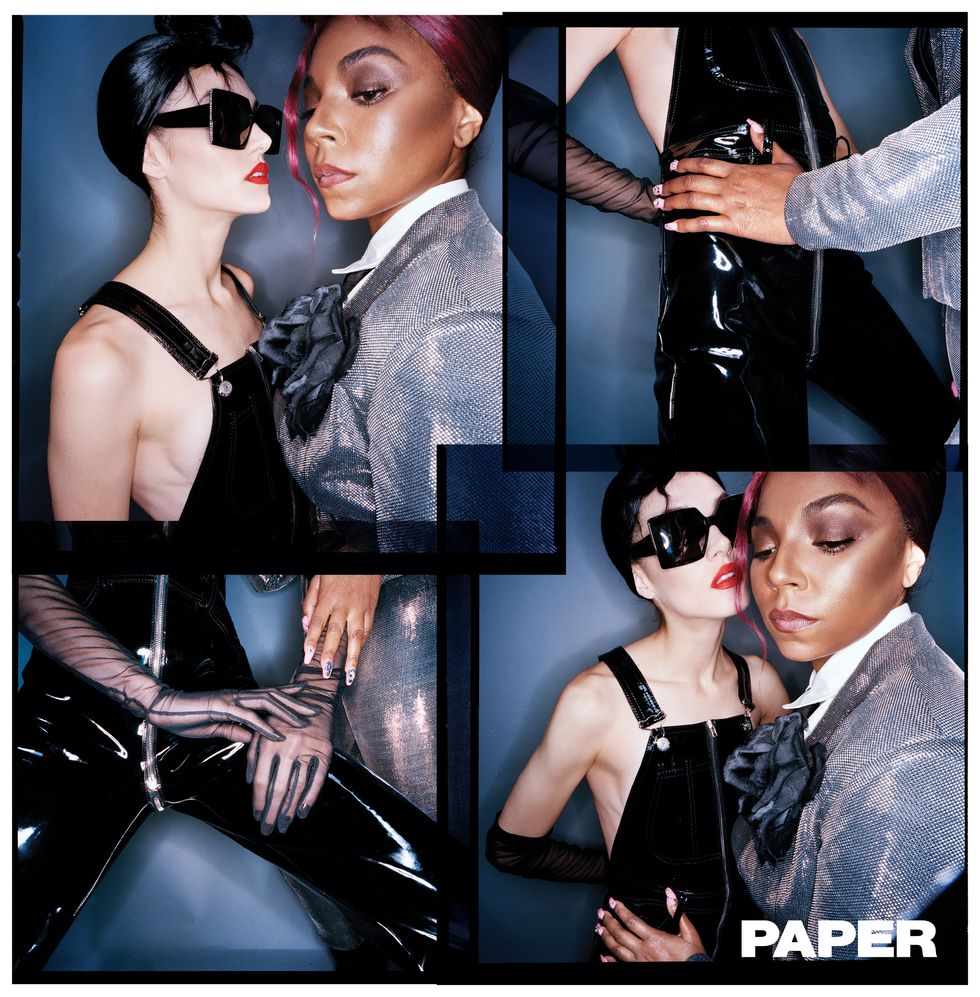 (On Ashanti) Suit: Miss Circle, Shirt: Drome, Flower Pin: Ms Schmalberg (On Models) Overalls: Jeremy Scott, Gloves: Wing & Weft, Sunglasses: Cutler and Gross
"I feel like we've definitely moved away from the community aspect of things," she says. "There are not a lot of labels that are a crew that really celebrate together. If I was doing something, Ja [Rule] and everybody came. If Ja was doing something, me and everybody came. I don't know where we are right now, it's a weird space. But I do see a lot of rappers — men and women — making up instead of tearing each other down, and I'm really happy about that. It's a ray of hope for me."
Another ray of hope, always, for Ashanti, is her music. She formed her own label, Written Entertainment, several years ago, and is its acting CEO. She released her last studio album — and her sixth overall — Braveheart on Written back in 2014. Since then, she's kept busy: Ashanti co-starred and sang in a career-referencing music video with fellow New York icon, Fabolous, called, fittingly, "Ashanti"; worked as a Ciroc spokesmodel; performed the national anthem at a recent Knicks game; and has also been touring, writing and producing the music that will be on her upcoming, as-yet-unnamed EP, slated to be out at the end of this year or the beginning of next. She also began recording a joint venture in Atlanta with megaproducer Metro Boomin over the past year, and she says fans will be pleasantly surprised by her personal openness and artistic growth.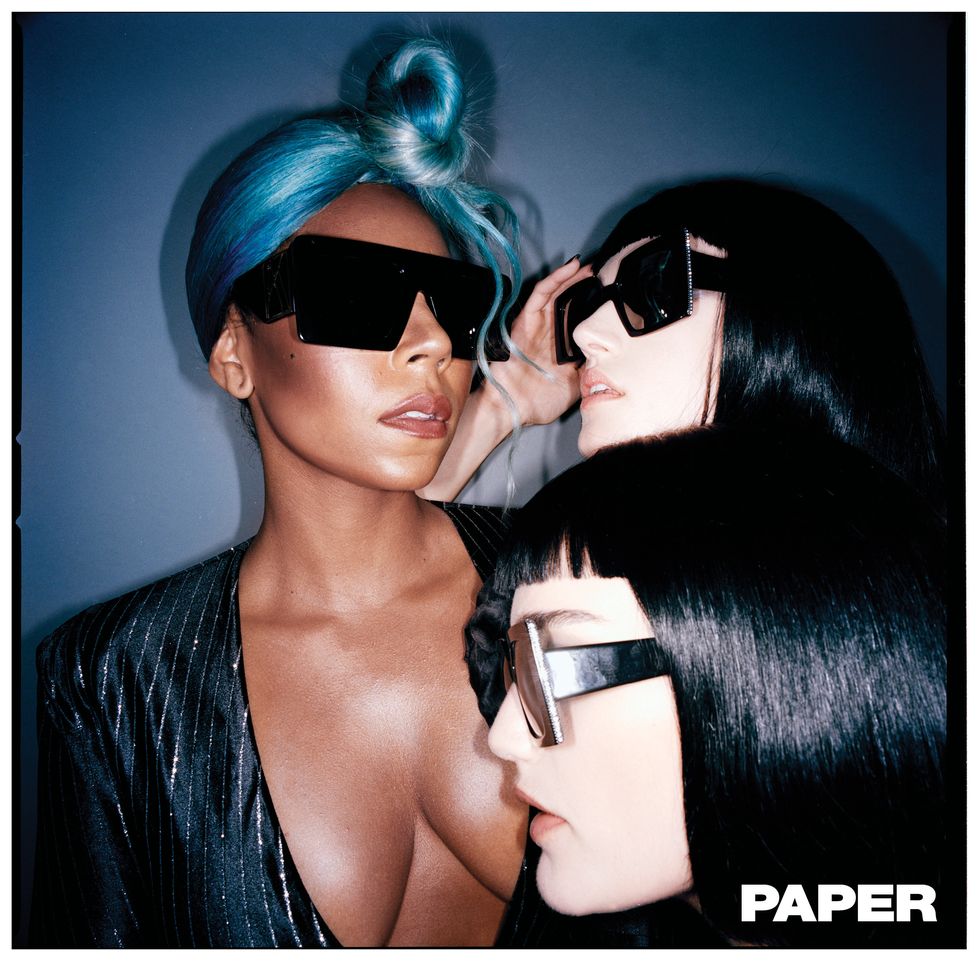 Jumpsuit: Miss Circle, Flower Pin: MS Schmalberg, Sunglasses: Anna Karin Karlsson
"I feel like there are a lot of vulnerable topics that I haven't spoken about before that I'm talking about now," she says. "I think people will be like, ' What did she say ?' which is a really cool thing. I can't say names of anyone else involved yet. But the feedback has been great so far — I've had conversations about there being a real void for true, soul-touching R&B, and that's what I feel I'm accomplishing with this record."
There have also been murmurings of Ashanti collaborating on a full-length album with Ja Rule. She told an Entertainment Tonight reporter at the 2018 BET Awards red carpet, "It's so funny because we've been talking about that for so long, but I think now he's like, 'OK, now it's time to do it.' So we're going to carve out the time and make it happen."
"I've always been taught to make sure you speak up for yourself — it doesn't matter if it's a guy, a man, whatever. Make sure you're heard."
There's no denying that Ashanti has earned her stripes, but something in her demeanor feels genuinely surprised by the events of the past sixteen years — like the girl from Glen Cove, Long Island who never could've imagined stardom, but never stopped dreaming big. Speaking about the experience of seeing younger fans discovering her music or other artists citing her work as inspiration, Ashanti says, "It's really flattering. I'll see a bunch of people post my first album, and it gets me thinking, Wow, this is where it started . Or people will send me an old song link and say, 'This is my jam!' And I'm just like, Oh my gosh, this is so funny! Who would have thought that me at 19, 20 years old would be influencing people years later? It's really a cool feeling."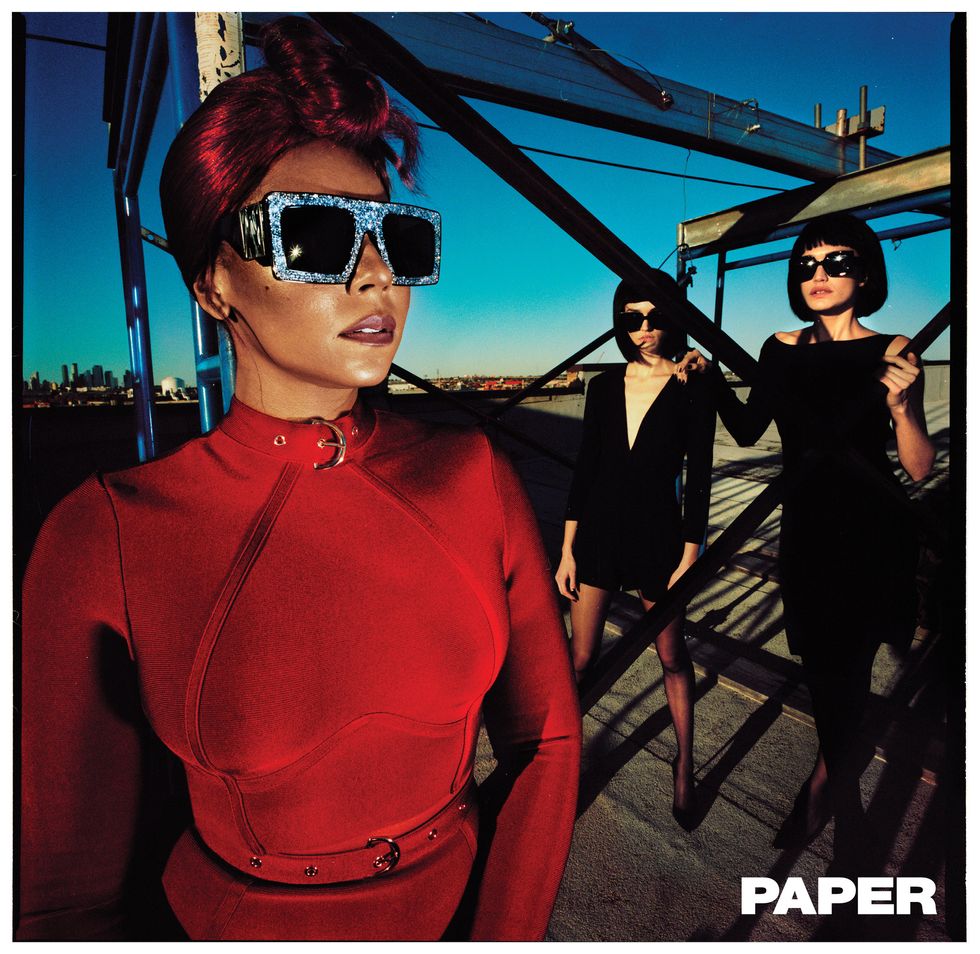 (On Ashanti) Skirt and Top: Miss Circle, Sunglasses: Anna Karin Karlsson (On Center Model) Romper: Cushnie, Tights: Wolford, Shoes: Gianvito Rossi, Sunglasses: Cutler and Gross (On Right Model) Dress: Paule Ka, Tights: Wolford, Shoes: Gianvito Rossi, Sunglasses: Cutler and Gross