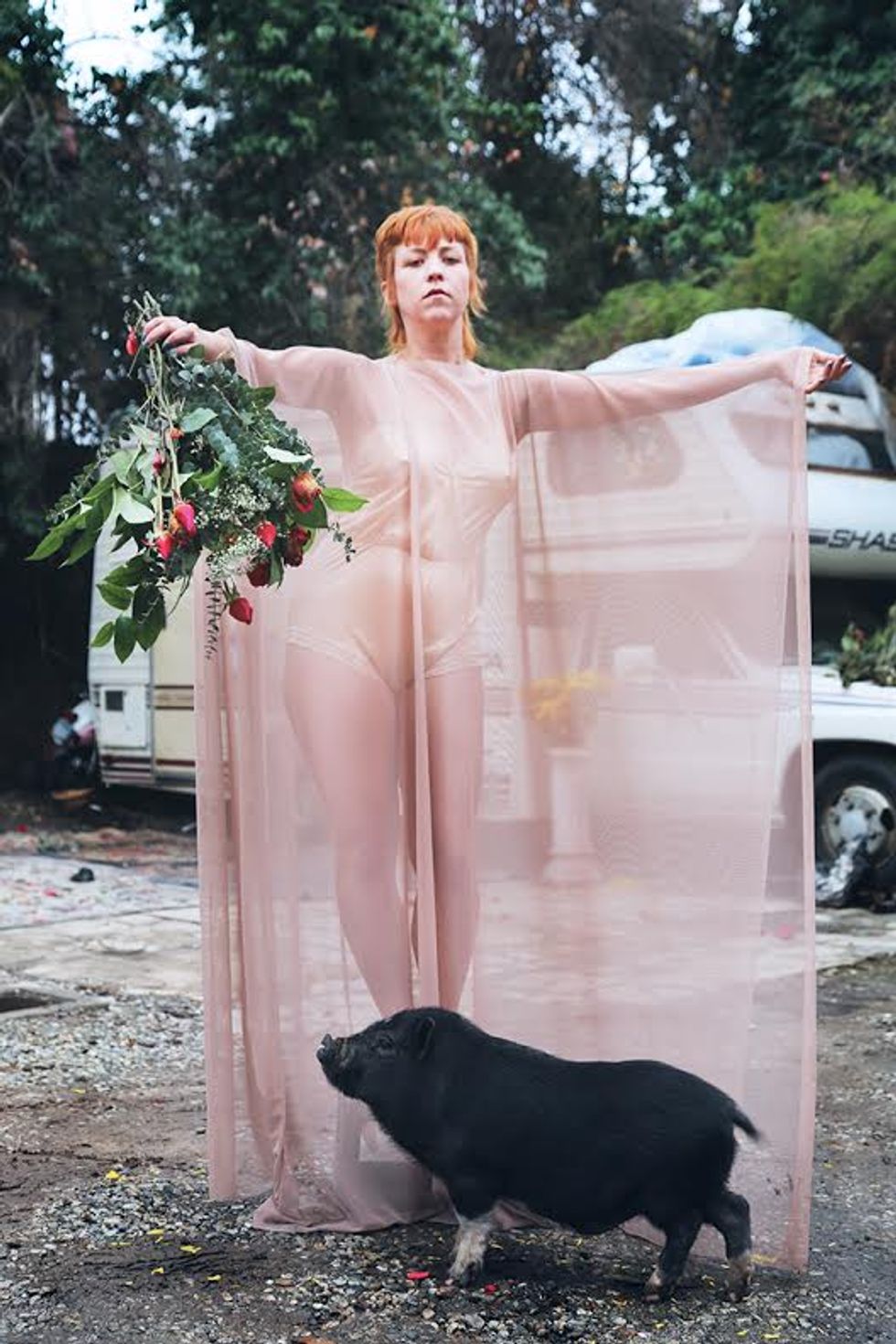 Genevieve Belleveau photographed by Geena Andrews
At the mention of BDSM in this particular moment in time it's hard not to let your mind snap to
Fifty Shades of Grey
, even if you've never picked up the book and have no plans to see the film. Leather whips, o-ring collars, and other trappings of the act come to mind, but what about bouquets of wildflowers? Organic plant-life? Pale pink?
Genevieve Belleveau
's "
Sacred Sadism
," on
NewHive
, is a proposed manifesto for a different way of thinking about dominant and submissive play. The artist's methodology incorporates the aspects of BDSM with the aesthetic of New Age healing to "soften the stigma of perverse deviation" and ultimately work towards the freeing experience one can achieve when giving up control. Genevieve Belleveau explains the possibilities of BDSM's softer side, below.  

The last time we talked you moved from New York to LA and you were living in an RV for your mobile monastery project. Now you've started this Sacred Sadism project. Take me through that transition.
Sacred Sadism came out of the monastery project, for sure. I initially thought that I was going to make Sacred Sadism my new, like, life-altering project. But I'm tired. I can't really shift gears that drastically right now. Originally, I was gonna start doing bookings and appointments and do healing sessions with people in the RV. I thought it through for a while and I've been working on a project since basically last March -- for almost a year -- and it was just the sort of thing where I was like, "I need to be gentle on myself. I've done enough masochism this year."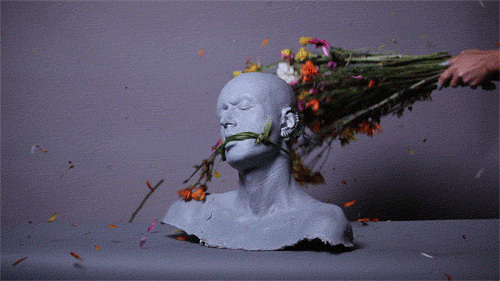 Image courtesy of the artist, photographed in collaboration with Sarah Sitkin.
What exactly is "Sacred Sadism"?
 
Well, I was doing these floral flagellation performances when I was still back in New York. I did one at the New Museum at the Ed Fornieles benefit thing,
New York New York Happy Happy
. I had a VIP section cordoned off for me to do these like, guru healing sessions on VIP ticket holders. And the whole thing was...
really something
. But, anyway, I ended up pushing flowers all over people's faces or whipping them with roses, or things like that. People really liked it and got a lot out of it. I thought it was really interesting that, in a way, the whole performance relied on the power of suggestion. You know, like a psychic or a therapist or whatever. There's a lot you can do when people really want to believe that they can be healed in that way. Similar to a lot of stuff I do working with religious tropes, belief is the most important component in many ways. So, fast forward to LA: I didn't know I was gonna end up in LA, but I just really felt called to come out here. I felt like I was being called to be around plant-life on a regular basis -- that's something I miss when I'm in New York. When I first got out to California I was living up in Altadena and it's very lush up there. It's two hours from LA via public transit and I was super poor, so I couldn't really go anywhere. I'd just kinda walk around there all day, every day, just like, touching and talking to plants, basically.
Damn.


[Laughs]
Yeah. That was kind of a very sad, lonely time of my life, honestly. But that's where the project started -- from feeling sad and lonely, and also feeling like these plants, flowers and trees are offering something to me, you know? It was a very real feeling of communicating with plants. It made everything okay.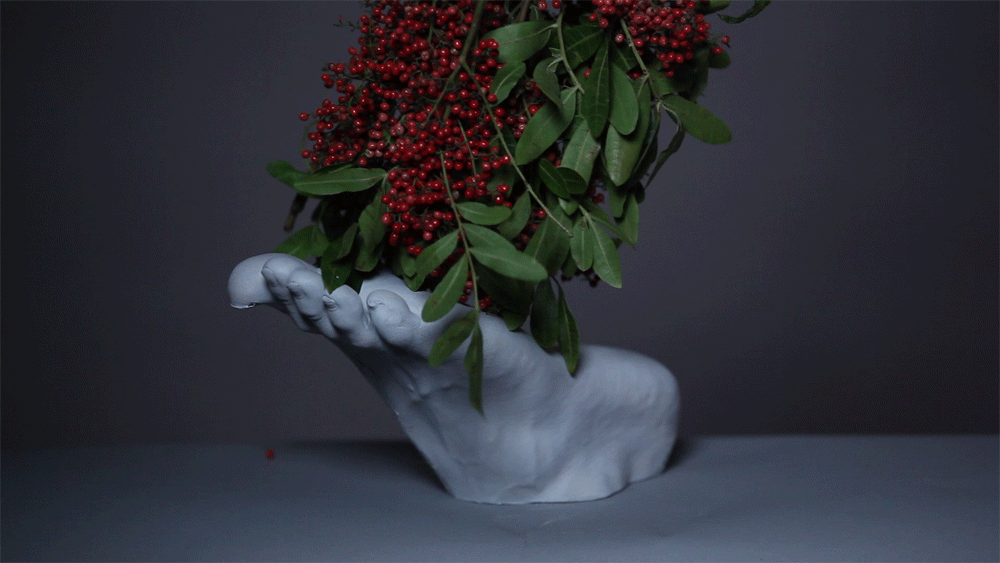 Image courtesy of the artist, photographed in collaboration with Sarah Sitkin.
That's really beautiful. So, it was a conscious decision to use the plants instead of going with more traditional bondage equipment?
BDSM is something that I've been really interested in for a long time, but I had no real personal experience with it, except for what I see as the inherent BDSM that plays out in every romantic relationship. Whether we're aware of it or not, there's always someone who's going to dominate and someone who's going to submit. It happens in the bedroom, it happens in waking life, and I think that's how relationships sustain themselves, in a way. I've always been really interested in that, but I felt like I wanted to create an "in" to BDSM because I didn't really feel invited into that community. The leather and the gothness of it -- and the sort of darkness of it -- never appealed to me, but the psychology of it really appeals to me. And, by the same token, there's something about New Age stuff that I'm also very interested in but don't really feel quite invited into because it feels too idealistic to me. I'm I'm interested in both concepts, so I started thinking about different ways that I could join them together to make this kind of portmanteau of two ideologies that would maybe allow other people to explore those ideas without feeling like pushed out.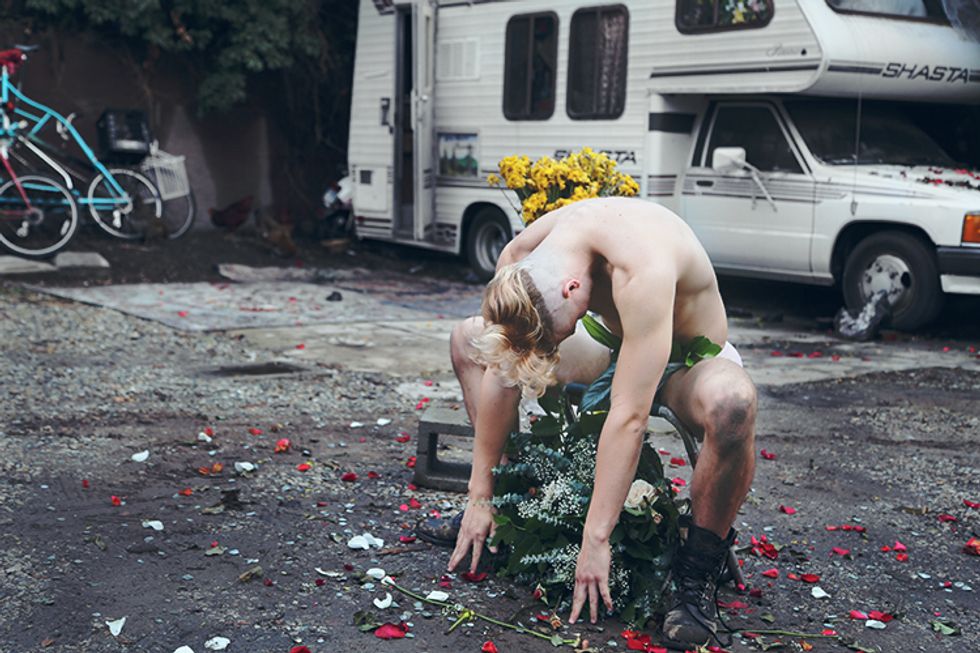 Apprentice Simon Seapony photographed by Geena Andrews
This definitely seems gentler. In your practice, the dominant and submissive roles -- referred to as "Master" and "Slave," respectively, in traditional BDSM -- are called the "Priest/ess" and "Apprentice." Can you explain their dynamic?
 
Since the beginning I never wanted to use the word "slave." I see a Priestess as being a guiding role for the healing and that, in theory, would involve sitting with the person, understanding where they're coming from, what they're seeking to heal, and knowing a little bit more about their history. It would probably be a very gentle healing for the first few sessions, and more talk therapy if anything. Then the apprentice signs this contract which basically says that for the duration of each session -- sessions could be an hour or two hours long -- they give up complete control over to the Priestess.

Does it become an erotic relationship or is it more like a guided mediation?
I think it's both. What I'm aiming to create is the circumstance that eroticism can be very much explored. It's on the table. If I were to do this session with people it wouldn't come to like genitalia contact, any auto-erogenous zones wouldn't really become a part of the therapy. And that really has more to do with my comfort level. Maybe there are people who'd want to adopt this therapy and do that, but that's just not something I'm ready and willing to do at this point. But the eroticism part is very important. There can be a visual eroticism, like ASMR eroticism; just the sound of the materials can be erotic. I think there's eroticism in touch, inherently, when you let a stranger touch you. I also think that the plant-life, itself are erotic. I think that's all built in to the practice without it being overtly, like, "I'm trying to turn you on." It's just sort of going to happen. And the sessions I've done have all been with women, actually, so... 
Oh, so you've done this with people?
 
I did an exploratory healing weekend as part of a healing series that my friend runs. I performed a session with three or four other women, who were the only people to come forward, which I thought was interesting. That time involved more of like, a guided meditation. It involved touch using plants and light flagellation. I was really just starting this practice and was very gentle. But with continued practice with an apprentice, I would even want to try to border the limits of violent exchange. I'm interested in how that dark expression can be healing.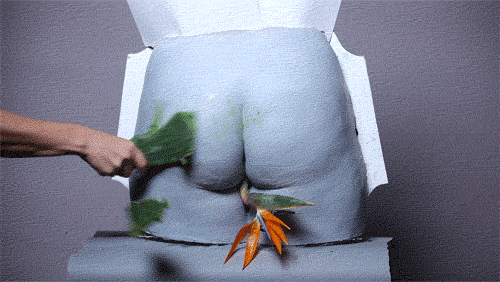 Image courtesy of the artist, photographed in collaboration with Sarah Sitkin.
Yeah, I noticed that in the imagery in your manifesto there's a bird of paradise put into a--
[Laughs]
--Yeah, the bird of paradise buttplug. That's the most extreme example. A lot of the research leading up to this consisted of dating websites. I spent a lot of time on
collarspace.com
, which connects subs and doms, and I spent months and months and months corresponding with these people, trying to learn about the psychology of them desiring this very painful, humiliating treatment. It was really fascinating to me. Whenever I mentioned like, a cactus paddle, a lot of people were very interested in that -- the extreme pain and bleeding. But maybe they were interested more in the fantasy than in real life. I never took it any further than correspondence.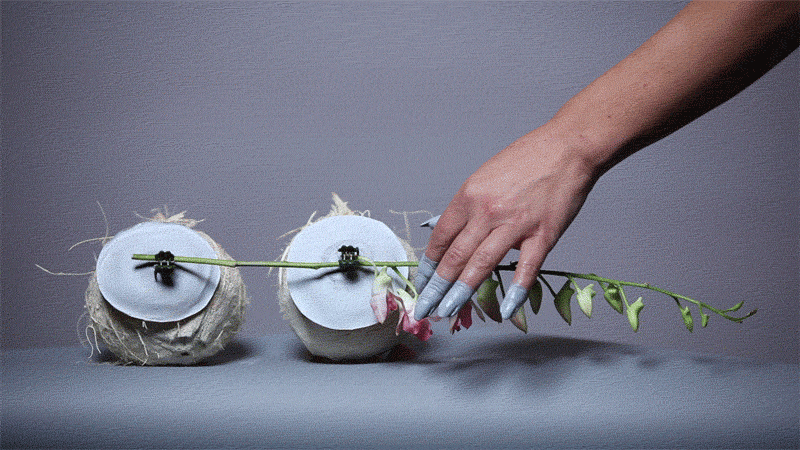 Image courtesy of the artist, photographed in collaboration with Sarah Sitkin.
Did 50 Shades of Grey come to mind at all when you started this?
 
[Laughs]
No. It didn't. I'm really happy that these things are happening at the same time, though. I do tend to think that, even with the monastery, I stay aware of what's going on in pop culture. When I did the monastery it seemed like there was a very loud roar from the world about nomadicism -- turning off the computer, about taking time to yourself. I kind of just think it's coincidental and the time is right. I'm just responding to an intuitive sense of "this is the time that people will start embracing that." You see BDSM
all over fashion now
. Fashion is embracing a very cute, quirky side of it.

Why do you think people are embracing BDSM so much right now?
That's a great question. I mean, one of the parallels that I draw in the proposed methodology of "Sacred Sadism" is the idea that we've already chosen to relinquish control to social media. The way that we agree to have our privacy negated. A lot of people will freak out if they change some policy: "Oh my god, they have access to my information, oh my god Google's doing this now," etc. And yet, people still do it! The majority of people are still willfully choosing to upload their lives through the ether to be a part of this thing because the desire to feel a connection to another human being is more powerful than the desire to stay alone, and stay private, and stay sequestered off. That's something out of my monastery research that I discovered too. I realized that, no, of course I don't want to live in complete isolation forever. I think the rise of BDSM has something to do with the dawn of the internet. This sense of wanting to lose control is very natural, it's an infantile instinct to have someone coddle you or tell what to do. It's comforting! It's sort of like giving yourself over to the mother that is Earth. I like to call Google the 'Gaia of Google.' I see it as a feminist force. It doesn't have to be, it could be androgynous, but I see it as feminine because we associate femininity with nurturing, holding, and caring. I see it as people being willing to give over to this feminine force in all of their daily actions, and maybe wanting to feel that experience matters in their relationships to. I'm not sure.