[UPDATE 08/04/16, 10 a.m.: So looks like the family-focused network behind Arthur has finally gotten wind of the sexual nature of many of these memes (see below), and needless to say, they are not happy. According to the Associated Press, WGBH is "disappointed" in the explicit strain of memes currently floating around as their hope is for "Arthur and his friends will be depicted in a way that is respectful and appropriate for all audiences, including young Arthur fans and their families." Not sure if you've been on the Internet lately, but ok.]
Last night, something strange began happening on Twitter. In between all the DNC coverage and The Mystery of Melania Trump's Mysterious Vanishing Web Presence, a screenshot of a cartoon fist belonging to PBS's #1 anthropomorphic aardvark, Arthur Read, began making the RT rounds.
This is just a pic of Arthur's fist but idk how I feel that it's just so relatable. So many emotions in one fist pic.twitter.com/WHU9o7XeAG
— JT (@AlmostJT) July 28, 2016
Taken from that episode where Arthur gets in trouble for punching his little sister DW, somehow the clenched fist -- accompanied with a myriad of updated sex, drug and pop culture-related quips -- floated back into our collective millennial conscious. Perhaps as just another example of the 90s nostalgia cycle -- even if this iteration does feel more potent as a meme that caters to the young adults struggling to buy a ounce and remember their Prime login rather than finishing their homework.
"this email and password combination could not be found" pic.twitter.com/RefqffLF8A
— Ziwe (@ziwe) July 28, 2016
when quavo isn't on the remix pic.twitter.com/UudS9vqwkW
— The FADER (@thefader) July 28, 2016
"What happened to you & _______" pic.twitter.com/n9CtKTrUfv
— ㅤㅤㅤㅤㅤㅤㅤㅤㅤㅤㅤㅤㅤㅤㅤㅤㅤㅤㅤㅤ (@GAY4_RIHANNA) July 28, 2016
pic.twitter.com/XLEYtjFFlu
— ✨ (@kbiiitcchh) July 28, 2016
*opens up porn hub"

Mom: "Dinner!!" pic.twitter.com/Jy22GTv7g9
— APOBINGTON (@APOB_) July 28, 2016
"Desiigner is trash" pic.twitter.com/7ZvpIvispO
— Arthur's Fist (@FistofArthurs) July 28, 2016
And, of course, the hands have their own dedicated Twitter already.
When you offer someone food to be nice and they actually say yes pic.twitter.com/gu3K3cxTKV
— Arthur Hands (@Arthur__Hands) July 28, 2016
And while amazing, these Arthur memes are not exactly new (at least in Internet terms), as they look to be a continuation of stills and screencaps coming from (surprise) Black Twitter, Tumblr and beyond. Behold.
"Yeah I'ma listen to your SoundCloud bro, I got you" pic.twitter.com/VBhTp7KQVn
— FunnyPicsDepot (@FunnyPicsDepot) July 20, 2016
after three weeks of youtube contour tutorials pic.twitter.com/WQUyaQOhMS
— Ziwe (@ziwe) June 1, 2016
when u log on twitter but everyone's asleep pic.twitter.com/HTI7mLLaAT
— Ziwe (@ziwe) June 7, 2016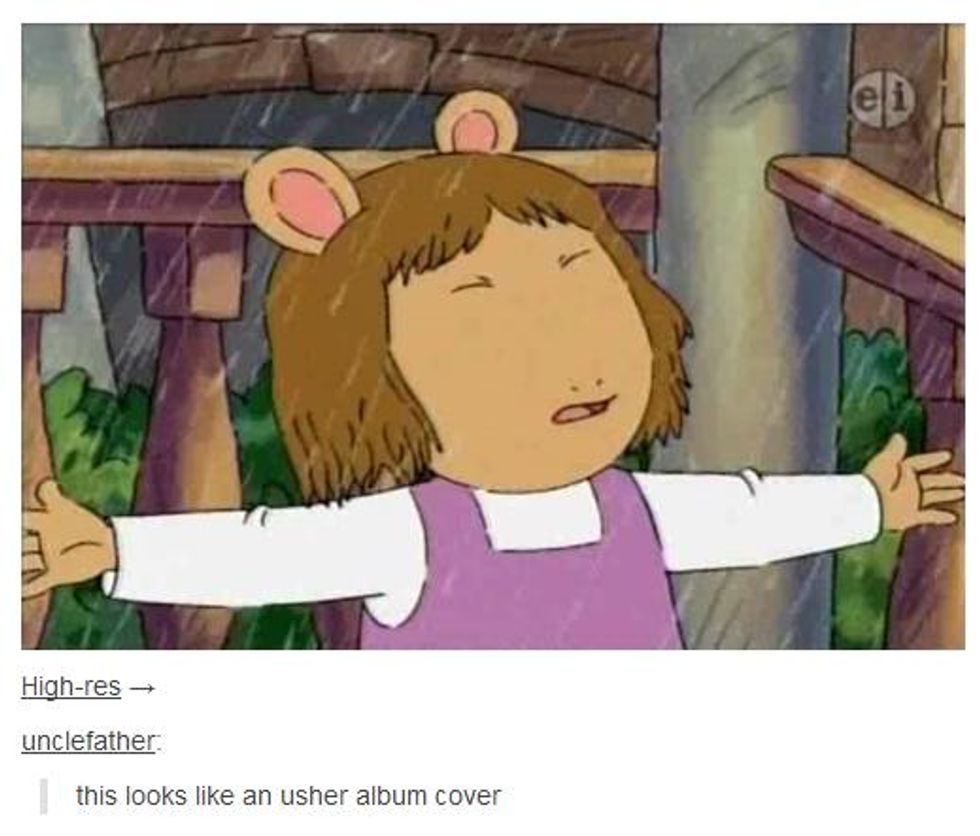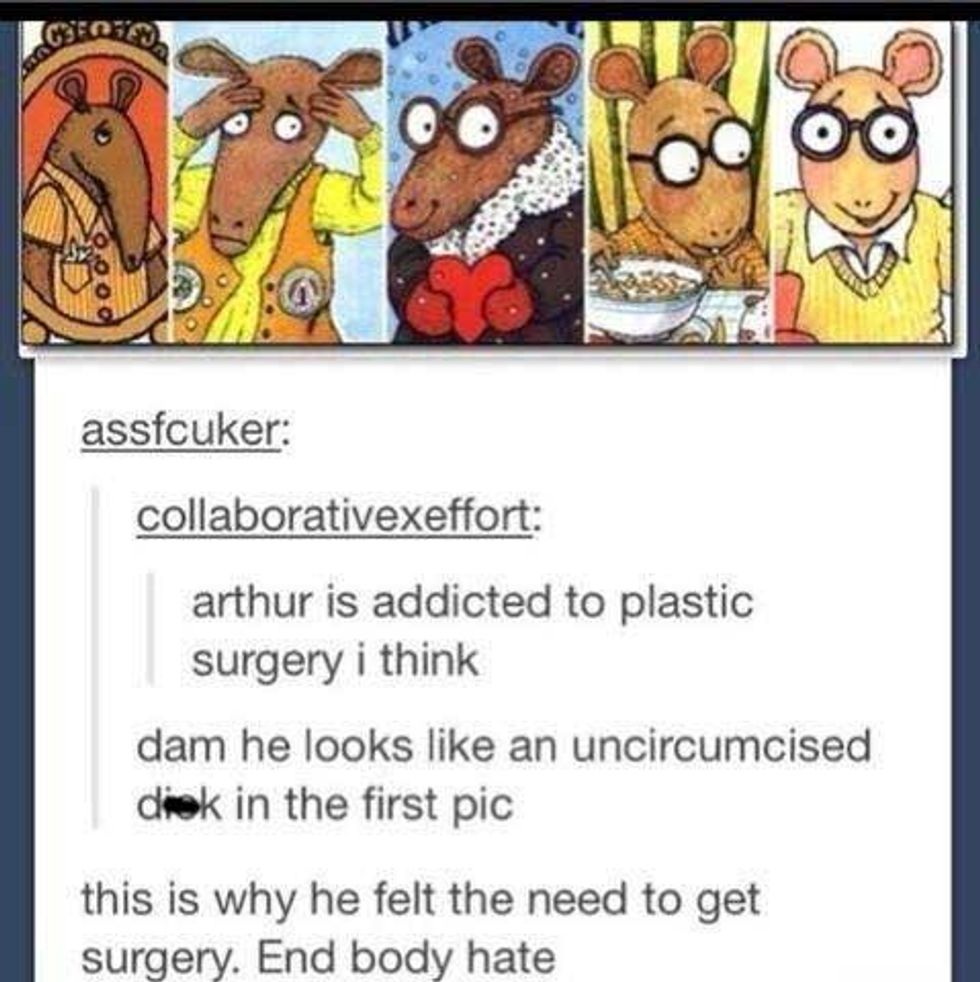 Granted, we're pretty pleased at all the new #content that's arisen from this fist-induced rebirth.
"Yeah I lied to you, but don't you lie to me" pic.twitter.com/NK9ptIs1vv
— Durag Papi. (@JohnIsaBadMan) July 28, 2016
the brooklyn fuccboi starter pack pic.twitter.com/SG6Y430bZ3
— Complex Pop Culture (@ComplexPop) July 28, 2016
When he bought you & ya girl some drinks now yall dodging him in the club like...💀 pic.twitter.com/ktXYIz95s6
— Handle Me. (@NiahSlayz) July 28, 2016
And like any good meme, it adapts to pertinent talking points. Several Arthur characters (notably RABBITS) have been spotted around the web making fun of the "All Lives Matter" phenomenon.
"I just don't get why I can't say it, too." pic.twitter.com/LS73z1HsWD
— again. (@danxlay) July 28, 2016
"All lives mat-" pic.twitter.com/vEv1S6Rk3K
— Safe (@YOUNGSAFE) July 28, 2016
"All lives matter dude" pic.twitter.com/U5WDtWlsWk
— ZEUS (@Unkle_K) July 28, 2016
After you're finished lurking and you gotta have a sit down with your man pic.twitter.com/gW3upzIA6d
— sad p (@bloopie_) July 28, 2016
But, of course, the majority are just dumb lols.
me : im really done with him
him : come outside
me : pic.twitter.com/8yBVOPv8NH
— b. (@bijonnnnn) July 28, 2016
"Make sure you get the belt in the pic too" pic.twitter.com/2OMN0Bzi5Y
— Tiny Cornholio (@TinyTiniTine) July 28, 2016
When you're at the plug's house and wanna make conversation pic.twitter.com/jFH3yW5rGw
— Remy (@tdaniadi) July 28, 2016
"Go talk to yo other hoes" pic.twitter.com/S69CslU47d
— Ev⚡️ (@JustDoItEverett) July 28, 2016
FROM WHAT I HEARD SHE GOT A BABY BY BUSTER... pic.twitter.com/KdgRLsYDTn
— #WWTK 8.1.16 (@MirFontane) July 28, 2016
When you put her on snapchat for the first time y'all go out to eat .. pic.twitter.com/5DMdAYHOn8
— metro coonin (@khy_ri) July 28, 2016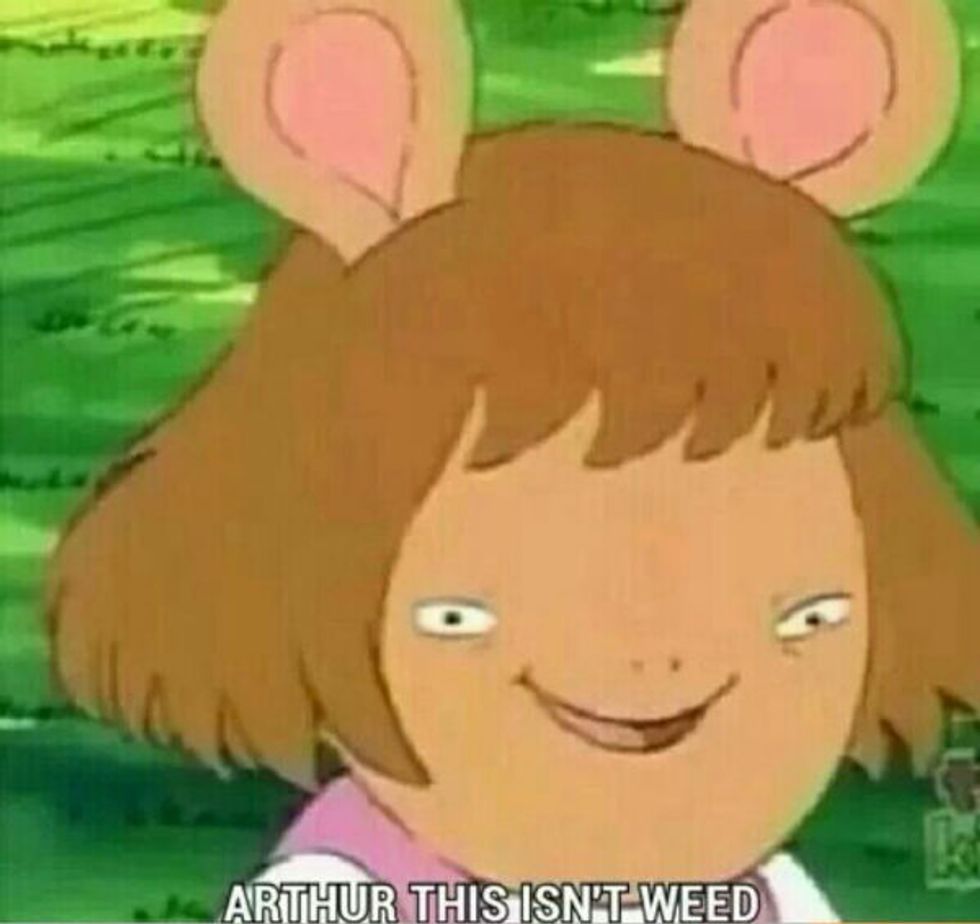 Well...except for one part -- since as we all know the Interwebs is a good dumping ground for hot garbage fires of repressed Freudian desires. And, as a result, an unfortunate offshoot dubbed by Know Your Meme as the "Arthur and DW Slash Pairing," these memes take decontextualized stills of Arthur episodes and inserts captions that hint at an incestuous relationship between Arthur and DW.
My timeline is sexualizing my childhood favorite, Arthur the aardvark, and quite frankly, I am here for it
— christine teigen (@chrissyteigen) July 28, 2016
"Yeah it's still $15 a gram tho" pic.twitter.com/DDVP5MuQew
— rowa (@playboishawn) July 28, 2016
I think I'm pregnant Arthur

"Congratulations to you and the baby daddy " pic.twitter.com/YJ3BdFff4W
— Your bae ❤️ (@Chellexllo_) July 28, 2016
"I don't usually nut that quick" pic.twitter.com/0pLNodKl7N
— Ev⚡️ (@JustDoItEverett) July 28, 2016
"I'll be back with the plan B in 10 minutes..." pic.twitter.com/PqF9E8AmA3
— Bush✨ (@QH_Bush) July 28, 2016
This is why we can't have nice things.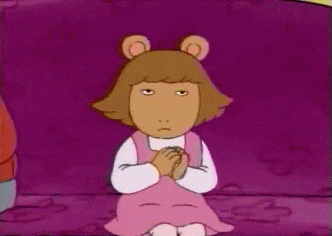 You May Also Like