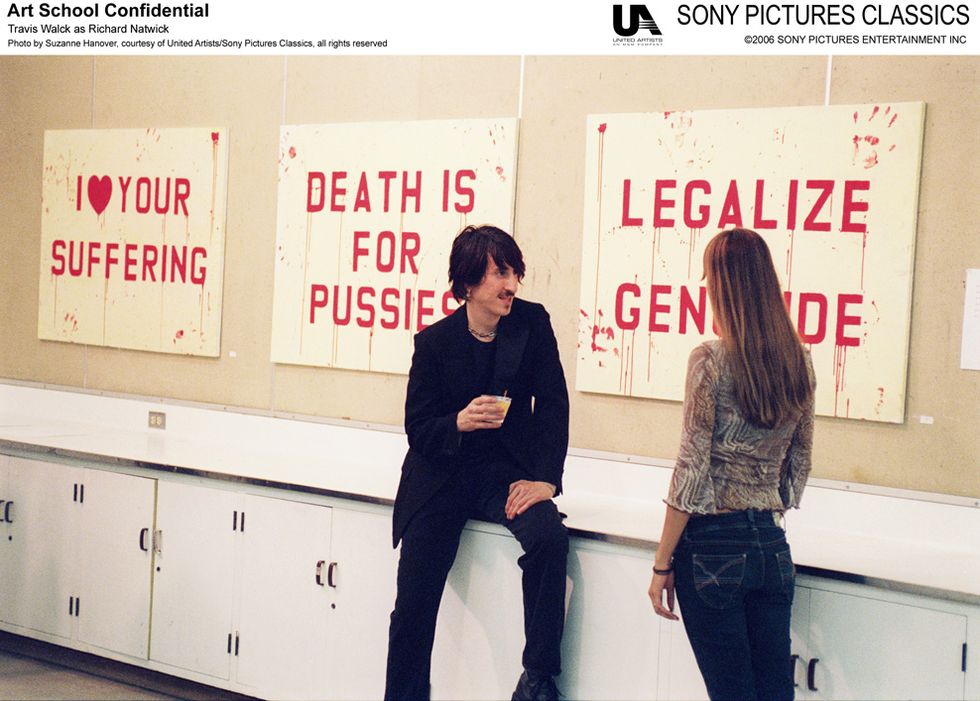 We can't wait to see the movie ART SCHOOL CONFIDENTIAL! Not only because author Dan Clowes is one of our favorite comic geniuses ("Eightball" got me through many a long day and night on the sitcom set back in the Nineties) but also because the adorable Travis Walck, actor and manager of our fave local hangout EAT WELL in Silver Lake, makes his film debut as a dangerous wacko art student who electrocutes himself, in
Chris Burden-like fashion, in an absurd moment of cinematic performance art -- a moment special enough to be featured in the theatrical trailer!

Travis explains that "Art School Confidential" is "a dark satire on artists and art schools ingeneral. It showcases all of the stereotypes that roam the halls in these institutions sparing no one. The plot follows, Jerome, a freshman artist desperate to find his voice .Meanwhile, as he is proving his worth amongst his self-absorbed peers and teachers and trying to catch the girl of his dreams, he is also dealing with a rash of murders that are occuring on campus. The underlying idea asks, "How far would an artist go to become famous? Murder?"'

Here is a still of Travis as Richard Natwick; a second-year art major who is originally accused of being the murderer due to his prision style block art. As Travis puts it "my subsequent arrest and release leads to the artistic demise that I will eventually become victim to."

Ooooh, can't wait!! The film opens in LA and NY May 5 and then nationwide on
May 15.