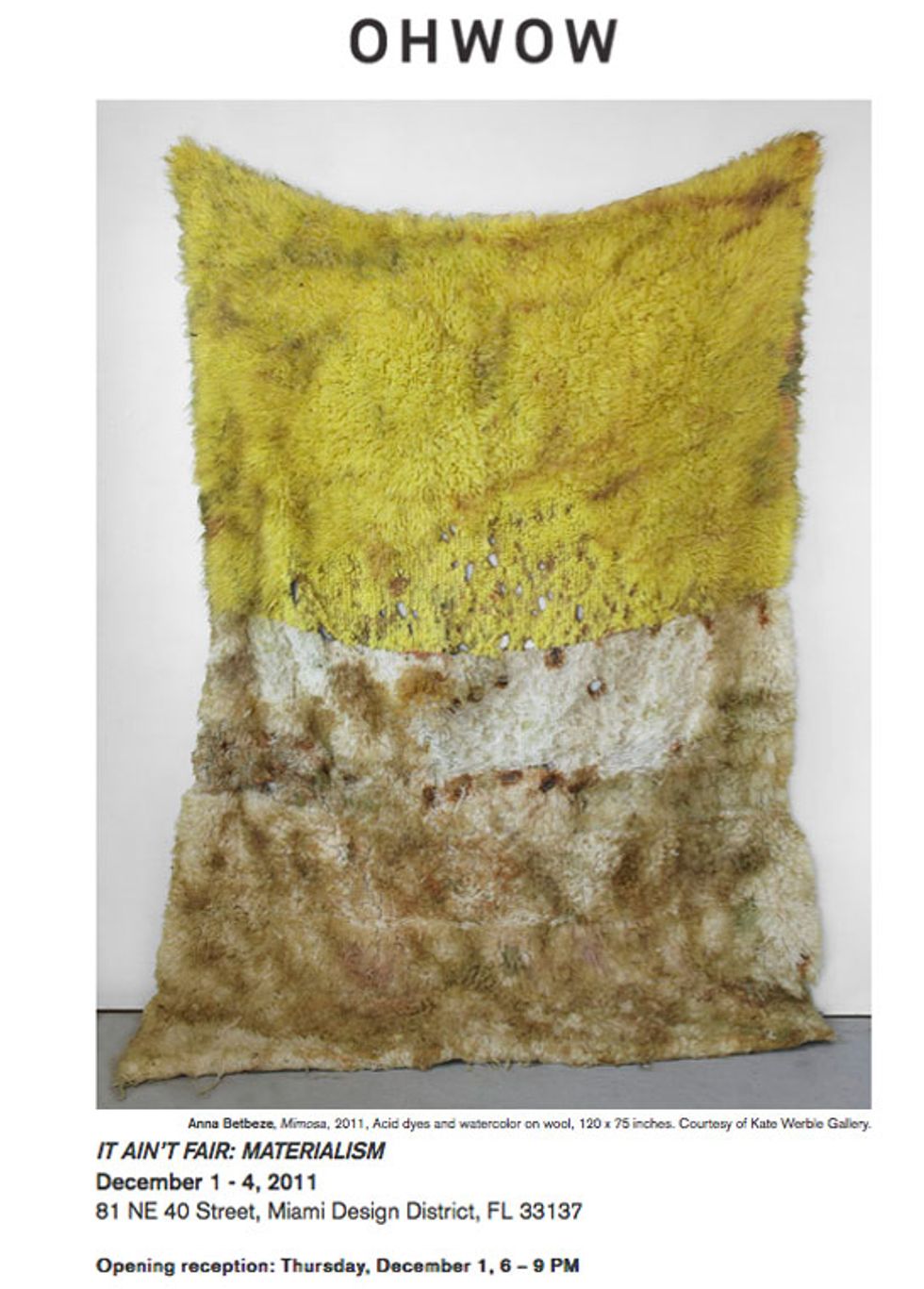 The invites are starting to roll in fast-and-furious and it looks like Art Basel Miami 2011 will be one of the biggest and best.  Try not to wear yourself out on the first night and be sure to wear comfortable shoes (or Louboutins) and if you run into Jon Lin, tell him we said "Yo!".  Here's Part V of our master list:
-- Big Miami party news arrived this week with the announcement that one of last year's best events,
Basel Castle
(41 NW 20th Street, Wynwood, Miami) is back on December 3rd. Yippee! The music side of things features
Yelawolf
,
The Rapture
(DJ set),
Tamara Sky
,
Heroes X Villains
and
Blorr
. Plus there's tons of live art and installations including works by
Ron English
,
Sam Flores
,
Tara McPherson
,
Jeremy Fish
,
Mark Bode
and
Greg Mike.
 And the best news is that it's FREE before 9 p.m. with an RSVP here () or, if you want guaranteed admission, that's only $10.  Trust us, the location is perfect and this party will be off-the-hook.
-- The super-cool
OHWOW
gallery is back with the fourth edition of their
It Ain't Fair
(81 NE 40th Street, Design District, Miami). This big group show is called "
Materialism
" and features works by artists including
Daniel Arsham
,
Ashley Bickerton
,
Scott Cambell
,
Luis Guispert,
Aurel Schmidt
,
Aaron Young
and many many more. It's all FREE and open to the public from December 1 to 4, with a opening night live performance by New York-based artist
Michael David Quattlebaum, Jr.
(who's featured in our
"Lives of the Party" feature
from our October Nightlife Issue as a "New Goth")
on Thursday, December 1, 6 to 9 p.m.  Don't miss it.
--
VMAN magazine
and Miami's hottest luxury boutique,
The Webster
, (1220 Collins Avenue, South Beach), are having a super-private VIP dinner for
DSquared2
that's hosted by the fashion label's founders
Dean and Dan Caten
. Bthere or Bsquare.
Maison Martin Margiela
is hosting an exhibit called "LOVE, etc." in the Miami Design District at 4141 NE 2nd Avenue from November 29 to December 3, 11 a.m. - 7 p.m. daily.  The show features their LINE 13,  which is dedicated to objects and publications plus it takes a look at Maison's relationship with interiors.