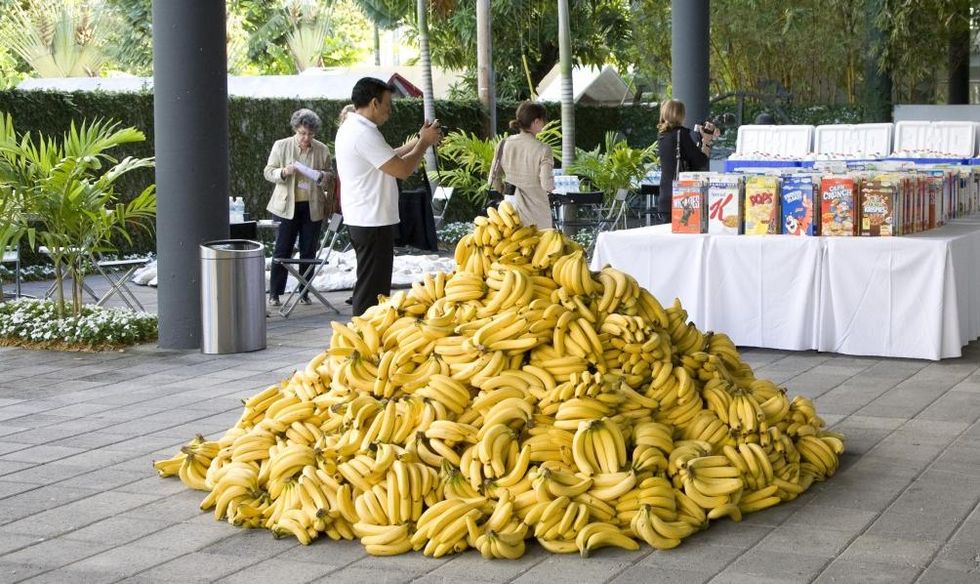 A previous food installation by Jennifer Rubell
The Rubell Family Collection (95 NW 29th Street, Miami) will present a big exhibition called "No Man's Land" featuring women artists from their extensive collection. It's up from December 2nd until the end of May and will include paintings, sculptures, photos and videos by over 100 female artists. Because of the large number of works, artworks will be rotated throughout the course of the show. Jennifer Rubell will present her twelfth large-scale, food-based installation,"Devotion," on December 3rd, 9 to 11 a.m. She'll be using "bread, butter, and a couple engaged to be married" as her media.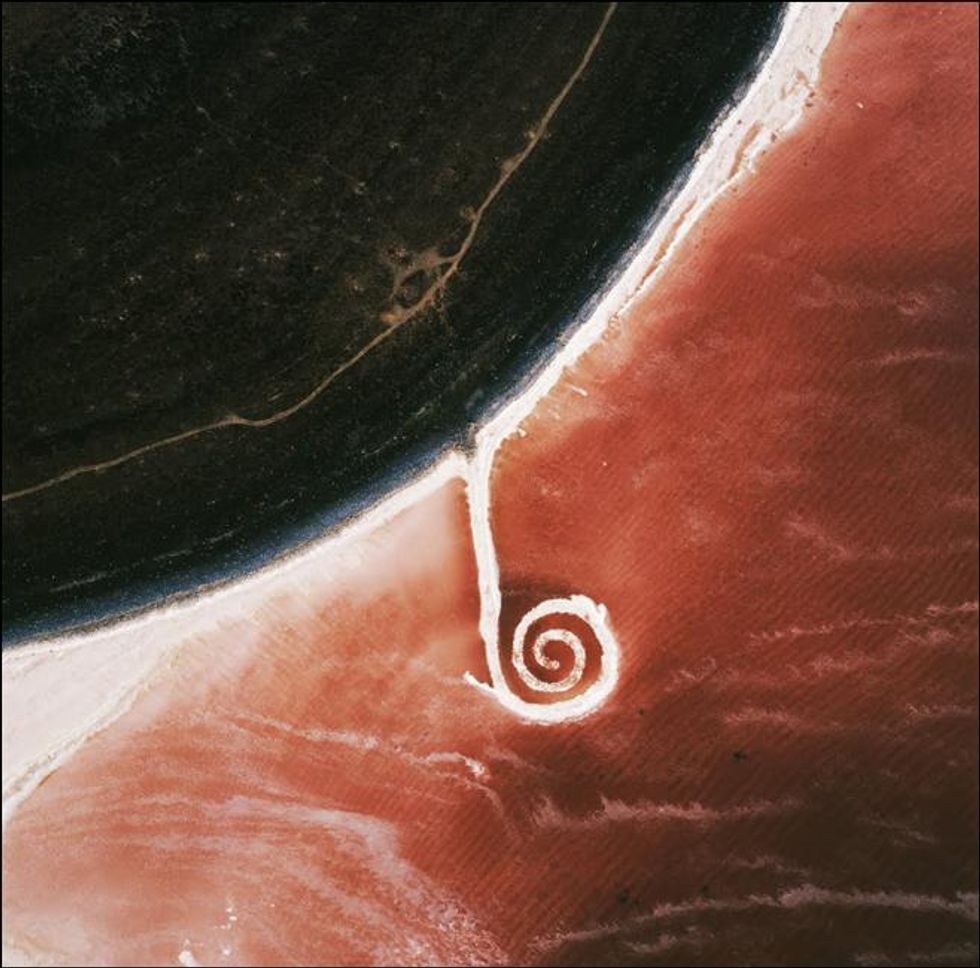 Robert Smithson's "Spiral Jetty" from the air.

"Our Hidden Futures" is the overall theme for this year's AB/MB film program. Over 50 films and videos will be screened on the giant projection wall outside of the New World Center (500 17th Street, South Beach), plus over 80 more can be accessed in the convention center film library. The Colony Theater (1040 Lincoln Road, Miami Beach) will be showing director James Crump's Troublemakers: The Story of Land Art on Friday, December 4, 8:30 p.m., followed by a panel discussion with Crump and Basel film curator Marian Masone. The evening screenings in SoundScape Park include short films with program themes ranging from "Speak Easy" to "Vanishing Point."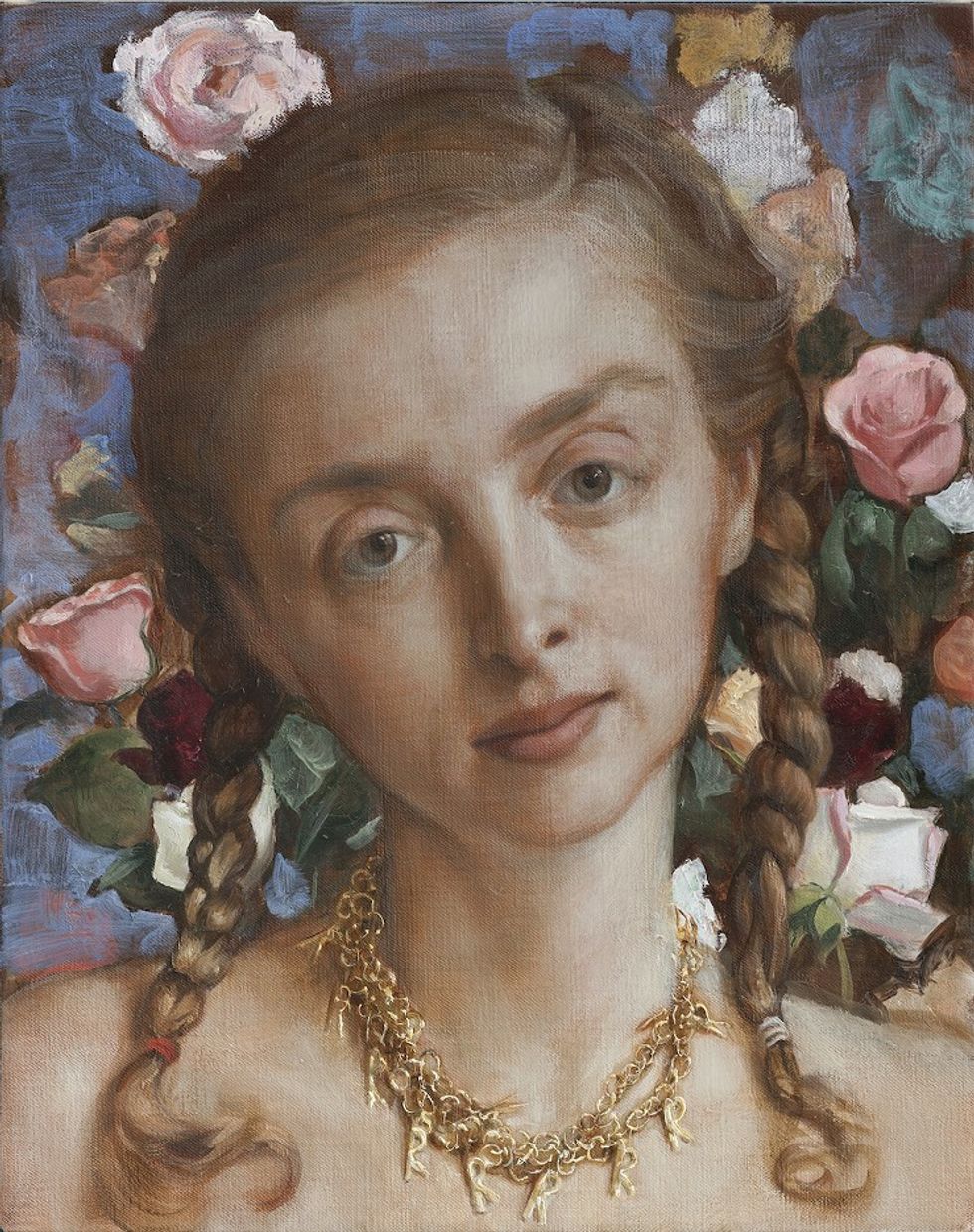 Rachel in the Garden (2003), by John Currin; © John Currin. Photography by Rob McKeever. Courtesy Gagosian Gallery
Jeffrey Deitch and Larry Gagosian are co-presenting an exhibition of figurative painting and sculpture at 191 NE 40th Street, Miami. The opening is on Tuesday, December 1st, but it will be on view all week. According to the NYT, artists featured in the group show will include Urs Fischer, Elizabeth Peyton, John Currin and David Salle.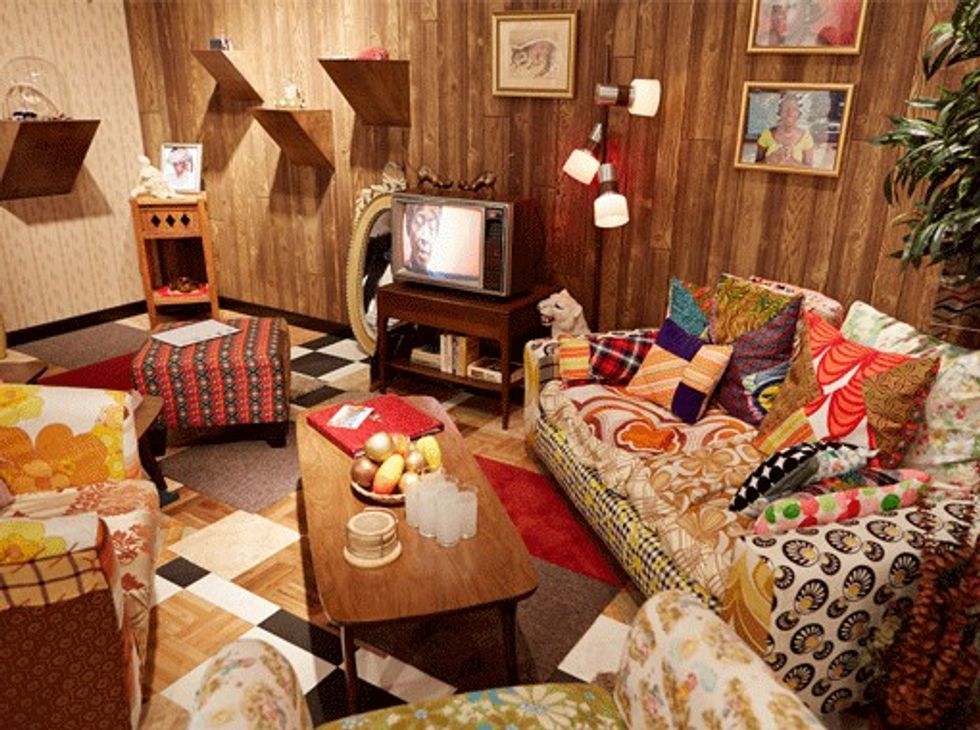 Since 2005, the KABINETT sector of AB/MB has invited galleries to display curated installations. This year, there are 27 exhibitions including a new work by L.A. artist Glenn Kaino called "The Internationale" that re-interprets the iconic Pierrot character -- and his "only friend," the moon -- interacting with visitors via "seminal texts on post-colonial theory." Galerie Krinzinger will be showing Chris Burden's "Deluxe Photo Book 1971 -1973," documenting the first three years of his performances. And Galerie Lelong will present a selection of shaped, "erotic" canvases by the Puerto Rico-based artist Zilia Sanchez.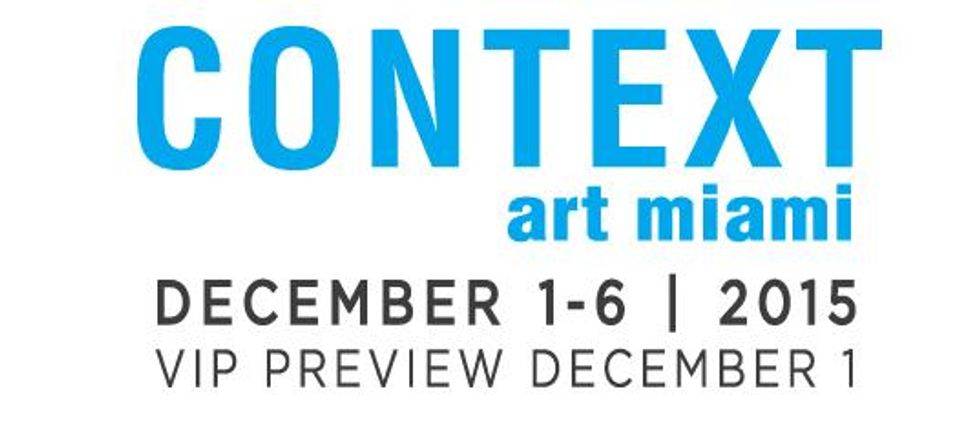 CONTEXT Art Miami, the sister fair to Art Miami, will feature 95 international galleries this year, along with several artist projects and installations including 12 listening stations dedicated to sound art; areas dedicated to art from Berlin and Korea; solo exhibitions by Jung San, Satoru Tamura, Mr. Herget and four others; and a "fast-track" portrait project of workers at Miami International Airport. Context and Art Miami -- which is celebrating its 26th year -- open with a VIP preview benefiting the Perez Art Museum Miami on Tuesday, December 1, 5:30 to 10 p.m., at 2901 NE 1st Avenue in Midtown, Miami. The fair is open to the public from December 2nd through the 6th.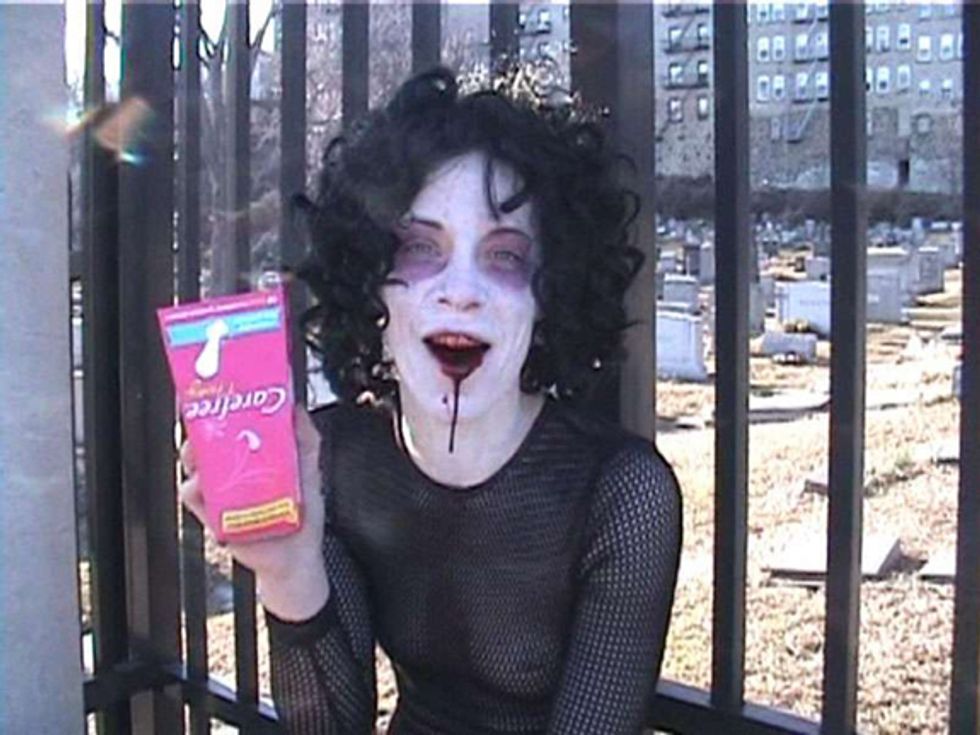 "Coven Services" (2004) by Alex Bag

ICA Miami (4040 NE 2nd Avenue, Miami) presents a new theatrical performance called "Artist Theater Program" by Erika Vogt, Shannon Ebner and Dylan Mira on Thursday, December 3rd at 4 p.m. Ebner also has a concurrent show, "A Public Character," on view in the museum during AB/MB and up until January 16, 2016. This is the inaugural program in the museum's new performance series. Also opening on December 1st is a major survey of works by the video and performance artist Alex Bag, including her interactive installation "The Van." The museum recently announced the appointment of Ellen Salpeter, Deputy Director of NYC's Jewish Museum, as its new director and they've just broken ground on a new, permanent home in the Design District. The 37,500 -square-foot building was designed by the Spanish firm Aranguren & Gallegos Arquitectos and is scheduled to open in 2017.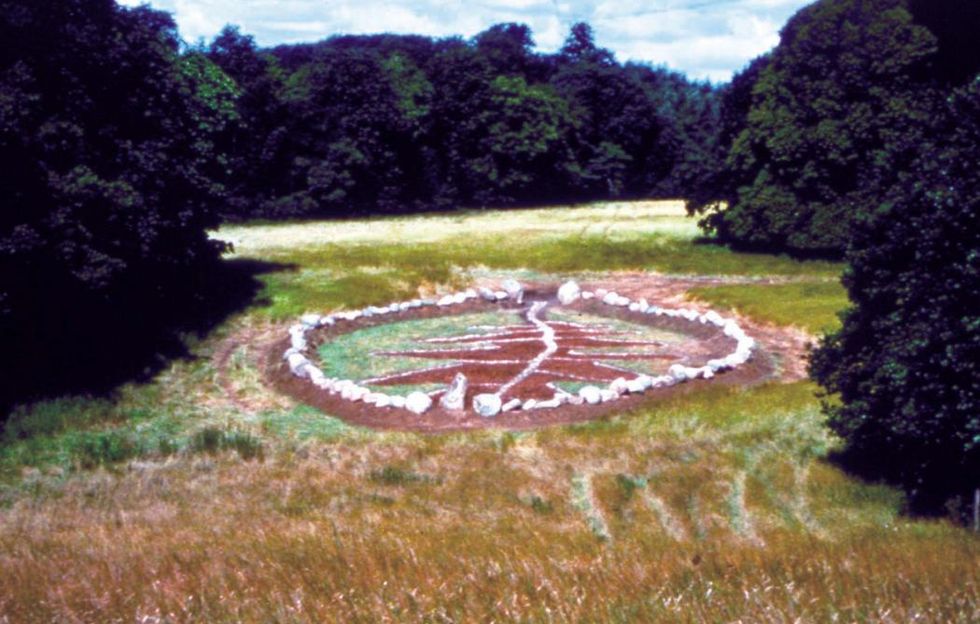 Installation by Alan Sonfist
Miami's "art hotel" The Sagamore (1671 Collins Avenue, South Beach) has a new installation by environmental/landscape sculptor Alan Sonfist on view all week, along with their incredible Cricket Taplin Collection of contemporary art. The hotel's annual VIP brunch -- featuring a new Electronic Arts Intermix installation -- is on Saturday, December 5th, 8:30 a.m. to 1 p.m.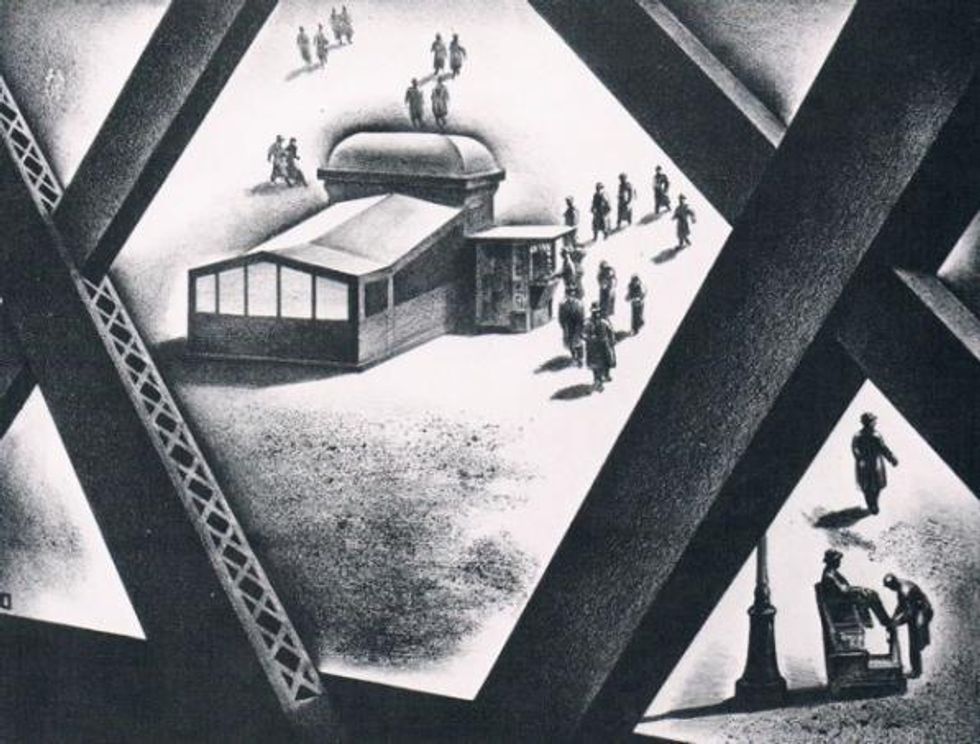 "Subway Station" by Louis Lozowick

The INK Miami Art Fair celebrates their 10th anniversary and maintains their exclusive focus on printmaking and works on paper. They're back in the Suites of Dorchester (1850 Collins Avenue, South Beach) from Wednesday, December 2nd, through Sunday. Highlights include a lithograph by Louis Lozowick called Subway Station, NYC (1936) at Susan Teller Gallery's booth and A World in a Box (2015) by Mark Dion published by Graphicstudio/U.S.F.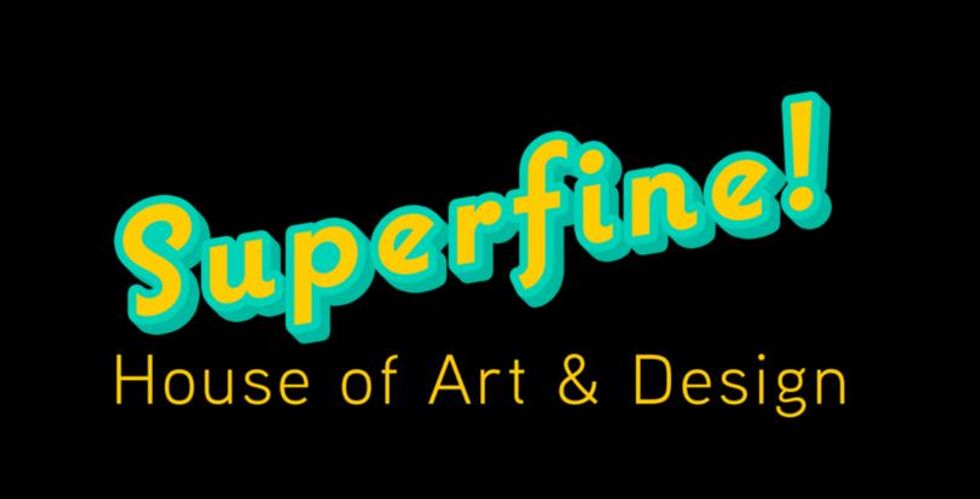 New York-based branding and event collective FAME is popping-up in Miami from December 2 to 6 with their " Superfine! House of Art & Design" (8300 NE 2nd Avenue, Miami) in Little Haiti. They're promising "the arty party of the year" with a big opening night December 2nd, 6 to 10 p.m, featuring a gigantic chandelier installation by Diego Montoya and music all week from Gilligan Moss, Lauv and more TBA. Plus, Afrobeta plays on Friday at a party hosted by PAPER fave, textile artist Karelle Levy.

The fourth edition of UNTITLED Miami is on the beach at Ocean Drive and 12th Street from December 2 to 6, with a big VIP preview on December 1st from 4 to 8 p.m. They've got 119 international galleries along with non-profit orgs from 20 countries. New this year will be an UNTITLED radio station broadcasting via local Wynwood Radio with interviews, performances and playlists by artists, curators etc.
PART 1 of our Mega Guide is HERE.

You May Also Like