Didn't keep up with our mega-ultra-crazy 7-part guide to Art Basel Miami Beach? We're breaking the whole thing down this week into a daily guide, which will be updating through the weekend, adding new exhibitions and parties along the way. If you want to sift through the whole shebang, check it all out here:
Part 1
,
Part 2
,
Part 3
,
Part 4
,
Part 5
Part 6
,
Part 7
.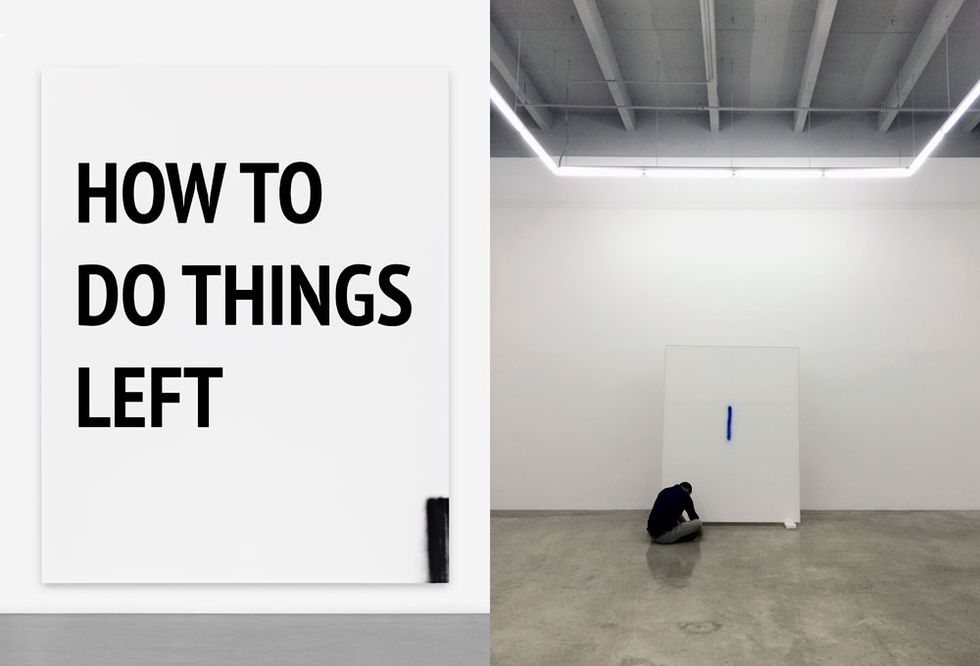 David Ostrowski
 
The Rubell Family Collection
(95 NW 29th Street, Miami)  -- and the Rubell family -- celebrate two big occasions this year: the 20th anniversary of their incredible contemporary art collection and the 50th anniversary of Don and Mera's marriage.  From today to May 29th, they will be showing commissioned solo exhibitions by Will Boone, Aaron Curry, Lucy Dodd, Mark Flood, David Ostrowski and Kaari Upson; as well as a huge show called "To Have and To Hold" featuring key works from the collection, along with a 700-page overview catalog titled "Highlights and Artists' Writings, Volume 1."  On Thursday, December 4th, 9 a.m. to noon, Jennifer Rubell will present a new, large-scale, food-based installation called "50 Cakes."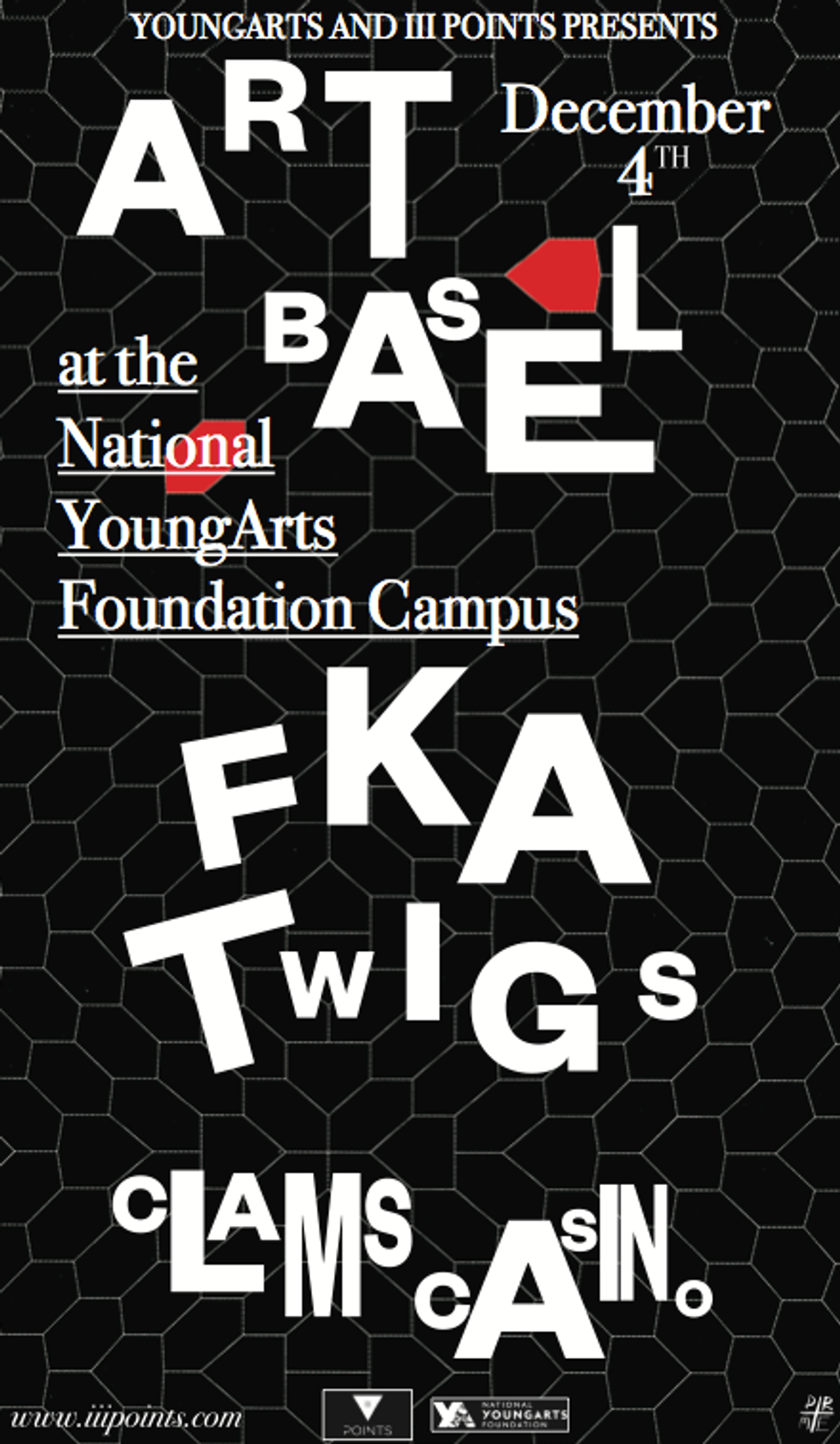 Last year, the National YoungArts Foundation debuted their new home in the old Bacardi building on Biscayne Boulevard and now they're moving ahead with plans to open a restaurant and performing arts space on the top floor called Ted's. Philadelphia's Steven Starr Events will handle the food. Tonight, the up-and coming UK singer FKA Twigs will perform in the courtyard and on Friday,  December 5th, they've booked the Grammy-nominated and Mercury Prize winning recording artist James Blake following a party for MoMA's PS1.  They've also added SBTRKT for a show on Saturday.  Tickets are available
HERE
.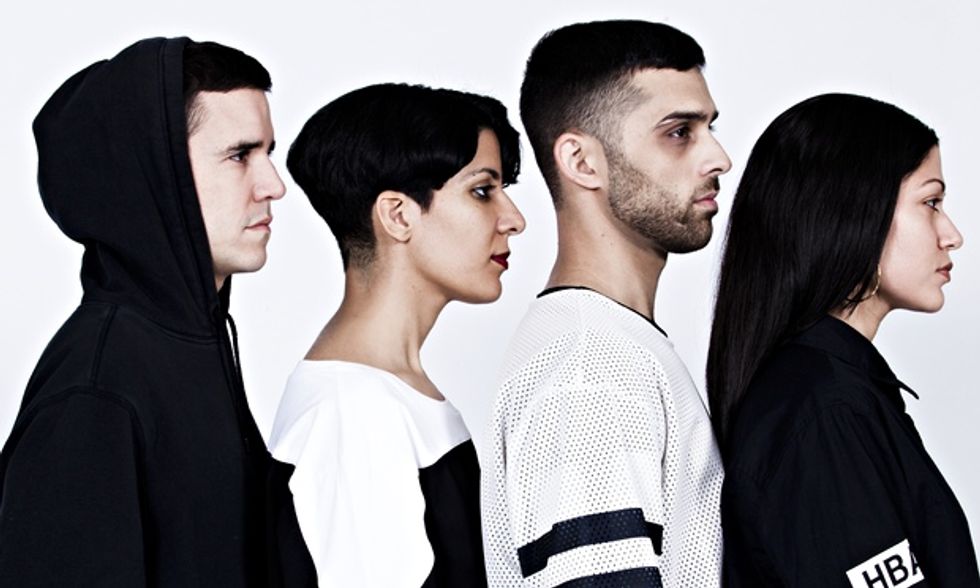 The Perez Art Museum Miami
(1103 Biscayne Boulevard, Miami) celebrates the first anniversary of their new Herzog & de Meuron-designed home with exhibitions by Beatriz Milhazes, Mario Garcia Torres, Gary Simmons, Geoffrey Farmer and more.  They're also hosting a big party on December 4th, 8 p.m. to midnight, with the EDM supergroup Future Brown (Al Qadiri; Asma Maroof and Daniel Pineda of L.A.'s Nguzunguzu; and J Cush, founder of NYC record label Lit City Trax) along with special guests including L.A. singer
Kelela
,) 
Total Freedom
from L.A.'s "Wildness" parties, Ian Isiah and
Maluca
. The band will play on a special stage with a watersports performance on Biscayne Bay as the backdrop.  The party is a
DIS Magazine
and THV Entertainment production.
The Wolfsonian-FIU Museum
1001 Washington Avenue, South Beach) takes a look back at how designers, artists and filmmakers responded to the First World War with an exhibition called "Myth and Machine." The show is divided into three sections: "War Machines," Unknown Soldiers" and "Loss and Redemption."  They've also got an exhibition called "Remembering Tokyo" featuring 30 woodblock prints made between 1928 and 1940 by Koizumi Kishio.  Be sure to check out their cool gift shop when you stop by.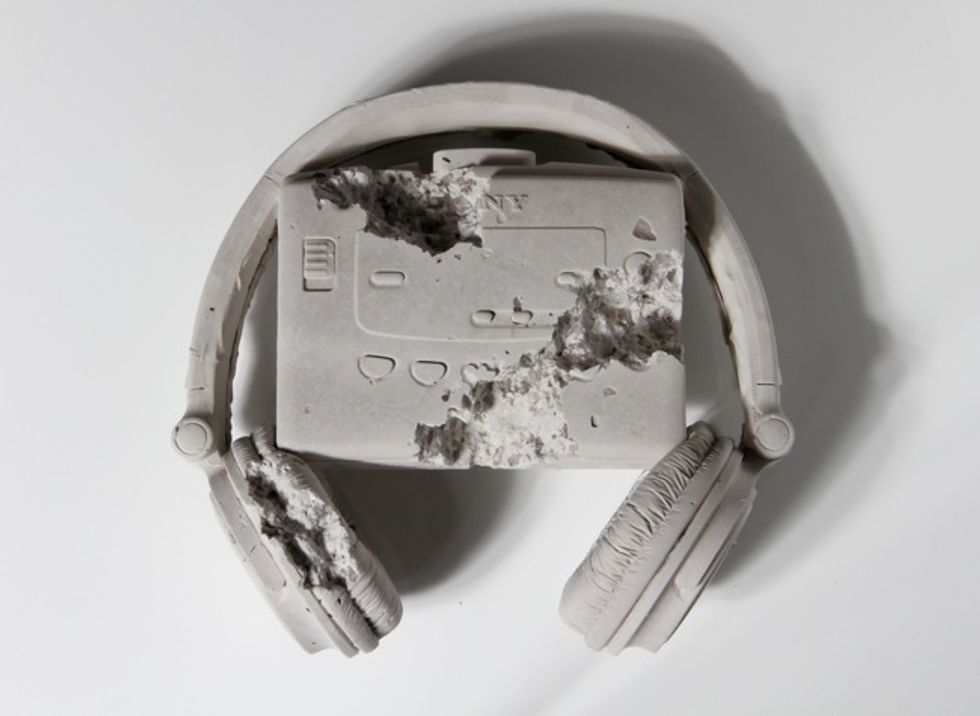 Local Miami gallery,
Locust Projects
(3852 North Miami Avenue, Miami), is presenting Daniel Arsham's first major exhibition in Miami since 2010. Called "Welcome to the Future," the installation will included an excavation of the gallery's floor, filled with thousands of "calcified, 20th Century media devices."  The opening reception is Thursday, December 4, 7 to 10 p.m.  Meanwhile, check out James Franco while he destroys some artifacts
HERE 
in Arsham's new short film.
The Chicago/Aspen-based artist
Paula Crown
is working on a big, site-specific installation called "Transportation: Over Many Miles" in the Design District at 39th Street and 1st Avenue.  The work includes a 25-foot-tall sculpture on a 3,200 square-foot floor, all made from reclaimed wood, glass, Astroturf, metal, plants and sand.  Theaster Gates Design Apprenticeship Program is assisting with the fabrication and Chicago's Studio Gang is the architect.  It will be up from now through March 2015, and there's an opening reception the evening of December 4th.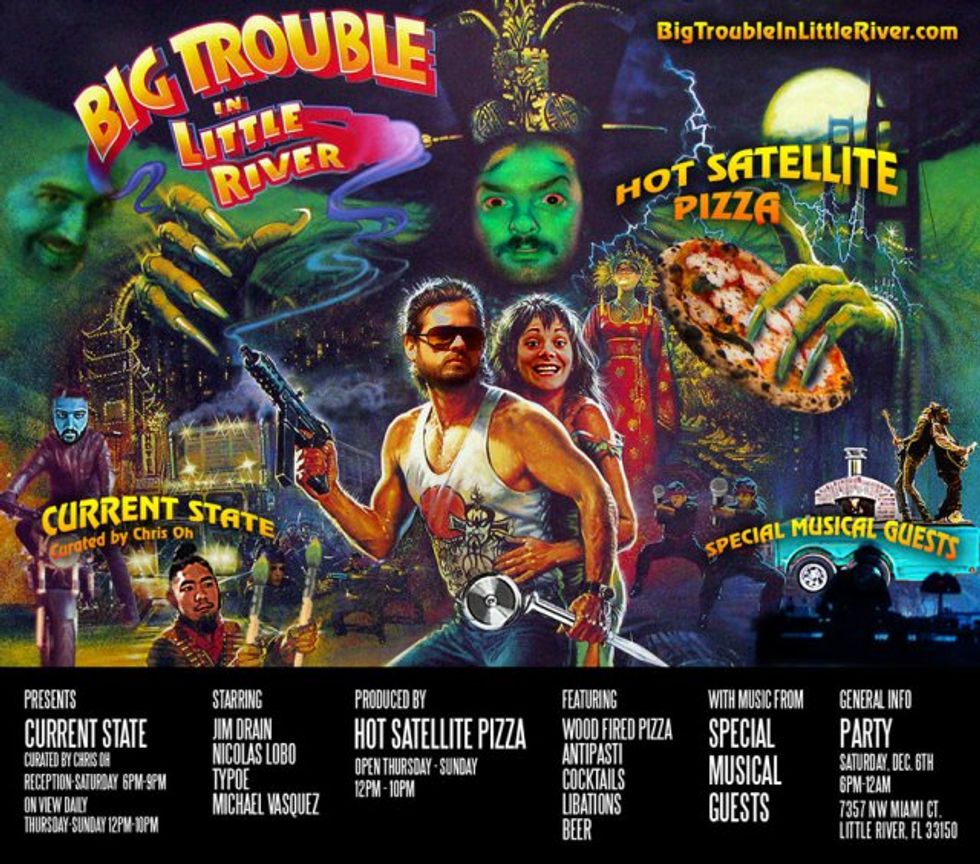 Check out Miami's newest arts district, Little River, with galleries and pop-ups including a group show called
"Current State" curated by Chris Oh
, at 7357 NW Miami Court.  Open daily from today through Sunday with a reception on Saturday night from 9 p.m. to midnight with various DJs.
Also check out the unique collab between
Louis Vuitton and designer Pierre Paulin
in the Design District's new Palm Court (140 NE 39th Street, Suite 326) on view from December 3 to the 5th.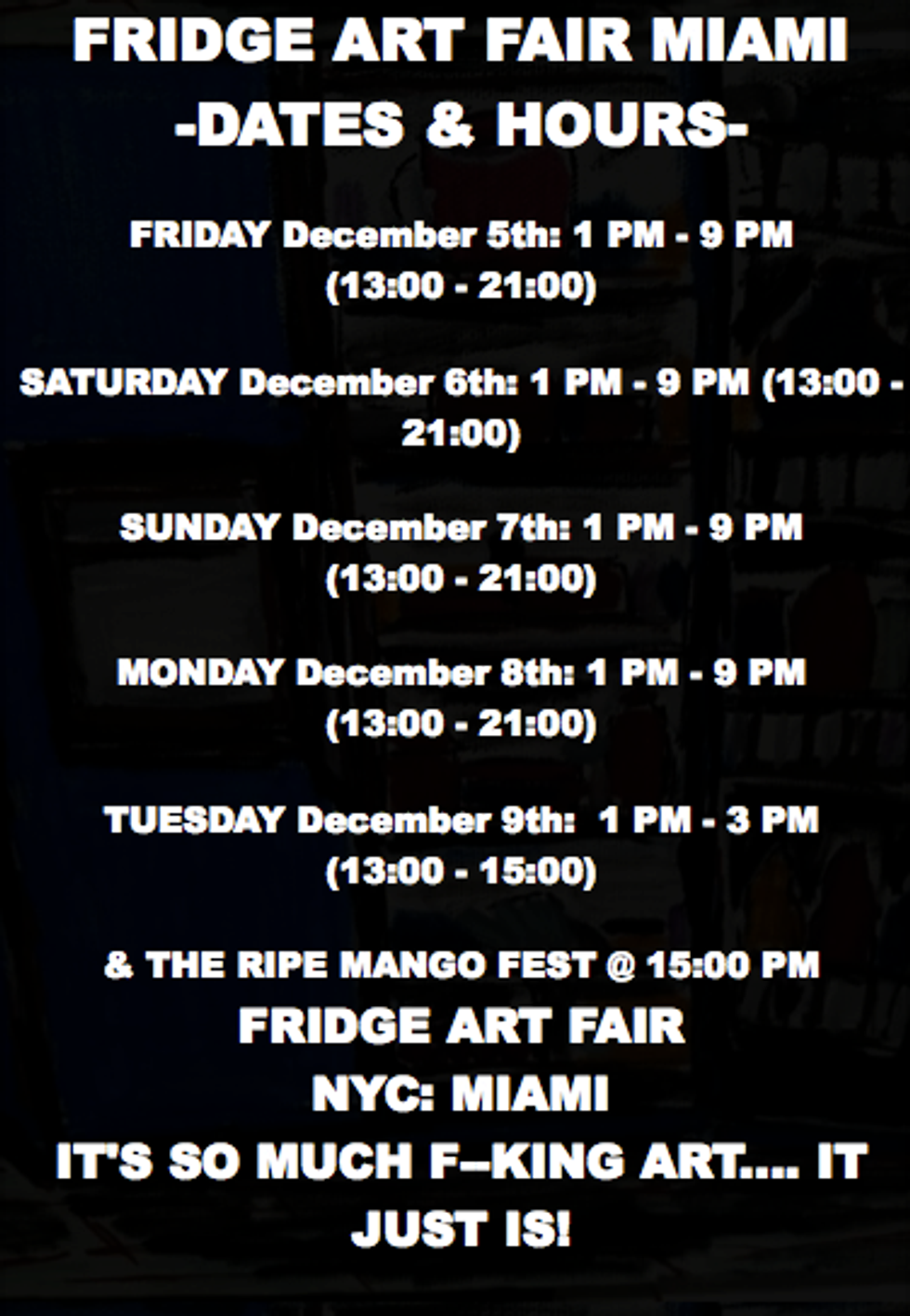 Fridge Art Fair
  returns for second year, this time at The 3rd Street Garage (300 SW 12th Avenue, Miami) from December 4 to 9. Their "Mega Mango Miami: The Great Opening" preview is on Thursday, December 4, from 2 to 8 p.m., with an afterparty at the infamous "den of iniquity,"
The Ball & Chain
(1513 SW 8th Street, Miami) in Little Havana starting at 9 p.m. This fair started in NYC's LES in 2013 and founder Eric Ginsburg
has the
right attitude: "People should not be afraid to go and see art, and it should not cost a fortune." 
Perrier-Jouet launches a new, year-long collaboration with the Vienna-based art duo
mischer'traxler
(ne' Katharina Mischer and Thomas Traxler) called "Small Discoveries."  Their aim is "to tell the story of the magical dialogue between nature and mankind" and they've created a work called "Ephemera" that will be on view at Design Miami through the 6th.
The Gale Hotel (1690 Collins Avenue, South Beach) -- that's the spot that hosted PAPER's "Tiki Disco" pop-up last year -- will open a special "rooftop" edition of the
Disaronno Terrace
  from 7 to 10 p.m. on December 4th.  DJs are TBA.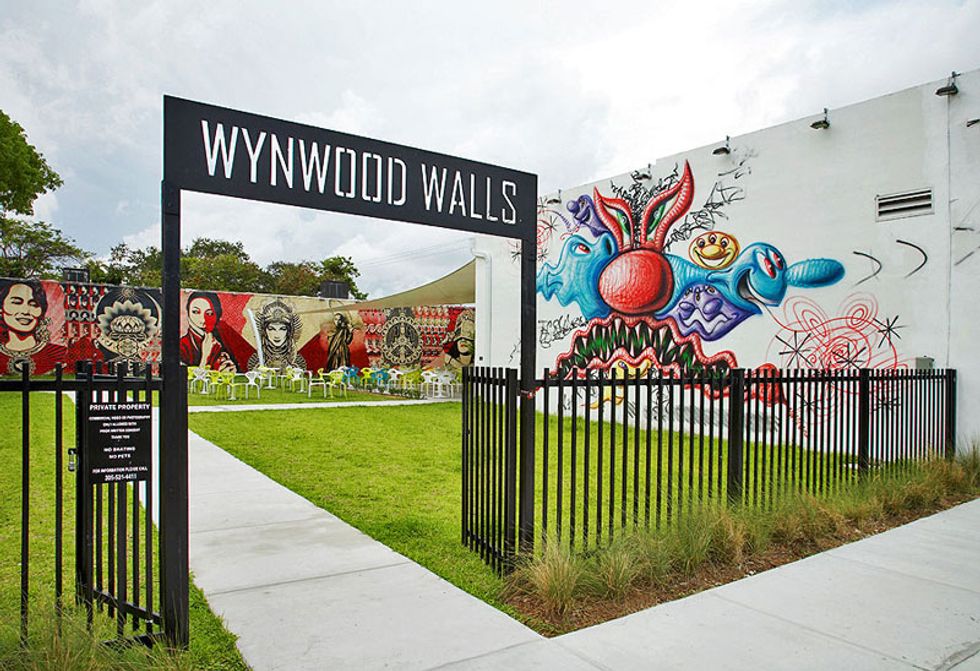 Over at
Wynwood Walls
, they're planning several new mural collabs featuring teams like Shepard Fairey X Cleon Peterson, Pose X Revok, Haas X Hahn and Faith 47 X Alexis Diaz.  Also Swoon and Case will each contribute solo works and Kenny Scharf is updating his existing mural.  Detroit gallery
Library Street Collective
  will have a pop-up space nearby and they're programming artist talks and a book/print signing fair. The blocks around NW 2nd Avenue and 26th Street have become a gigantic arty-party during the area's monthly "Second Saturday" art walks, but the congestion has some Wynwood veterans seeking space elsewhere.
Fredric Snitzer,
owner of one of the only two local galleries showing in the convention center and who plans to move from Wynwood to downtown Miami, recently told
Miami New Times
:  "Wynwood has become too hectic and lost its vibe." But Jessica Goldman Srebnick, Wynwood Walls' chief curator and daughter of Tony Goldman, hopes their "Art of Collaboration" exhibition can "encourage and inspire greatness" and claims: "The growth of Wynwood as a mecca for the arts is the result of great collaborations."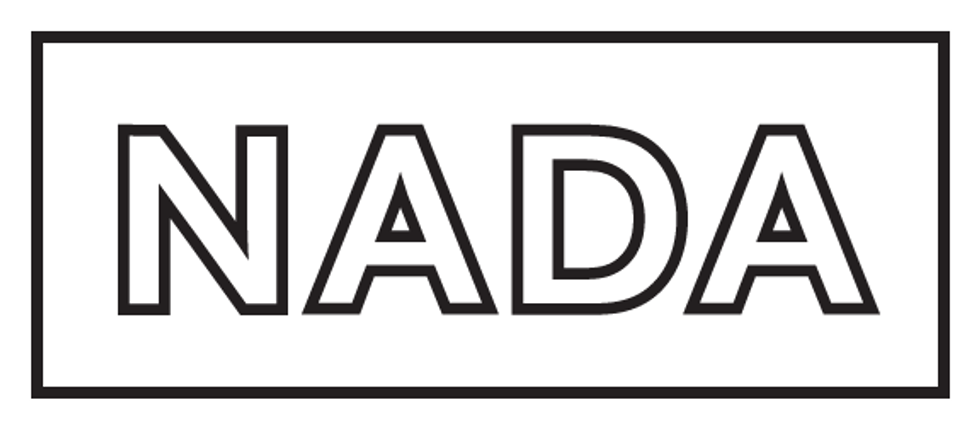 The
NADA art fair
at the Deauville Beach Resort (6701 Collins Avenue, Miami Beach) will host their "invite only" opening preview on Thursday, December 4, 10 a.m. to 2 p.m.  After that, admission is free and it's open to the public daily through December 7th from 11 a.m. to 8 p.m.  You can also preview the fair on
Artsy
. For 2014, they've partnered with Contemporary Art Daily, Print All Over Me and the
15th Artadia Award
.
Print All Over Me
will be doing special "artist editions" of clothing using images created by Jose Lerma, Amy Yao and Sarah Braman.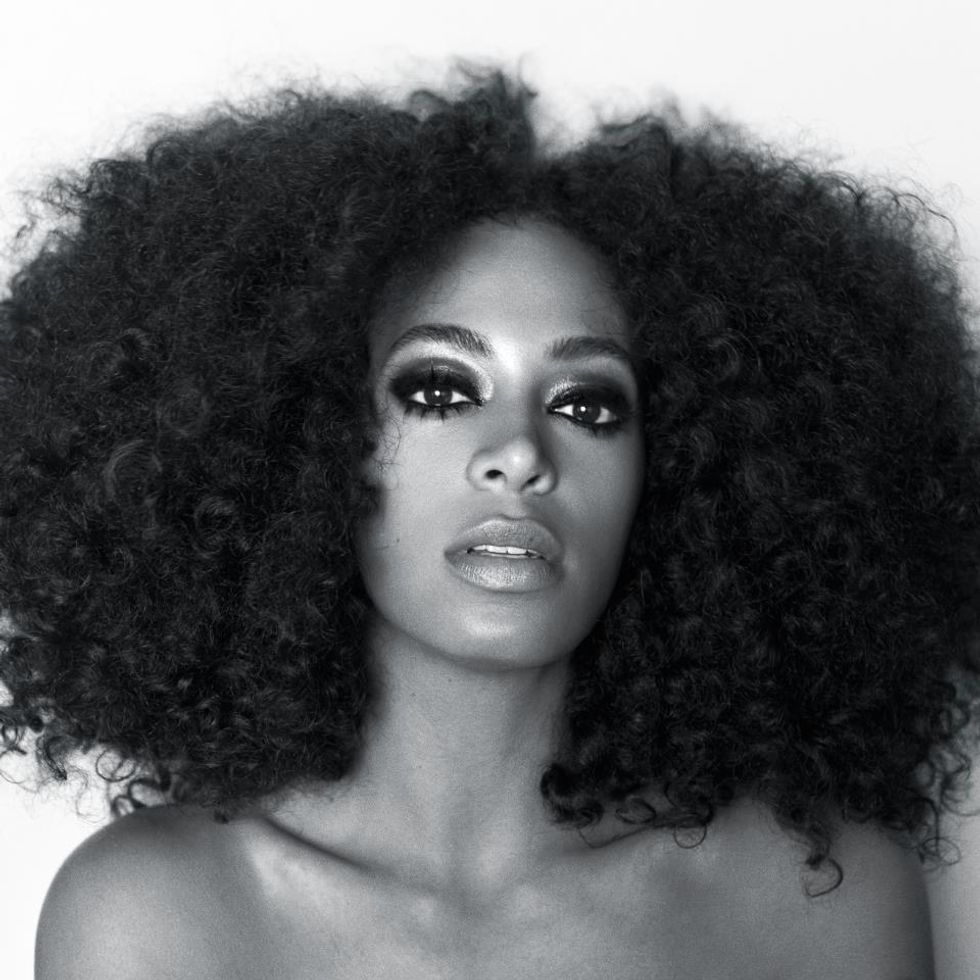 Montauk's Surf Lodge also hosts a pop-up in the Deauville during the week with various events including Paul Sevigny's Baby Grand open late from Thursday through Sunday.
 Solange performs tonight at an invite-only party for Out Of Order Magazine.
The
PULSE
fair is moving to Indian Beach Park (4601 Collins Avenue, Miami Beach) up by the Eden Roc Hotel for their 10th year in Miami. Their private preview brunch is on Thursday, December 4, 9 a.m. to 1 p.m. and then it's open daily through the 7th.  Tickets are available
HERE
. As part of their PULSE Projects, they are featuring a work by the Ontario-based artist Shayne Dark called "Tangle Wood" and also an audio installation by Jenna Spevack called "Birds of Brooklyn."  Their new media and video art section, PULSE Play, will be presented by Tumblr and curated by Lindsay Howard.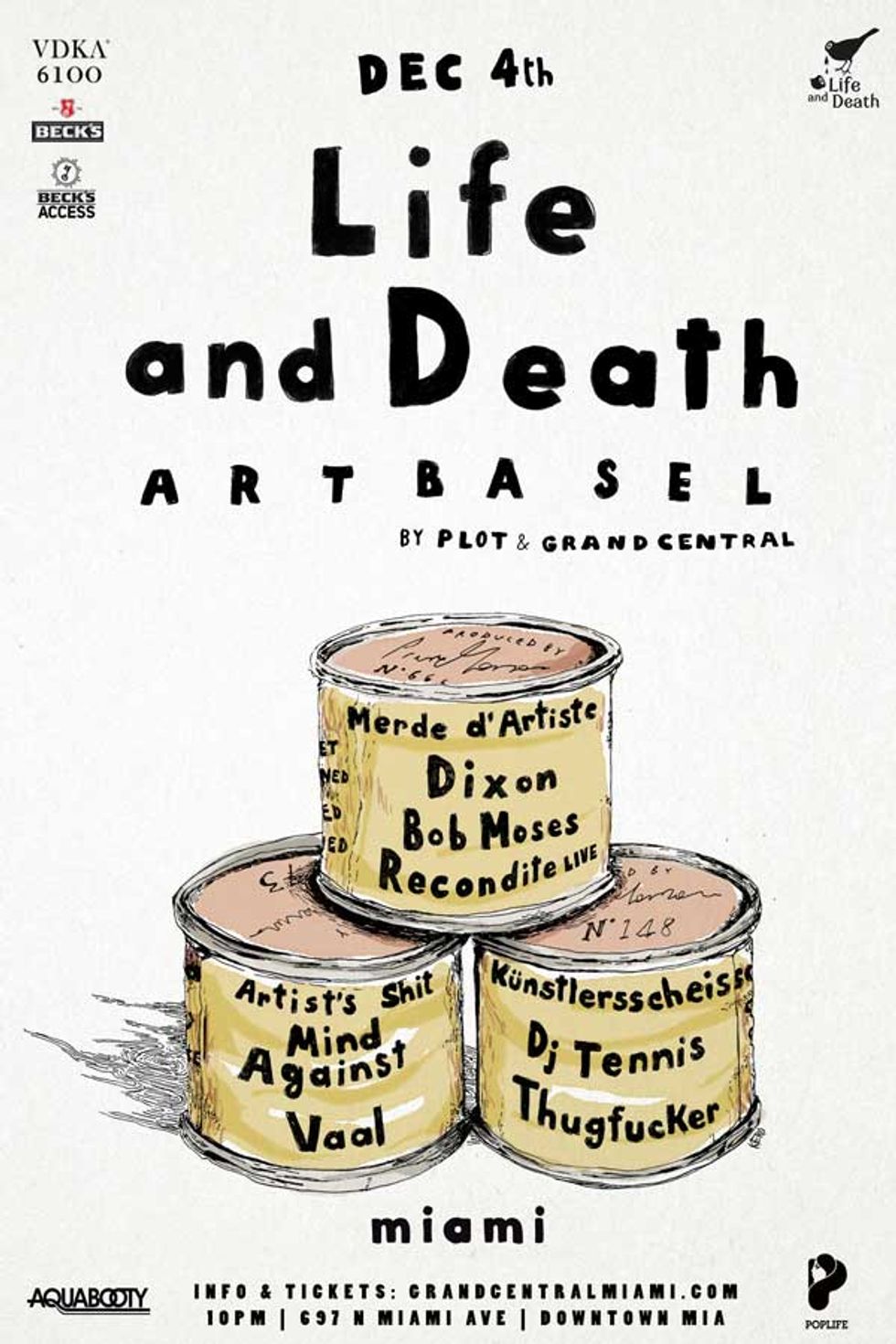 Electro record label
Life and Death
is hooking-up with PLOT and Miami promoters Poplife and Aquabooty for a big showcase/party on December 4th at Grand Central (697 N Miami Avenue, Miami) nightclub. The line-up for the night includes Dixon (Innervisions), Bob Moses (Domino Records), Recondite, Mind Against, Thugfucker (Life and Death) and DJ Tennis; plus the Miami debut of Vaal.  Tickets are available
HERE
.
The third annual
Miami Street Photography Festival
will take place from December 4th to the 7th at Kike San Martin Studios (2045 NW 1st Avenue, Miami) in the Wynwood Arts District.  This year's featured guests include Magnum photographers Alex Webb, Susan Meiselas and Constantine Manos; poet/photographer Rebecca Norris Webb and National Geographic's Maggie Stebber.  The festival is a partnership with
Leica Camera
.
Over in the Design District, Miami's new "luxury shopping" destination, a hybrid fashion store/design exhibition/art installation called
"The World of Mr. Somebody & Mr. Nobody
" featuring
Walter Van Beirdendonck
and
Bernhard Willhelm
  will be open from December 1st to 15th, 11 a.m. to 8 p.m. daily at 91 NE 40th Street.  Fashion from the Belgian "mavericks" will be juxtaposed with photography by
Miles Ladin
, graphic works by Peet Pienaar (http://miista.com/peet-pienaar/) and clothes by Superella in an extravaganza hosted by Craig Robins, Sharon Lombard and Cathy. VIP opening is on December 4th with music by Dirk Bonn and drinks by Chris Adamo.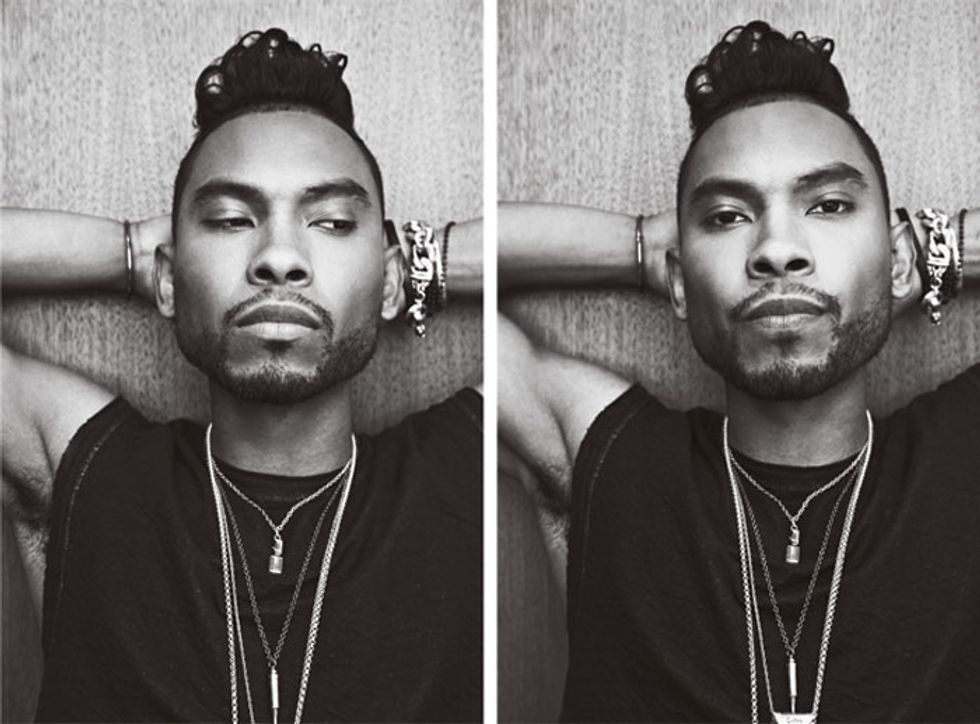 Miguel

Russell and Danny Simmons celebrate the 5th anniversary of their "
Artisan Series
" with a big party for the 2014 finalists and winner -- and a special performance by
Miguel
-- at Soho Beach House (4385 Collins Avenue, Miami Beach) on Thursday, December 4th.  Since 2010, they've searched for and helped emerging artists by showcasing their work during AB/MB.  This year's big winner will also receive a solo show during SCOPE NYC in March 2015.  Bombay Sapphire has collab'd and sponsored since the inception.
Miami-based footware brand
Del Toro
  (2750 NW 3rd Avenue #22, Miami) is also celebrating the second anniversary of their Wynwood boutique on Thursday, December 4th, from 4 to 7 p.m.
Pinta Miami Art Fair
-- featuring modern and contemporary Latin American art -- opens today at Hyde Suites & Residences (3401 NE 1st Ave., Midtown Miami) and runs through Sunday.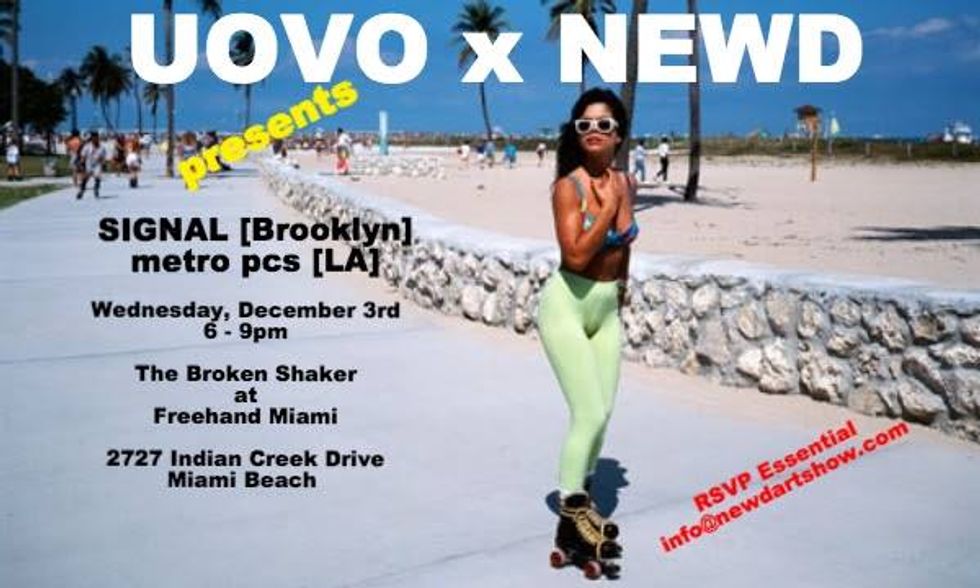 The fab FREEHAND Miami (2727 Indian Creek Drive, Mid Beach, Miami) hotel has an action-packed schedule for the week, including cool installations from Bushwick's
Signal Gallery
  and the LA project space
Metro PCS
presented by UOVO Fine Art Storage and the
NEWD Art Show;
a party to celebrate the re-launch of the NYC-based streetwear company British Knights on Thursday, December 4th from 10 p.m. to midnight; a "Dreamcatcher Workshop" to benefit Free Arts NY on Friday, December 6th, from 4 to 6 p.m. (tickets are
HERE
) and a big launch party for a new art and culture mag called Nah/No Magazine on Saturday afternoon from 2 to 6 p.m.

Last year's winner of PAPER's "Best New Nightclub" award,
Bossa Nova Civic Club
, is doing a pop-up during AB/MB on Thursday, December 4th, 10 p.m. to 5 a.m. at Gramps (176 NW 24th Street, Miami). DJs are Jacques Renault, Marcos Cabral, Aurora Halal and DUST.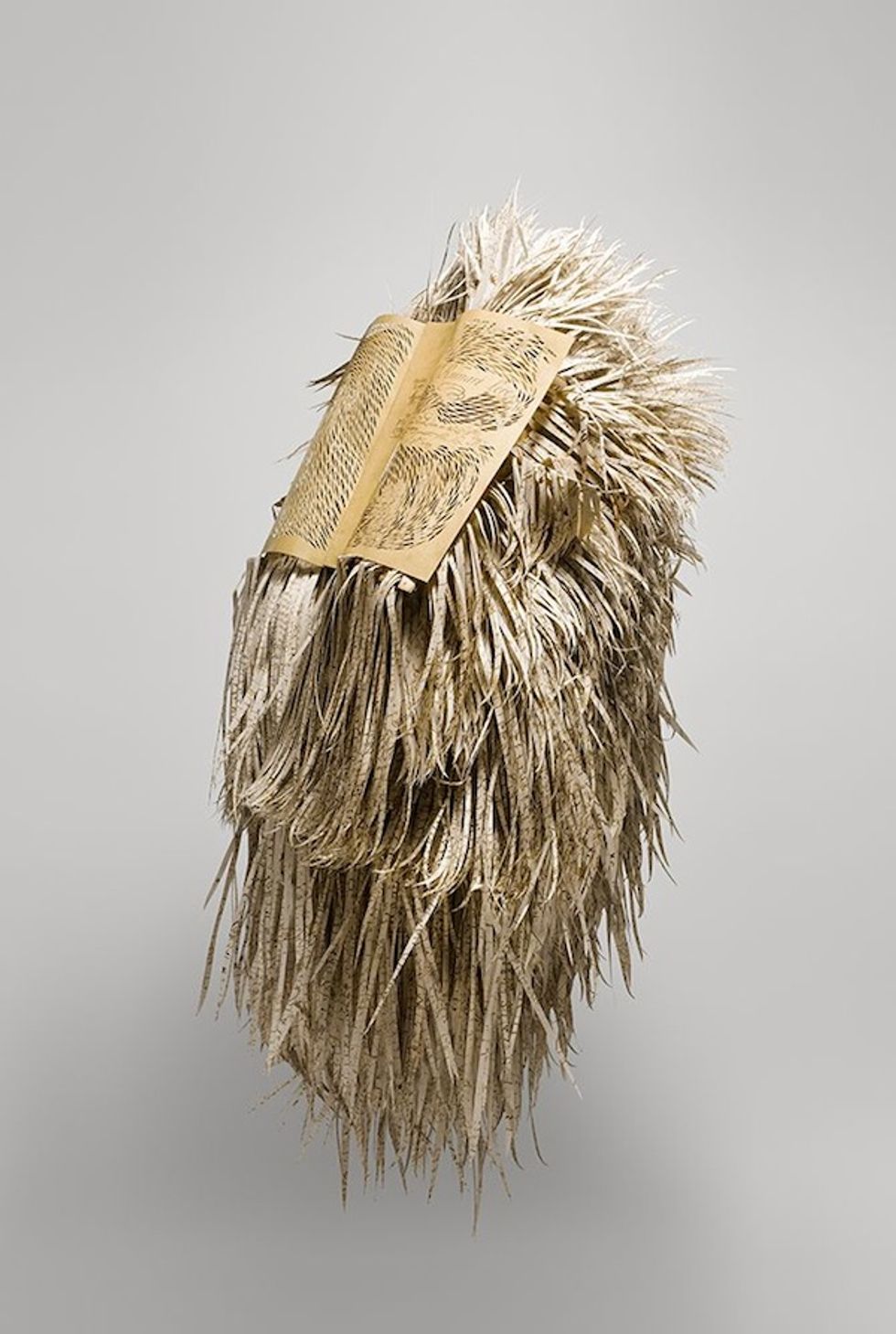 Scottish artist
Georgia Russell
-- she's known for slicing and dicing old books, newspapers etc. -- is creating limited-edition "ornaments" to display bottles of Ruinart Champagne's Blac de Blancs that are inspired by the etchings in Maison Ruinart's chalk quarries.  She also crafted a large sculptural version of the company's 18th-Century ledger.  The artist sees the works as "a continuation of my practice of cutting paper to bring the past into the present." 
Ruinart Champagne
  and
Public Art Fund
are hosting a private brunch today in her honor at Morimoto in the
Shelborne Wyndam Grand South Beach
(1801 Collins Avenue, South Beach).
The art duo of Jonah Freeman & Justin Lowe will do their performance piece "Shadow Pool, A Natural History of the San San International" "somewhere in the EDITION on December 4th at 10:30 p.m.  Lots of galleries and museums including the New Museum, PAMM, Gavin Brown and Lehmann Maupin are hosting private events in the hotel.  Plus it looks like
Visionaire's party for John Baldessari's issue #64
is happening there on December 4th, 7 to 10 p.m., in the garden; and Surface magazine is hosting a "Design Dialogue" with Hans Ulrich Obrist, author of Ways of Curating, also on the 4th.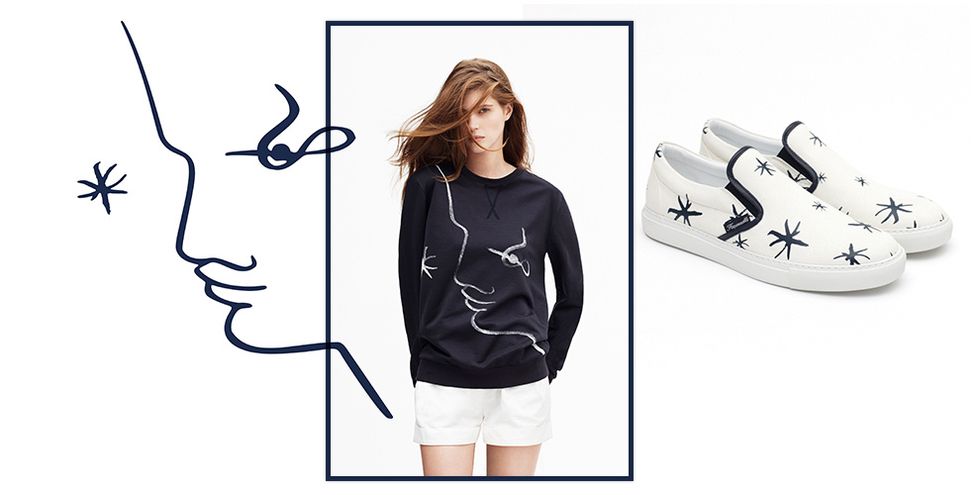 The Webster
(1220 Collins Avenue, South Beach) launches a Faconnable X Jean Cocteau capsule collection on Thursday, December 4th, with a private cocktail party. 
De Nolet and Ketel One Vodka
host 2 big nights of art, music and mixology at SoHo Studios (2151 NW 1st Court, Wynwood, Miami) with Twin Shadow headlining (plus The Knocks DJ set) on December 4th and Cashmere Cat and Midnight Magic on the 5th.  RSVP and 21+ mandatory.
Paul Kasmin Gallery'
's
PK SHOP
and Maison de Mode open a collab, pop-up called LIGHT SHOP in the Soho Beach House (4385 Collins Avenue, Miami Beach) from December 4th to 7th, 11 a.m. to 6 p.m., daily.  Look (and shop) for artist editions by Mattia Bonetti, Saint Clair Cemin, FriendsWithYou, Jen Stark, Courtney Smith and more.
The Shore Club
(1901 Collins Avenue, Miami Beach). hosts a private BBQ with Island Records' founder Chris Blackwell on Thursday with fresh fish, reggae sounds and rum cocktails.  Also, check out the backgammon boards designed by Daniel Chadwick.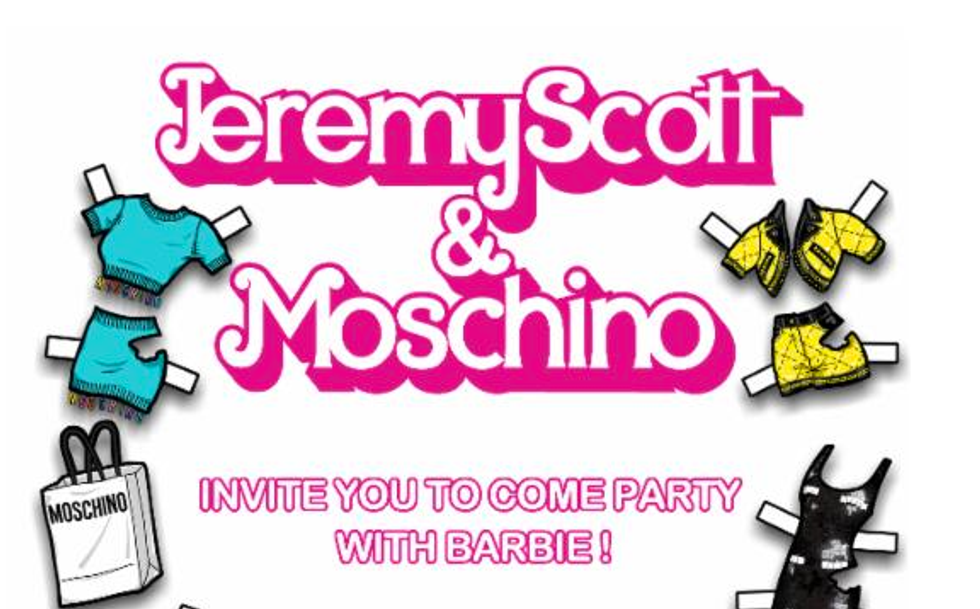 Jeremy Scott and Moschino are having a party with Barbie on December 4th, 9 p.m. to midnight, at the Thompson Miami Beach (4041 Collins Avenue).  RSVP mandatory.
Miami photographer Robert Curran plans to open a new art gallery in the Design District during AB/MB.  Located at 74 NE 40th Street, the space will house an exhibition called "Anthology" featuring photos from his global travels over the last 20 years.  It's open daily during AB/MB and there's a private, VIP-only opening on December 4th -- supermodel Petra Nemcova is expected to attend. 

Luxury Italian mosaic house
Bisazza
and Emilio Pucci celebrate the US debut of "BISAZZA wears EMILIO PUCCI" with several rounds of Veuve Clicquot at the Bisazza Miami flagship store on Thursday evening.  RSVP mandatory.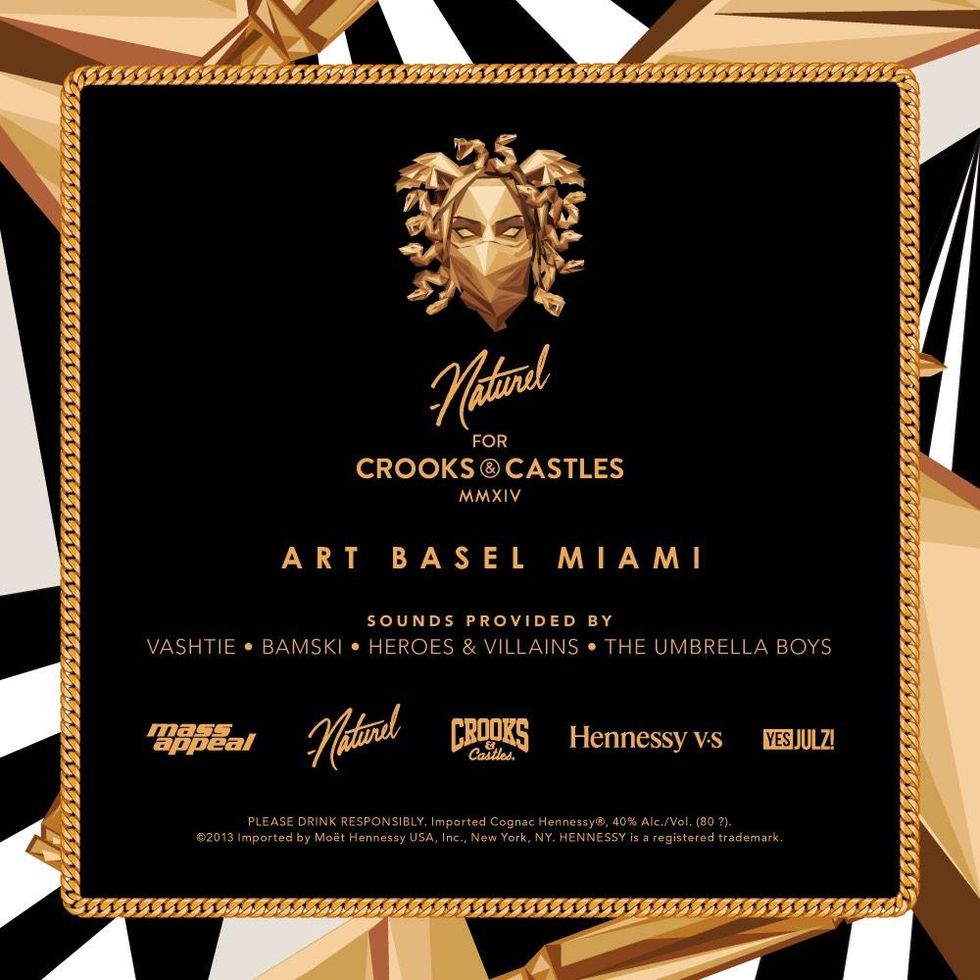 California-based clothing company Crooks & Castles hosts a private "Castles in Miami," for Art Basel with artwork by artist Naturel and music by Va$htie and Hereos x Villains. Invite-only.
Frederic Thut's Fine Art Auctions Miami (346 NW 29th Street, Miami) holds their annual Important Paintings & Sculptures auction on December 4th.  All the deets are
HERE
.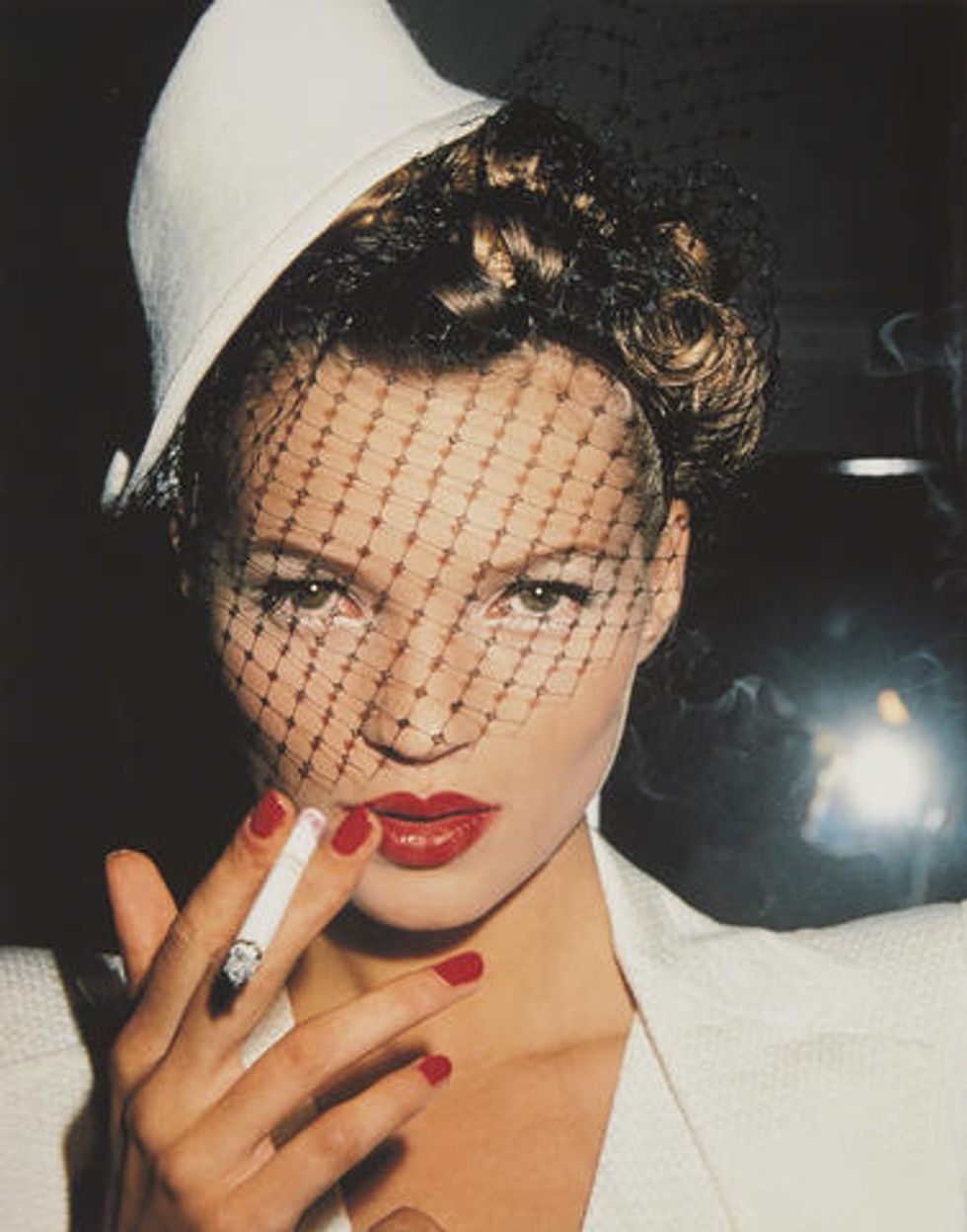 Kate Moss by Roxanne Lowit.
Bonhams Auction House opens a pop-up featuring fashion photography from December 4th through the 7th, 10 a.m. to 6 p.m. daily, at Biscayne Beach (711 NE 29th Street, Miami).  The exhibition, "The Art of Fashion Photography," includes works by Roxanne Lowit, David LaChappelle, Frank Horvat, Kelly Klein, Miles Aldridge, Irving Penn and more.  The VIP preview is on the 3rd.  The works will be auctioned in NYC on December 17th and all the deets are
HERE
.