Tonight's the night to cram it all in, folks -- there's A LOT of awesome stuff happening. Below,
we've compiled our findings into a calendar for your perusing pleasure. (Listings aren't sorted in a particular order, so read carefully). You can also find a complete collection to all of the week's best art shows, shindigs, concerts and other fun to-dos here. Happy arty-partying!


THURSDAY, DECEMBER 1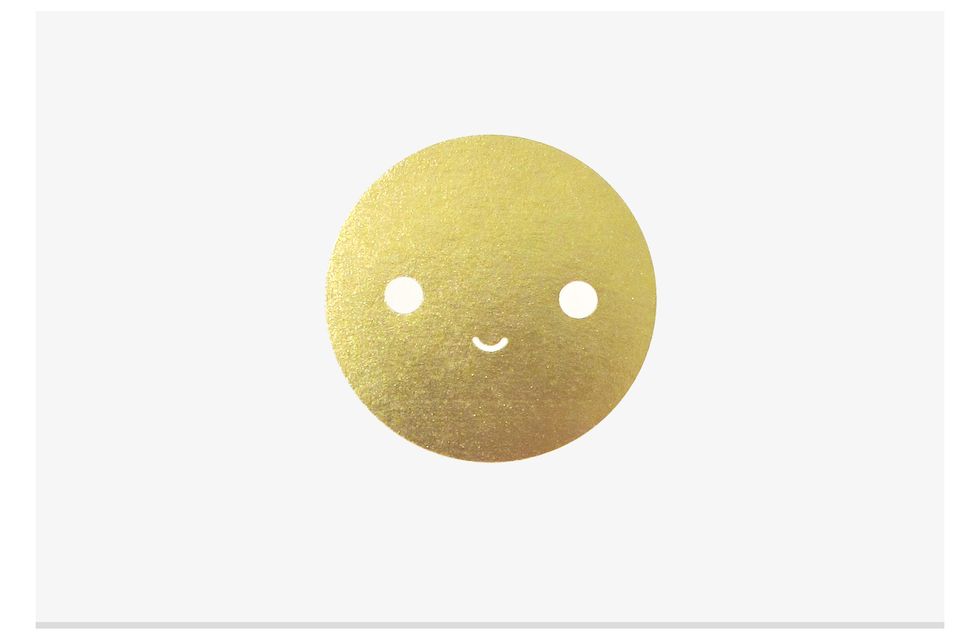 FriendsWithYou has a new exhibit called "Inner Space, the Secrets of the Unknown" at their world headquarters in the Design District's Melin Building (3930 NE 2nd Avenue, Suite 202). The opening is tonight at 7 p.m.

The super-cool OHWOW gallery is back with the fourth edition of their It Ain't Fair (81 NE 40th Street, Design District, Miami). This big group show is called "Materialism" and features works by artists including Daniel Arsham, Ashley Bickerton, Scott Cambell, Luis Guispert, Aurel Schmidt, Aaron Young and many many more. It's all FREE and open to the public from December 1st to 4th, with a opening night live performance by New York-based artist Michael David Quattlebaum, Jr. (who's featured in our "Lives of the Party" feature from our October Nightlife Issue as a "New Goth") tonight, 6 p.m. to 9 p.m. Don't miss it.

Jewelry designer Luis Morais (whose stuff you can find on Mr. Porter) will be selling his full collection plus exclusive pieces through his studio at 235 Lincoln Road Suite 301, today through Dec 4th.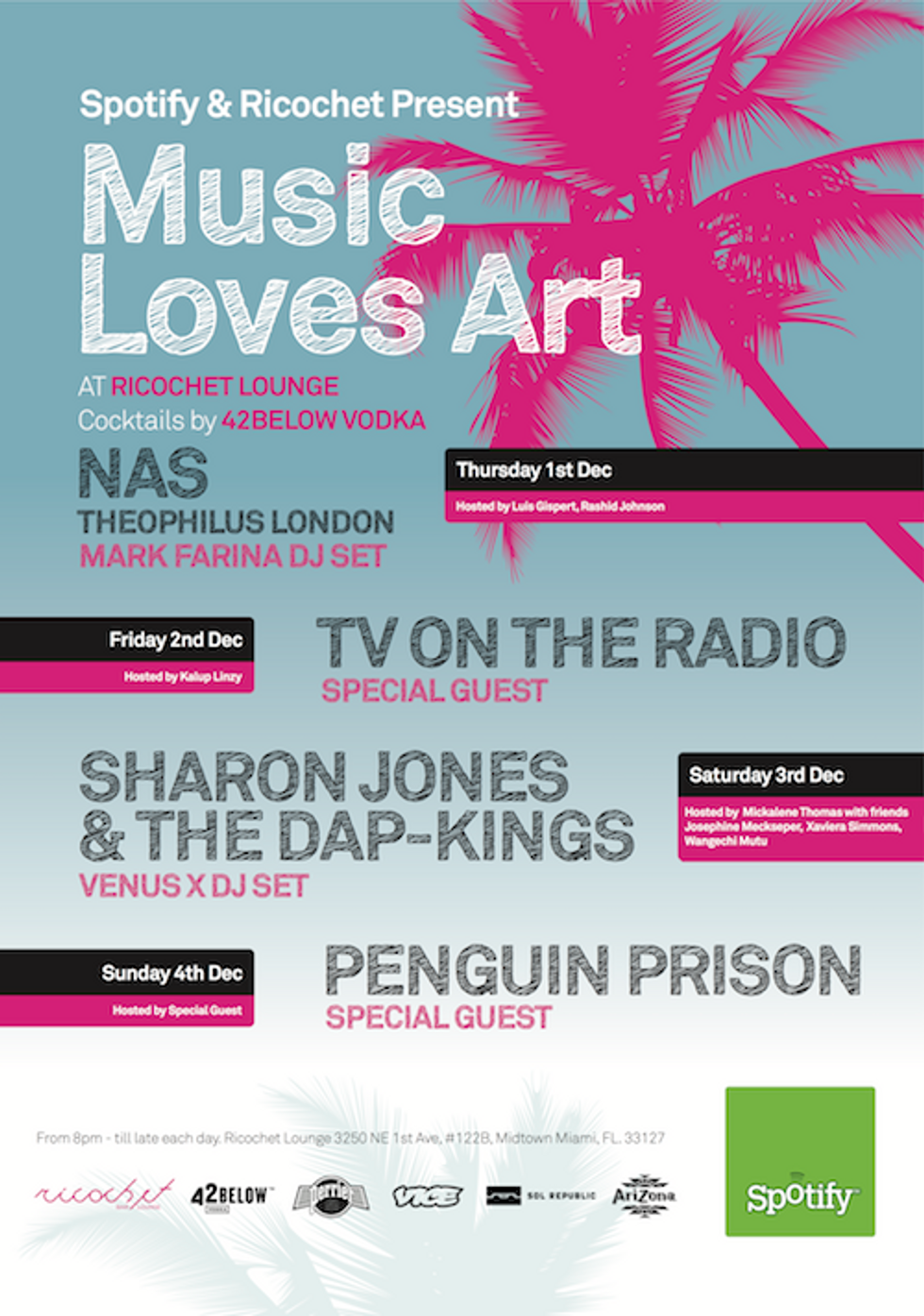 Spotify
hosts a four-day music and art party at Midtown Miami's hottest new club Ricochet starting tonight with music by NAS and Theophilus London. It's
not open to the public
.
There's a party for
Mark Ryden's retrospective book Pinxit
at the
Soho Beach House
hosted by Benedikt Taschen, Paul Kasmin and Michael Kohn tonight. Ryden's latest work will also be on view at the Michael Kohn Gallery booth at Art Basel Miami Beach.
After his big exhibit and PERFORMA 11 battle of the rap MCs at Marlborough Chelsea,
Rashaad Newsome
is heading to Miami to stage a new performance piece called "Hair Affair & Five" that will include local dancers, opera singers and hip-hop artists. There's a VIP preview today at 10 a.m., at the
Miami Art Museum
(1010 West Flagler, Miami) and another that evening during the museum's annual "Party on the Plaza."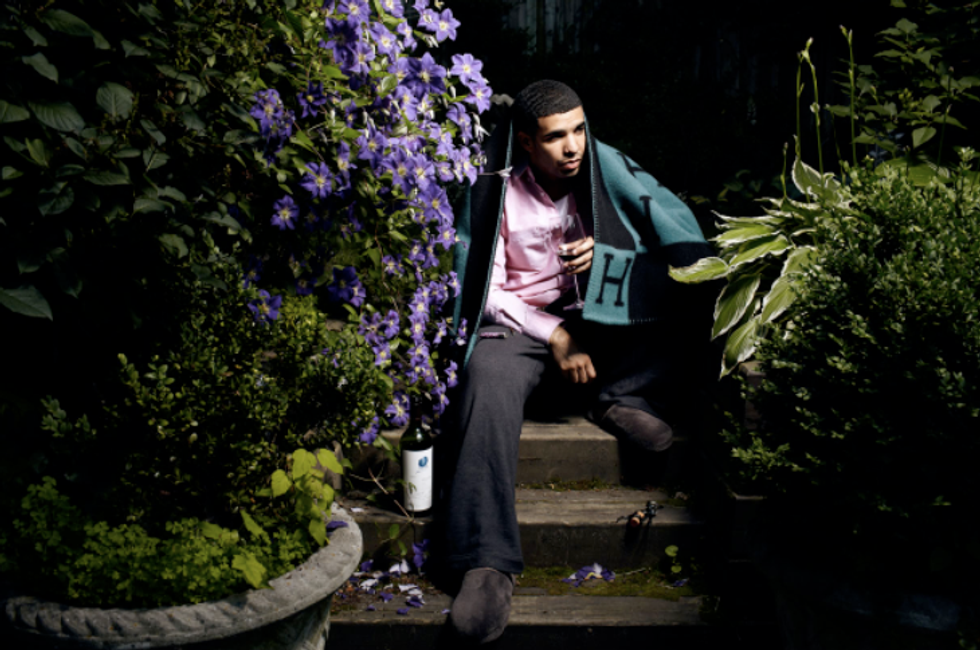 "Classic," featuring photographer Jonathan Mannion's portraits of Jay Z, Biggie, Mos Def, DMC, Drake and Ludacris, opens tonight with a private party at AE District. Mannion, Rick Ross, DMC, A$AP Rocky and "special guests" will also be in the house. 8 p.m.
Pulse Art Fair
is having a party tonight from 6 p.m. to 9 p.m. with New Orleans'
"lounge-crunk" band Jean-Eric.
There's a book signing for photographer
Todd Eberle's Empire of Space
at
the Standard Hotel
from 5 p.m. to 7 p.m.

San Diego Surf
Interview Magazine and the Andy Warhol Museum present a sneak preview of unseen Warhol film
San Diego Surf
from 9 p.m. to midnight at
the Standard Hotel
.
LVMH and Nowness.com are celebrating the film premiere of
Marina Abramović The Artist Is Present
at
Soho Beach House
from 7 p.m. to 10 p.m.
IAMSOUND
presents Harmony Korine's
Caput
featuring James Franco at
the Mondrian
.
Pharrell Williams is presenting the Montblanc de la Culture Arts Patronage Award to Design Miami co-founder Craig Robbins on December 1st in the Moore Building (4040 NE 2nd Avenue, Miami). Paul Sevigny is DJing.
Poltrona Frau and Wallpaper magazine host
the debut of the 2011 Baccarat limited-edition lighting collection
on Thursday at the Poltrona showroom (3800 NE Miami Court, Miami).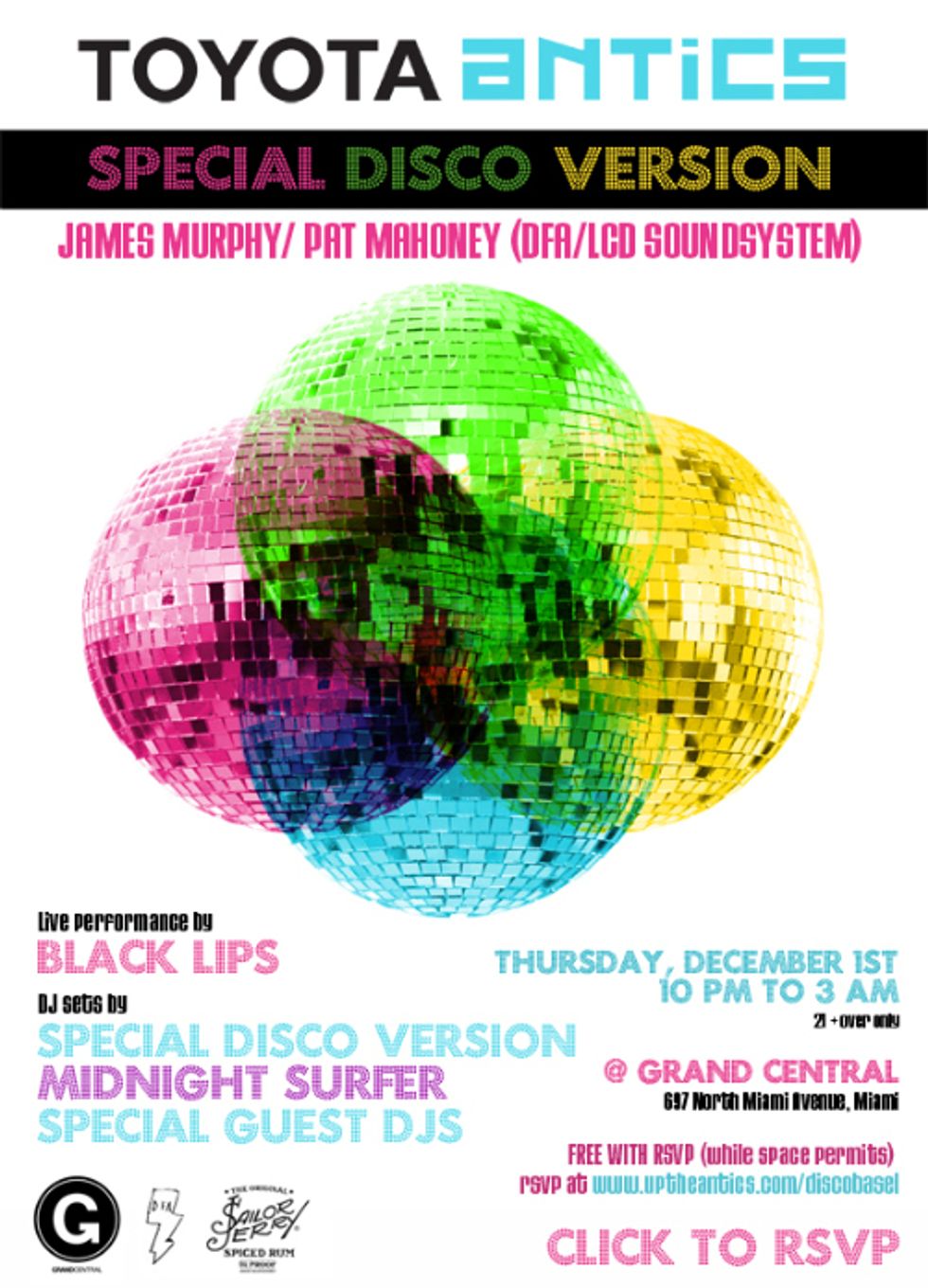 If you missed the NYC stop on the
Toyota Antics/Special Disco Version tour
, you'll get another shot when James Murphy and Pat Mahoney play Grand Central (697 North Miami Avenue, Miami) tonight. There's also a live performance by Black Lips and it's all FREE with an RSVP
here
. 
YACHT
is playing at
The Electric Pickle Company
(2826 North Miami Avenue, Miami) tonight.
DJs Mike Nouveau and Mia Moretti spin at the
Refinery29 Miami launch
at Cafeina (297 NW 23rd Street, Miami).
Jake Shears from the Scissor Sisters is DJing at
the Lords Hotel
at midnight.