Right after waking up for the second time yesterday (this time in the afternoon), I found my wife Martina sitting in my living room with this look on her face like she experienced an out-of-body experience and I wanted some of that so I asked her to spill. She said no. Persisting or, as she puts it, breaking her balls, I got it out of her that she spent the morning at Soho Beach House at a panel with Bret Easton Ellis. He is, and has forever been, her favorite author, so she went on and on and on and on. As far as I am concerned, I read the first chapter of Less Than Zero before catching an acute case of ADHD so I had to put it down, but apparently he is a real boss and here is why:
The following, as reported by Miss Lovestruck Marti, is an accurate but not exact list of Best Quotes of the Week courtesy of Mr B.E.E.
Fan: I love American Psycho! Although by saying it I endanger my solid Feminism credentials! What do you think?
B.E.E: I think "feminism credential" just shot a chill down my spine.
Fan: Are you going to write about the Millennials?
B.E.E : Although I have been living with a Millennial for the past 5 years now, I stay with my Generation Wuss opinion. I cannot shake off the news of a college student who found a mouse in her dorm room and for that had to seek counseling and sued the school.
Fan: How involved are you in the making of the movies based on your books?
B.E.E : They asked me to approve of Christian Bale as Bateman so I went to dinner with him in LA. He was dressed as Patrick and in character all night, which is a lot less fun than what it sounds. Mid-dinner I just had to tell him "Stop."
Of this last quote, I also have dined with many different American psychos and let me tell you… "STOP" is exactly the right thing to say.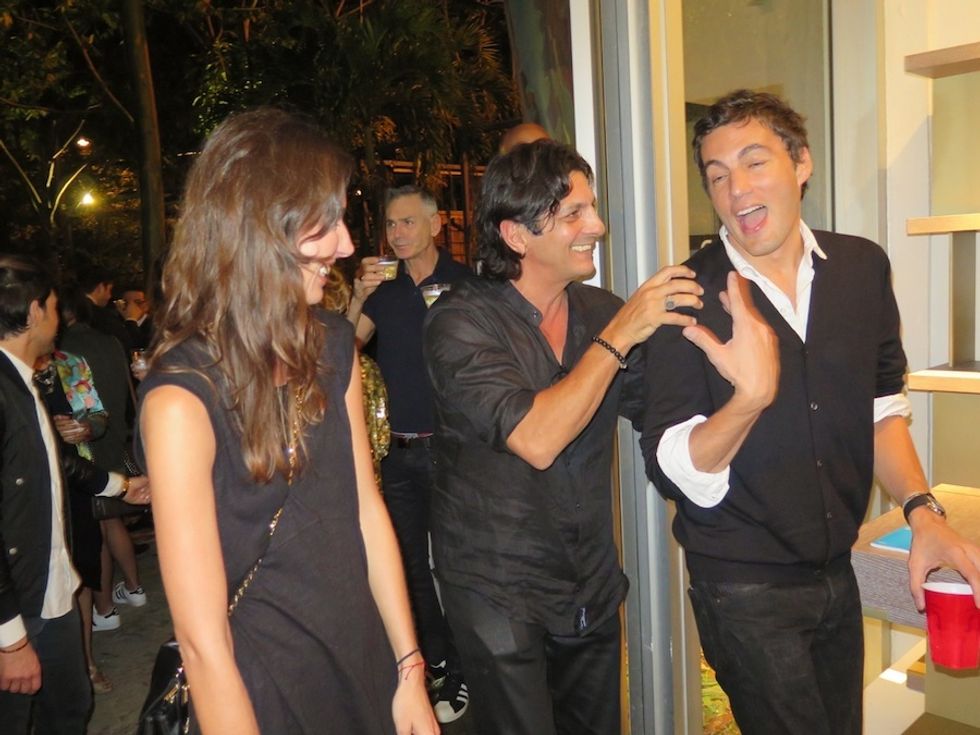 The afternoon proceeded with a ruthless match of Call of Duty, until I looked at myself in the mirror and realized that there was absolutely no way I was going to go to the Juanes concert at American Airlines Arena later that night. To be completely honest, the reason why I purchased the full VIP package of front row seats and backstage passes is because I was supposed to go with a friend who is obsessed with this artist and because Juanes and I shared a cover of Ocean Drive once. Anyway, a quick phone call later, and my parents were hooked up with an evening of Camisa Negra glamour, while I happily headed to Sam Robins' get together at her store Robicara. She and her boyfriend Francesco delivered eye candy design furniture and art pieces (by her son Gregory and Iran Issa Khan as well) while Italians and Americans alike established alliances of the sexy kind. I loved it because during a week when this town gets congested with visitors from all over the world, it was a real treat to hang with old-school Miami faces such as Robin, Khan, Barbara Becker, Nima Vandy and Michelle Areces and many others, including Nick D'Annunzio, who said was going to be there at 7:30, but showed up at 9. To be a bitch about it, I decided to scare everybody by announcing that I felt like developing a drug habit and ran a brief survey about what drug I should be addicted to.
We settled with peyote, to be smoked in a suede jacket, jeans and an around the neck bandana, for its very Ralph Lauren undertone.
Afterwards, it was time for the opening of the Antonio Dominguez de Haro exhibition at the Four Seasons. It was quite apt for the rainy weather since he was the pioneer of underwater paintings. All the more respect to him because his evening hosted 200 great peeps, on a night when Valentino, among other parties, had to shut down. Susan Shin summed up his opening best: "I wouldn't have even gone to my own event if I weren't already there earlier."
Mid-evening I went to Matador and the vibe was great and the food was great and the music was great…I ran into Kipton Kronkite, who had actually texted me in the early morning waking me up because I had fallen asleep on my phone, a mistake I hadn't done since the LA days, when it vibrated and I thought there was an earthquake. Also there was Gil Dezer, who is one of my favorite people in Miami, but he was behaving so I moved on! I killed a couple of hours before heading to Wall where I had so much fun and witnessed 500 absolute nobodies take out their phones and film Paris Hilton DJing -- it was like she was a fucking Beatle.
I finished my night at Christina Getty's cousin Balthazar's party at 11, where, bless their hearts, door people thought they were being cool and tried to shut the doors, which gave me the opportunity to throw an epic fit and insult more than a couple of randoms until they escorted me in. Thanks, Christina, for your undying loyalty -- I loved seeing you be boss!

Wait, that is not where I finished the night.
I actually finished it at Libertine now that I think of it, where I saw my friends Seth and Lauren and that hot model boy -- well actually he's 10 years older than when he used to be a boy! Anyway, he is the owner of this great joint downtown, and gracious too because he came out to get post-11 me! I went in and I took pictures and had drinks and had so much fun and then... I felt the nap rising. But I guess I am mastering it so before it possessed me I went home!
You May Also Like