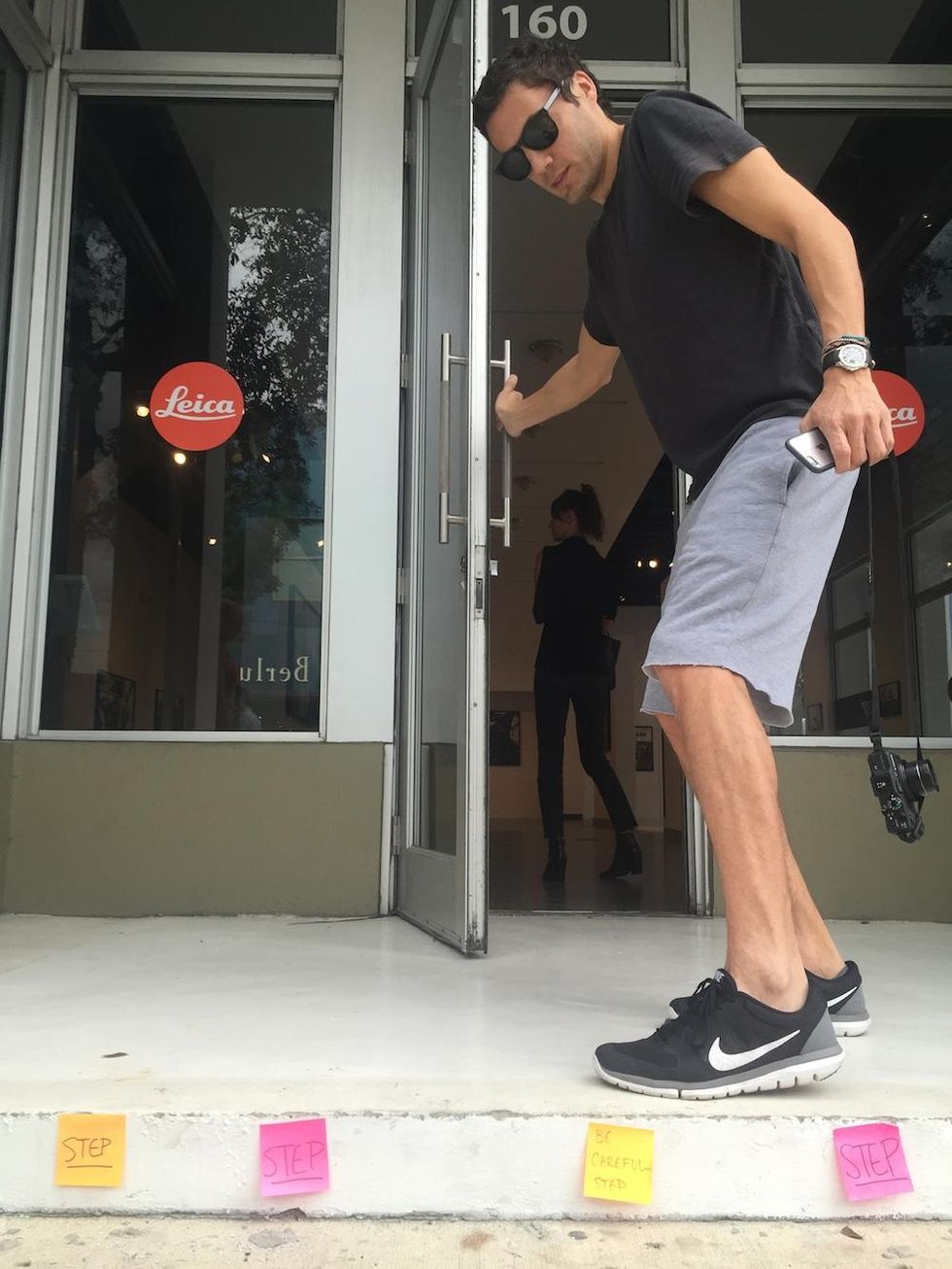 Walking to Flash in my sweat cut-offs

How is everybody holding up? Me... not so well. (After telling you about last night, I'm sure you can understand, or at least try to imagine, what my day looked like today.) I could barely open my eyes and I had a moment with my housekeeper that was definitely awkward before a cop duo tucked me in bed. A few hours later, I woke up from what felt like a coma and found designer and event planner Mr. Michael Kirkland and his assistant Elliot in my kitchen, eating a bunch of leftover sushi handrolls. We had an appointment, they claim, to download my sons pics from the fancy camera for the blog. After a few false starts, everyone being a little frazzled, we managed and when done, with perfect timing, my wife walks in to drag us to Flash, and finally made me purchase Lenny Kravitz's photo #52. We show up and I'm wearing cut-off sweats mostly because I didn't have the strength to change. But it worked great because it was comfy and went well with the bed-head look and sunglasses! By the way, Elliot had to drive because I was still drunk from the night before and the concerned gallerist at FLASH put bright colored Post-It notes to mark the steps to get in, which I greatly appreciated... and prevented a wipe-out!
Back home, my planned nap was hijacked by Lady Victoria Hervey, a good friend of mine from LA. She wanted to know my plans.
I kept mum about being completely mentally unpresentable, and told her I would get back to her. At this point my phone has not stopped vibrating all afternoon, and although it is pouring rain and streets are flooded it is now time to leave the house and to make a couple of phone calls. Fearful but ready to meet my destiny, I then proceeded to organize my evening and... surprise! A lot of people actually were staying in last night, skipping the Perrier-Jouët party at Wall, skipping the Valentino party, skipping the Eva Longoria event at Casa Tua (side note: for those who DID make it to the party at Casa Tua, I heard guests were so hyped to see a peek of Eva that they were taking off their shoes and rolling up their pants to get through the flooded streets and sidewalks). I did hear that Toni Garrn's dinner in the Faena Hotel's Penthouse in support of Plan International with Maiyet was amazing... I'm sure I was missed!
But, still, I stayed in.
See, my friends all remind me that I've been actually passing out at parties lately and last night's incident was not the first. I guess I just have to realize that I have not been partying this hard in a long time and I'm not in my 20s anymore and every now and then I simply need a mid-partying nap. I might have developed onset adult narcolepsy or something, which is so embarrassing, but beats developing a cocaine habit to keep up (kids stay off of drugs, just get obliviously drunk).
So everything was good and golden, and I went to sleep at a very reasonable hour and at 3:26am I jump off my bed in a panic because I thought I was late to pick up my son from school. I literally just got ready to go, because I thought it was 3:26 PM -- I'm not kidding. In my certainty of being the middle of the afternoon, I even extended a courtesy call to my mom, who answered -- and because she is my mom, and she knows me well, and she cares about me and my well being -- and asked me if I was in jail. I looked outside and, realizing in my confusion it was the middle of the night, I went back to bed, and for a solid hour I stared at the screen savers on my enormous flatscreen because I had forgotten the Apple TV remote control on the table across from my bed and I didn't have the strength to get up and grab it. I have some making up to do tonight! Pray for me Paris...I will make it to your party!