First off, I would like to personally apologize to Mr. Alan Faena for mooning the Damian Hirst piece in the lobby of his breathtaking hotel. Everything about it is so cool and the W Magazine party last night, which included lots of booze and a roller skating rink, was so amazing that I drank too much and made an idiot of myself. I know Mr. Sylvester Stallone would never have done that and we all know that after the other night he is my gold standard for how to behave, along with my wife, who is way, way, way more than embarrassed and this accident will result in gifting her one of the fantastic pictures by Lenny Kravitz. (Lenny's personal exhibit is held in the Design District and it is such a treat. The black and white photos that he took of people taking photos of him are sharp, stylish and a true look from the artist's eye.)
But let's back up and start from the beginning.
I know I began my night in the Design District but honestly I don't know where or when I finished it. I only know that before I went out, at 5pm I was home with a couple of friends and we were so desperately tired from the night before we had tears in our eyes. Is that what happens to everybody on day 1 of Basel? Anyway, we wobbled and swayed our way to the Design District where, along with stopping at the JR "Ellis" exhibit and another at Gagosian, we basically hit up a bunch of stores for free booze. Although I must admit that the "Objets Nomades" collection by Marcel Wanders for Vuitton was pretty bad ass.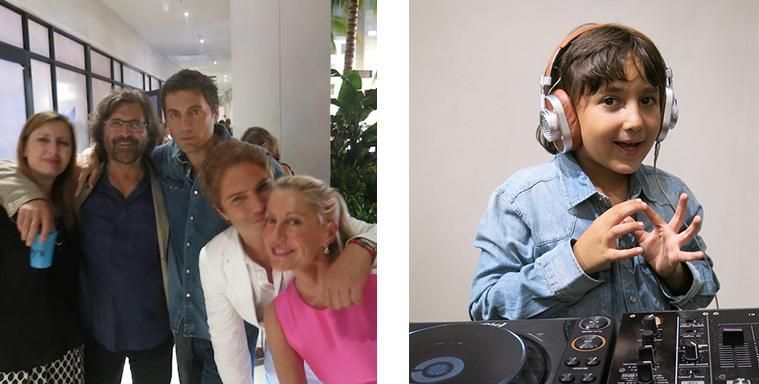 Brando DJing (right) and a photo he shot (left)

The Design District was happening last night, and along with the Vuitton party we went to Fendi, Armani, Loewe and a couple more that will remain forgotten as will half of my memories. Overall it was a bunch of good parties although the lights were way too bright for hungover people. My son Brando joined me for the first part of the night and, photo camera hanging from his neck, he was my official photographer... And lemme tell you... he got the shots! (Please read this in a six years old voice: "Craig (Robins) stand over there", "Iran (Issa Khan) get in the picture." He was a charming boss who transitioned from photographer to DJ at the Armani party -- while munching on "hold the caviar, thanks" blinis.)

Nick D'Annunzio -- a vision in white last night -- put an end to the Design shenanigans and replaced it with Beach shenanigans. I have been trying hard to touch up the pic of some girl who showed up at the Interview Mag party in a see-through dress and no underwear, which will hopefully mitigate my distress over the mooning accident. The party, which was thrown in honor of Francesco Vezzoli and was at Nautilus Hotel, saw a bunch of NYC-LA artsy actor types congregated around a very crowded pool bar while a "family compound VIP" corner where the Chows, Jeffrey Deitch and some others chilled with champagne.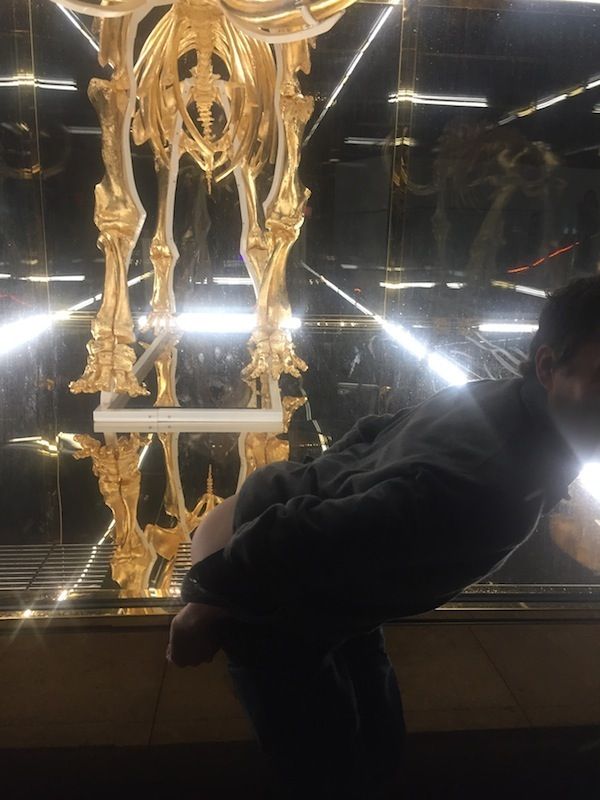 The mooning.

Now we get to the part where I'm at the party for W Mag at the Faena Hotel and mooning the Hirst. I'm not going to describe the beach set up because it would be disrespectful to limit to words what only emotions can describe (see how poetic I get when I am in trouble?), so just know that it looks like a Fellini movie. A boardwalk led us to a roller skating rink that looked like a circus from the 1920s, and Alan was there in his white suited glory, and my thanks for his bringing such a property to Miami are equal only to my apologies. I am not sure what happened at the party because that's when I kinda blacked out except for some vague flashbacks of DJ Harvey going full force for Michael Klug's Whitewall party at Basement in the Miami Edition.
At some point I was napping but I'm not sure exactly when and especially not sure where. A very good friend of mine took a photo of me but I don't recognize the surroundings. I'm just glad he obviously had his priorities straight and took a moment to snap the pic before checking to see whether or not I was alive. Other people who concerned about my well being turned out to be my neighbors, who had a glimpse of me naked, passed out by my pool on my inflatable turtle. Two things I learned from this: one -- that my neighbors can see my pool and two -- that cops can actually let themselves into my house because they were the ones that woke me up.