It's an honor to be back reporting for you bunch of brilliant maniacs. It's been a long time since last we spoke and a lot has happened. I've been in Miami for the past seven years, two of which I worked (hahaha). Yeah...that was a bust. I always had a hunch working wasn't for me and I was right so I retired and spent the remaining five raising my amazing son, Brando, who is now six and also raising myself...or at least trying to. Last night a ton of Art Basel Miami Beach festivities kicked off and I dragged my "vastly improved" ass out.
I started with Jeffrey Caldwell's Architectural Digest party at the One Hotel, the beautifully transformed property by Harry LeFrak and his team of magicians. Formerly known as the Gansevoort, legend has it that the property used to be haunted by real ghosts although the only thing haunting it before its reincarnation was appallingly tacky people. But then Harry bought it and now it is a peaceful Zen-like oasis filled with beautiful people like Dori Cooperman, Christina Getty, James Wark, Marc Heineking, Matthew Marchak and a bunch of friends who managed to start the evening in the most tranquil setting.
By the 8th-vodka-and-redbull, I gathered my friends and went to the Versace Mansion (or Casa Casuarina for anyone who is not old-school Miami). I always look forward to this Art Basel dinner party staple and it's my favorite event of the week. My friend Isabelle [Bscher] and her family's gallery, Galerie Gmurzynska, hosted a beautiful evening to honor... Sylvester Stallone! Turns out he's a painter now and a good one, too, for that matter.

When I asked him if he'd be interested in painting my son's portrait he answered that he is not sure if he is up for the honor but because of the way I asked he would do it.
Let's take a fucking moment to appreciate how humble this man, this icon, this pagan god, is.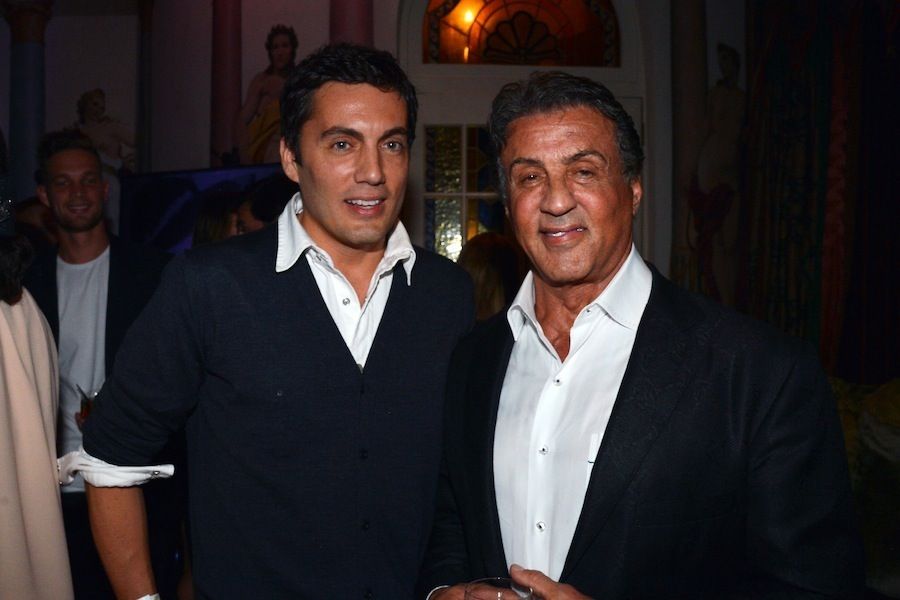 Fabian Basabe and Sylvester Stallone. [Photo by Patrick McMullan/PMC]

Not like Leonardo DiCaprio, who only had a quick "Hey Man" for me, despite the fact that I've slept in the same bed as him at a mutual friend's place (he wasn't in it at the time but I asked our friend not to change the sheets!). Anyway, I'm missing his Beach days.
But now back to Sly, who remembered me at 17 and who says he regrets selling his Coral Gables home and calls himself the "hillbilly of Beverly Hills."

Who shakes hands strongly and looks in your eyes and says that finally at 70 he now knows what's up. And who answers my question about being able to kick everyone's ass in the room at 70 -years-old with "Yes, I can." (DiCaprio was in the room too by the way.)

After the dinner wrapped up, my next stop was... PAPER MAGAZINE's DINNER FOR PARIS HILTON! YEEEEEEEEEEAHHH! The party took place at the Miami Beach Edition, which had set up a beautiful, long candle-lit table by the pool to celebrate Paris who makes everyone she meets feel like they really do matter. I love her.

The next event was the Flaunt Mag party at Nautilus, the newest hotel in town, courtesy of Jason Pomeranc, where Michael Kirkland orchestrated a party for Flaunt Mag. On the sand, surfers, models, goths, preppies, jocks all bobbed their heads at the sound of Pusha-T. And then, because I only go home if you shoot me in the knees, after that I went to Wall and I am not exactly sure why other than their FAVELA night is the best night in town and Wall is just the best spot. Unfortunately I can't tell you what happened the rest of the night because I don't remember except when I got home there were people waiting outside my door and I had to open up and let everyone in. I don't have the courage to leave my bedroom right now and face whatever happened last night but I just want everyone to know I woke up before noon to file this blog so you're very welcome. Now I'm going back to sleep.